Written By Pete Anthony
  Last Updated On: 9-15-20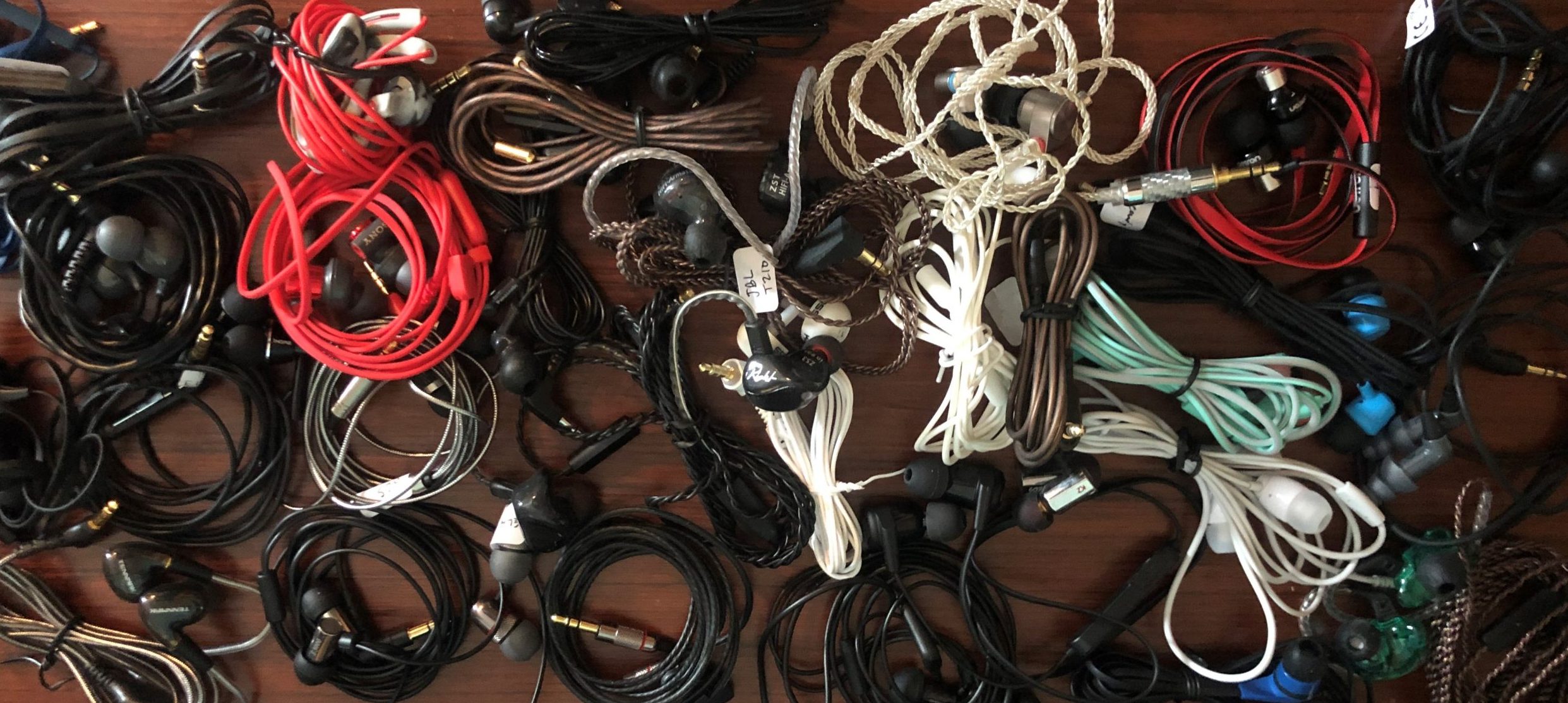 The ~$50 earbud is one of the most popular audio products on the market – potentially decent enough to produce really great sound quality and be rich in features, but not so expensive that it's cost prohibitive to most or something that you'll perpetually agonize over potentially losing or breaking.
A quick preliminary word on "earbud" versus "in-ear headphone/earphone":
A headphone that slides into the ear canal with some kind of tip is actually not technically an earbud but is rather called an in-ear headphone (or earphone), whereas an actual earbud simply rests securely in the outer ear canal. That said, the term "earbuds" have sort of come to describe any headphones that aren't on/over-ear with a headband to hold them in place, so we'll use "earbud" as an all-inclusive term that includes in-ear headphones.
Another quick preliminary notice on prices:
Audio prices can an do fluctuate significantly, both up and down. We do our best to keep our best-of articles as current as possible but obviously can't guarantee they are at every moment. There are a lot of great products around this price tier, and the "best" choice will honestly often be whatever's the best deal at any given time – caveat emptor.
The best all around earbuds available under $50: The FiiO F5
Full review | Get it on Amazon
Great overall sound quality across a neutral and consistent response curve, with particularly good detail, crispness and separation. These are the best all around sounding earbuds that I've heard that can be acquired for under $50. They also come with a nice batch of accessories.
A close second: The KZ ZS10 Pro
Full review | Get it on Amazon
These are close, very close. I did a lot of A/B testing between these and the F5s, but the F5's sound quality squeaked ahead in my opinion, and surprisingly so considering how much hardware the ZS10 manages to pack, namely 5 drivers in each bud. That said, the ZS10 Pros do overcome some of the F5's shortcomings: they fit better and the included stock cable, while not stellar, is better than the F5's. The ZS10 Pros don't come with a carrying case however, but one can be purchased separately. All in all these are a viable alternative that I imagine a good amount of people will actually prefer.
Notable/Popular Competition
1More E1017 – good overall sound, soft style that's ideal for easy listening. Reproduction isn't quite as good as top competitors (full review).
Aukey Latitude Lite – solid overall, but the Anker SoundBuds Curve sounds marginally better and is more comfortable (full review).
Etymotic Research mk5 – designed for isolation by a company that specializes in it. Best noise blocking headphones in this price tier hands down. Tips insert deeply and might be intolerably uncomfortable for some. Sound quality is good but not top-notch (full review).
Final Audio E3000 – very good sound that's distinctly unique, soft and easy without loss of clarity or muffling. Significantly recessed mids/highs causes some loss of detail, also requires higher than average device volume (full review).
JBL E25BT – good overall sound and wireless functionality. Significantly discounted from original MSRP. Bass is emphasized and a bit muddy and boomy (full review).
KZ ZS6 – sound great overall, particularly excellent bass, definitely a contending alternative. Are kind of large and bulky (full review).
KZ ZSR – impressively good overall sound for the price. Not quite as good as the ZS10s but are 40% cheaper (full review).
MEE Audio M6 Pro 2nd Gen – very sturdy, good isolation, ideal for commuter use. Overall sound is good without any significant flaws, but not top-notch (full review).
Phaiser BHS-730 – decent comfort and excellent lifetime "sweat proof" warranty. Overall sound is decent but has boxyness and sibilance (full review).
Samsung U Flex – significantly discounted from original MSRP. Sounds very good compared to the competition, possibly better and preferable to the Soundbuds Curve if you prefer less emphasized bass. Fits poorly out of the box and might need separate replacement tips (full review).
Shure SE112 – very nice sturdy build, good isolation, decent overall sound but a noticeable lack of clarity/detail that causes muffling. Also dated, probably the best choice five years ago, but have since fallen behind (full review).
Skullcandy Strum – discounted from the original MSRP, very well fitting and comfortable and impressively good all around sound. Also has slidable in-line volume control. Wire and mic are a little thin and flimsy and a bit prone to microphonics (full review).
Sony MDR-XB50AP – sound good overall but are bass emphasized. Ear fit and wire aren't the greatest (full review).
Tennmak Pro – unique sound signature that's round/soft with significant bass emphasis, a solid choice for the basshead inclined out there (full review).
Tin Audio T2 Pro – excellent detail, clarity, and separation in the mids/trebles. Bass is recessed. Could be ideal style for certain types from music and is a solid choice (full review).
Zero Audio Carbo Tenore – solid sound with good clarity and separation. Fit is very good. Has barely noticeable graininess, and slight thinness and sibilance that makes the sound feel airy and far away (full review).