Written By Pete Anthony
  Last Updated On: 5-20-19  

Samsung's U Flex is a highly popular pair of wireless in-ear headphones that have a neckband, with in-line controls at each end. There's no 3.5mm jack and they're only usable via Bluetooth. They caught my eye in particular because, at the time of this writing/update, they've become significantly discounted from an original MSRP of $80 to less than $25 in some places. I'd guess the discounts are largely due to its now legacy status – the U Flex doesn't appear to be officially listed on Samsung's product page anymore, and might no longer be available sooner than later. Though it's possible they'll continue to "unofficially" produce them if second hand vendors can continue to move enough volume, which is something audio companies do from time to time.

The packaging is very nice. The hefty box opens up like a book to reveal the band, buds, and box with accessories neatly embedded in contoured packing foam. The underside of the box also has a nice picture diagram showing what comes inside.
Included with the headphones:
micro usb charging cable
two additional pairs of different sized replacement tips
instructional pamphlet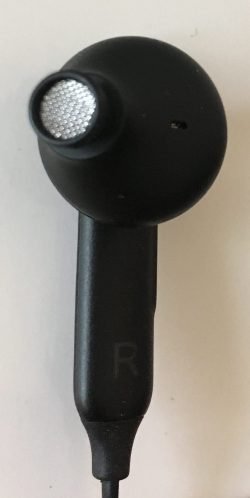 The shallow ends coupled with the large and non-contoured headphones made it seemingly impossible to get a decent fit with any silicone tips that I tried because I just couldn't get them inside my ear enough to get a decent seal. This frankly doesn't cut it for a pair of headphones with an $80 original MSRP price tag. I was able to solve the issue however with foam tips, which are unfortunately not included with the U Flex.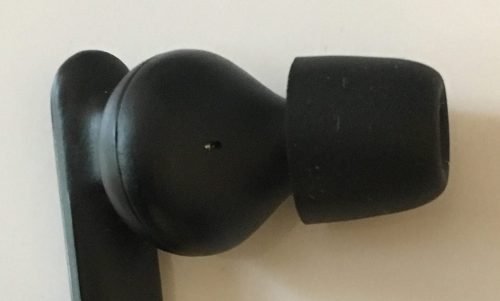 The befittingly named Flex neckband is elastic and very malleable, so it's easy to store and you don't have to worry much about it breaking.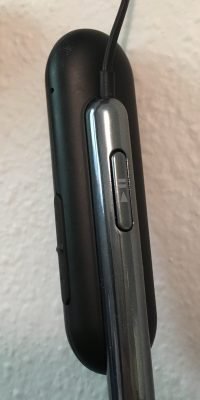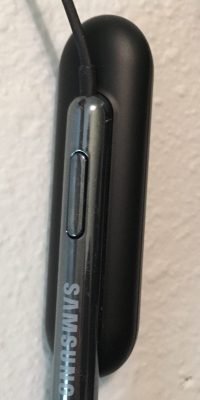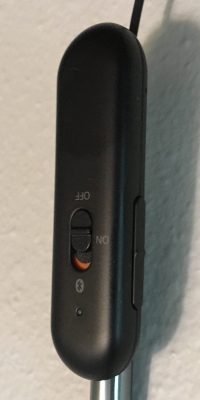 The in-line controls are on various spots along the ends of the neckband. You can't really see them when you're wearing it, so it needs a bit of memorization by feel to effectively use them. The on/off call button is on the left side, while play/pause, volume/tracking, and on/off/pair Bluetooth buttons are on the right side. One slight annoyance is that the included instructions don't say how to use each button/function, so I had to somewhat figure it out on my own, though the full manual available online does. You have to hold the +/- button to skip tracks back and forth. Also kind of weird is that the minus/volume-down button skips the track forward, not backward, and vice-versa with the plus/volume-up button. I suppose these oddities would become negligible once you get used to using the U Flex. The charging port is also on the right side and has a removable protective cap.
Spec/Performance Discussion, Listening Impressions, Other Related Observations
General impression: the U Flex sounds excellent for how cheap it's currently available for, which I suppose isn't too surprising since it originally retailed for more than double that. It doesn't have any perceptible flaws that tend to be common with cheaper headphones, and the response feels nice and even throughout, with solid detail and clarity. The perceived sound stage feels a little narrow and blended, but other than that I really couldn't find anything significantly wrong with these.
Wireless: these need to be initially charged before use since they're Bluetooth only, which took mine about 1.5 hours. Pairing with my phone was very easy. Once fully charged the U Flex has a 10 and 250 hour playing and standby life respectively, which is about average for budget Bluetooth headphones. One way the U Flex significantly shines is that there's barely any background noise via the Bluetooth connection, which is often significant enough to be distracting with similarly priced competitors.
Sound signature: pretty warm and round. Feels great for easy extended listening, not harsh at all, even with songs that I specifically test for on-set fatigue with. There's a bit of roll off on the low end and the bass is a little recessed.
Bass: Samsung doesn't specify a response range of the U Flex, but based on how it sounds I'd imagine it's comparatively better than average. The bass sounded pretty good with decent extension, but definitely recessed. While various drops I tested sounded good and didn't lose tone/pitch, they were noticeably quieter. No mud or upward bleeding which is good. These definitely aren't basshead headphones if that's what you're looking for.
Power/Volume: the U Flex is self powered obviously since it's wireless, so as long as your device has Bluetooth it will work fine. Volume response was solid – these got plenty loud for me with just a few notches on my phone.
Isolation: light to practically none if you're stuck using the included silicone tips, but foam tips seemed to help a little bit. Still, I wouldn't recommend the U Flex if you need significant isolation from your earbuds to block out external noise.
Warranty: the U Flex has a one year warranty, which is comparatively average for budget wireless headphones.
Overall Take, As Compared To The Competition
I'd say the U Flex sounds average at best at its original MSRP, but now that its available for less than half that, I'd say it sounds excellent compared to similarly priced Bluetooth in-hear headphones. It has poor ergonomics/fit out of the box that I could only fix with using separate non-included replacement tips. If you like the neckband style and don't mind having to potentially try a variety of tips to get a decent fit, the U Flex is certainly a solid option for the price it's currently available at.
See our current picks for the overall best earbuds available under $50