Written By Pete Anthony
  Last Updated On: 8-19-19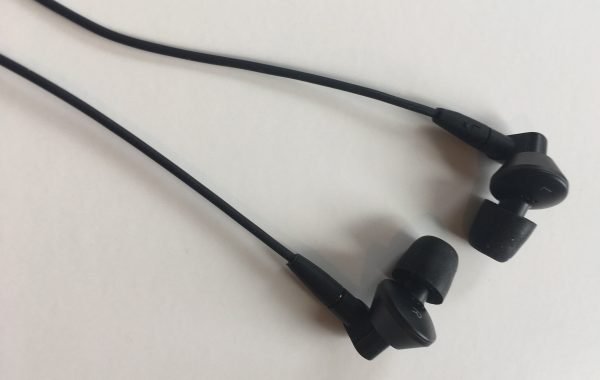 FiiO is a relatively new audio company, founded circa 2007, that has recently produced a variety of highly acclaimed earbuds. Their budget F3s (reviewed here) are still at the time of this writing/update, I think, the best overall earbuds available at the $20 or less price-point.
The F5s are the next step up – a slicker looking pair of earbuds available around the $50 price point. I was definitely excited to see what these would bring given how impressed I was with the modestly priced F3s.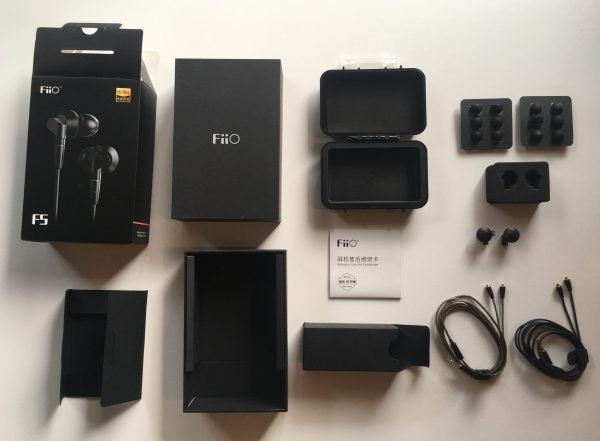 While the F3s came in a dinky and underwhelming box, the F5s, in stark contrast, had quality and aesthetic packaging. The unboxing experience was nice and kind of fun, and that's something which does actually start to matter to a lot of customers as audio products get more expensive.
The outer cover is nice looking, and the inner box is nice and sturdy, and slides open to reveal the carrying case case and subsequent smaller boxes with the various accessories. The buds themselves are firmly embedded in contoured packing foam, and the replacement tips are organized nicely on slips of thick paper, which is a nice touch.
Included with the headphones:
a hard carrying case
six pairs of replacement tips
two wires, with a 2.5mm and 3.5mm plug respectively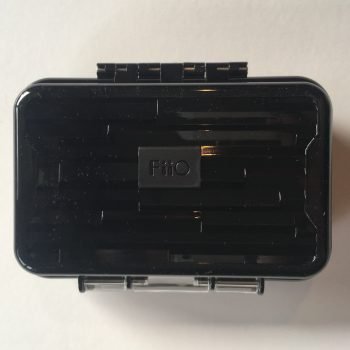 The included carrying case is very nice – it's hard plastic on the outside with nice foam padding on the inside and snaps open/shut. It feels like it could bang around in just about any bag while keeping the buds and wire nicely protected.
The buds look and feel very nice, but did not fit me well out of the box. They're on the larger side and the nozzles are shallow, which made it hard to get the tips fully into my ear without the buds jamming into my outer ear. The circular and uncontoured buds created a few hot spots on my outer ear. I tried the variety of included silicone tips but just couldn't get a decent enough fit. So, I tried some longer foam tips that I had, and while they improved the fit enough to be sufficient for a review, it still wasn't great. I lost the seal quite easily if I moved my jaw around which would totally kill the sound. A longer double or triple flange replacement tip such as this one might overcome the shallow nozzle problem but would have to be purchased separately.
On the plus side, once they're in they feel incredibly light, enough to forget they're there. There was zero sensation of hanging out and down.
The buds and wire are detachable with an MMXC connection. The advantage of this is that the wire can easily be replaced if it gets damaged. MMXC connectors can be fussy and annoying in my experience, but they weren't too bad with the F5s.
The F5s come with two cables, the main difference between them being that one has a standard 3.5mm plug, and the other has a slightly smaller 2.5mm plug that's mostly used with specialty equipment. The included cable with the 3.5mm plug also has an inline mic and control buttons while the other does not.
The inline mic and control unit is fairly standard with three buttons that can do all the expected basic functions such as play/pause and volume/track.
The wire itself is decent – a little thin but still sturdy, and it doesn't feel prone to tangles.
The 3.5mm plug unfortunately had connectivity issues – there was audible static or the sound would even cut out on one side unless I rotated it in the jack to just the right position. This problem persisted across multiple devices. While not a total deal breaker, this kind of issue is frankly unacceptable for headphones in this price-tier, and is actually something I almost never see even amongst the cheapest of earbuds. Also weird since FiiO's cheaper F3 plug worked perfectly fine.
Sound And Performance
General impression: The F5s sound very good overall, and unsurprisingly so given how good the cheaper F3s sound for the price. There aren't any glaring flaws that tend to be common in cheaper headphones. The detail and clarity is particularly excellent. You can really distinctly hear individual instruments and everything is very crisp. It sounds sharp without feeling thin or harsh, which is a nice sensation.
Sound signature: The F5 feels pretty flat and neutral overall, with maybe a very slight V shape.
Sound stage: Good overall, probably helped in part by how detailed and crisp the sound is, but still felt a little bit narrow and blended.
Bass: The specified response floor of the F5 is 20 Hz, which is fairly average for non-expensive earbuds, yet the bass of the F5s sounds very strong and emphasized in a way that belies the specs on paper. Despite that the bass doesn't feel like it takes over or bleeds up.
Power/Volume: The impedance of the F5 is a bit on the high side, so I had to crank up the volume a little bit to get these to my optimal listening volume, but they still got plenty loud for me easily, and I don't see any major devices having problems powering the F5 on their own.
Isolation: OK overall, somewhere around light/medium. Fitting issues don't help. I'd say these would be fine for up to moderately noisy public/commuter use, but if you really need isolation there are better alternatives.
Warranty: One year, which is comparatively OK coverage for similarly priced headphones, but at this price tier you will start to see more 2+ year warranties.
Does The F5 Sound Much Better Than The F3?
This is something that I was particularly wondering going into this review since the F3s are so impressive in their own right and less than half the price of the F5s, which obviously begets the question of whether the F5 is actually worth the price increase. I did a fair bit of back and forth A/B testing to find out.
I would say that the F5s do sound noticeably better. Their very neutral response curve is particularly apparent when I switched back and forth between the F3s. The F5s aren't quite as loud and need more volume, but they have a detail and crispness that the F3s don't quite have. The F3s sound more boomy and warm while the F5s sound a little thinner and less warm. The F5s also shed light on the slight sibilance that that F3s have, which is something I didn't seem to notice or comment on in my original review of the F3. It is certainly true that so-called "phantom" sound issues can come about when you get acclimated to higher end headphones then switch down. The F5's bass is also a little cleaner and tighter.
So are the F5s worth more than double the price? I'd say maybe, and that it will mostly be subjective. If the price increase is trivial to you, and you're after that flat neutral sound, and you don't mind maybe having to troubleshoot fit and connection issues, I'd say the F5s are definitely a worthwhile upgrade over the F3.
On the other hand, if you want something that sounds about as good as it gets for a minimal price and fits very well and comfortably out of the box, you might find the F3s to be preferable.
Overall Take, As Compared To The Competition
The F5s are a very good sounding pair of headphones for the price that particularly excel with very detailed and crisp sound that persists across a very neutral response curve. They're definitely in the best-of conversation at the ~$50 price tier. The shallow nozzles and non-contoured buds don't fit very well out of the box, and the 3.5mm plug also had static/connection problems across multiple devices. Both of those issues could be remedied with a replacement cable and tips if you're willing to put forth some extra effort and cash to find and buy them.
See our current picks for the overall best earbuds available under $50