By Pete Anthony
Last updated on: 4-1-19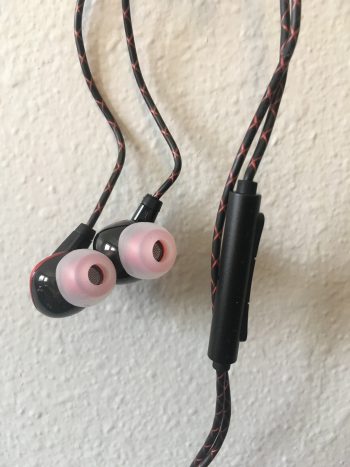 FiiO, founded circa 2007, is a newer and still relatively unknown Chinese audio company. Per their about page, they aspire to "raise the reputation of [the phrase] 'Made in China'." They currently make a variety of in-ear headphones and other a/v gear and accessories. The F3s are one of their entry level products – an emphatic level up from a run-of-the-mill cheap pair of earbuds but still modestly priced, available at (around) $20.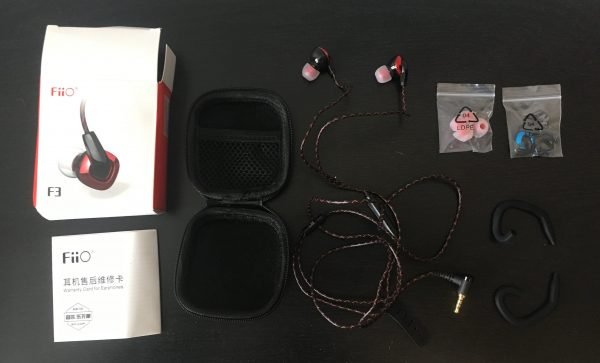 The box was flimsy and dented/damaged on arrival, which was a little disconcerting, but it opened up to a nice hard carrying case where everything except the manual was safely inside, so that's perfectly fine. Included with the headphones are two over-ear pads which you can feed the wire through, two extra ear pads at different sizes, and some nifty little detachable back pieces if you feel like changing the color from red to blue or back. And of course the hard carrying case is a really nice inclusion at this price.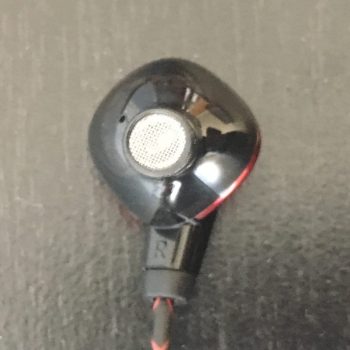 The earbud can be worn with the wire facing up or down, which is nice, and the over ear pads are a nice extra feature rather than having the bare wire sitting behind your ear. The advantage of wearing the wire around the ear, besides it preventing the earbud from annoyingly falling out, is that it can help with microphonics, which is the noise you can hear through the headphone when the wire rubs against your shirt or whatever else.
I tried them on and listened to them both ways and each is perfectly comfortable, but I'd say wearing these inverted and over the ear is best, especially when you have these included pads.
The ~4 ft wire itself though is nice and thick and caused minimal microphonics, much less than some of the cheaper earbuds I've listened to and reviewed. The right angle jack plug and support is also nice and sturdy feeling/looking. Another nice little extra touch is a permanently fixed rubber tie if you want to wrap/bundle the wire.
The F3 has an inline mic with buttons that have basic call, tracking, and volume functions, but volume adjustment doesn't work on iOS devices for some reason. The mic is on the right-side wire which is a little weird (mics are usually on the left) and actually caused me to listen to these in reverse initially.
The backs are a little big and cheap looking, mainly due I'd say to the tacky removable color pieces, but other than that these look and feel very nice and sturdy for budget earbuds.
Spec/Performance Discussion, Listening Impressions, Other Related Observations
I had no idea what to expect with these – I'd seen some quite glowing reviews and impressions, but had otherwise never heard of this company, and you just never know what you're going to get with a product from one of these now many obscure headphone manufacturers.
I will just say outright that these sounded good, really good. If I'm struggling to find any immediate shortcomings with those initial Daft Punk songs I always listen to, that's generally a great sign.
The overall sound quality didn't seem to have the usual flaws that afflict cheaper headphones: thinness, sibilance, boxiness, ect. They just sounded nice and full, and the clarity was particularly good – beats/percussions were nice and tight, but without commonly accompanying fatigue.
Really the only noticeable shortfall the F3 has is that the bass drops off a bit and had a little resonance/mud on some songs. The low bass notes lost a little pitch and volume on some of the "drop" songs I tested. The bass was decent, just not stellar, but that's asking a lot from headphones that are as cheap as these and already sound so good. The quoted response range is 15 – 20K Hz, which is about average for budget headphones.
I did have to crank the volume up a bit more than normal – the F3s impedance is 40 ohms which is pretty high for a pair of earbuds. Cheaper devices might struggle a bit to power these, but I used these a bit with an older iPhone 6 and it did perfectly fine.
Noise isolation was OK but not great, maybe to the tune of 20% or so. These headphones are perfectly solid for commuter use but if you really need maximum isolation they might not be the best choice.
I normally have a slew of listening notes that would come at this point in the review, but not with these. I threw pretty much anything I could think of at them and couldn't nitpick any specific problems with my normal testing playlist or other subsequent songs.
FiiO offers a one year warranty on its headphones which is pretty minimal, but fairly standard among the budget-tier.
Overall Take, As Compared To The Competition
For being available at $20, The F3s are sturdy, comfortable, and have really good sound, with no specific flaws that I could detect at least. The additional over ear wire pads are also a really nice touch. The bass wasn't quite there in every song, but that's a tall order at this price-tier, and something you'll probably just have to pay more for to really get. I'm now personally using these as gym/commuter earbuds until I find something better for the price.