Written by Pete Anthony 
Last updated on: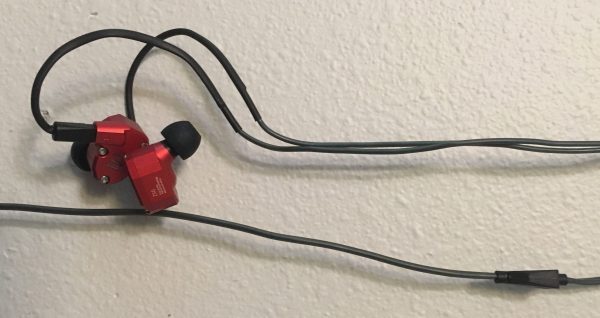 The KZ ZS6 is yet another pair of earbuds from the recently prolific and now highly popular headphone brand Knowledge Zenith. While KZ is primarily known for making impressively high quality headphones at minimal prices, The ZS6 is a middle-tier pair of in-ear headphones that's currently available around the $50 price bracket.
Packaging is minimal but nice, and pretty much the same thing that's used for all of their current earbuds
Included with the headphones:
two different sized silicone replacement tips
manual and warranty card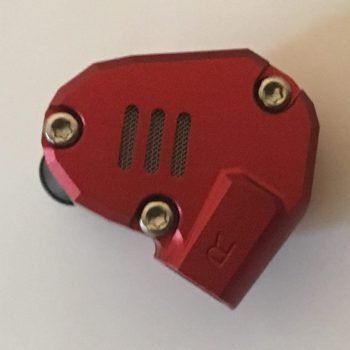 The ZS6 headphone is definitely heavy and bulky, and pretty much has to be worn with the over-ear wrap in order to fit right and stay put. The default medium stock tips fit me decently well, but did lose the seal somewhat easily when I moved my head and jaw around. I could probably get a better fit if I tried various replacement tips, but they were fine enough out of the box for the sake of this review. The ~4 inch ear wrap can be shaped to your liking which is nice, a feature which isn't available on many of the other cheaper KZ earbuds. The fit/orientation isn't immediately obvious, but they're supposed to be worn like so:
One thing I really don't understand is why they had to go with straight angled edges instead of just a smooth curve all around – it doesn't look particularly good, and it does detriment the overall comfort a bit. If someone had a certain shape ear that made a hot spot on one of those corners it could be a deal breaker.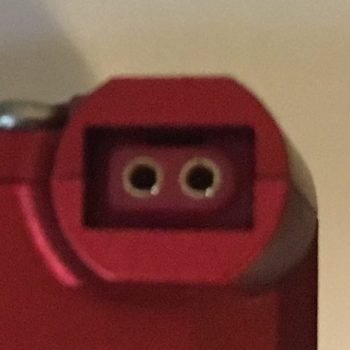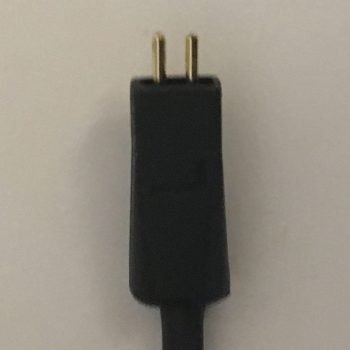 Both the buds and male wire connectors have left/right indicators and can fit either facing out or in – I tried both ways and the sound was the same. One thing that's nice about this design style is that if the wire breaks it can simply be replaced.
The included stock wire is a bit short, around 4.5 ft, and has that kind of sticky/gummy outer insulation, but is decent enough. Microphonics are minimal and don't seem to be an issue. KZ does make nicer replacement cables for those who want them.
The angled jack is nice and sturdy and plugged into my device without problems.
The ZS6 comes either without or with a basic one button mic for a few dollars more if you want one.
All in all, the ZS6 is a nicely built and sturdy pair of earbuds, but is a bit bulky and cumbersome to fit and take on and off.
Spec/Performance Discussion, Listening Impressions, Other Related Observations
General impression: the ZS6 sounds excellent for the price point, with no perceptible flaws that tend to occur with less expensive earbuds. Clarity and separation are both very good, and they have a very wide perceived soundstage.
Sound signature: slightly round but also V shaped – the bass is very strong and slightly emphasized, as is the treble. I've seen some complaints about the treble being too harsh, but I didn't think so, especially compared to other KZ earbuds which definitely do have harsh treble.
Bass: particularly excellent, and what justifies the premium of the ZS6 compared to cheaper budget earbuds. The low extension gets all the way down to 7 Hz and all the drops I tested sounded very good and present, without any drop off or weird muddyness.
Power/Volume: the impedance is 15 ohms and the sensitivity rating is 105, which is high for any earbud – these get plenty loud very easily.
Isolation: surprisingly decent – I couldn't hear any leakage even with the semi-open backs, and these blocked external noise pretty well. I'd put these at a solid medium, and should be fine for most basic commuter use.
Warranty: one year, which is a little short for the price point but still reasonable.
Overall Take, As Compared To The Competition
I really like the ZS6 and definitely feel that, despite stiff competition, they're in the best-of conversation for earbuds in the ~$50 price bracket, particularly for those who want bass, which is where the ZS6 really shines. I don't think these would be ideal for sport/active use since they're a bit bulky and cumbersome to fit and take on/off and have a somewhat short warranty.
Get KZ ZS6 earphones on Amazon (affiliate link)
See our current picks for the overall best earbuds available under $50