Written By Pete Anthony
  Last Updated On: 10-8-19  
Final Audio is yet another lesser known international company that has recently entered the increasingly competitive mid-fi earbud market. I'd never even heard of them before getting and listening to their E3000s, but these earbuds are seemingly popular and highly regarded within the audiophile community. I was definitely curious to see what the hype was about.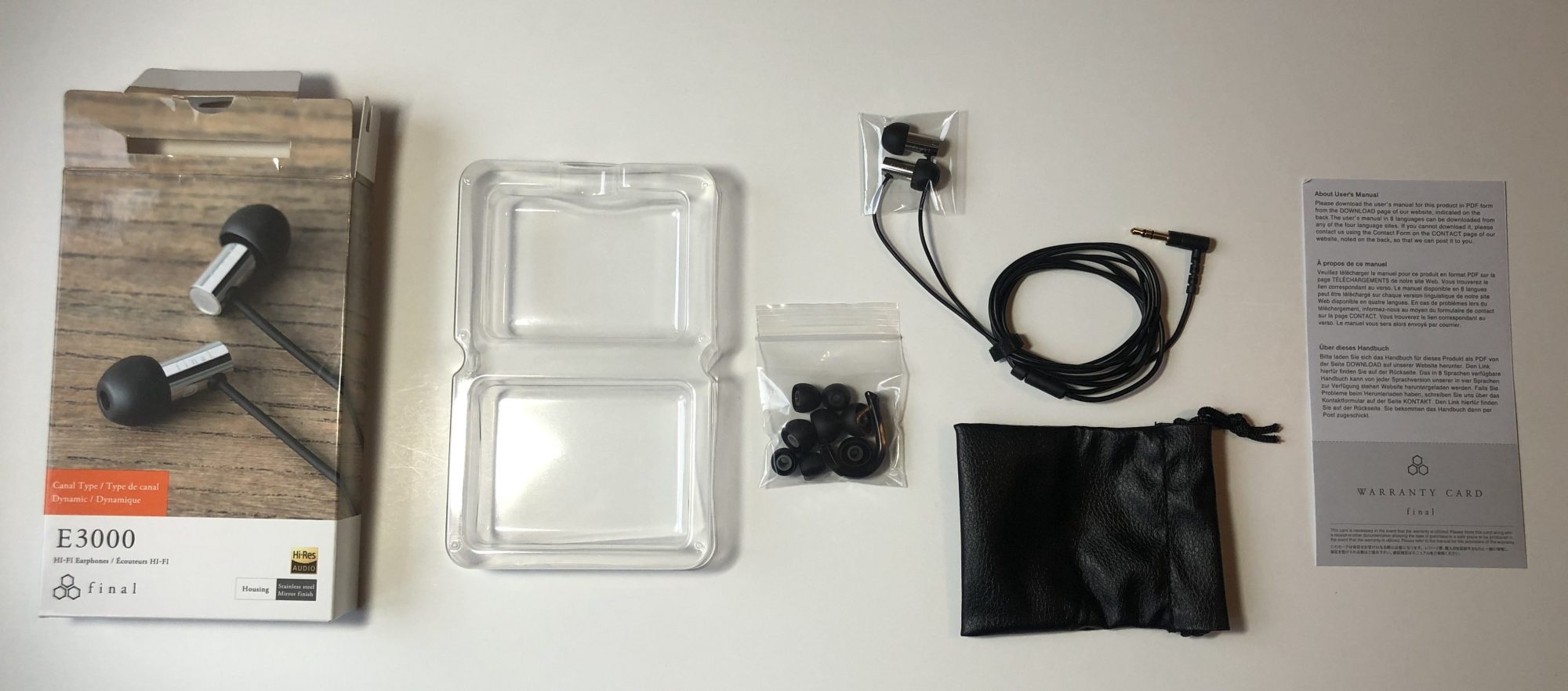 Packaging was pretty flimsy and bare-minimum. While that's acceptable for cheap earbuds, I'd say it's a shortcoming once you get to the $50 price point and above, where the unboxing experience does start to matter. The plastic packing piece doesn't even enclose the earbuds, so only thing that stands between them and the outside world is the thin box they come in, save for the tiny bit of plastic wrap on the buds themselves. They could at least put the earbuds into the included carrying sack to give them some extra incidental protection while shipping.
Included with the headphones:
four extra pairs of different sized replacement tips
ear hook pads
soft faux leather carrying sack
manual and warranty booklet
The buds have an interesting long cylindrical shape, but they remain very lightweight and fit comfortably. I didn't need to push the tips into my ear canal much to get a solid seal that didn't break at all when I moved my head and jaw around, and with five different sized tips included, just about anyone should be able to get that same fit/seal.
They do feel like they hang out and down a little when worn with the wires going down, but there is the option to wear them inverted and wrap the wires behind the ear. One nice inclusion is a pair of padded ear hooks for that purpose, something which rarely comes with non-expensive earbuds.
The E3000 also comes with a basic in-line mic and control button unit for several more dollars, but unless you really want that I don't think it's worth the price increase in this case.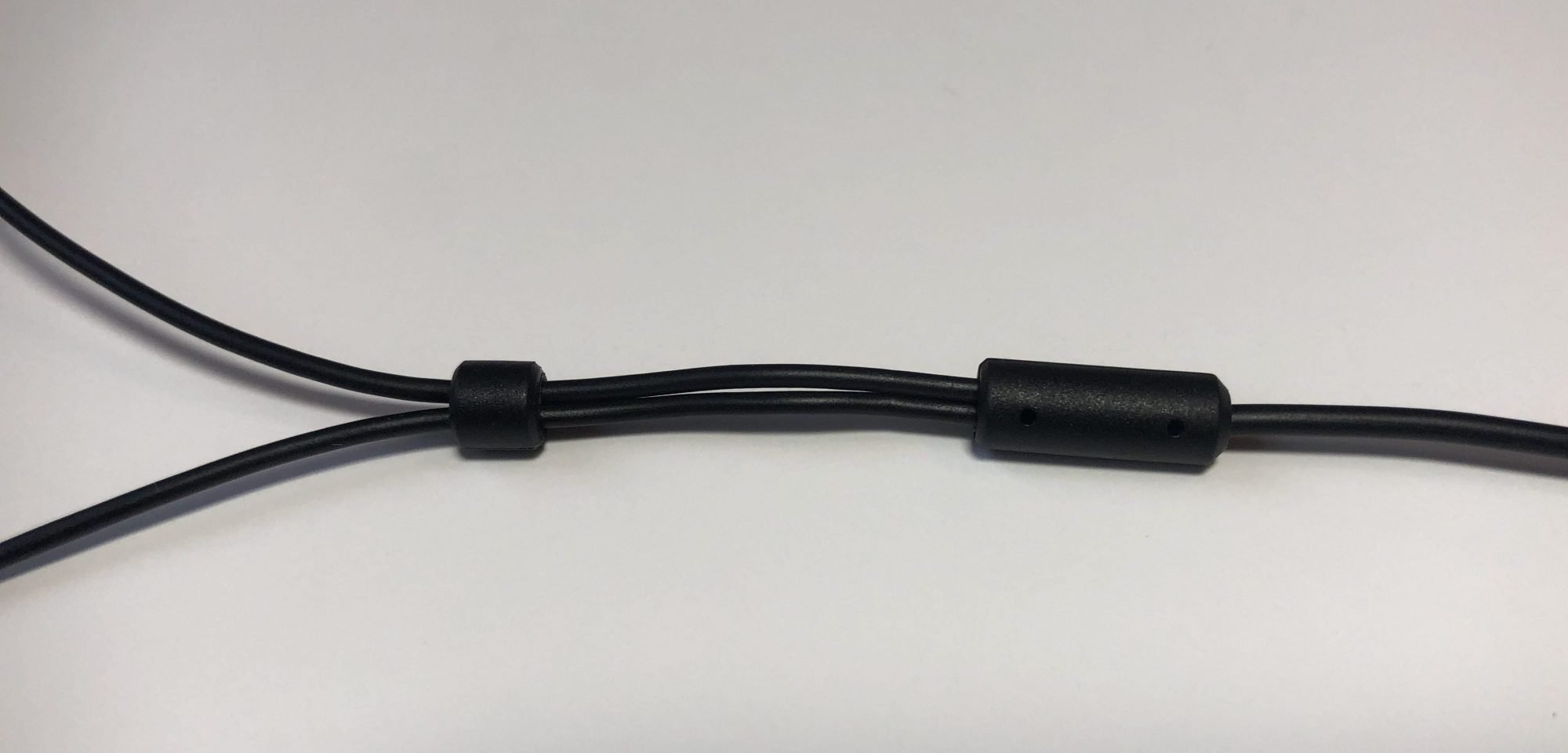 The joints are small and the wire is pretty basic: thin, flimsy, and prone to some microphonics. Giving Final Audio the benefit of the doubt one could assume they crammed as much of the ~$50 budget into the actual earphones as they could, but still, I'd be a little weary of this wire breaking if I carried these around all that much. There's a small slidable piece that can shorten the left and right wires.
The right-angled plug support is a little bigger and sturdier feeling, but is still relatively small and flimsy. That said it did plug into my device securely and without any issues.
Sound And Performance
General impression: The E3000s have a distinctly unique sound that's very good overall – very soft, full, and warm, but without a loss of clarity that so often causes noticeable muffling. There's no audible sibilance whatsoever. There's a slight lack of detail compared to the monitors I use, and the recessed mids and highs make the sound feel a bit far and removed.
Sound signature: round, with emphasized bass and rather significant recession in the mids and highs, which I feel is kind of inevitable with the style of sound the E3000s have.
Sound staging: truly good sound staging is pretty nonexistent with headphones less than three figures, but that of the E3000s is surprisingly somewhat decent, especially considering their sound signature.
Bass: definitely emphasized, or maybe fully present while the mids and highs are recessed. Final Audio doesn't specify a response range, but drops I test with came through fine, no volume loss and tone/pitch loss was minimal. Overall the bass does feel a bit muddy and sluggish, and there's some upward bleeding.
Power/Volume: The impedance is a low 16 ohms, so in theory any device should be able to power these fine. But, the low-ish 100 sensitivity rating coupled with the sound style made me need to practically double my normal device volume to get these earphones adequately loud enough. So there's a small chance volume might be an issue with the E3000s.
Isolation: pretty much zero, and there's a bit of leakage through the open backs. If isolation is something you need for commuter use, I wouldn't recommend these.
Warranty: two years, which is solid coverage at the $50 price-point where most earbuds have a year or less of warranty. Something to note: the included physical warranty card is required along with your receipt if you need to return these, so hold on to it.
Overall Take, As Compared To The Competition
The E3000's sound is very good for the price point, and is distinctly unique: soft and easy without any loss of clarity or muffling. Given that, I can definitely see why these somewhat obscure earbuds are rather popular in the audiophile world. They're also comfortable and seal/fit very well. All in all they're definitely a solid choice with a unique sound that will likely be ideal for many people.
Get the E3000 earbuds on Amazon
See our current picks for the overall best earbuds available for less than $50