Written By Pete Anthony
  Last Updated On: 5-5-19  
The BHS-730 is wireless pair of earbuds with a wire that merely connects the buds to each other – there's no 3.5mm jack and these are only usable via Bluetooth. These caught my attention particular because they've been significantly discounted to a fraction of the original MSRP despite not being that old of a product. The BHS-730 actually has a lifetime sweat-proof warranty and is intended for active/sport use.
The "box" is literally just a plastic bag that tears open, which is kind of janky, but everything save the manual is inside the included hard carrying case in individual baggies so that's fine enough for shipping protection.
Included with the headphones:
hard carrying case with zipper
two pairs of different sized silicone replacement tips with ear pads
three pairs of different sized regular silicone replacement tips
one pair of foam replacement tips
two shirt clips
three wire shortening clips
micro usb charging cable
manual, warranty card, various coupons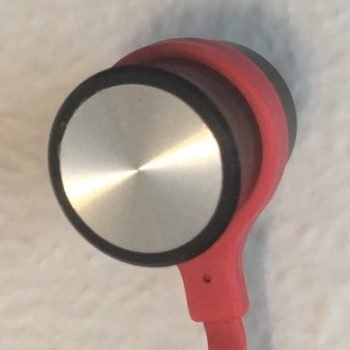 The plethora of included accessories is nice because you've got a lot of options to get a solid fit and comfort. I opted for the regular silicone tips because I tend to prefer them and wanted to see how they feel:
The buds are definitely heavy and bulky but fit surprisingly well. Even without the ear pads or wrapping the wire around my ear I didn't feel any sensation of them hanging out and down. I did lose a little seal if I moved my jaw enough, and I could probably fix that with some effort to find the best tips/positioning, but these fit fine enough out of the box for the sake of this review.
The buds are magnetically attachable on the backs which is a neat little feature, makes for hanging them up or putting them back in the case easy to do.
The mic is a pretty standard three button unit off-center on the right side, and can do all the basic volume/tracking and on/off call functions that one would expect from a Bluetooth headset. The female charging port is on a perpendicular side and has a fastened rubber cap for when it's not in use.
The wire is the flat linguine style with a matte finish and is a little thin and flimsy, but didn't seem to cause hardly any microphonics which is nice.
All in all these are reasonably sturdy and comfortable wireless earbuds.
Spec/Performance Discussion, Listening Impressions, Other Related Observations
Setup/Wireless: since the BHS-730 is Bluetooth only it needs to be initially charged, which takes about 1.5 hours. Fully charged it has an 8 hour battery life and 250 hour stand-by life, which is comparatively average for budget wireless earbuds. Pairing is easy and it has built in prompts which say "power on" and "pair successful" which is nice. There's a bit of audible background static from the Bluetooth but that almost always occurs with cheaper wireless headphones – I'd say it was tolerably average in this case.
General impression: these sound reasonably decent for budget earbuds, but not stellar. Reproduction is decently even and consistent, with good detail and clarity. However, there's definitely a significant boxy effect that's immediately apparent, along with some sibilance that makes the sound kind of thin, narrow, and airy. I think the background Bluetooth static might contribute to that sensation, and is sometimes noticeable and distracting on quieter songs.
Sound signature: pretty flat and neutral, though seemingly with slightly emphasized mids.
Bass: Phaiser doesn't publish a response range, but I'd say the bass extension is pretty good. Various drops I tested came through fully. The bass sound was a little muddy and resonant – again, decent but not stellar.
Power/Volume: since they're wireless and self amplified there's obviously no need to worry about your device being able to power them. These actually got very loud easily I found, so that shouldn't be an issue
Isolation: pretty good, I'd put it at a solid medium, should be fine for most commuter use that isn't excessively noisy.
Warranty: the BHS-730 has a two year manufacturer warranty and an additional lifetime warranty against potential sweat damage, which is some of the best coverage I've seen on wireless sport earbuds.
Overall Take, As Compared To The Competition
The BHS-730 is a comfortable and easy to use wireless earbud that has excellent warranty coverage and decent overall sound for it's current price. However, there's been a lot of growth in the wireless earbud market in just the five years since this company started, and I'd say that, at the time of this writing/update, there are better sounding alternatives that also have more battery life. I'm not sure why the BHS-730 used to be multiple times more expensive, and the original MSRP is way overpriced for the quality of sound you get. Maybe Phaiser realized that and subsequently decided to pivot – I did notice on their website that these and other headphones of theirs have seen several iterative updates, and while the BHS-730 is I'd say a viable choice for the current price, it is possible it will be improved upon in the future.
Get the Phaiser BHS-730 on Amazon
See our current picks for the overall best earbuds available under $50