Written By Pete Anthony
  Last Updated On: 5-7-19  
Skullcandy's Strum are a budget pair of wired earbuds that have been around for a while and are still popular, probably in part to them seeing some discounts from the original MSRP. They're definitely oriented for comfort and convenience – the buds are ergonomic and the headphones are fully controllable via the in-line mic unit.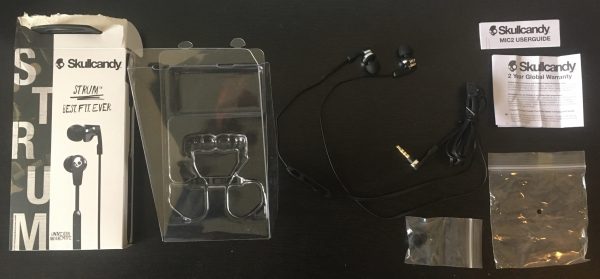 Packaging is basic but decent enough. The box opens (or tears open in my case) and a contoured plastic packing piece slides out, with the buds and in-line mic embedded in. The wire is bundled in the upper compartment which also holds the accessories.
Included with the headphones:
one pair of smaller silicone replacement tips
manual pamphlet
warranty pamphlet
These only come with one pair of replacement tips while most other earbuds come with at least two or three these days, so if neither of the two fit you you'll have to use separate tips. I will say though that these fit me very well out of the box – they're very comfortable and lightweight, and they didn't shift or pull at all or lose the seal when I moved my head and jaw.
The mic is on the left wire and has a nifty volume slider that makes changing it very easy, though it did feel a little flimsy and loosely rattled around a bit. The control button is on the back and does all the basic remaining functions: on/off call, play/pause, and track surfing.
The wire is the flat linguine style, pretty basic, kind of flimsy and prone to microphonics. The angled support is nice and sturdy though and the jack plugged in firmly to my device without problems
All in all these are very decently fitting and comfortable earbuds that are easy to use with the full in-line controls.
Spec/Performance Discussion, Listening Impressions, Other Related Observations
General impression: even though they're cheaper now, because the original MSRP of the Strum is $50 I'd hoped these would be an audible step up from an average budget earbud. They definitely were and yet still impressed me. The strum sounds very good – they don't seem to suffer at all from flaws that are common with cheaper headphones, and the overall reproduction felt very even, with a nice fullness but still with decent detail and separation.
Sound signature: a bit round, with emphasized bass and slightly de-emphasized trebles. These definitely have that warm/soft feel that makes for very easy extended listening. Various EDM songs I test that are prone to fatigue had that issue to a seeming bare minimum.
Bass: the clarity of the bass is also good, with solid separation and no bleeding. The extension I'd say was decent but not stellar – drops I usually test were a little recessed and lost tone on the low notes. Overall bass was also a little boomy and resonant, and had some feelable thumpyness on EDM songs. Skullcandy doesn't publish a response range for the Strum but I'd imagine it's comparatively average, maybe a little worse than some competitors that prioritize extension and consistency.
Power/Volume: Skullcandy neither publishes impedance or sensitivity specs for the Strum, and I'd originally thought the sensitivity was abnormally low, only to remember that these have the volume slider – once I made sure that was high enough I'd say my device volume was about where it normally is to get the volume I like with earbuds.
Isolation: I'd put it at light – there's some isolation but not a lot, so these might not suffice if you need enough blockage for really noisy commuter use.
Warranty: the Strum has a two year warranty which is comparatively good – most budget earbuds have a one year warranty
Overall Take, As Compared To The Competition
The Strum is a very comfortable and well fitting pair of earbuds that all around sounds impressively good for the price it's available at the time of this writing/update, and is definitely a viable choice for an easy to use and listen to commuter pair of headphones. The in-line slideable volume control is also a nice feature. The wire and mic-unit are a little thin and flimsy and prone to microphonics.
Get the Skullcandy Strum on Amazon
See our current picks for the overall best earbuds available under $50