Written By Pete Anthony
  Last Updated On: 5-14-19  
TIN HiFi is a relatively unknown Chinese audio company that, as far as I can find, doesn't even have a functioning website at the moment. That said, their T2 wired earbuds are very popular and regarded by many as some of the best neutral critical listening earbuds available around the $50 price-point. The T2 Pro is an updated version, but more of a sidegrade than an upgrade – they're only several dollars more and look identical to the T2s, with the only apparent difference being slightly adjusted tuning to achieve further neutrality. I'd wager that some might think the Pros sound better while others might not. I will say that when audio companies update products that piggyback off the namesake of the older version it's a good sign that we have a winner. In any case, I was excited to pick up a pair of the T2 Pros and see what all the apparent hype is about.
Packaging is very nice – the outer box opens to reveal a nice inner box with felt covering that folds open up top, revealing the earbuds and jack neatly embedded in good quality contoured packing foam. Lifting the foam reveals the inclusions below in individual baggies. I was a little disappointed that at this price-point there wasn't a carrying case included.
Included with the headphones:
one pair of foam tips
six pairs of wider nozzle grey silicone replacement tips
three pairs of narrower nozzle black silicone replacement tips
velcro wire wrapper
manual pamphlet
The earbuds are metallic and feel very sturdy yet remain lightweight. The wire has designated left/right connectors but the earbuds do not, and can be designated to the left or right depending on whether you want to invert them and wrap the wire behind the ear or just wear them hanging: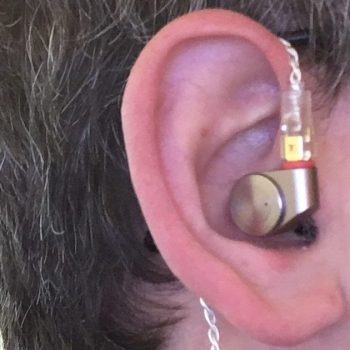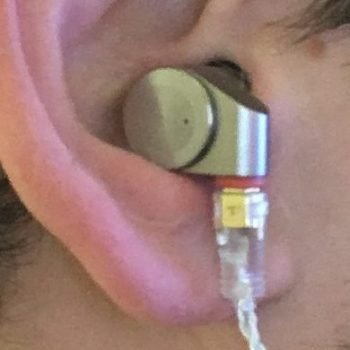 The plethora of included replacement tips, in three different varieties no less, is great because chances are you can find the ones that are really right for you. I tried and listened with all three types but eventually settled on the black silicone tips with the narrower nozzles, which seem to dampen the sound a little bit in a way that I found preferable.
I simply wore them hanging and the T2 Pro fits great out of the box – very comfortable, no sensation of weighing out and down, and the seal held and sound didn't alter no matter how I moved my head or jaw.
The cable is woven and doesn't have an outer layer of insulation, and has kind of an unpleasant rough touch that's a bit uncomfortable if worn behind the ear (separate pads would remedy that though) and is a little prone to microphonics. The clear plastic piece above the joint slides up and down to shorten the left/right wires.
The jack and support is nice and thick and sturdy and firmly plugged into my device without problems. It also has a nice margin of berth to better fit with various phone/device cases that sometimes impede 3.5mm jack plugs.
All in all, the T2 Pro is a very nice looking and well built pair of earbuds that fits great out of the box. The wire isn't the best but is decent enough.
Spec/Performance Discussion, Listening Impressions, Other Related Observations
General impression: the T2 pro sounds excellent for the $50 price point, and I was immediately amazed by the sheer detail, clarity, and separation. You can really hear the individual instruments, sounds, and vocals in a distinct way, and it was reminiscent of the subtleties that I generally only notice when I'm using a true pair of monitoring headphones that cost a lot more than these do. The perceived sound stage is also nice a wide, and these don't feel cluttered at all. I read a lot about people disliking the bright/harsh trebles or saying it takes getting used to, but I honestly didn't get that impression, and I'm someone who tends to prefer a rounder earbud with emphasized bass. Maybe the upper half is ever so slightly bright and harsh, but I was able to take these for like a five hour ride out of the box with no fatigue issues, even with songs that I specifically use to test for fatigue.
Sound signature: the T2 is very flat and neutral, but does have recessed bass with a little roll off, so if you're looking for a bass emphasized earbud that gives a bit of that proverbial umph, I wouldn't say the T2 is a good choice.
Bass: even though the bass is recessed and quieted the extension is still good – the quoted response range is 12 – 40k Hz which is decent at this price-point. The clarity and detail also remains, so you can still really hear the pitch/tone of various bass lines and there's no mud or bleeding. Various drops I test were pretty underwhelming though – again, definitely not basshead earbuds.
Power/Volume: the manual doesn't specify a sensitivity rating, but the regular T2 is rated at 102, which is OK but not exceptionally high. I had to turn my device volume up about 20-30% more than I normally do to get these to a volume I liked, but part of that might have been that higher quality headphones just tend to sound and hold together better at higher volumes (be careful!). The impedance is 16 ohms which is pretty standard for a budget earbud, and pretty much any device should power these without problems
Isolation: decent, I'd put it at a solid medium – fine for most commuter use but might not suffice in really noisy environments.
Warranty: the T2 Pro has a one year warranty which is mediocre coverage – a lot of earbuds that go for more than $50 will start to see 2+ years of coverage.
Overall Take, As Compared To The Competition
I see why the T2 is so popular – the pro version sounds overall very good for the price, and has frankly amazing clarity and detail that feels on par with monitoring headphones that cost a lot more money. If you're looking for a neutral earbud that excels at critical listening while remaining easy and non-fatiguing for extended use, the T2 Pro might very well be, at the time of this writing/update, the best choice on the market. I've already put several hours on them within two days of getting them and I suspect I'll continue using these a lot. These definitely aren't basshead headphones, however, if that's what you're specifically looking for. The wire is a little uncomfortable and prone to microphonics too.
See our current picks for the overall best earbuds available under $50