Written By Pete Anthony
Last Updated On: 4-6-19  
The Tennmak Pro is a popular and interesting pair of earbuds that uses two drivers within each headphone, kind of analogous to a traditional two way bookshelf speaker with a tweeter and woofer. The main benefit of additional speaker drivers is that each can really optimize for specific parts of the sound range and, cumulatively, give full and accurate reproduction from low bass to high treble.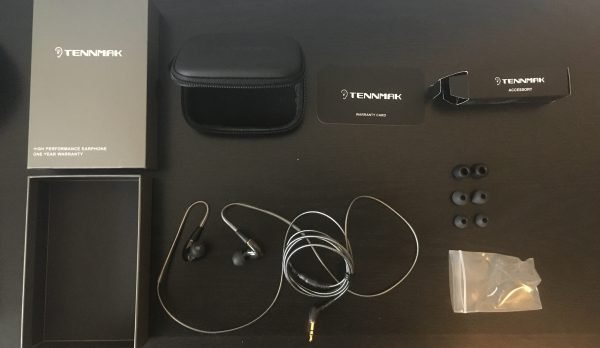 The packaging was very nice – once the outer plastic is removed a sturdy gift box easily slides open to reveal a hard carrying case which contains the headphones. Also included in the box is a warranty card and a smaller box with three pairs of replacement tips.
Despite housing the dual drivers the earbuds manage to stay reasonably light and compact, and fit nicely into my ear. They fit inverted and each wire has an elastic tube thing that wraps the wire around the ear.
This plastic encasing isn't malleable and obviously thus won't fit perfectly with every ear, but I found it comfortable enough. I have read that it's possible to reshape it with a hairdryer if you're willing to put in the effort.
The wire is very nice as well – the inner insulation is some sort of woven metallic material which is then encased in a second layer of insulation that's smooth plastic. There was almost zero microphonics and the wire didn't get tangled or stuck along my clothes when wearing them.
The Tennmak Pro is available either without a mic or with an in-line mic for just a few dollars more.
The semi angled jack is small but nice and sturdy.
All in all these are very nice looking, comfortable, and well built earbuds. The only arguable downside is the ear tube things being not easy to mold, but I found them comfortable enough out of the box.
Spec/Performance Discussion, Listening Impressions, Other Related Observations
The overall sound signature is good and also unique: good in that there's no thinness, sibilance, or boxiness that cheaper headphones are often prone to; and unique in that they sound very round and soft.
The latter is in part due to the bass being very emphasized while the mids and trebles are generally recessed. This made certain edm and hip hop songs sound particularly good, while other songs felt like they kind of lost clarity, detail, and crispness. These were also prone to bass bleed, or the bass being generally distracting. The bass extension is great – drops that I tested came in full and sounded really good.
The sensitivity rating is 100 and the impedance is a mere 16 ohms, which means these get nice and loud very easily and pretty much any device should have no problem powering them. I noticed that I didn't need to crank the volume up on some quieter classical songs like I normally do.
The noise isolation is low/medium, I'd say – enough to block out ambient noise, but probably not enough for really noisy environments.
The Tennmak Pro has a one year warranty which is about average coverage at this price-tier.
Random specific listening notes:
Daft Punk; Give Life Back to Music – seemed kind of blended together, lacked detail
Daft Punk; Get Lucky – bass has a kind of wumpy sound, Pharrell's vocals feel a bit muffled
Daft Punk; Lose Yourself to Dance – intro bass sounds really good, albeit strong with physical resonance, low percussions very powerful
An Endless Sporadic; Impulse II – lack of detail, muddy bleeding bass, made the brass instruments sound bad
The Choir of Trinity College; Ubi Caritas – sounded really good, good clarity and evenness, no specific/perceptible complaints, interestingly didn't have to crank the volume up on this normally quiet recording
Clean Bandit; Rather Be – had an echo sensation, particularly noticeable in the vocals, beat was strong but no resonance/fatigue, song lost clarity when the pianos came in
Steely Dan; Peg – bass and low synths instruments were a bit forward and distracting, otherwise song sounded fine. Choral hooks did sound good
Lil Wayne; A Milli – drop sounded really good, nice and strong but not muddy or fatiguing vocals sounded good, this is clearly what these headphones are meant for
The Chainsmokers; Wake Up Alone – drop sounded really good again, didn't lose tone or volume, very slightly recessed mids/trebles but all in all this song sounded really good
Earth, Wind & Fire; September – little lack of tightness and detail in the percussion, recessed strings and brass
Deadmau5; The Veldt – sounded really good, the beat had a nice thump but it wasn't resonant or fatiguing
Metallica; One – percussions pretty loud and forward, beginning guitar sounded nice and crisp, significant fatuige from the later distorted guitar
Pantera; Cowboys From Hell – significantly lack of detail, just all sounded kind of muddy and bad, not the right song at all for this sound signature
Ludovico Einaudi; I Giorni – sounded solid, nice, no specific/perceptible complaints
Nas; The World Is Yours – sounds solid, no specific/perceptible complaints
No Doubt; Hey You – lows are grainy, less detail, bit of bass bleed, guitar does sound nice and punchy
Petit Biscuit; Memories – beat is emphasized and bit fatiguing, otherwise sounds fine
Rage Against The Machine; People of the Sun – vocals and guitar underwhelming, lack of crispness and umph that this song normally has, bass is too loud and forward
RÜFÜS DU SOL; Sundream – sounds really good, no specific/perceptible complaints
Rush; YYZ – bass/guitar just kind of sounded cluttered together, lacked detail, percussions were recessed but sounded OK
Vanilla Sky; Umbrella – just sounds a little underwhelming, otherwise fine
Overall Take, As Compared To The Competition
The Tennmak Pro is a nice looking, well built, comfortable, and very decent sounding pair of earbuds for the modest price. The signature is unique: very bass emphasized and mid/treble recessed, resulting in a kind of round and soft sound that makes edm and hip hop sound particularly good, while other songs sometimes lost detail and crispness. These also seem very good for easy extended listening.
See our current picks for the overall best earbuds available under $50