Written By Pete Anthony
  Last Updated On: 7-8-19  

JBL's E25BT is a wireless pair of earbuds with an original MSRP of around $60, though I've seen them significantly discounted in some places to as low as around $20. The E25BT's earbuds are merely connected to each other and there's no 3.5mm jack, meaning these are only usable via Bluetooth.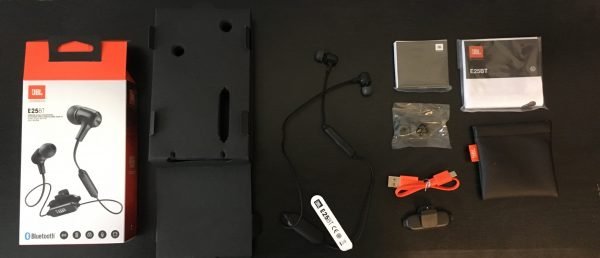 The packaging is solid – inside the box the earbuds are embedded in a contoured piece of packing foam that seems unnecessarily large, but whatever. The rest of the accessories are in a hollowed out portion of the same box.
Included with the headphones:
two pairs of different sized silicone replacement tips
manual and quick-start pamphlets
faux leather carrying satchel
micro usb charging cable
detachable shirt clip
The buds are pretty small and basic and fit me decently enough out of the box with the medium tips. They're light and didn't cause any feelable "hanging out" sensation. I lost a little seal when I moved my jaw significantly but that's about it.
The control scheme on the E25BT is a little odd – the center piece doesn't actually do anything except display the power button, while a second piece on the right side has the actual in-line controls. The buttons are basic: a play/pause/call/power button in the center, and volume and tracking buttons on the left and right. One slight issue I had is that I couldn't get the track skip function to work with a long hold, per the manual's instruction, but that might just be an issue with the device I happened to pair it to.
The wire itself is short and intended to be worn behind the neck, though for me it felt more intuitive around the front, otherwise the in-line controls seem like they'd be hard to reach and use. The center piece and wire caused a fair bit of microphonics.
All in all, these are pretty basic but decently fitting and comfortable wireless earbuds.
Spec/Performance Discussion, Listening Impressions, Other Related Observations
General impression: the E25BT sounds quite decent overall, and doesn't suffer from any of the flaws that are common among cheaper earbuds. The base is definitely emphasized while the mids and trebles are a bit recessed and lack detail – it's a kind of sound that seems to be characteristic of JBL earbuds in general to varying degrees.
Sound signature: definitely warm/round with emphasized bass, good for easy extended listening but not so much for fine/critical listening.
Bass: the bass extension is excellent, nice and low without volume loss on all the various drops I tested. It's a little muddy and boomy though, and bleeds up a bit.
Power/Volume: the sensitivity rating is 102 which is good for a budget earbud, and these had no trouble getting loud enough.
Isolation: I'd put it around light/medium, decent enough for most ambient noise but might not be sufficient for very noisy commuter use.
Warranty: 1 year, which is pretty standard for budget earbuds.
Overall Take, As Compared To The Competition
At the original MSRP of around $60 I'd say these aren't worth it, mainly because there are now several competitors in that price range that are just much better all around. But if you can find them closer to $20, they're definitely a viable choice for the money, particularly for those who like the bass emphasized JBL earbud style of sound. The competition at this price tier is stiff though – you might find alternatives that sound better to you.
See our current picks for the overall best earbuds available under $50