Written by Pete Anthony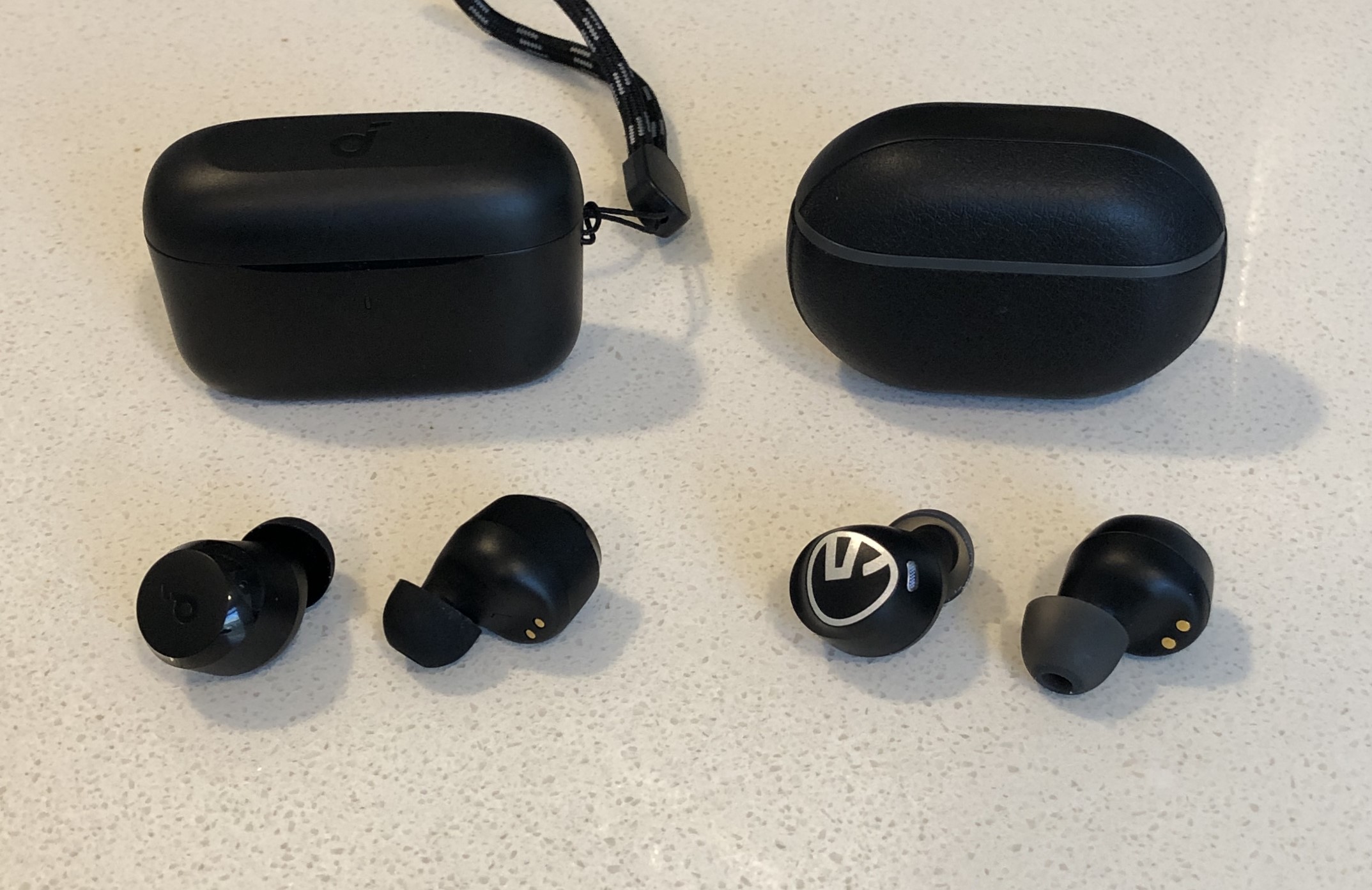 Soundcore and SoundPEATS are both relatively new and niche companies that produce true wireless headphones and earbuds pretty much exclusively, which is a direction that a lot of audio companies are starting to go since the TWS market has quickly become massive and is still growing rapidly.
The Free2 Classic and A20i are both budget TWS earbuds that are fairly similar at face value. The Free2 Classic is a little over two years old now, but remains quite popular and is, in my opinion, still a very solid product. The A20i came out more recently, but is very quickly becoming one of the most popular budget earbuds on the market. As such, a lot of people have started to ask: how do these two products compare? is one decidedly better than the other? I have fully reviewed both products and will answer those questions here.
Soundcore A20i vs SoundPEATS Free2 Classic Side by Side
Soundcore A20i vs SoundPEATS Free2 Classic Specs and Features
Spec
A20i
Free2 Classic
release date
Apr, 2023
Apr, 2021
price-tier ⓘbudget: around $30 or less
value: around $30-$60
performance: around $60-$100
premium: around $100-$200
elite: more than $200
budget
budget
design style
single 6mm dynamic driver
single 6mm dynamic driver
earbuds battery life
9h
8h
total + case battery life
28h
30h
weatherproofing
IPX5
IPX5
onboard controls
touch based
touch based
wireless charging
no
no
active noise cancellation
no
no
transparency mode
no
no
Bluetooth version
5.3
5.1
EQ app compatibility
yes (only pre-sets)
no
Multipoint 2+ device support
no
no
warranty
18 months
12 months
The A20i and Free2 Classic have the same basic design: a stemless case with a single 6mm driver. But the A20i has some distinction with its more up to date Bluetooth version, EQ app compatibility, and slightly better warranty.
Soundcore A20i vs SoundPEATS Free2 Classic Fit and Comfort
The Free2 Classic fit and comfort is better than that of the A20i, and I think this is mostly due to the Free2 Classic tips being better. Or perhaps it's more that the tips that come with the A20i are just unusually bad – they have a thin, rough, and not so malleable feel that's almost kind of brittle, whereas the Free2 classic tips have a softer and more jelly like feel that's better on the skin and seals properly. The A20i earbuds are prone to seal breaking and sometimes shifting if I move parts of my head in certain ways, whereas the Free2 Classic earbuds maintain a proper seal no matter what.
What's strange about the A20i's tips is that the stemmed version, the P20i, which was concurrently released with it, has much better tips for some reason. It's probably possible to use separate tips on the A20i that are better, but that's of course assuming you have them or are willing to additionally buy them separately.
Soundcore A20i vs SoundPEATS Free2 Classic Isolation
Neither the A20i nor Free2 Classic has particularly great isolation – they're both OK but below average. The isolation of the Free2 Classic is a little better, mostly due to its better tips and fit, but the A20i might be able to make up the difference with the right EQ pre-set, depending on what you might decide to go with.
Soundcore A20i vs SoundPEATS Free2 Classic Controls
The A20i and Free2 Classic both have touch control schematics that are easy and reliable to use. The default Free2 Classic schematic is better than that of the A20i. The Free2 Classic has all the basic functions – play/pause, volume, and tracking – while the A20i does not have volume control by default. However, you can customize the touch controls with the Soundcore app and add that in. The A20i plays distinct beeps to acknowledge touches while the Free2 Classic does not.
Soundcore A20i vs SoundPEATS Free2 Classic Charging Case
The A20i and Free2 Classic cases are about the same, and basically passable for budget earbuds. The A20i lid is a little thinner and flimsier, but it also comes with the lanyard and hook. I don't think it matters too much here.
Soundcore A20i vs SoundPEATS Free2 Classic Sound Quality
Preliminary note: this page explains how I evaluate the sound quality of headphones and earbuds.
The Free2 Classic definitely sounds better with its out of the box default tuning, and this is mostly because the default tuning with a lot of Soundcore's more recent earbuds has been fairly bad. The Free2 Classic is a little warm and lacking of clarity, but overall the balance and accuracy is decent. The A20i, however, has noticeably recessed mids and highs and sounds almost muffled.
That said, the A20i is compatible with the Soundcore app while the Free2 Classic is not compatible with any app and is stuck as is. You can't fully customize the EQ with the A20i like you can with most other Soundcore earbuds – and I honestly don't know why – but you can at least choose between one of the many pre-sets, and if one of the pre-sets more or less matches your ideal custom EQ, then it's effectively just as good. The "treble enhancement" EQ pre-set fixes a lot of the default tuning issues with the A20i and makes them sound much better, and a little better overall than than Free2 Classic – there's a little more detail and separation, and perceived sound stage is also wider.
Final Verdict: Is the Soundcore A20i or SoundPEATS Free2 Classic Better?
If you don't want to deal with apps and/or EQ adjusting, and you just want a budget pair of earbuds that works well right out of the box, I'd go with the Free2 Classic – it's a very decent "as is" pair of wireless earbuds, whereas the default A20i tuning has some significant issues. The Free2 Classic also comes with better tips and fits better as a result.
That said, if you are willing spend as little as a few minutes with an app, and you're maybe willing to experiment with separate tips, I think the A20i is the better choice – you'll likely get sound that's at least slightly better with one of the pre-sets (I recommend "treble enhancement"), and you also get the slightly better warranty, later Bluetooth version, and lanyard if that's something you care about.
Get the A20i wireless earbuds on Amazon (affiliate link)
Get the Free2 Classic wireless on Amazon (affiliate link)
Relevant Articles
• Full Soundcore A20i review
• Full SoundPEATS Free2 Classic review
• The overall best budget true wireless earbuds (under $30)