Written by Pete Anthony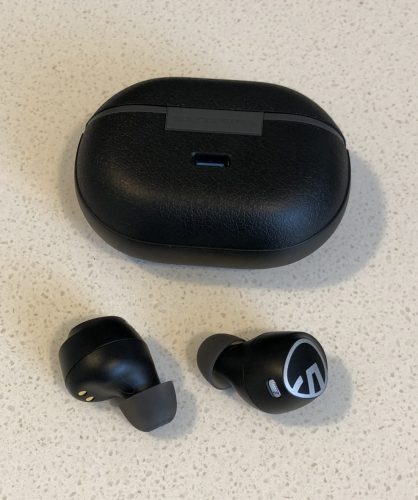 What Accessories Come Included With the SoundPEATS Free2 Classic?
manual booklet
2 pairs of different sized replacement tips
short USB-C charging cable
charging/carrying case
How Good and Comfortable Is the SoundPEATS Free2 Classic Fit?
The Free2 Classic has a shallower and comfort oriented fit, and the earbuds are very easy to take out and put back in. I had to switch to the large tips to get a secure feeling seal, but the earbuds still shifted a little if I moved my jaw around enough. The seal didn't seem to compromise at all though despite that.
SoundPEATS Free2 Classic Controls
The Free2 Classic has an easy to use control schematic that has all of the functions one would expect true wireless earbuds to have in 2023. There are are also some extra useful functions that you don't normally see, like call switching and manually entering pairing mode in case the auto function doesn't work for some reason. I found the controls to be reasonably responsive and reliable. The flat backs are easy enough to find with your finger and touch, but you do kind of have to hit the right central spot for the command to register.
List of SoundPEATS Free2 Touch Control Functions:
pause/play, accept/end call – 2 taps either earbud
volume down – 1 tap left earbud
volume up – 1 tap right earbud
reset/track back – touch and hold left earbud for 1.5 sec
track forward – touch and hold right earbud for 1.5 sec
reject incoming call – touch and hold either earbud for 1.5 sec
switch between two calls – touch and hold either earbud for 2 sec
manually enter pairing mode – touch and hold either earbud for 6 sec
activate voice assistant – 3 taps right earbud
Pairing the Free2 Classic is easy and straightforward – just take one or both earbuds out of the case and they'll automatically enter pairing mode, then select "SOUNDPEATS Free2 Classic" from the menu and you're good to go.
Durability: Is the SoundPEATS Free2 Classic Waterproof And/Or Dustproof?
The Free2 Classic has an official ingress protection code of IPX5 – the final "5" digit means it's water resistant up to some splashing, and the penultimate "X" digit placeholder means there's no certification against dust or debris. There are some similarly priced competitors that have fully waterproof buds and cases (IPX8), or a double digit IP code that does certify protection against dust/debris, but IPX4+ is generally fine for most basic active use and exercising.
SoundPEATS Free2 Classic Isolation
The Free2 Classic does not have any noise cancellation, and the more casual fit makes the isolation not that great as a consequence – I'd put it around low-medium. If you particularly need noise attenuation there are alternative products that are designed with that in mind.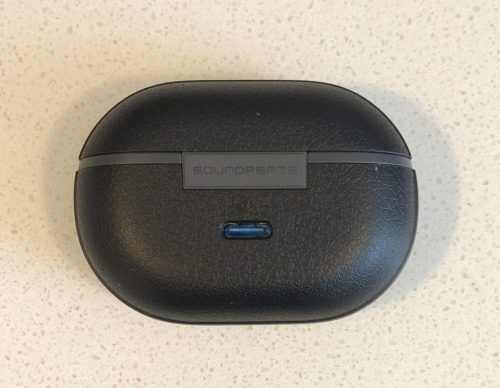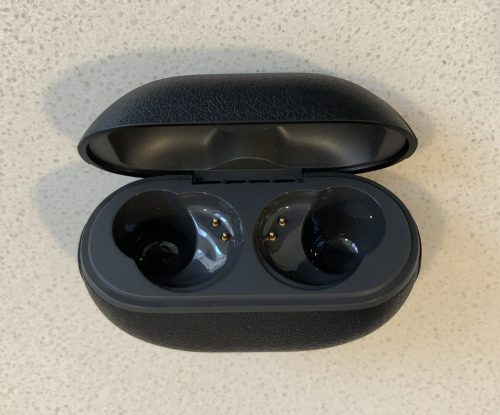 The case is nicely small and has flat pill shape that is great for being non intrusive in a pocket and for portability in general. I wish there was a cover for the female charge port, but this is something that more and more companies are starting to omit and I honestly don't know why.
How Good Is the SoundPEATS Free2 Battery Life?
The purported battery life of the earbuds is 8 hours, and the case gives another 2.8 recharges for a grand total of 30 max hours before needing to plug back in. This is OK for budget true wireless earbuds in 2023 but not amazing.
Does the SoundPEATS Free2 Have Good Warranty Coverage?
SoundPEATS offers a 30 day return window for refund/exchange and a one year limited warranty against defects for all its earbuds, which is the fairly standard industry minimum
A note before the next section: this page describes how I evaluate the sound quality of headphones and earbuds.
The Important Question: Does the SoundPEATS Free2 Classic Sound Good?
I think the Free2 Classic sounds very good for its price point, enough to impress me, which is not something I say in my reviews lightly. These very well might end up in the best-of conversation/article after I a/b them some more against competitors.
The balance feels very good, nicely flat and even with a little brightness up top. The clarity and detail is definitely there, and the sound profile still manages to feel somewhat soft and full. This is not easy to pull off on a budget, and stands somewhat in contrast to most other budget earbuds that follow a Harman/U-shape curve with tuned up bass. There is a slight boxy sensation but it's barely noticeable.
I did notice some weird suck out with some low mid percussion. I wouldn't say it sounds bad, just a little weird – I'm not sure what's actually going on, it just feels like if someone moved a speaker away from you then back very fast.
The bass quality is decent, but not stellar, and the bass extension is about average. The quoted response range of the Free2 Classic is 20 – 20k Hz, which is pretty average for budget earbuds, and I'd say the sound fairly reflects that figure. The drops I normally test were a little recessed and had some roll off. These are definitely not bassy earbuds if that's what you're in the market for.
So how does the Free2 Classic compare to industry leading earbuds that cost several times as much?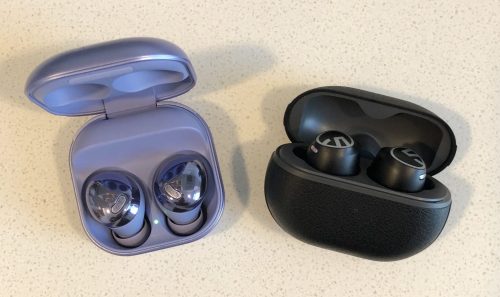 Neutral/bright earbuds are less common in the budget price tier, even less so decently sounding ones, so I was very curious to see how the Free2 Classic sounded compared with something like the Galaxy Buds Pro. I think the Free2 Classic just didn't quite have the nice airy fullness that a premium wireless earbud like the Galaxy Buds Pro has. The Free2 Classic sounded a little thin, narrow, and kind of sucked in in comparison. The boxyness I mentioned earlier was also noticeable in quick contrast as well.
All in all, though, I still say I remain impressed with the Free2 Classic – the neutral balance while maintaining decent fullness was still definitely there and absolutely held a candle to the Galaxy Buds Pro.
Final Verdict: Is the SoundPEATS Free2 Classic Worth Buying?
The Free2 Classic is easy and comfortable to wear and sounds great for its minimal price, and is likely in the best-of conversation. Furthermore it's unusual because it's a fairly neutral/bright budget earbud that still manages to sound accurate and nicely full. If that's the kind of sound you're looking for as opposed to the much more common bassy U-shape sound, and you don't particularly need noise isolation or extensive battery life, then the Free2 Classic is a great option.
Get the Free2 Classic wireless earbuds on Amazon (affiliate link)
Popular Comparisons
For those who are curious how the Free2 Classic fares against popular competitors:
• SoundPEATS Free2 Classic vs JLab GO Air Pop
• SoundPEATS Free2 Classic vs QCY T13
• SoundPEATS Free2 Classic vs Soundcore A20i
Relevant Articles
• Is SoundPEATS a good audio brand?
• Our current picks for the overall best budget true wireless earbuds