Written by Pete Anthony 
Last updated on:
Preliminary disclaimer: TOZO was awesome enough to send us a free review unit with no strings attached.
TOZO is a relatively new audio company that isn't all that well known in the mainstream, but in the last five years or so they've seen massive success in the ecommerce market, mainly for producing a variety of quality and feature rich wireless earbuds at a minimal price.
Their budget T6 and T10 earbuds, which originally came out circa 2018, have topped Amazon's best sellers list for a few years now, and the only company to garner more reviews on Amazon in that category is none other than Apple.
I have reviewed many of TOZO's earbuds at this point, including the T6 and T10, and am generally favorable to them. The company has done a good job in the now brutally competitive budget earbud market, and they're a good audio company overall.
But can TOZO compete in the so called "premium" market? where enthusiasts are willing to spend hundreds on dollars on headphones? Enter the Golden X1, which appears to be TOZO's first shot at trying to do so.
It uses a dual driver design, one large 12mm dynamic woofer driver, and a balanced armature tweeter driver. This is a pretty popular design for mid/high end earbuds that try to remain reasonably compact.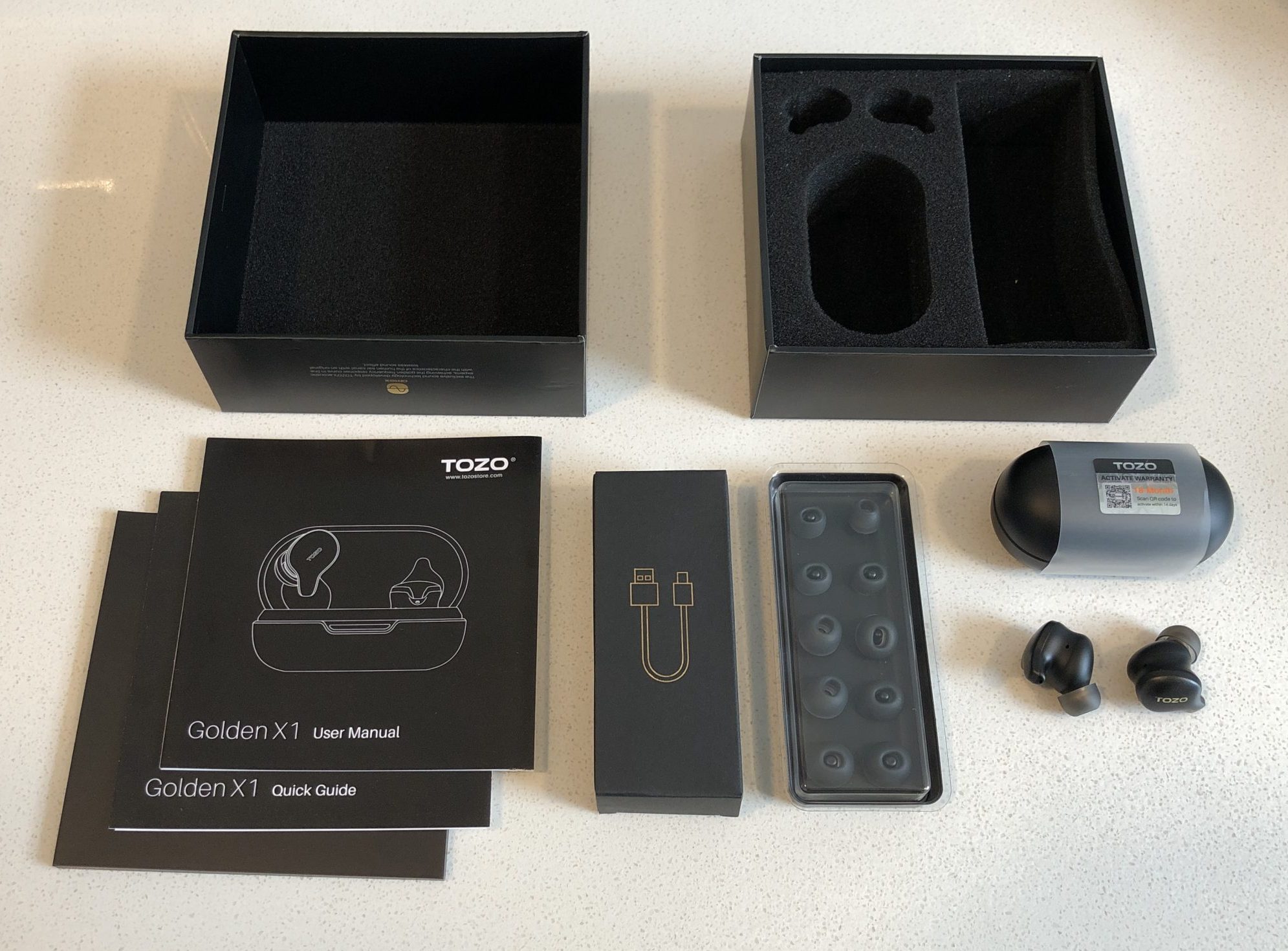 Does the TOZO Golden X1 Have Good Packaging?
I'm not much of an unboxing experience guy and I don't usually care enough to discuss this in my reviews, but, I know that unboxing is a big thing for a lot of people, and that when you get into the premium tier it does matter, even to me a little. I will say that TOZO actually does has some of the best packaging and accessory inclusions I've seen with budget earbuds.
The Golden X1 packaging is similar to TOZO's budget packaging, but just noticeably nicer. The box is a little bigger and has an aesthetic matte black color that matches the color scheme of the earbuds themselves. The contoured packing foam is nice, and there are compartments for both individual earbuds, the case, and the accessories, and this is the ideal way to pack and ship true wireless earbuds in my opinion. I really like the notched mini case for the replacement tips to prevent them from getting dinged or deformed.
All in all, decent packaging and a nice unboxing.
What Accessories Come Included With the TOZO Golden X1?
5 additional pairs of different size and style replacement tips
quick start pamphlet
manual booklet
short USB-C charging cable
earbud charging and carrying case