Written by Pete Anthony 
Last updated on: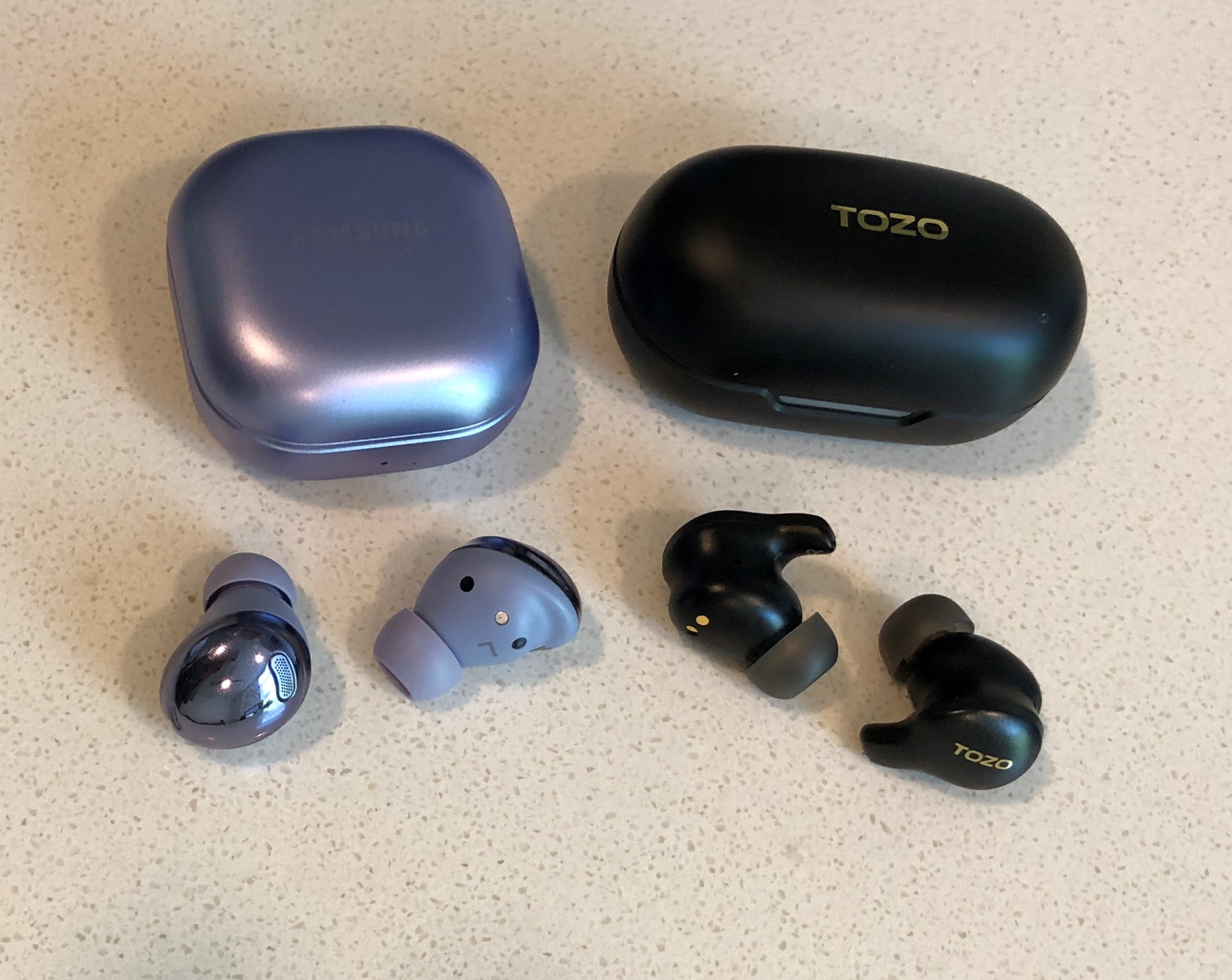 Samsung is a huge electronics company that just about everyone knows about, but less people know that Samsung has, in recent years, put in a lot of effort into their mobile audio division. They acquired Harman International in 2016, a company that is largely considered to have set the gold standard for headphone tuning with their eponymous Harman Curve, and used their engineering and tech to subsequently create industry leading audio products, which includes none other than the Galaxy Buds Pro.
The Galaxy Buds Pro originally came out in early 2021, and is still largely considered to be the best sounding true wireless earbud you can get from a standpoint of musical fidelity. I agreed then, and I'm still inclined to agree now.
But the TWS market is growing very fast, and more and more companies are throwing their hat into the "premium" ring to try and capture the also rapidly growing cohort of customers who want premium fidelity and are willing to pay for it. Enter the Golden X1.
TOZO is a newer and lesser known audio company, but they have seen massive success in the last few years with a variety of very decent wireless earbuds at inexpensive prices. And they are indeed one of these companies that has decided to try and punch up. The Golden X1 is TOZO's first real "premium" true wireless earbud, and while a lot of their much less expensive earbuds have been very well received, a lot of people are curious if TOZO can compete with the established industry leaders. I certainly was, and was excited to recently get and review a pair to see for myself.
So, is the Golden X1 as good as the Galaxy Buds Pro? Better even? I have fully reviewed both of them, and at this point I have spent a lot of time listening to each of them, and I'm going to answer that question here in this comparison article. Lets dive in.
Samsung Galaxy Buds Pro vs TOZO Golden X1 Side by Side at a Glance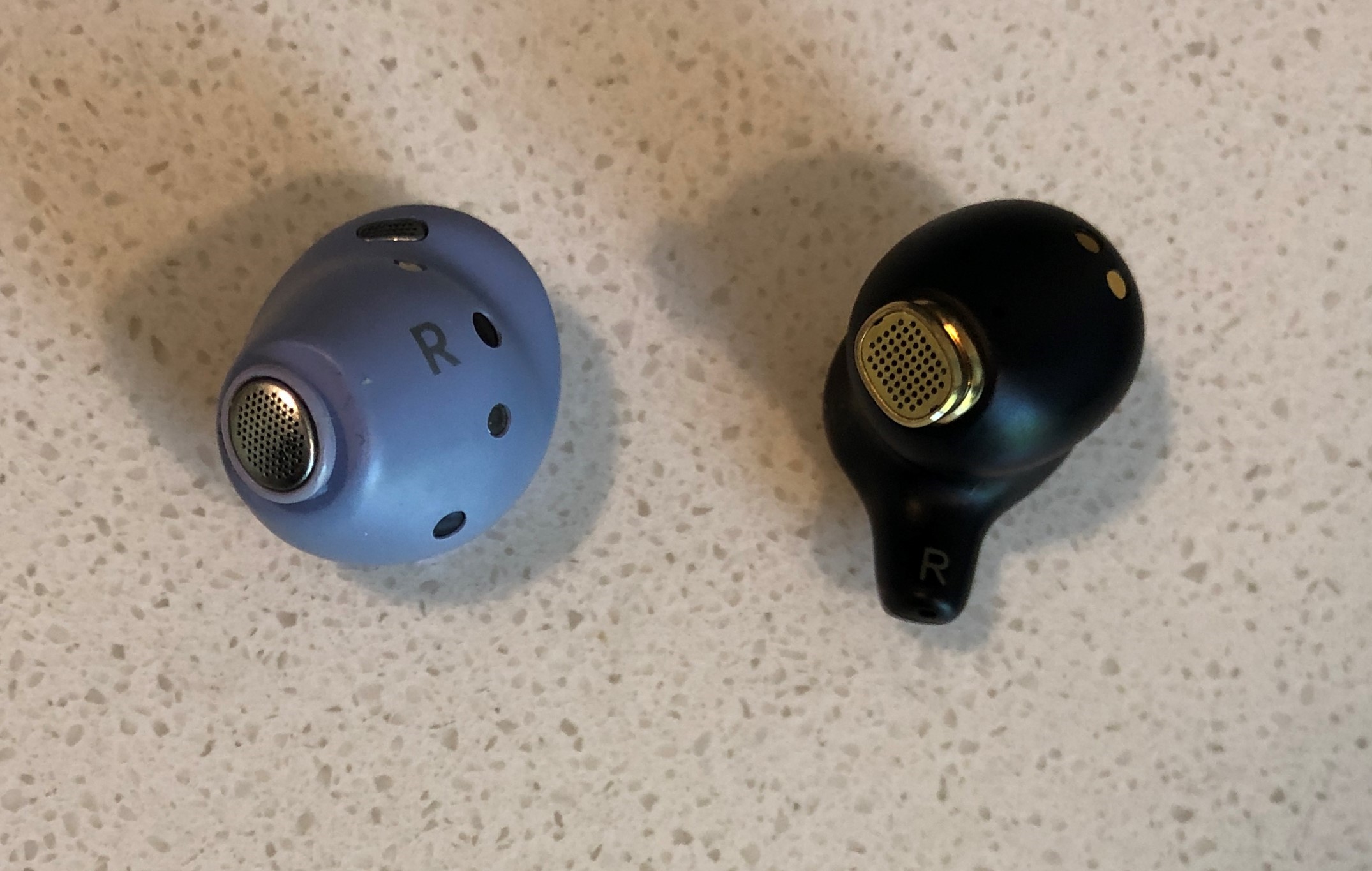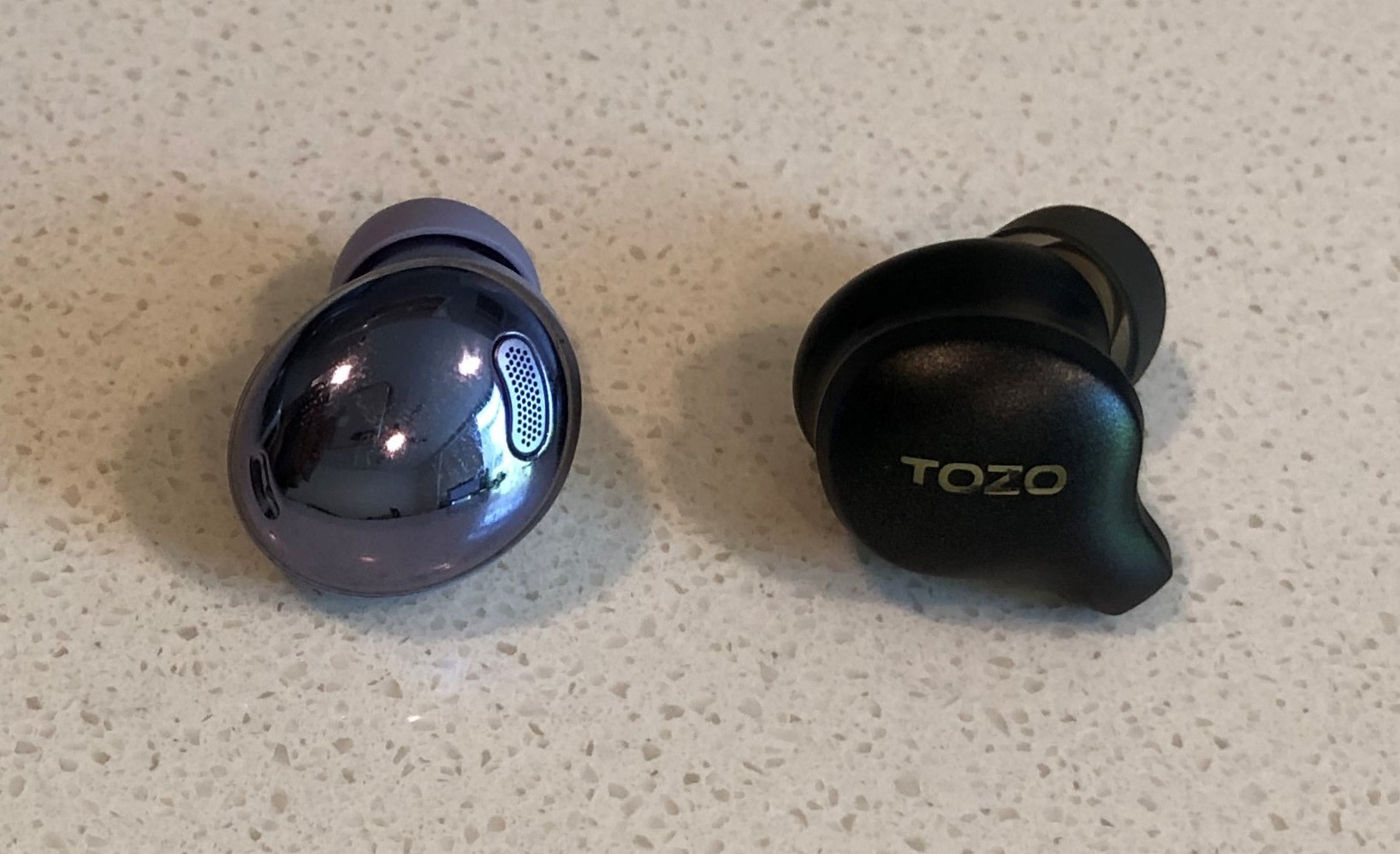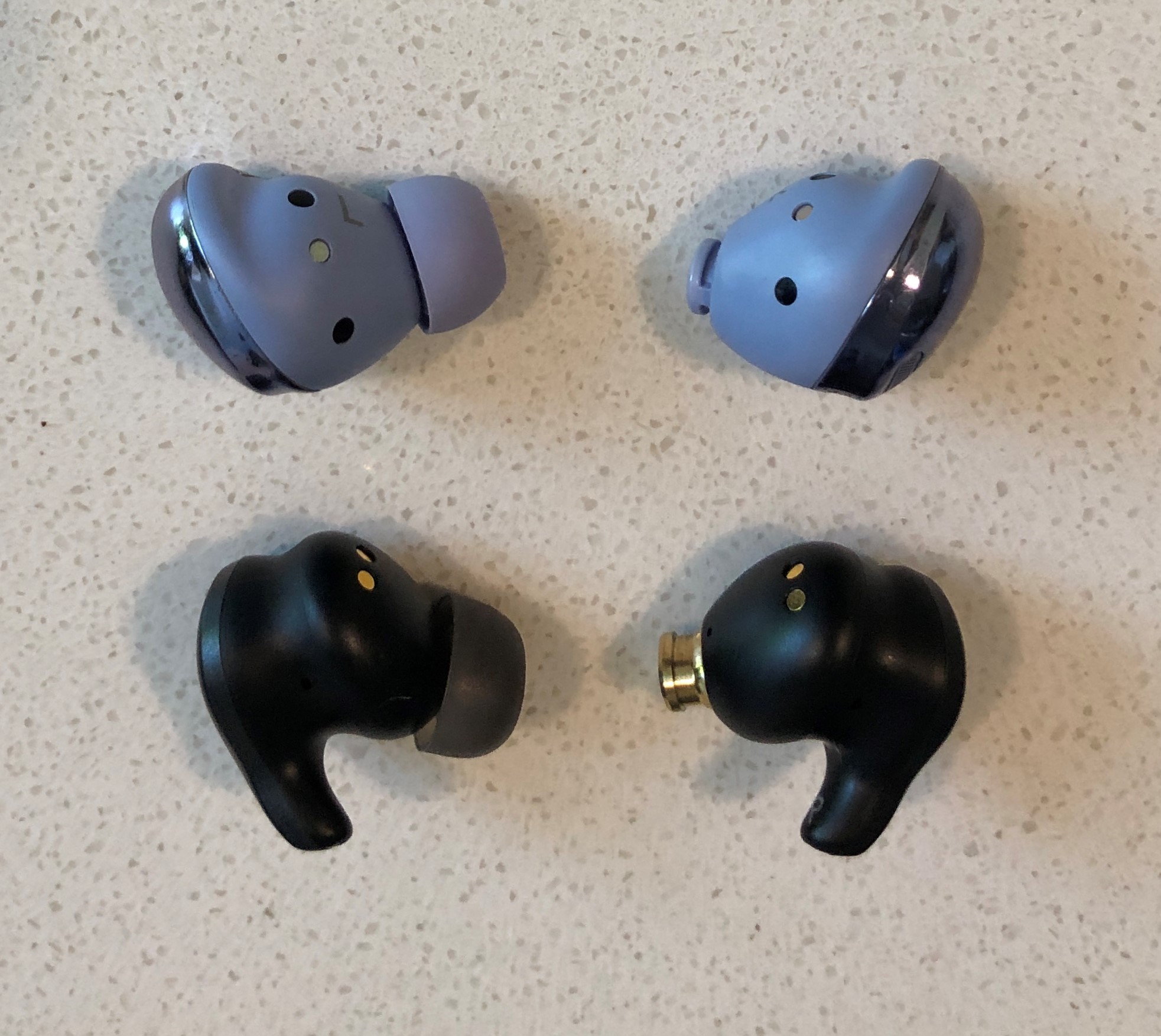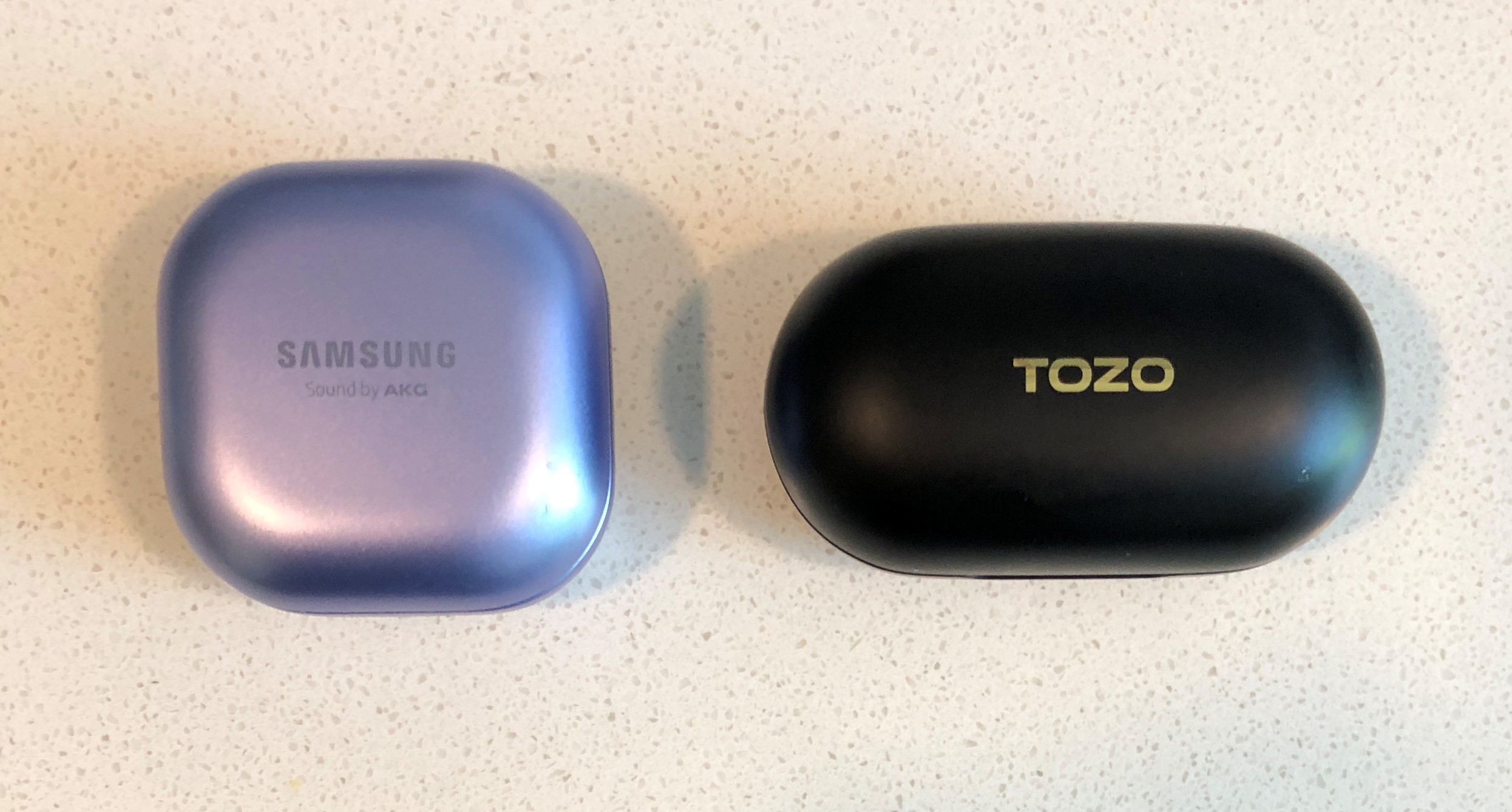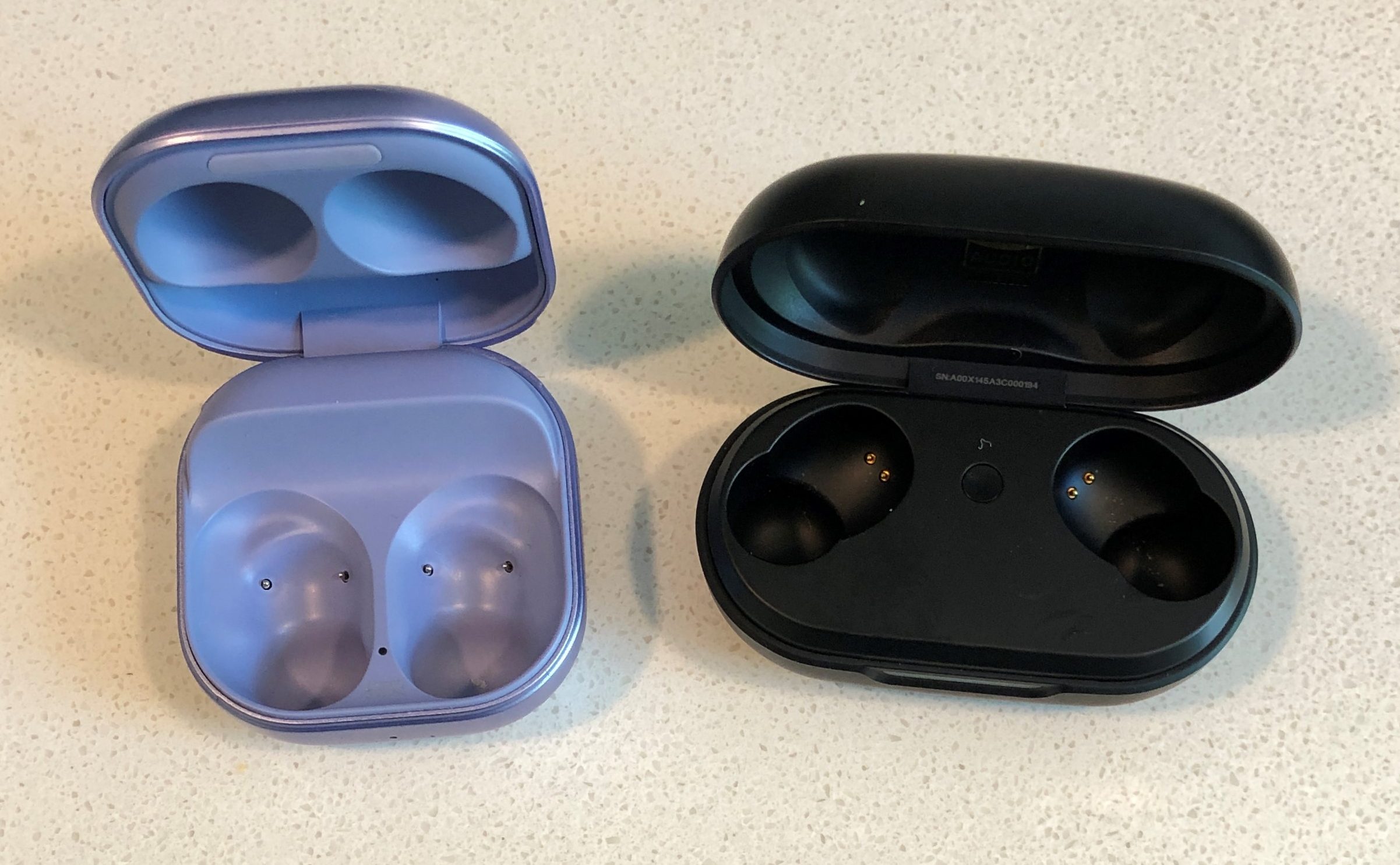 What Are the Main Differences Between the Samsung Galaxy Buds Pro and TOZO Golden X1?
Design Style – the Galaxy Buds Pro uses two dynamic drivers (a 6.5mm tweeter and 11mm woofer) while the Golden X1 uses a more common "hybrid" two driver design with one balanced armature tweeter and one relatively large 12mm woofer.
Case – the Galaxy Buds Pro case is nicely compact and sturdy, while the Golden X1 case is somewhat bulkier and flimsier. One feature the Golden X1 case does have and the Galaxy Buds pro case does not is LED charge indicators for the case itself and each left and right earbud.
Weatherproofing – the Golden X1 has an IPX6 certification, meaning it's water resistant up to pressurized jets; but the Galaxy Buds Pro has a slightly higher IPX7 certification, meaning it's waterproof up to 1m of immersion for 30 minutes.
Warranty – the Galaxy Buds Pro only has a one year warranty, which is the fairly common minimum for budget headphones and is relatively short for premium-tier headphones. TOZO also has a one year warranty for most of its earbuds, but the Golden X1 has an extra six months of warranty (1.5 years total).
EQ Adjustability – both the Galaxy Buds Pro and Golden X1 have support with each company's respective EQ app, but the Samsung "Wearable" app is only available on Android devices. If you have an iPhone you are stuck with the Galaxy Buds Pro default EQ settings.
Onboard volume control – The Galaxy Buds Pro does not have default touch commands to change volume. You can set it with the Wearable app but, again, you have have an android device to use that. The Golden X1 has a comprehensive default control schematic that includes volume up/down commands.
Replacement tips – the Golden X1 comes with five additional pairs of different sizes and styles of replacement tips, but the Galaxy Buds Pro only comes with two additional pairs of small and large replacement tips.
Does the Samsung Galaxy Buds Pro or TOZO Golden X1 Have Better Fit and Comfort?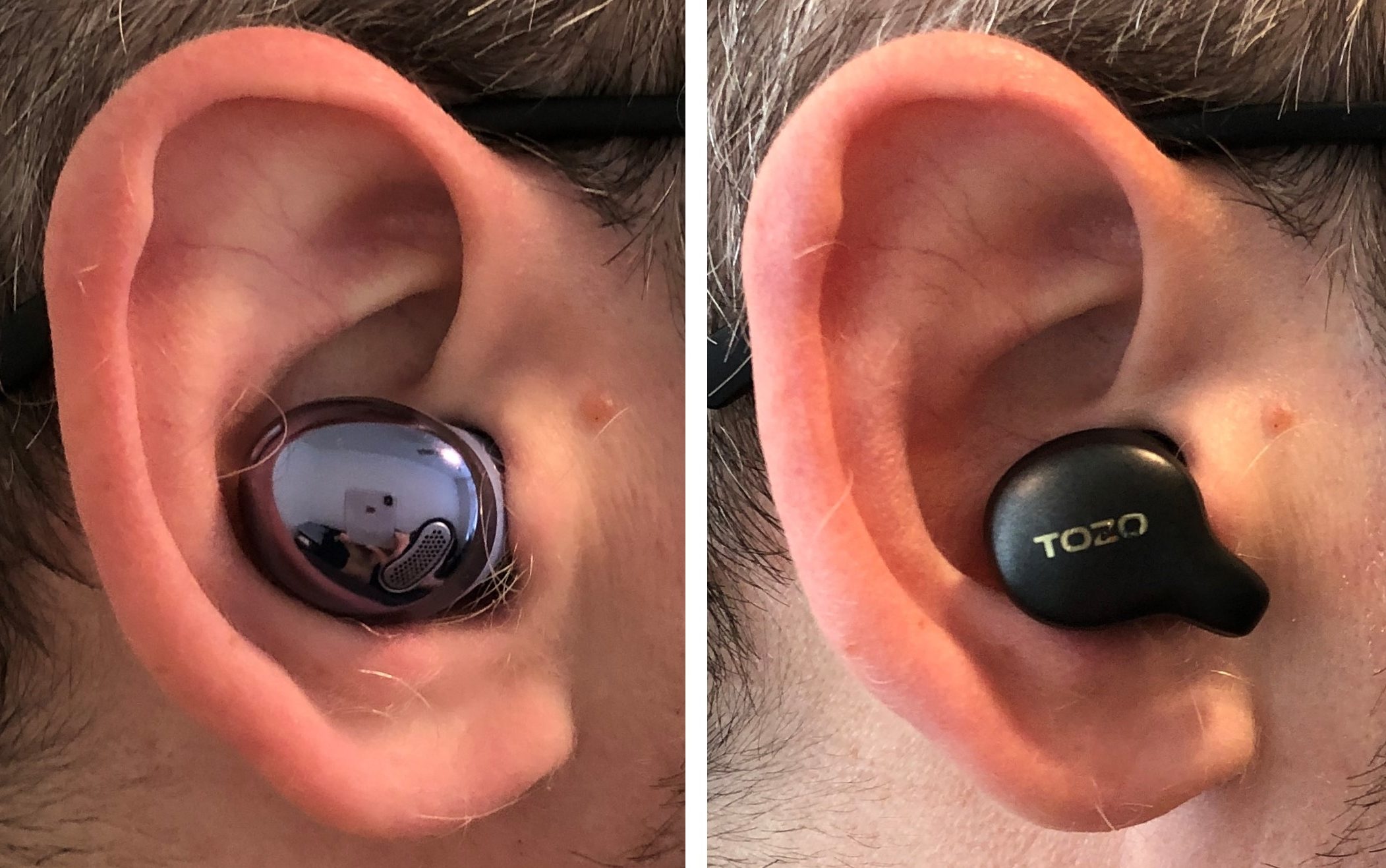 The Golden X1 definitely has a better feeling and more secure fit, and this is indeed one of the notable advantages of it over the Galaxy Buds Pro.
One of TOZO's strengths as a brand in general is that they include a wide variety of different sizes and styles of replacement tips with their earbuds, including their budget products. Other brands will often merely include two additional pairs of small and large sized replacement tips, including the Galaxy Buds Pro.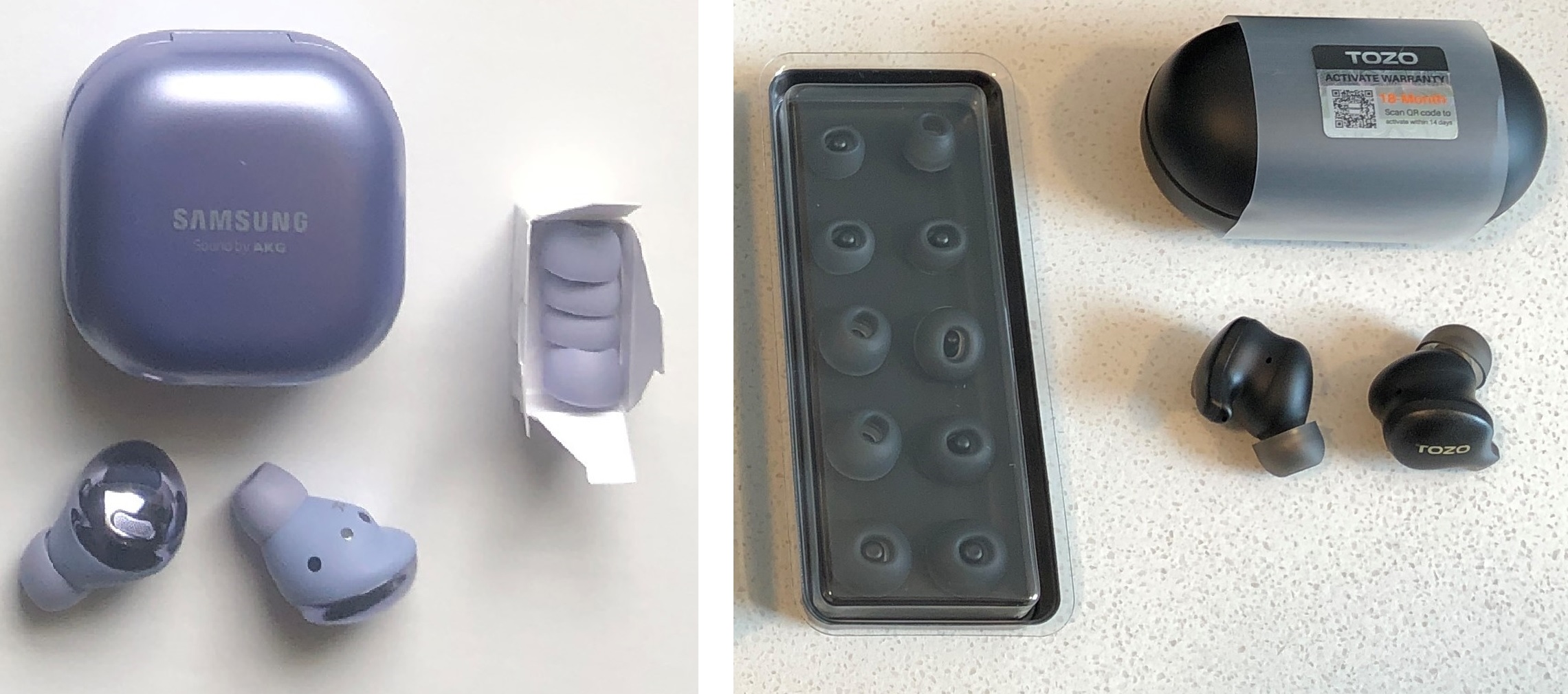 I was able to achieve a fit with the Golden X1 that was very comfortable and secure feeling, where the seal didn't break at all no matter how I moved my head or face around. Zero complaints all and all. And with the plethora of replacement tips that come with it, I think just about everyone else will be able to achieve the same.
The fit of the Galaxy Buds Pro on the other hand, while it's decent, has issues that have made me like them less and less as I've used them over time. The fit feels a little too light and shallow for it's design/housing style in my opinion. I also sometimes feel the urge to push them in more which is a sensation I particularly hate with earbuds. The seal also breaks a little if I move my face enough in certain ways, which can be particularly jarring when you're using ANC and all of a sudden unattenuated external noise creeps in through the gaps.
A note before the next section: this page describes how I evaluate the sound quality of headphones and earbuds.
The Big Question: Does the Samsung Galaxy Buds Pro or TOZO Golden X1 Sound Better?
When it comes to TWS earphones, Samsung currently has the best tech and engineering and I think most people in the industry would agree with me, largely because of their strategic acquisition of Harman and it's relevant subsidiaries. And this always seems to show pretty decidedly when I a/b the Galaxy Buds Pro with any other competitors in the market – they simply sound the best and at a level above the rest.
Even without doing any EQ tinkering (I don't have an android device at the moment), and with the out of the box tuning being a little imbalanced to my preferences, the Galaxy Buds Pro accuracy and tone is just better than the Golden X1 (and every other TWS on the market) in a way that equalizing can't compensate for. The mids are full but the mid highs still have excellent separation with a crisp and nicely airy feel. The Galaxy Buds Pro just sound very real, and while the Golden X1 sounds great in its own right, especially with some EQ tinkering in their app, it's just a little thin and flat in comparison when I try to achieve that same airy and crisp sensation by bumping up the mid-highs.
If you adamantly don't want to deal with any EQ apps, Samsung's out of the box tuning is also definitely better than TOZO's, which tends to be a little loose and bassy in my experience.
Final Verdict: Which Should You Choose Between the Samsung Galaxy Buds Pro or TOZO Golden X1?
TOZO is a great new company and I respect them for trying to punch up into the premium-tier of TWS earbuds with the likes of Samsung. And while the Golden X1 does sound great, and frankly has better fit and usability than the Galaxy Buds Pro does, it just isn't quite there fidelity with the industry leading tech and engineering that Samsung currently has.
If you want the best sound quality, particularly from a musical standpoint, then the Galaxy Buds Pro is still the gold standard in the TWS market. Bonus as well if you have an android device that can use Samsung's Wearable app to fine tune the EQ profile. I don't know why they can't make their app available on iOS and other devices, but frankly they better get around to doing that as competitor tech starts catching up.
If secure fit, comfort, and usability are the primary priorities of yours, and you don't mind sacrificing a little fidelity for that, then the Golden X1 is probably the better choice. But you never know – you might be one of the lucky ones that the Galaxy Buds Pro fits perfectly like a glove. Sometimes it's just like that with earbuds.
Get Galaxy Buds Pro on Amazon (affiliate link)
Get the latest version Galaxy Buds2 Pro on Amazon (affiliate link)
Get the TOZO Golden X1 on Amazon (affiliate link)
Relevant Articles
• Full Galaxy Buds Pro review
• Full Golden X1 review
• Is TOZO a good audio brand?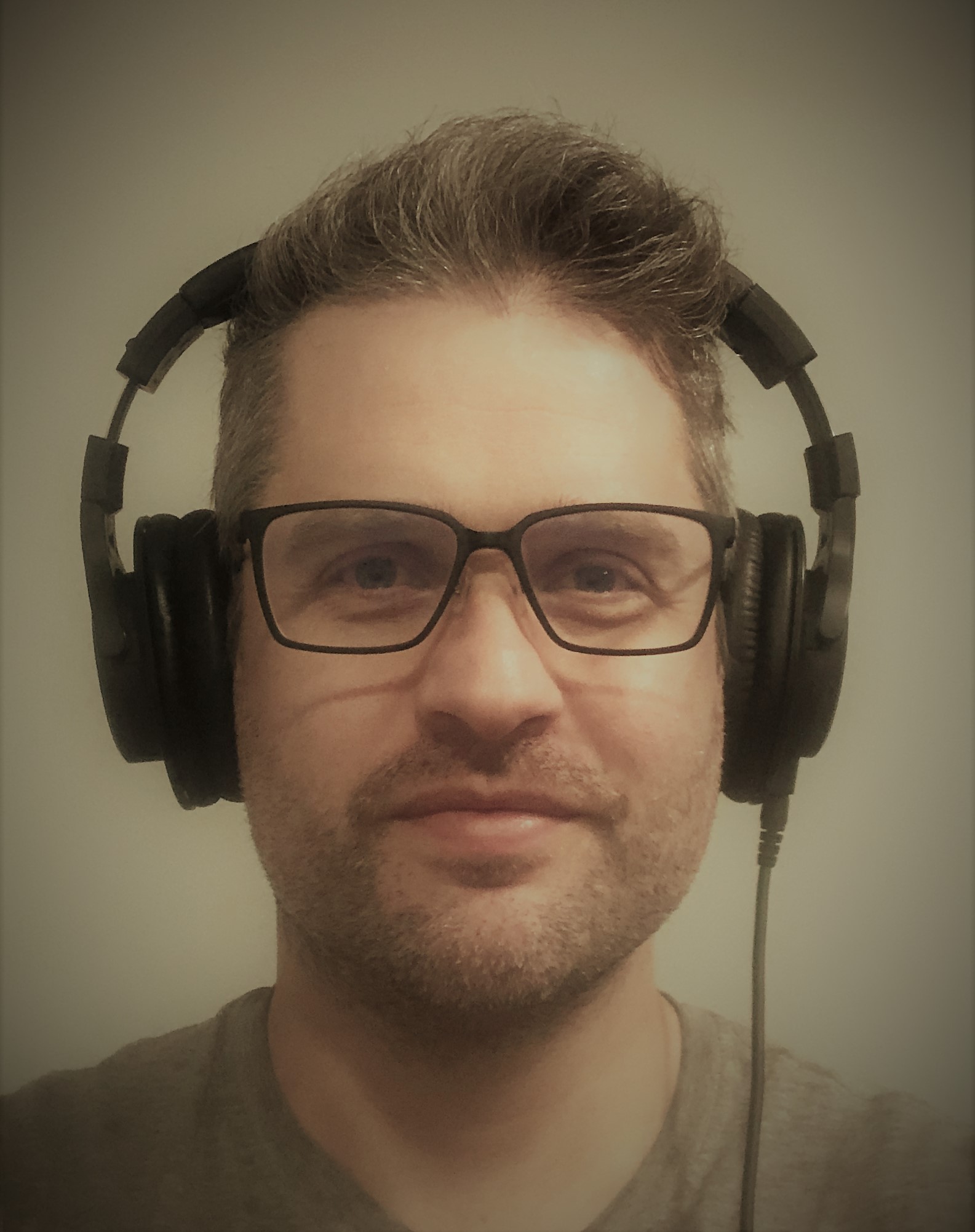 Pete Anthony has had a lifelong affinity for music, and more recently has become an anti audiophile snob who wants great sound to be accessible and enjoyable by anyone. Without needing to break the bank. Read his full author page
here
.