Written by Pete Anthony 
Last updated on: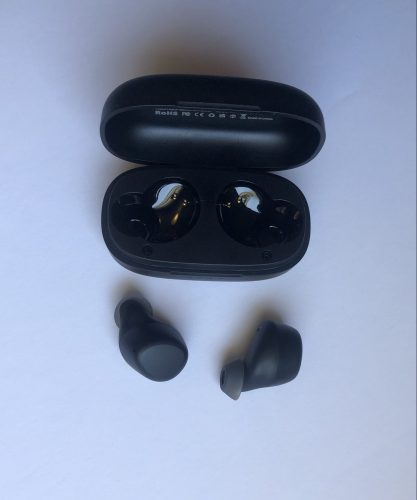 TOZO is a relatively new and still somewhat obscure ChiFi company that has recently become very popular because a few of their wireless earbuds have, for whatever reason(s), managed to top Amazon's best-sellers lists right up there with Apple. In fact, at the time of this writing/update, the T10 and newer T6 (but curiously with a lower appending number) have both individually received more Amazon reviews than the AirPods Pro and long time iconic EarPods, and together have managed to amass over a whopping half million Amazon reviews, squeaking ahead of the market dominating 2nd gen AirPods.
I have listened to and reviewed both TOZO's T10 (read here) and T6 (read here), and they're both very good for the price, so I was excited and curious to see how their budget so called "mini" A1 earbuds fared as well. They're still relatively new, released circa September 2021, and have seemingly continued the brand's popularity, already having received close to 20k Amazon reviews.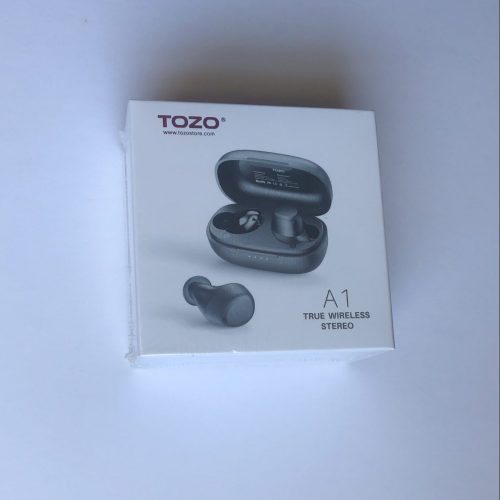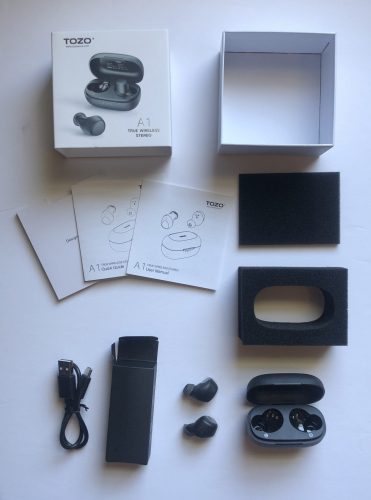 Packaging is decent and sufficient for budget earbuds. A hard box slides out and there's contoured packing foam for the case and the earbuds came inside it. Interestingly the T10 and T6 earbuds came outside the carrying case in their own packing foam – I'm not sure why they packed the A1 this way but whatever.
Included with the headphones:
manual pamphlet
quick start guide
charing/carrying case
type C usb charging cable
two pairs of different sized replacement tips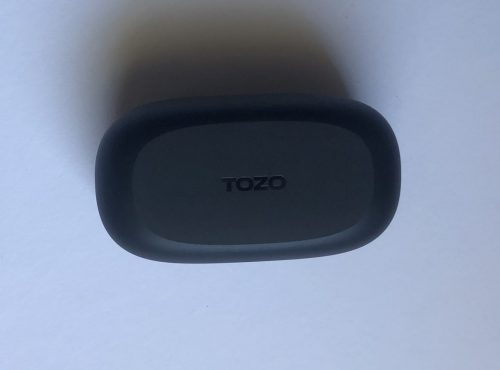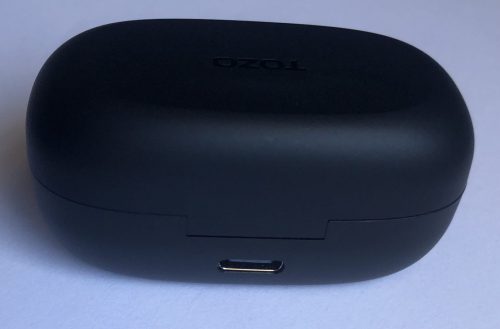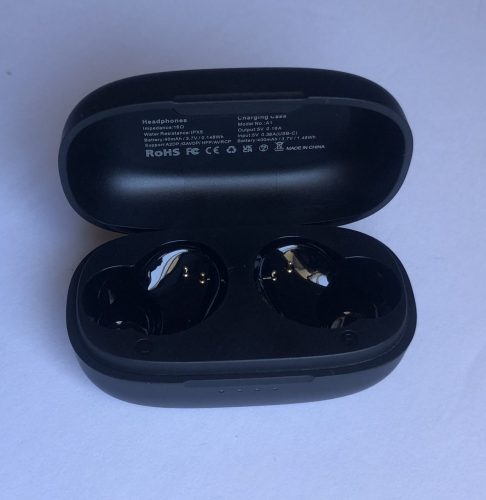 I normally break my reviews into sections that are dedicated to the standard important topics when it comes to headphones: fit/comfort, sound performance, styling, features, etc., but for this one I'm instead going to just share a kind of singular discussion because it feels more appropriate.
The industry commonly uses the word "earbud" synonymously "earphone" or "in-ear headphone" but, technically, they're actually slightly different: an in-ear headphone is designed to push into the ear canal and make a seal, whereas an earbud is designed to merely sit comfortably in the part of the outer ear that's called the concha.
"Earbud" has kind of become the catch-all term for all small-ish in-ish ear style headphones, but in actuality true earbuds are not all that common anymore, and maybe they never really ever were. Reason being: the general idea/design is just bad and rarely works well, at least in my experience.
If earbuds have a selling point, I'd guess it's that they are easier to put on and take off and more comfortable for some people who feel like in-ear headphones are too invasive. The problem, though, is that earbuds just can't come close to achieving the fidelity that in-ear or traditional padded over-ear headphones can.
Point being, ultimately: the TOZO A1s, with their mini-style tips, just don't fit well at all out of the box. They don't seal and the sound is essentially rendered non-functional. Imagine wearing regular headphones and lifting the pads an inch off your head/ears, and it kind of feels like you're listening to a radio that's not quite in tune with the frequency of the station.
Besides that, having wireless earbuds that merely nestle against parts of your outer ear to stay in place just makes me feel nervous. It felt like they might accidentally fall out at any moment, which is especially not good if you plan to do any kind of activity while using your headphones, and the A1 is marketed for such with an IPX5 certification against moderate water splashing or moisture.
I did really try to make the A1s work – I took a pair of replacement tips from the T6 set I had, actually, and put them on the A1s, which sort of "converted" them from earbuds into earphones: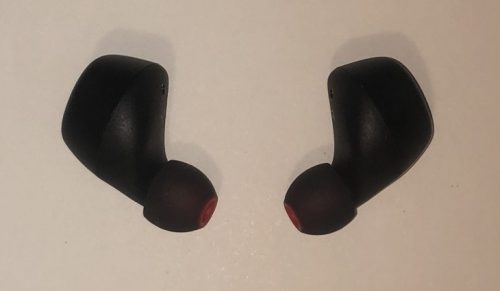 Lo and behold… they now worked properly! And my initial impression is that they sounded solid, quite similar to the decent sound of both the T10 and T6.
I understand that in-ear headphones are unavoidably finnicky to a degree, so I was still willing to give the A1s a solid chance and shake with the separate tips, because that's a fix that, while not ideal, is still passable – using separate replacement tips is just something that some people do or is required in some cases. It's also good that the A1 nozzles also fit with TOZO's regular style tips.
But, there was one problem:

The earbuds don't fit into the charging/carrying case with standard sized replacement tips – they neither are able to snap-connect with the magnetic earbud charges nor is the case able to fully close.
Now, you could take the tips off when you charge them, and they could probably fit somewhere in the case actually, but, what kind of masochist is going to be OK with taking tips on and off the earbuds every. time. they. need. to. put. them. in. the. case. Sorry, that's a deal breaker for me, full stop.
If for some reason you're really adamant about having a true technical earbud, and you only need functional sound to listen to podcasts or whatever, sure, the A1s will probably work for you and be fine.
But, otherwise, there's just no point in getting the A1 when both the T10 and T6, which are not much more money and are basically the same thing, do fit well/properly and do sound great out of the box. Not to mention they have a higher degree of water resistance with an IPX8 code.
Relevant Links
See the TOZO A1 earbuds on Amazon (but I wouldn't get it) (affiliate link)
Get the TOZO T10 or TOZO T6 Instead (affiliate links)
Here are links to my full reviews of the T10 and T6 again as well.
The next gen A2 Mini also came out a year later – you can see how it compares here.
See our current picks for the overall best budget true wireless earbuds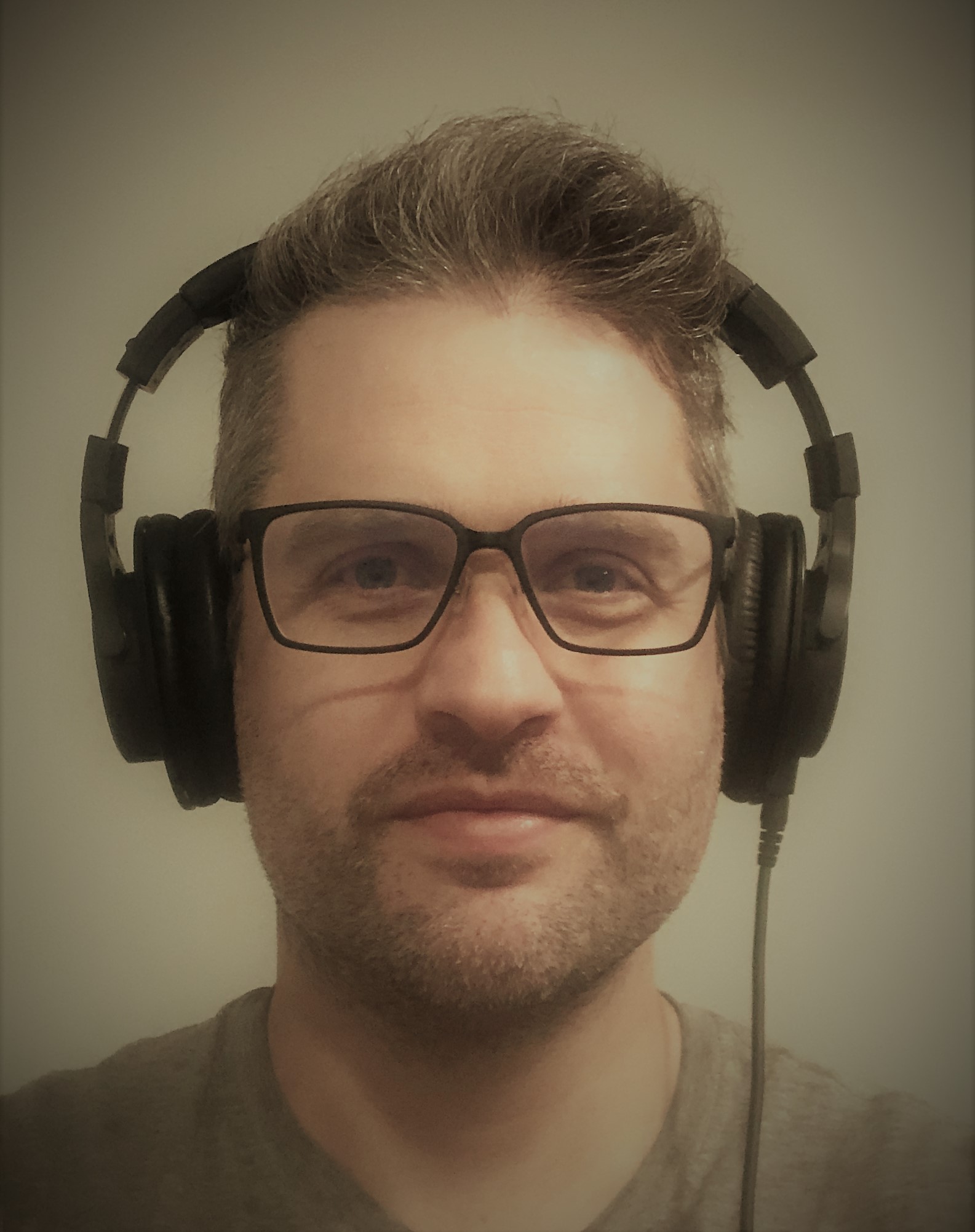 Pete Anthony has had a lifelong affinity for music, and more recently has become an anti audiophile snob who wants great sound to be accessible and enjoyable by anyone. Without needing to break the bank. Read his full author page
here
.