Written by Pete Anthony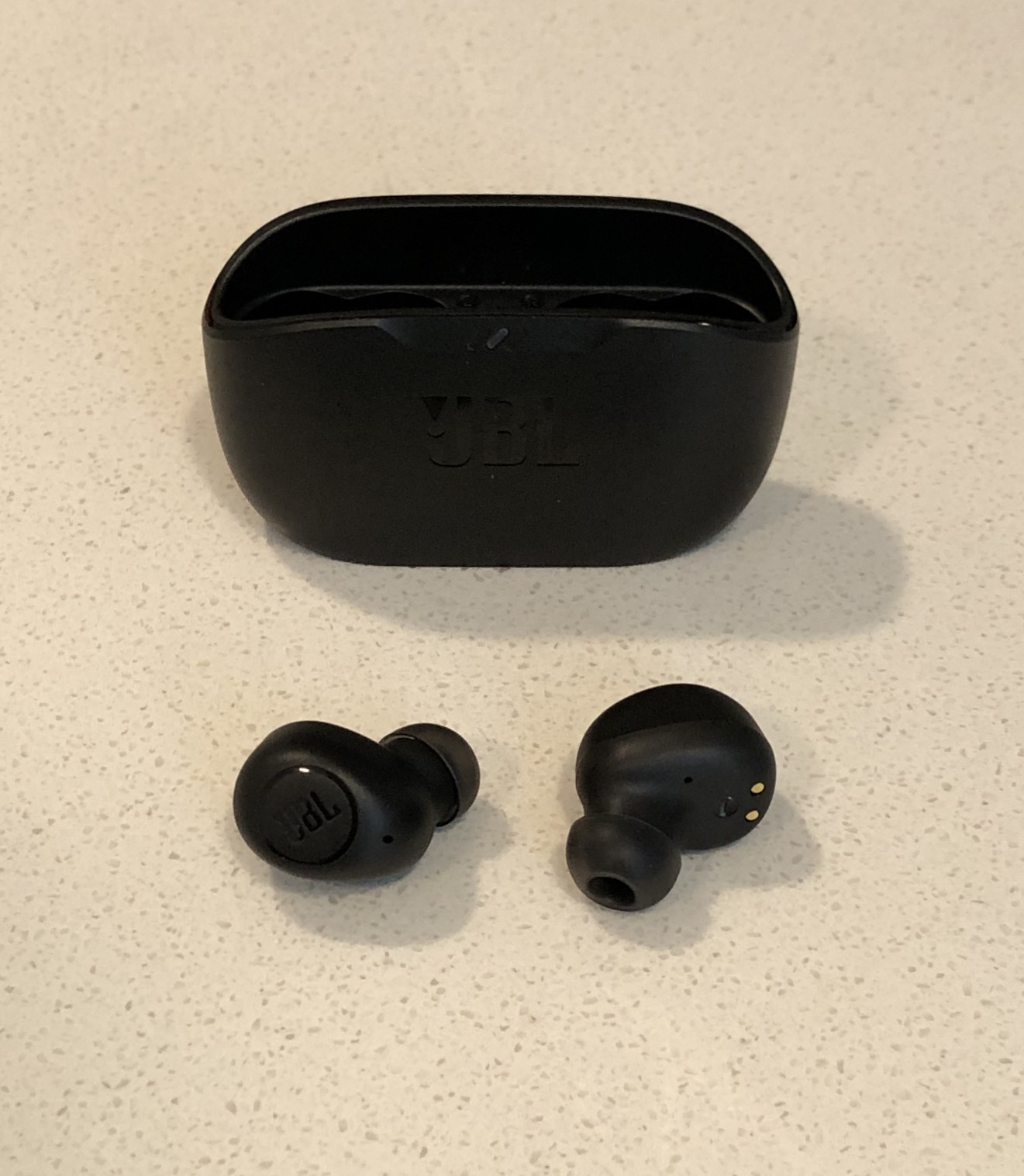 The Vibe Buds were one of several releases in early 2023 to JBL's already prolific earbud collection. It appears to be a next gen version of the popular Vibe 100TWS released two years earlier. The Vibe Buds are also apparently released with a different name in the UK as the Wave Buds.
The Vibe Buds touts itself to be a comfort and ease of use oriented pair of TWS earbuds that's also budget friendly. How does it fare in this increasingly competitive demographic? Lets dive in.
JBL Vibe Buds Specs and Features
Released: Feb, 2023
Price-point ⓘbudget: around $30 or less
value: around $30-$60
performance: around $60-$100
premium: around $100-$200
elite more than $200: value
Design style: single 8mm dynamic driver
Purported battery life: 8h earbuds; 32h total with case recharges
Bluetooth version: 5.2
Weatherproofing: IP54
EQ app compatibility: Yes
Active noise cancellation: No
Transparency mode: Yes
Auto play/pause sensors: No
Onboard controls: Touch based
Multipoint 2+ device support: No
Wireless charging: No
Warranty: 1 year
JBL Vibe Buds Fit and Comfort
The aptly named Vibe Buds has the design of a true on-ear style earbud, as opposed to an in-ear headphone, which are often just lumped into the "earbud" moniker despite being technically different. The Vibe Buds have short nozzles and shallow tips, but to my surprise they fit very securely – I was able to achieve a seal that didn't break at all no matter how I moved any part of my head around.
Most earbud and on-ear style earphones fail the fit test miserably in my experience, so it's nice to come across one that not only passes but actually fits well. If you're looking for a shallow and more on-ear style of fit, the Vibe Buds look like a really great option.
JBL Vibe Buds Isolation
The Vibe Buds don't have active noise cancellation, but they do have surprisingly decent natural isolation for this style of earbud. Not amazing, but good enough for basic commuter use I'd say.
One thing worth noting here is that the transparency mode, called "Ambient Aware" mode in the JBL app, is apparently turned on by default. I'm not sure why JBL decided to do this, because it is likely to lead people who aren't aware of that into thinking the isolation is worse than it actually. Transparency mode also uses extra battery life and so people generally only want to toggle it on for the intermittent moments when they actually need it.
Relevant reading: what is the difference between isolation and active noise cancellation?
JBL Vibe Buds Controls
The Vibe Buds have a touch control schematic with seven function slots that has all of the basics: play/pause, tracking, and volume. I found the touch controls easy to use and reliable – there seems to be a fairly wide area on the backs for where you can successfully register a touch, and I didn't really have any "misses" when I fiddled around with the controls.
The touch controls have limited customizability in the app – you can assign groups of controls, called "gestures," to either the left or right earbud. For example you can assign the tracking functions to the right earbud and the volume functions to the left earbud. You cannot customize each individual function slot.
Which leads us to the major design flaw with the Vibe Buds (and also some of the other JBL releases in this group) – if you want to have both volume and tracking functions available, which I think most people do, then there's no "room" for the various transparency mode functions. That is to say if you want to toggle transparency or talk through mode, the only way to do it as far as I can tell is within the app, and this is going to be way too cumbersome for most people in most situations. It's too bad when you consider that the various transparency functions are apparently a major selling point of this product.
It would totally be possible to have all the basic functions and the transparency functions available if you could just assign one to each individual slot, and I don't know why JBL decided to design it the way that they did.
How to Pair the JBL Vibe Buds
Pairing the Vibe Buds was easy and straightforward – they automatically enter pairing mode when you take them both out of the case after the initial charge, indicated by blinking blue lights. Simply choose "JBL VIBE BUDS" in the Bluetooth selection menu then you're set.
JBL Vibe Buds Charging Case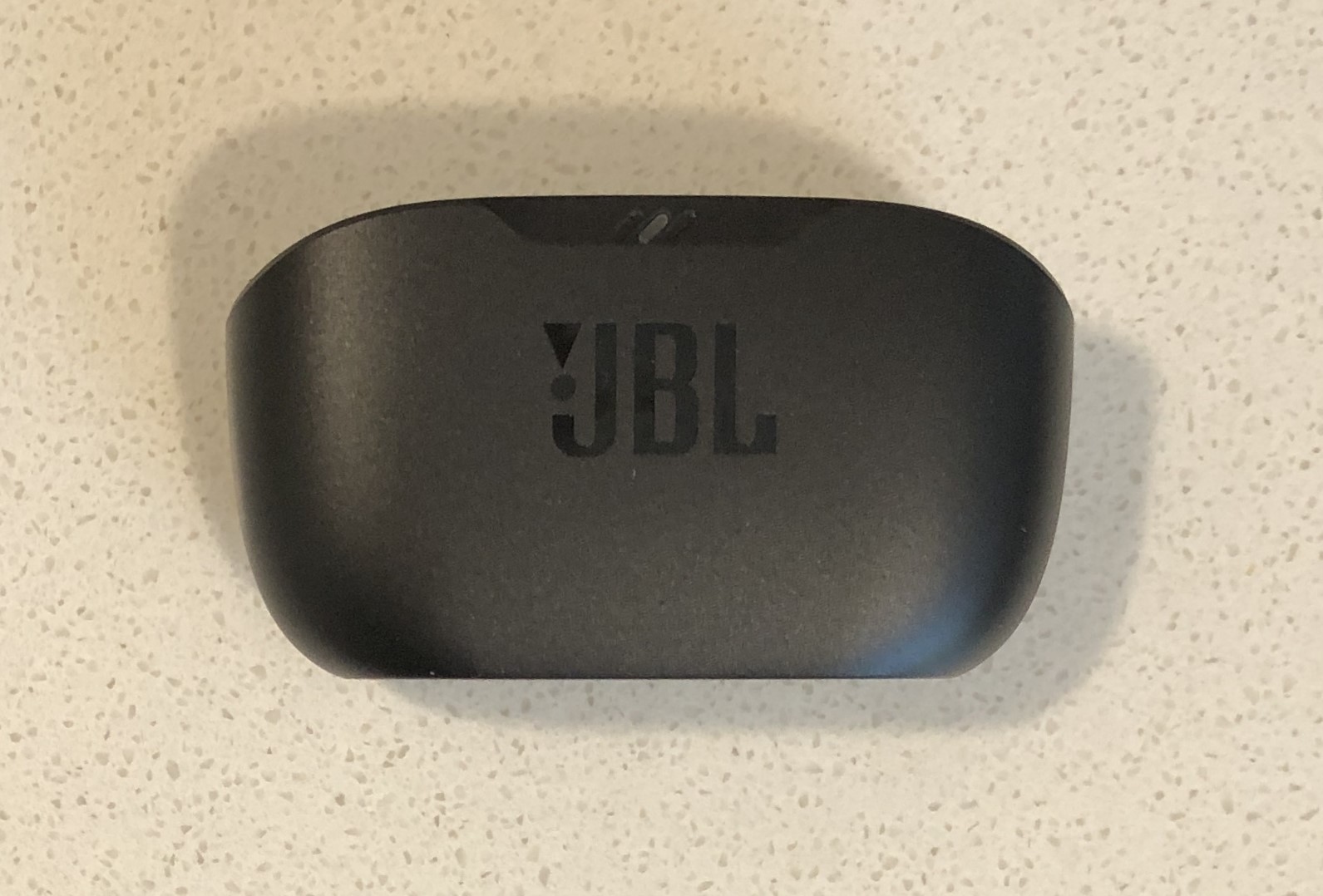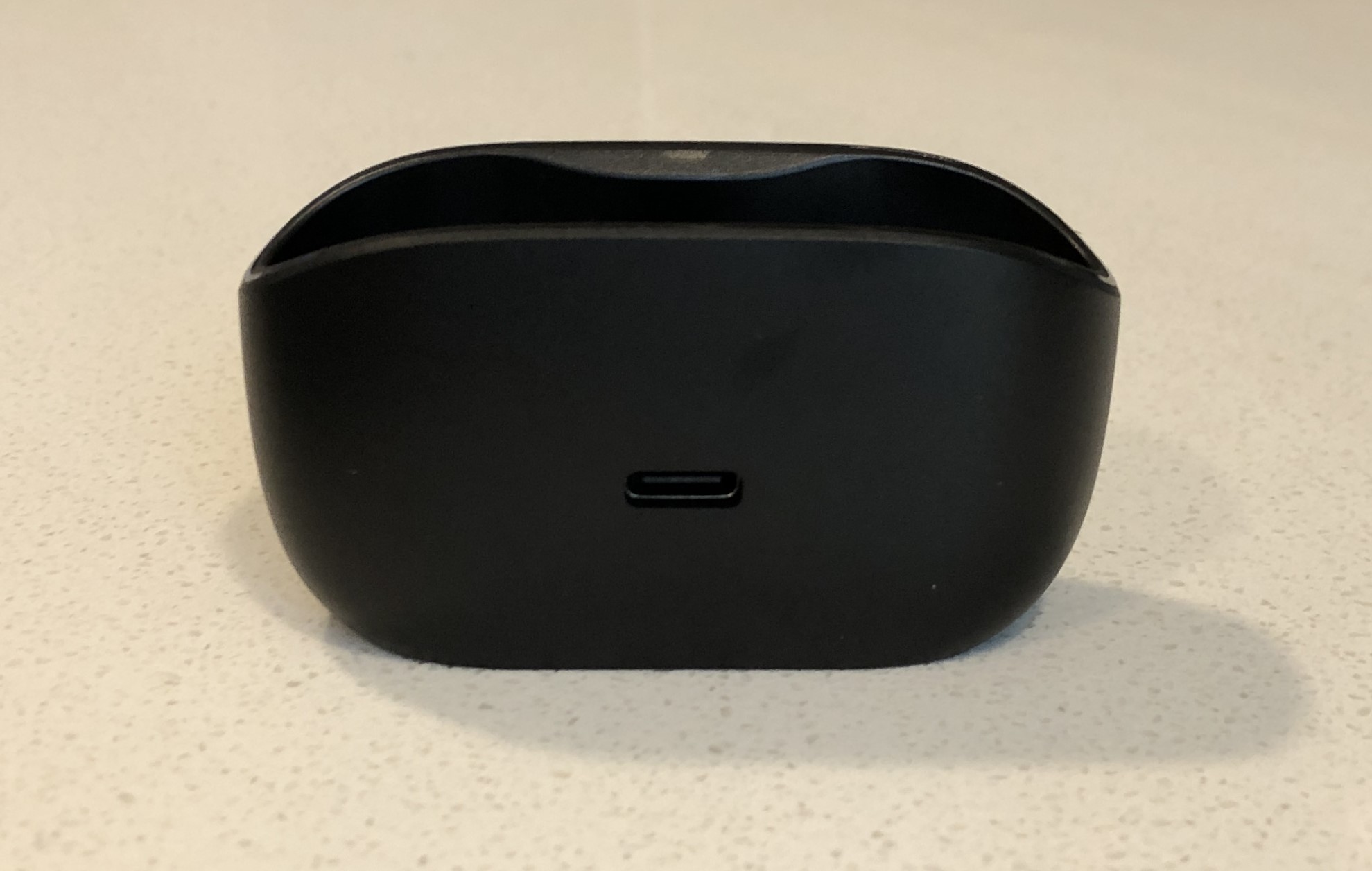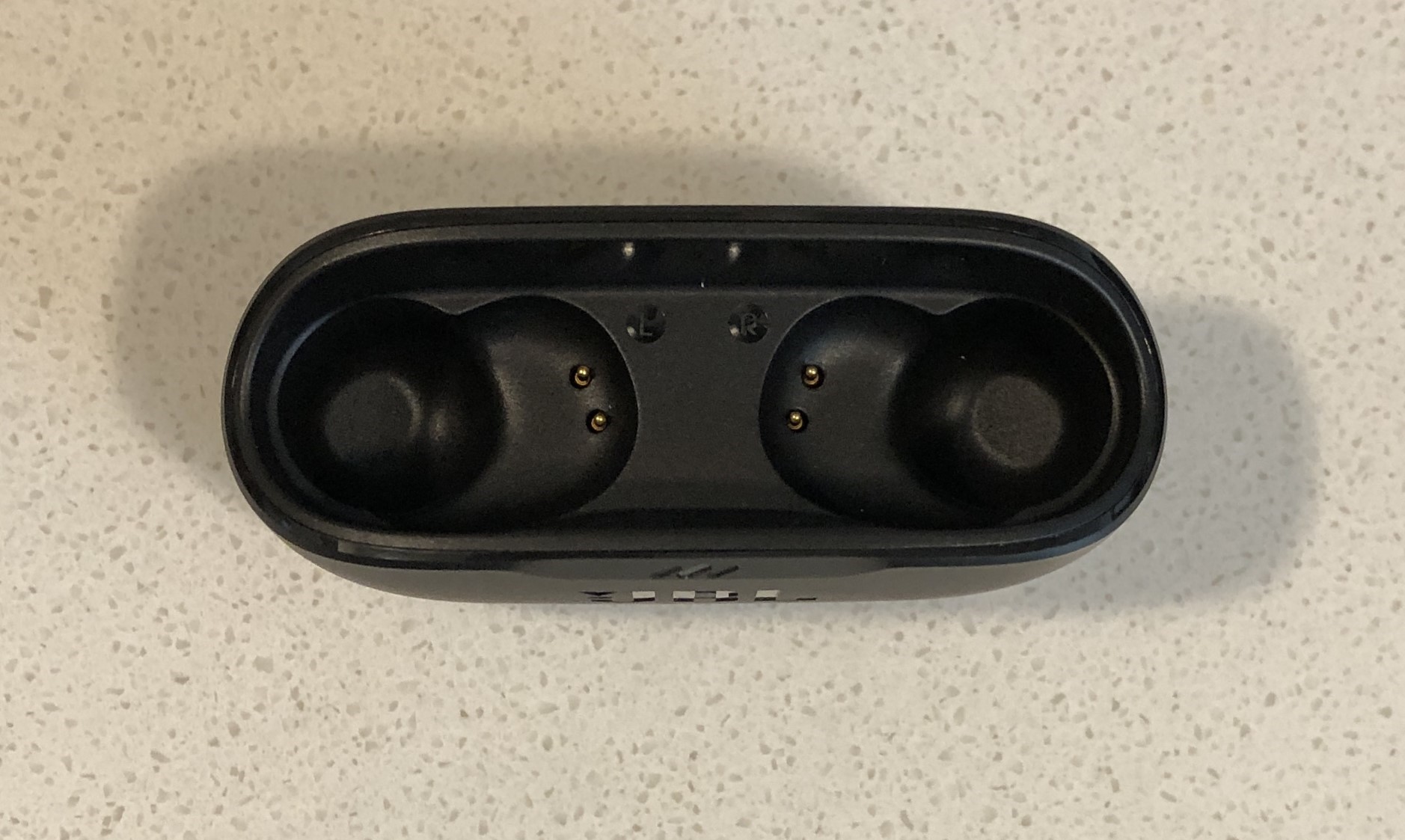 The obvious omission here is that the case does not have a lid, and the earbuds stay exposed when inside it. It's a peculiar design choice that is used sometimes albeit not often, and if I had to guess why it would be for the prioritization of convenience and ease of use – you can just easily pop them right in and out of the case and not have to bother with opening and closing a lid.
I guess this could be nice if the case is just permanently sitting on your desk or bedside table or something, but, the idea of putting a case without a lid in your pocket or backpack or whatever makes me uneasy. Even if the buds never fell out, they could still get dinged and possibly damaged. I think most people would prefer the security of a lid and accepting the ever so slight extra inconvenience of having to open and close the case.
No lid aside, the case itself is nicely sturdy but is a little on the bulky side.
JBL Vibe Buds Test: Does It Sound Good?
Preliminary note: this page explains how I evaluate the sound quality of headphones and earbuds.
The Vibe Buds sound very decent out of the box for their price-point. There's a slight bit of boxyness but the accuracy is otherwise good, and the sound is pretty natural. The detail and clarity are also good, but a little lacking toward the top. The one slight flaw I think, which could also explain the boxyness and slight lack of detail and separation, is that the balance is a little off. A narrow and boxy sensation is usually the result of the mids being tuned up a little too much in addition to the highs being tuned down a little too much. Fortunately the Vibe Buds are compatible with the JBL App, which has an EQ adjuster, so in I went to see what I could do.
My adjustments were pretty basic – tune up the mid-highs and take a little off the mids as well, basically giving it a more pronounced Harman shape. And I would say this was mostly able to fix the aforementioned flaws – it brought out the clarity and detail of the mid-highs and made them feel sufficiently forward, and the boxyness was almost gone but not quite. I would say EQ tinkering could bring the sound quality up by half a letter grade or so, and though the adjustments I made felt like a net positive, they did come at the expense of a little thinness and sibilance.
The bass extension is actually quite good, even for a larger 8mm driver (which tends to sacrifice some upper detail/clarity/crispness). Even when the bass wasn't tuned up at all, the drops I normally test got down fully and you could hear them very clearly in a way that's unusual for budget earbuds, and although there was a little bit of jump back, they were overall fairly consistent. The tone of the bass was slightly loose but held together pretty well.
My subjective gut feeling sound quality tier grade is: B-
Final Verdict: Are the JBL Vibe Buds Worth Buying?
The Vibe Buds are somewhat better than average sounding value tier wireless earbuds, which is fairly par for the course for JBL, but they don't really bring anything else to the table besides the nicely shallow and secure on-ear style fit for those who want that. I also want a lid on my TWS charging case as I think most people do. Maybe some people like to be able to just pop the buds in and out, I don't know. The ambient and talk through transparency modes are a neat feature, but the big problem is that if you want to be able to toggle them with touch controls you have to sacrifice volume or tracking touch controls, otherwise that feature is kind of useless in my opinion – transparency mode is something that needs to be easily switched on and off.
Get the Vibe Buds on Amazon (affiliate link)
Popular Comparisons
For those who are curious how the GO Air fares against popular competitors:
• JBL Vibe Buds vs JBL Vibe Beam
Relevant Articles
• Is JBL a good audio brand?
• The best value tier true wireless earbuds (under $50)
Frequently Asked Questions
What's the difference between the JBL Vibe Buds vs JBL Wave Buds?
Nothing – they are the exact same product, it's just released under different names in different global regions, which is something that audio companies do sometimes.
Are the JBL Vibe Buds Waterproof?
No, their official ingress protection code of IP54 means they are water resistant up to splashing but cannot be fully submerged.
Do the Vibe Buds earbuds fall out of the case?
No, they magnetically snap into the charging slots with a pretty firm connection. It's possible that they might get knocked out, but based on my fiddling around with them I don't think it's likely.