Written by Pete Anthony
The Vibe Beam, also released as the Wave Beam in some global regions, is yet another of JBL's prolific collection of earbuds. The Vibe Beam touts itself as a straightforward and simple pair of inexpensive true wireless earbuds, but one that also has a few extra neat features.
JBL has done a decent job at maximizing sound quality on a budget with their earbuds, so I was definitely interested to see how this new 2023 release performed.
JBL Vibe Beam Specs and Features
Released: Feb 2023
Price-point ⓘbudget: around $30 or less
value: around $30-$60
performance: around $60-$100
premium: around $100-$200
elite more than $200: value
Design style: 8mm single dynamic driver
Purported battery life: 8h earbuds; 32h total with case recharges
Bluetooth version: 5.2
Weatherproofing: IP54 (earbuds); IPX2 (case)
EQ app compatibility: yes
Active noise cancellation: no
Transparency mode: yes
Auto play/pause sensors: no
Onboard controls: touch based
Wireless charging: no
Multipoint 2+ device support: no
Warranty: 1 year
JBL Vibe Beam Charging Case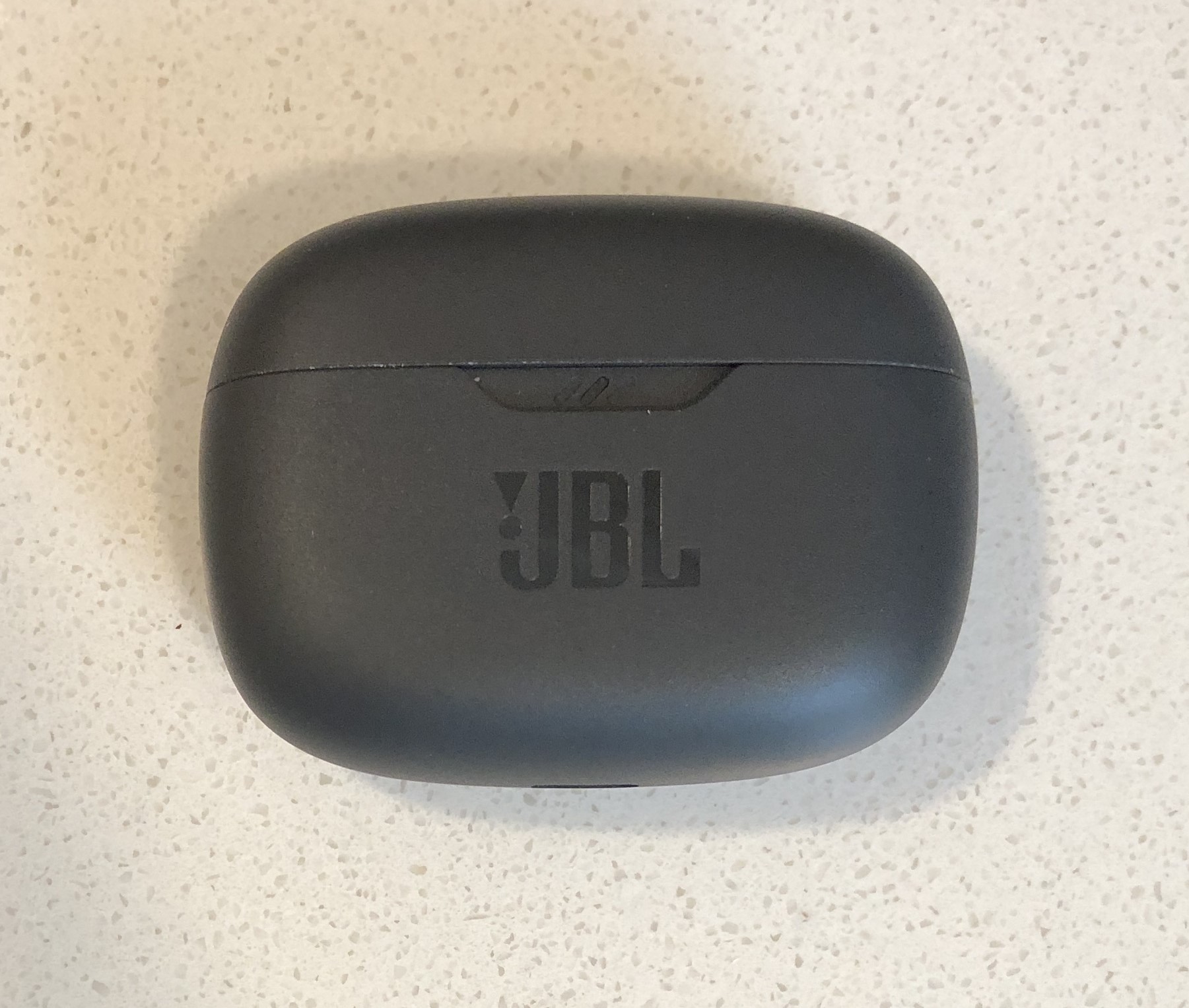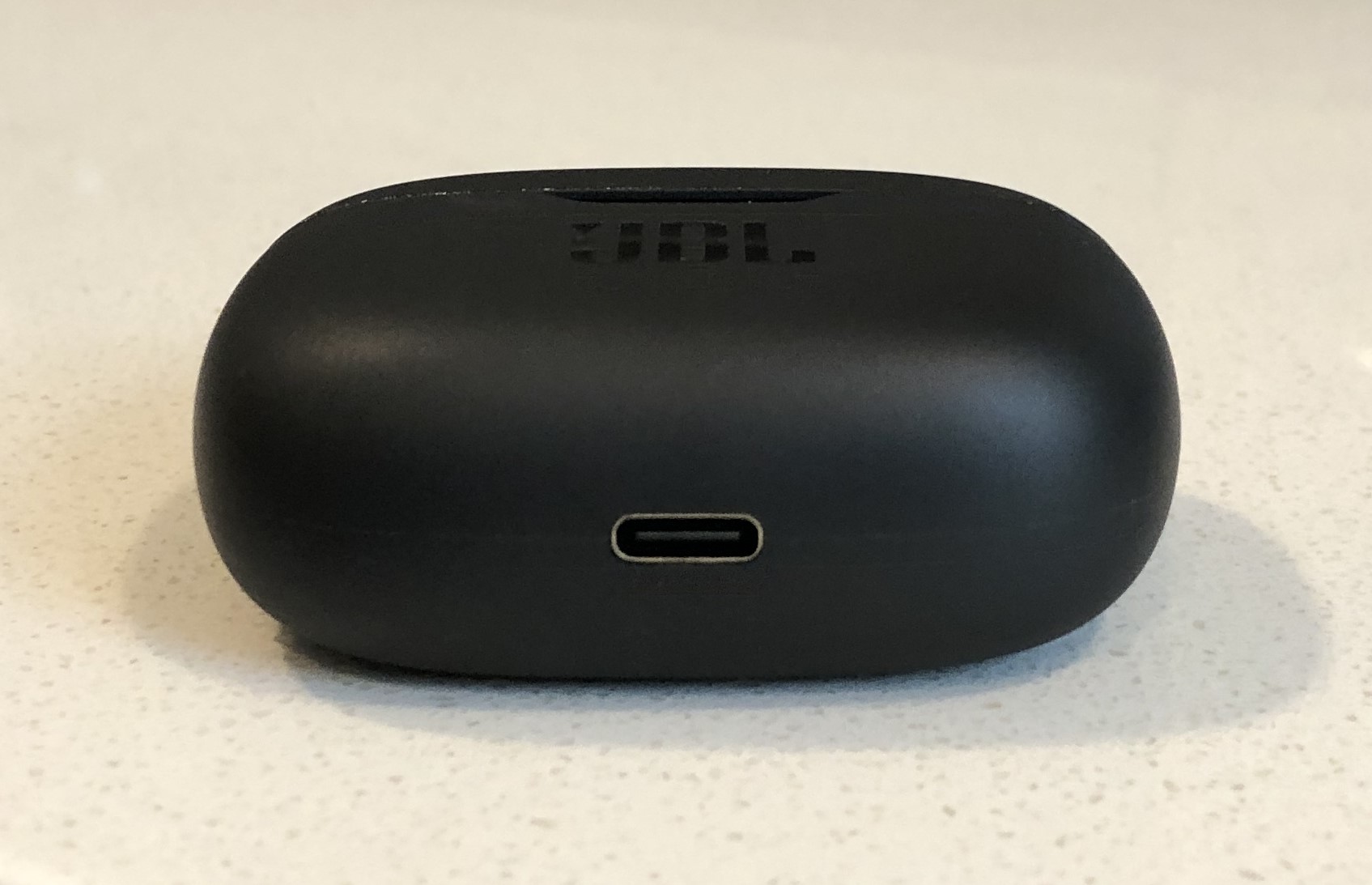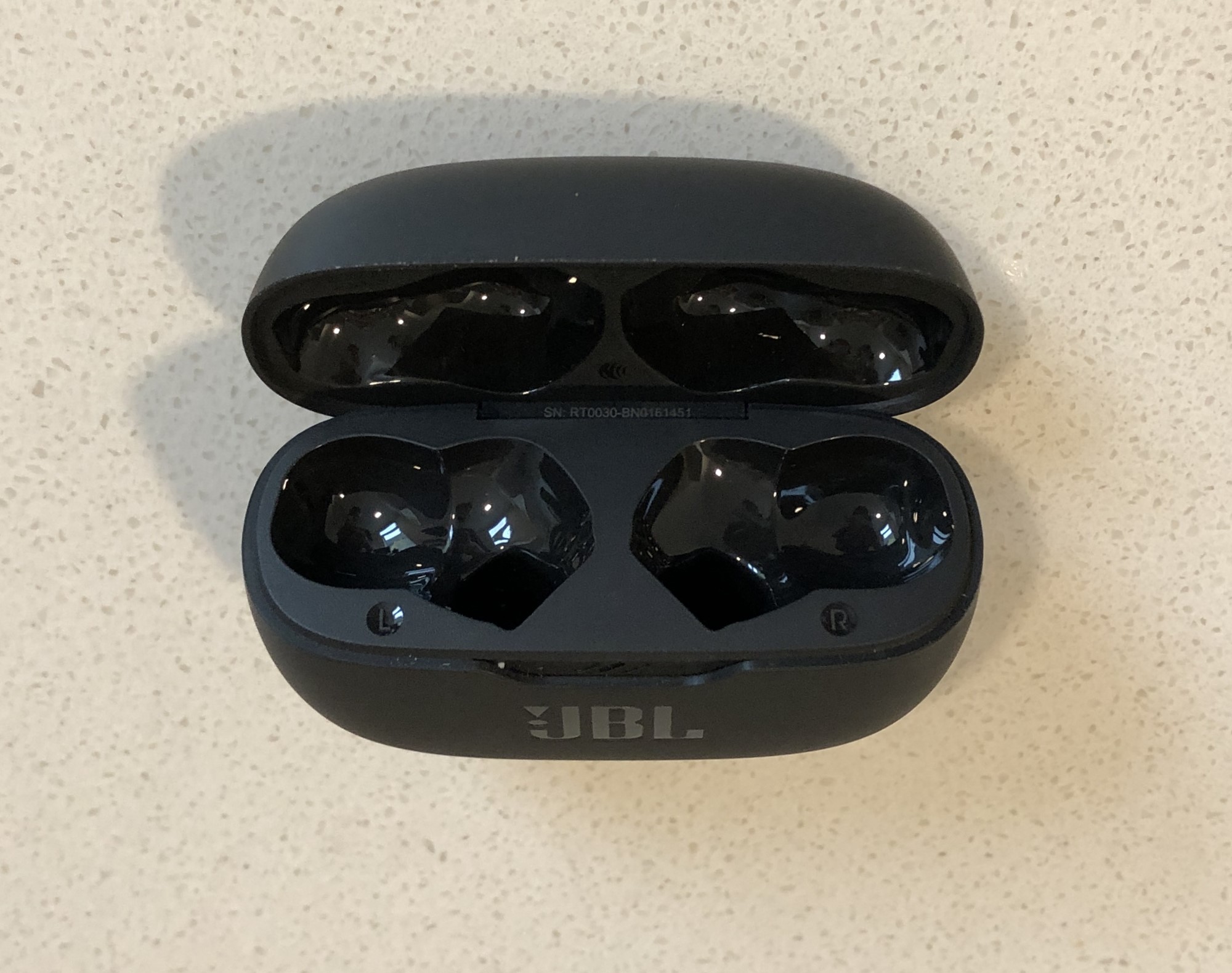 The case is a little heavy and bulky, but manages to maintain a decent ergonomic shape that's still fairly thin and pocket friendly. The case itself feels very sturdy – the lid and sides don't budge even if I squeeze them rather hard, and the lid hinge is not flimsy nor does it give in to twisting and such. The lid snaps nicely to both and open and the closed position. The charge terminals are also magnetized and the buds snap firmly in place when put inside. The Vibe Beam case is actually very good for the value tier price-point.
Does the JBL Vibe Beam Have Good Fit and Comfort?
The buds and stems have a nondescript uncontoured shape and the nozzles are somewhat short. As a result of this, I think, the fit feels a little light and shallow. I was not able to get a proper seal with the default medium tips and had to use the large replacement tips. With those I was able to get a proper seal, but it would break a little and the bass would get sucked out if I moved my face around in certain ways, and the buds would feel like they shifted out of position a little bit. The tips also feel a little thin and rough on the skin.
Does the JBL Vibe Beam have Good Isolation?
The Vibe Beam has a transparency mode but not any active noise cancellation, so it is entirely reliant on natural isolation for external noise blocking. The isolation of the Vibe Beam is OK but not particularly great, and this is generally the case with shallower fitting stemmed ovoid style earbuds. I would say these will probably be fine for basic commuter use, but if external noise blocking is a priority for you, there are a fair amount of better options at this price-point that have both ANC and better natural isolation.
One thing worth noting here is that the transparency mode, called "ambient mode," appears to be turned on by default, which I don't think most people want – rather they want isolation and maximum battery as the default (transparency and anc modes take extra battery power). If someone doesn't use the JBL app they might not even be aware it's turned on. It's a curiously bad choice by JBL here that doesn't make much sense in my opinion.
Relevant reading: what is the difference between isolation and active noise cancellation?
JBL Vibe Beam Controls
The Vibe Beam has a touch control schematic with 7 function slots and can do all of the expected basics of play/pause, volume, and tracking. You can somewhat customize the controls by choosing different "gesture" profiles for the left or right earbuds (for example you can put volume controls on the left earbud and playback controls on the right earbud) but you cannot customize each control slot individually and just assign the commands to the functions you want. I'm not sure why JBL decided to do it this way because it just limits usability for no real reason.
One other annoying limitation of this setup is that if you want to have both volume and playback touch controls enabled – which I think most people do – then there's no way to easily turn transparency mode or the talk through function on and off, and the only way to do it as far as I can tell is to open up the JBL app to toggle either, and this is going to be way too cumbersome to deal with in most cases.
The touch controls aren't totally reliable either – I had a fair amount of "misses" and it felt like I had to hit the back of the bud in just the right spot for the touch to register. There is a beep that you will hear that acknowledges that a tap was received.
How to Pair the JBL Vibe Beam
Pairing the Vibe Beam was easy and straightforward – just take them both out of the case after the initial charge, and they will automatically enter pairing mode, as indicated by blinking blue lights on both earbuds. Simply select "JBL VIBE BEAM" from the Bluetooth menu on your device then you're good to go.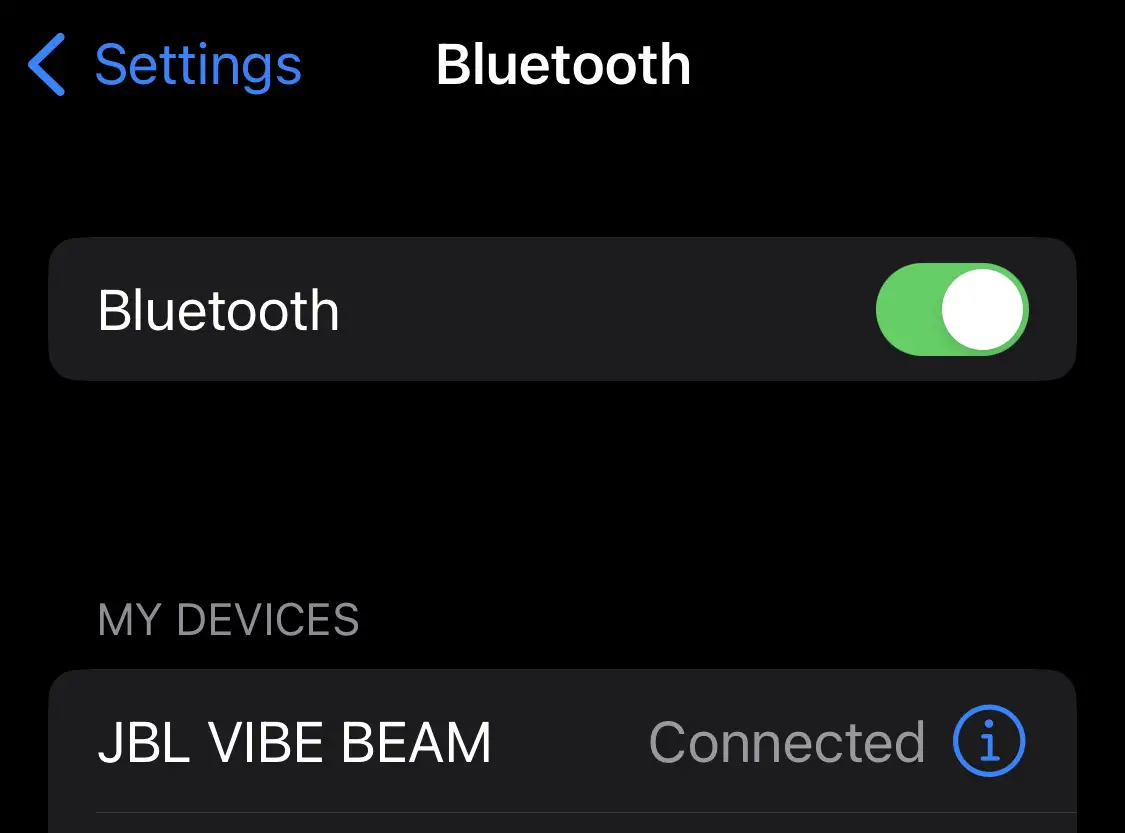 JBL Vibe Beam Test: Does it Have Good Sound Quality?
Preliminary note: this page explains how I evaluate the sound quality of headphones and earbuds
The default tuning and sound quality of the Vibe Beam is decent. The accuracy is there and both instruments and vocals sound natural. The clarity is a little lacking, but is still very decent overall for this price-point. The balance in my opinion is a little off – the mids and mid-highs feel a little too tuned up, and as a result the sound is a little hollow and cluttered, which is a fairly common issue as a result of this kind of imbalance. But the good news here is that this is a very fixable problem with an EQ app, and the Vibe Beam is compatible with JBL's app, so in I went:
As you can see I didn't have to do much to get the balance to feel more or less right – just tapered a little off the mid-highs, bumped the bass up a bit, and added a small peak to the highs to try and tighten up the clarity a little bit. The result is a very solid sound profile for this price point. Not flawless though – there's still a little thinness and hissyness, and a little sibilance on consonantal sounds like vocal Ts, snares, cymbols, ect., but it's only slight, and this is often a major side effect of these kinds of EQ adjustments if they need to be more drastic. The Vibe Beam held everything together though, and the result is a nicely smooth and natural sound that still has good clarity and separation, despite the natural limitations there with a larger 8mm driver.
The bass extension is decent and fairly on par with the overall sound quality and I don't have much to say here – the drops I normally test felt nicely powerful, but a little boomy and loose. Despite being advertised as having "deep JBL bass sound," the Vibe Beam is definitely not a bassy earbud if that's what you're after – when I tried some of the bass emphasized presets the sound just kind of became imbalanced and muffled.
My subjective gut feeling sound quality tier grade is: B-
Final Verdict: Are the Vibe Beam True Wireless Earbuds Worth Buying?
The Vibe Beam has good sound quality for its price-point, probably better than most similarly priced competitors, especially so if you're willing to tinker with the custom EQ option in the app, which is also very good with respect to competing apps. The case is also really nice and sturdy.
But, I don't feel like that makes up for the less than perfect fit and usability issues. What's the point of having a transparency mode and talk through function if you can't easily toggle it with touch controls, unless you sacrifice volume or tracking controls? This does not have to be the case if the control customization was designed better – just let users choose the function for each individual command slot and problem solved.
If you want a basic pair of wireless earbuds that has good sound quality that's particularly smooth and natural sounding, the Vibe Beam is definitely a solid choice. If there's one thing JBL usually does well it's sound quality. But if you want the best usability and features, including ANC, then I think there are better products at the same price-point.
Get the Vibe Beam wireless earbuds on Amazon (affiliate link)
Popular Comparisons
For those who are curious how the Vibe Beam fares against popular competitors:
• JBL Vibe Beam vs JBL Vibe 200TWS
• JBL Vibe Beam vs JBL Vibe Buds
• JBL Vibe Beam vs JBL Tune 230NC
Relevant Articles
• Is JBL a good audio brand?
• The best value-tier true wireless earbuds (under $50-$60)
Frequently Asked Questions
What's the difference between the JBL Vibe Beam vs Wave Beam?
Nothing – they are the exact same product. It's just released under two different names in differing global regions, which is something that audio companies do sometimes.
Is the JBL Vibe Beam waterproof?
No, the Vibe Beam is not fully waterproof. It is only certified as having water resistant up to splashing and jets (IP54).
Is the JBL Vibe Beam better than AirPods?
No, AirPods outperform the Vibe Beam in pretty much every way, though the Vibe Beam sound quality gets impressively close to that of AirPods despite it being a fraction of the price.
Is the JBL Vibe Beam compatible with iPhones?
Yes, the Vibe Beam will work with any modern iPhone. I used an iPhone for my listening test and it worked flawlessly.
Does the JBL Vibe Beam have a microphone for calls?
Yes, the Vibe Beam has a built in mic and touch controls to take and end phone calls.
Does the JBL Vibe Beam have wireless charging?
No, the case has a standard USB C port for charging. A USB charging cable does come included.