Written by Pete Anthony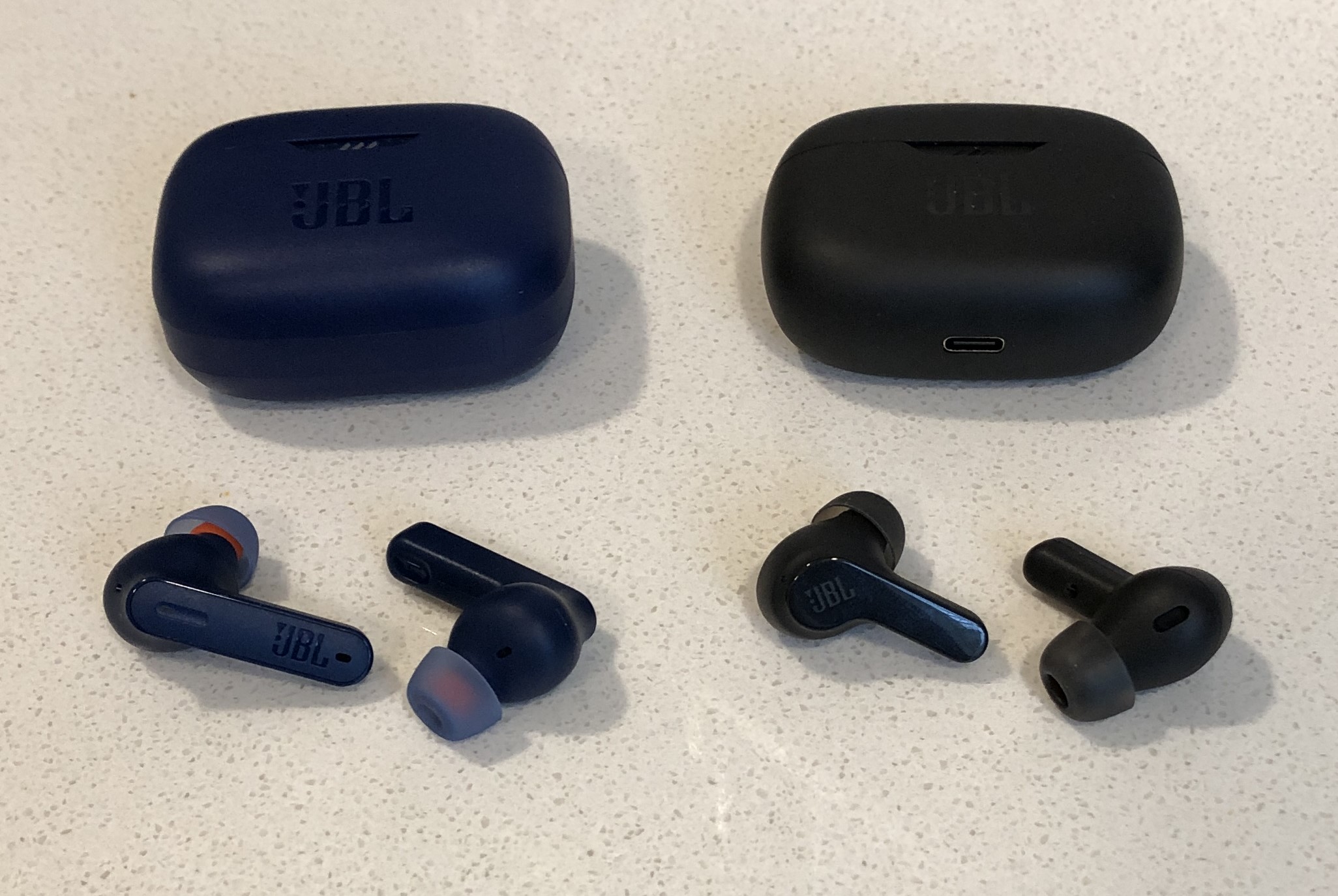 JBL is one of the largest and most recognizable audio companies in the world, and they produce a huge variety of speakers and headphones, now including a lot of different true wireless earbuds at affordable prices.
Enter the Tune 230NC and Vibe Beam – the Tune230NC came out in mid 2021 and has since become a very popular TWS earbud, and at the time of this writing is still a top seller on Amazon. The Vibe Beam (also called the Wave Beam in some regions) came out 1.5 years later in 2023 and is similar to the Tune 230NC. The Vibe Beam has quickly become very popular as well – also a top seller on amazon at the time of this writing – and I wouldn't surprised if it surpassed the older Tune 230NC sooner than later.
The Tune 230NC and Vibe Beam are similar and popular enough that a lot of people are asking: how do they actually compare to each other? Is one decidedly better than the other? I have fully reviewed both of them and will answer those questions here.
JBL Tune 230NC vs Vibe Beam Side by Side
JBL Tune 230NC vs Vibe Beam Specs and Features
Spec
Tune 230NC
Vibe Beam
release date
Sep, 2021
Feb, 2023
price-tier ⓘbudget: around $30 or less
value: around $30-$60
performance: around $60-$100
premium: around $100-$200
elite: more than $200
value
value
design style
6mm single dynamic driver
8mm single dynamic driver
earbuds battery life
10h
8h
total + case battery life
40h
32h
weatherproofing
IPX4
IP54
onboard controls
touch based
touch based
wireless charging
no
no
active noise cancellation
yes
no
transparency mode
yes
yes
Bluetooth version
5.2
5.2
EQ app compatibility
yes
yes
Multipoint 2+ device support
no
no
warranty
1 year
1 year
The Tune 230NC and Vibe beam housing and nozzle is pretty much the same size and shape, but the Vibe Beam has the smaller stems with the flat sheen finish and is a bit lighter, but interestingly has the larger 8mm drivers. The Vibe Beam does not have active noise cancellation like the Tune 230NC does, but did add IP code certified dust resistance in addition to the water resistance.
JBL Tune 230NC vs Vibe Beam Fit and Comfort
The Tune 230NC and Vibe Beam have a similar feeling fit that's on the shallow side. Both are reasonably comfortable to wear, but both have the same issue with a bit of seal breakage and bass suck-out if I smile with my jaw enough. The tips of the Vibe Beam are a little longer and might fit slightly better, and the suck-out of the Tune 230NC is a little more noticeable mainly because of the bigger contrast with the ANC on.
JBL Tune 230NC vs Vibe Beam Isolation
Neither the Tune 230NC nor Vibe Beam has particularly great natural isolation, as is commonly the case with the shallower stemmed style design. That said, while they both have the same "Ambient Aware" transparency modes, the Tune 230NC has ANC while the the Vibe Beam does not, and for that reason the Tune 230NC is the pretty clear winner here.
JBL Tune 230NC vs Vibe Beam Controls
The Tune 230NC and Vibe Beam have the same control schematic that can be somewhat customized with the JBL app. You can assign "gestures," which are basically groups of functions, to the left or right earbud. So you can put volume functions on the left earbud and tracking functions on the right one, for example.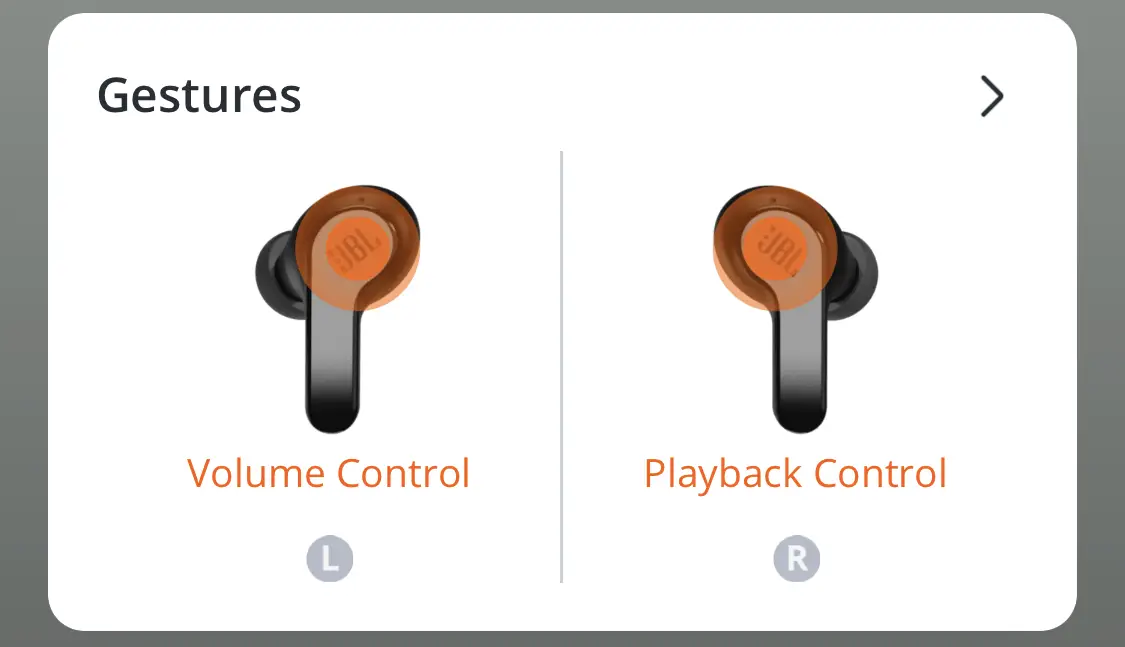 You cannot simply assign individual touch commands to individual functions with either earbud, and one of my criticisms of both of these pairs of earbuds is that you can only have two "gestures" on at a time. So if you want to be able to track and adjust volume – which I imagine most people do – you then cannot toggle ANC/transparency mode unless you open up the app.
JBL Tune 230NC vs Vibe Beam Charging Case
The Tune 230NC case is a little bigger than the Vibe Beam case, but besides that and a few other trivial details they are basically the same and decent enough for the value tier price-point.
JBL Tune 230NC vs Vibe Beam Sound Quality
Preliminary note: this page explains how I evaluate the sound quality of headphones and earbuds.
The Tune 230NC and Vibe Beam have a similar sound style, but I think the Tune 230NC sounds a little better than the Vibe Beam does, especially with some EQ optimization in the app. All other things being equal I think 6mm drivers offer better all around performance than 8mm drivers do, which the Tune 230NC and Vibe Beam have respectively. The detail, separation, and accuracy of the Tune 230NC are a little better than those of the Vibe Beam, and the Tune 230NC sounds a little more natural as a result.
Final Verdict: Is the JBL Tune 230NC or Vibe Beam Better?
The Tune 230NC has been significantly discounted from its original MSRP and is now not that much more expensive than the Vibe Beam, and I think for that reason mainly it is a better deal for the money. They both have pretty much the same feel and usability, but the Tune 230NC has marginally better sound quality, and I'd much rather have ANC and longer battery life than dust resistance, and I'd wager most people would feel the same.
Get the Tune 230NC wireless earbuds on Amazon (affiliate link)
Get the Vibe Beam wireless earbuds on Amazon (affiliate link)
Relevant Articles
• Full Tune 230NC review
• Full Vibe Beam review
• Is JBL a good headphone brand?
• The best value tier true wireless earbuds (under $50-$60)