Written by Pete Anthony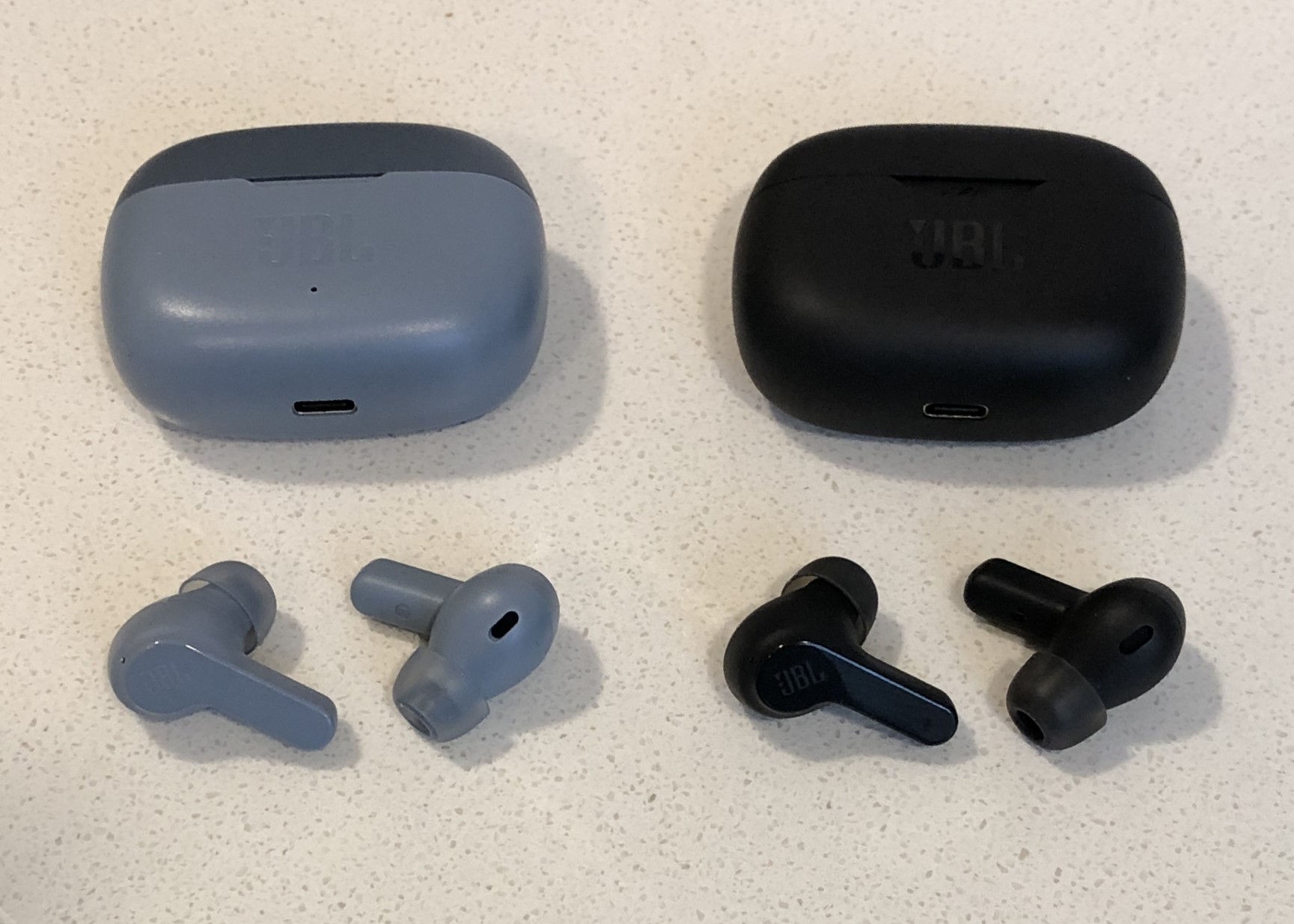 The Vibe Beam is a new gen version of the Vibe 200TWS, which was released about a year and a half prior to it. Though they look almost identical, the Vibe Beam adds some new features and improved specs. But is it a worthwhile upgrade over its predecessor? I have fully reviewed both products and will answer that question here in this full comparison article.
JBL Vibe 200TWS vs Vibe Beam Side by Side
JBL Vibe 200TWS vs Vibe Beam Specs and Features
Spec
Vibe 200TWS
Vibe Beam
release date
Jun 2021
Feb 2023
price-tier ⓘbudget: around $30 or less
value: around $30-$60
performance: around $60-$100
premium: around $100-$200
elite: more than $200
value
value
design style
8mm single dynamic driver
8mm single dynamic driver
earbuds battery life
5h
8h
total + case battery life
20h
32h
weatherproofing
IPX2
IP54
onboard controls
touch based
touch based
wireless charging
no
no
active noise cancellation
no
no
transparency mode
no
yes
Bluetooth version
5.0
5.2
EQ app compatibility
no
yes
Multipoint 2+ device support
no
no
warranty
1 year
1 year
The Vibe 200TWS and Beam have the exact same physical design as far as I can see, but the Beam does have improved weather resistance with the better IP54 code, so there's probably something different going on construction wise that can't be seen.
The Vibe Beam also has a few additional notable improvements over the 200TWS, namely superior battery life and compatibility with the JBL app, which adds their "Ambient Aware" transparency mode and can customize controls and EQ.
JBL Vibe 200TWS vs Vibe Beam Fit and Comfort
The Vibe Beam tips also appear to be exactly the same as the Vibe 200TWS tips, so it didn't surprise me to find that the fit feels exactly the same between the two. I looked back at my individual reviews of each as well and, despite writing them months apart, my conclusions were basically the same.
The fit and comfort is decent, but not perfect – it's a little light and shallow and the seal is prone to breaking when I move parts of my head around in certain ways.
The isolation was also unsurprisingly about the same – OK but not particularly great. You might be able to get slightly better isolation with the Beam by adjusting the EQ, because it is possible for a different sound signature to block out external noise a little better.
JBL Vibe 200TWS vs Vibe Beam Controls
The Vibe 200TWS and Vibe Beam have the same default touch control schematic and, once again unsurprisingly, feel about the same – the touch controls are mostly decent but are a little finnicky and I had a few "misses" with each of them.
One significant advantage of the Vibe Beam, though, is that you can somewhat customize the controls in the JBL app, which includes being able to switch the left or right earbud to volume controls if you want to add them in, whereas the Vibe 200TWS only has playback functions that have the same commands mapped to both the left and right earbud.
JBL Vibe 200TWS vs Vibe Beam Charging Case
The Vibe 200TWS and Beam cases are also basically the same. They have the same dimensions, weight, and feel as far as I can tell. The one slight difference though is that the Vibe Beam case has an indicator light added to it to show how much charge the case currently has.
JBL Vibe 200TWS vs Vibe Beam Sound Quality
Preliminary note: this page explains how I evaluate the sound quality of headphones and earbuds.
You might think this section is trivial because you might think the newer version of a pair of earbuds would obviously have improved sound over the older one.
But that actually isn't always true – sometimes companies make changes that are not for the better and newer gen products wind up sounding worse than their older predecessors. For example Soundcore's popular P2, despite being 4 years old, still sounds great by today's standards and noticeably better than the newer P3, even despite the latter having EQ adjustability while the former does not.
That said, the Vibe 200TWS and Vibe Beam have the same driver design and default tuning, I think, because they sound about the same. However, the Vibe Beam pulls away here simply because it is compatible with JBL's app EQ customizer, which is one of the better ones out there for that matter. EQ adjusting can make a big difference in earbud sound quality, and with some tinkering I was able to noticeably improve the Vibe Beam's sound.
Final Verdict: Is the Newer JBL Vibe Beam Better than the Vibe 200TWS?
Yes, the Vibe Beam is a pretty clear all around upgrade upon the Vibe 200TWS because of its improved specs and added features. The Vibe Beam also appears to be going for the same price as the Vibe 200TWS interestingly, so as long as that remains the case choosing the newer Vibe Beam is a no-brainer in my opinion.
Get the Vibe 200TWS wireless earbuds on Amazon (affiliate link)
Get the Vibe Beam wireless earbuds on Amazon (affiliate link)
Relevant Articles
• Full Vibe 200TWS review
• Full Vibe Beam review
• Is JBL a good audio brand?
• Best value tier true wireless earbuds (under $50-$60)