Written by Pete Anthony 
Last updated on: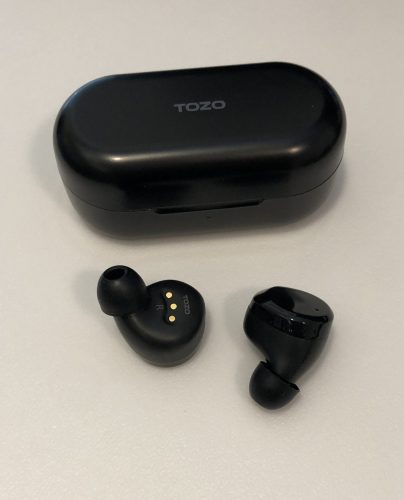 TOZO has, in recent years, come to prominence in the portable audio market, mainly because of the variety of highly performant wireless earbuds they've released at minimal prices. The T12 originally came out in 2020 and included a few neat features, like LED indicators in the charging case to show how full the battery of each earbud and the case is. TOZO has updated a few of their popular models since their original release, including the T12 in mid 2022.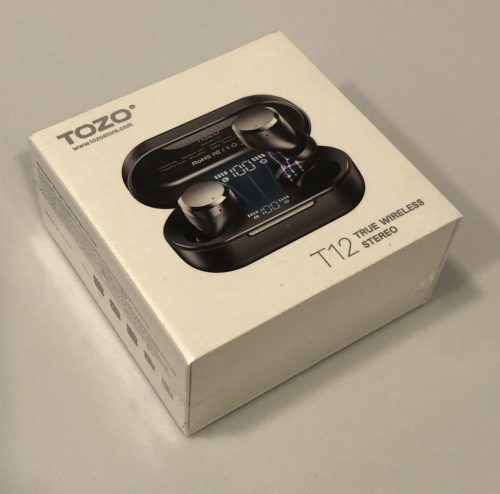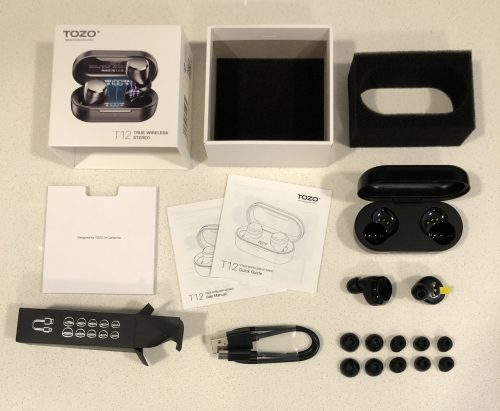 What Accessories Come Included With the TOZO T12?
user manual and quick start pamphlets
5 additional pairs of different size and style replacement tips
short USB-C charging cable
charging and carrying case
How Good and Comfortable Is the TOZO T12 Fit?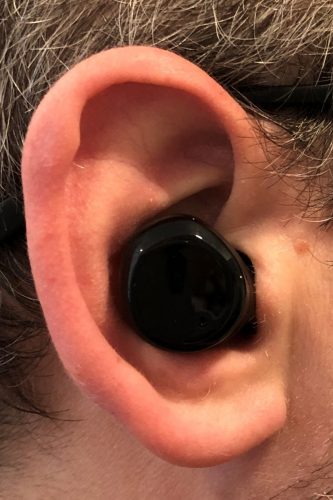 I was able to eventually get an decent fit with the sheen rubber tips, but not without a fair bit of trouble. The rubber tips, which are kind of long, deform if you push or twist the earbuds too much, only to pop back into place with an audible sound moments later. Also, inexplicably weird things happen to the sound if the earbuds move around in certain ways, either by adjusting them with your hands or moving your jaw to certain positions. For example, if I smiled, it sounded like the low mids got totally sucked out and resulted in a thin/removed sound. The same thing happened if I pushed the buds in – everything sounded sucked out and hissy, then boxy, then I'd hear that pop and it sounded normal again. I felt like I could manipulate the response curve by laterally pushing the earbuds in various directions.
Something is going on with the tips not being able to stay properly in place on the nozzle. It seems OK as long as the buds don't move, but it also seems easy to accidentally cause issues. The issues were hopelessly worse for me with the more standard matte silicone tips.
Does the TOZO T12 Have Good Touch Controls, and Is It Easy to Use?
TOZO uses the same control schematic for all their earbuds and it's decent and easy to use – you have all the functions you'd expect to have with wireless earbuds in 2023. There are some slight differences with controls with older versions of TOZO products. The T12 backs are nice and big/flat so touching them and reliably executing the function you intended is very easy. Some of the other smaller TOZO earbuds are little more finnicky. The T12 also has audible "forward" and "reverse" voice prompts when you track songs, as well as a beep for each tick of volume up or down.
List of TOZO T12 Touch Control Functions:
pause/play – 1 tap either earbud
track forward – 2 taps right earbud
restart song, track backward – 2 taps left earbud
increase volume – press and hold right earbud
decrease volume – press and hold left earbud
accept call – 1 tap either earbud
end/reject call – press and hold either earbud*
voice assistant – 3 taps either earbud
*end call might be 1 touch either earbud on newer versions, there's a discrepancy between the included manual and TOZO's website
Pairing the T12 is easy and straightforward – the buds automatically enter pairing mode when you take them out of the case after the initial charge, and you simply select "TOZO-T12" from the Bluetooth menu and you're good to go.
Durability: Is the TOZO T12 Waterproof And/Or Dustproof?
Both the TOZO T12 earbuds and case have an official ingress protection code of IPX8 – the final "8" digit means they're fully waterproof from immersion for up to 30 minutes, and the penultimate "X" digit means there's no certification against dust or debris. Wireless earbuds with double digit IP codes that are officially protected against water and dust are less common but they do exist, and we are starting to see more of them, but they're usually a little more expensive and start around the $50 price point.
Does the TOZO T12 Have Good Isolation And/Or Active Noise Cancellation?
The T12 does not have any noise cancellation tech but the earbuds do offer good isolation, and did a good job of blocking out background noise while I used them. I'd put the isolation at around medium-high. These will be fine for basic commuter use.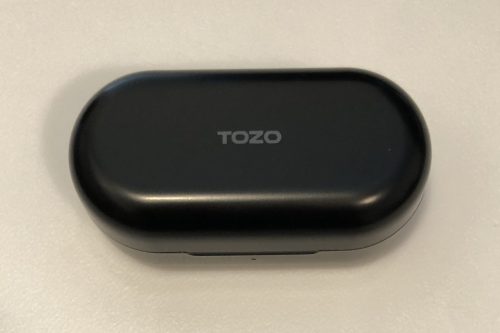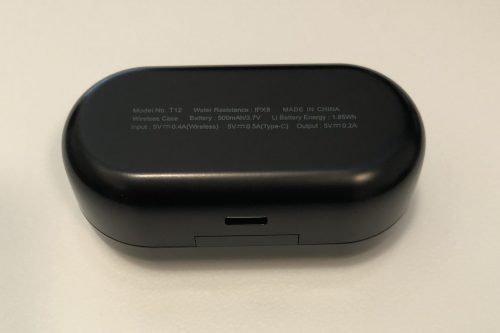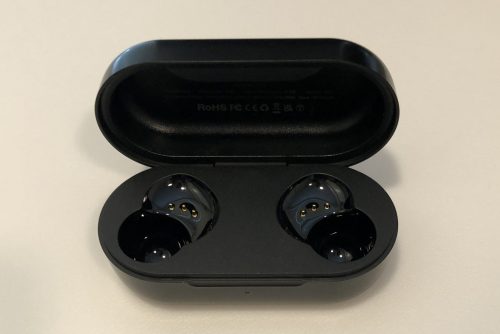 The case is relatively big, bulky, and heavy, but it kind of has to be to accommodate the T12 buds which are also big and bulky. It has LED displays to indicate the current battery percentage of the case itself and each of the earbuds which is pretty neat. Also neat is that it too is waterproof in addition to the earbuds. I do wish the charge port had a protective cover, and I'm kind of surprised it doesn't given the IPX8 waterproof certification, but this just seems to be something that more and more companies are starting to omit for whatever reason.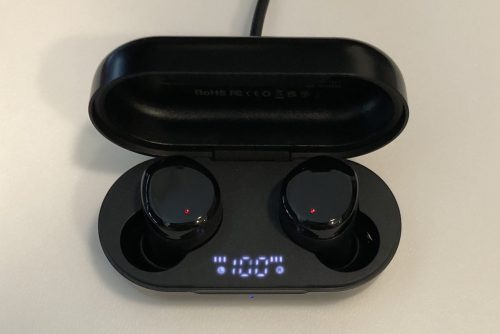 How Good Is the TOZO T12 Battery Life?
One of the criticisms of the older 2020 T12 model is that, by today's standards, the battery life of the earbuds and case was relatively short. But the 2022 model has the Bluetooth version updated from 5.0 to 5.3 which is likely the main reason the purported battery life has been significantly improved – the earbuds can hold up to 11 hours of charge, which is excellent for budget wireless earbuds, and the case offers a cumulative 48 max hours of battery life before they need to be plugged back in again, which is also very good for budget earbuds in 2023.
Does the TOZO T12 Have Good Warranty Coverage?
All TOZO earbuds have a 30 day return window and a subsequent 1 year limited warranty against manufacturing defects. This is the fairly common standard minimum for budget earbuds.
The Important Question: Does the TOZO T12 Sound Good?
The T12 sounds pretty good for its price-point, but not great. They are quite bassy, which contributes to an overall sound that is a bit boomy and loose. The detail and clarity isn't quite there. I also felt some onset fatigue.
There is also audible feedback from the Bluetooth signal – it sounds kind of like an old squeaky fan or like faint crickets and reminds me of the common feedback sound from older v4 Bluetooth headphones from 4-5 years ago. I wouldn't say it's a deal breaker, and it didn't really interfere with the music, but I could hear it with some songs if I paid attention.
The sound signature follows a Harman/U-shape curve, which is standard for budget earbuds, but there's a pretty big dip in the low mids and the bass is significantly tuned up.
The bass extension is good. The quoted response floor is 18 Hz, which is better than average for budget earbuds, and I believe the sound accurately reflects that claimed spec. The drops I normally test came through fully and were pretty even, which doesn't normally happen with budget earbuds. The bass itself is fairly loose and muddy and there was some loss of tone and pitch.
Final Verdict: Is the TOZO T12 Worth Buying?
TOZO makes good budget earbuds and I've generally reviewed them favorably, but I'm a bit on the fence with the T12. They sound and work fine, but, the sound getting weirdly altered if and when the tips were deformed is a concern. If someone can't get a proper fit with these – and it took me a fair bit of work to do that – there's a chance they might not seal properly and be basically unusable. I think the nozzle section of the build might have some fundamental design flaws.
The updated T12 does have great battery life, and the controls are very easy to use, and the waterproof buds and case is a nice feature. If that sounds appealing and you prefer a more boomy and bassy earbud, then the T12 might be a choice you end up liking. There are similarly priced alternatives that are better in my opinion, though.
Get the 2022 updated TOZO T12 wireless earbuds on Amazon (affiliate link)
Popular Comparisons
For those who are curious how the T12 fares against popular competitors:
• TOZO T12 vs TOZO Crystal Buds
• TOZO T12 vs NC9
• TOZO T12 vs TOZO T6
• TOZO T12 vs TOZO T10
Relevant Articles
• Is TOZO a good audio brand?
• Our current picks for the overall best budget true wireless earbuds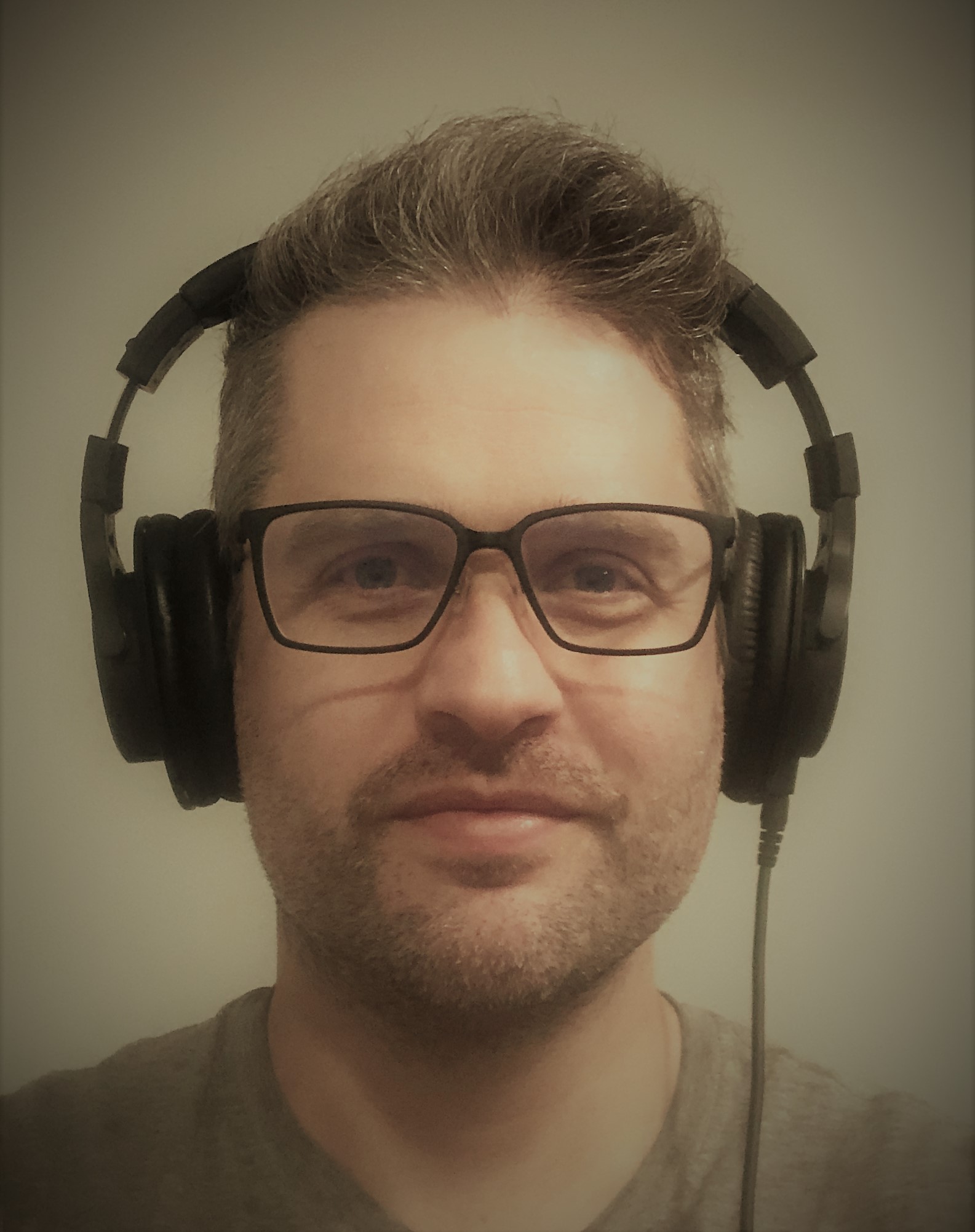 Pete Anthony has had a lifelong affinity for music, and more recently has become an anti audiophile snob who wants great sound to be accessible and enjoyable by anyone. Without needing to break the bank. Read his full author page
here
.