Written by Pete Anthony
Preliminary note: SoundPEATS was awesome to give us a review unit
The Clear is another pair of budget wireless earbuds from SoundPEATS – it features, apt to its name, a case with a clear lid and clear stems that allow you to see some of the inner electronics. Kind of neat, and also actually useful – the clear lid prevents you from accidentally forgetting to put the earbuds back in the case. The only other clear lidded case I've seen is the TOZO Crystal Buds, but they're a bit more expensive and outside of the budget price-tier.
So how do these clear earbuds otherwise perform? Are they a solid contender in the increasingly competitive budget TWS niche? Lets dive in.
SoundPEATS Clear Specs and Features
Released: Sep, 2023
Price-point ⓘbudget: around $30 or less
value: around $30-$60
performance: around $60-$100
premium: around $100-$200
elite more than $200: budget
Design style: 12mm single dynamic driver
Purported battery life: 7h earbuds; 40h total with case recharges
Bluetooth version: 5.3
Weatherproofing: not specified
EQ app compatibility: yes
Active noise cancellation: no
Transparency mode: no
Auto play/pause sensors: no
Onboard controls: touch based
Multipoint 2+ device support: no
Wireless charging: no
Warranty: 1 year
The compartments that contain the USB-C charging cable and extra tips are inconspicuously beneath the packing piece that holds the case and earbuds. Something to be aware of.
SoundPEATS Clear Fit and Comfort
I was able to get a great fit that was comfortable and secure very easily. The buds sit kind of shallow and out, so I opted for the large tips, but all I had to do was slide them right in and I had a seal that didn't break at all no matter how I moved any part of my head around. The tips have a very thin and soft texture that sits well on the skin. If you're looking for an earbud with an easy fit and that's easy to take on and off, the Clear seems like a great choice for that.
Despite the very light and shallow fit, and that the stemmed design in general typically has less isolation, the natural isolation of the Clear earbuds is pretty good, and probably fine for basic commuter use.
Great job by SoundPEATS here overall.
Relevant reading: what is the difference between isolation and active noise cancellation?
SoundPEATS Clear Controls
The Clear earbuds have touch based controls and have all of the basic functions you'd expect TWS earbuds to have in 2023: pause/play, tracking, volume, and accept/end/reject/hold call. The commands were easy to execute and I didn't really have any "misses." The Clear earbuds play the same tone to acknowledge that a pause/play or tracking command was received, but no tone for volume up/down. My only very mild complaint here is that it's nice when there are distinct tones for each function so you know that what you intended did (or didn't) go through. Other than that though the onboard controls seem solid.
SoundPEATS Clear Charging Case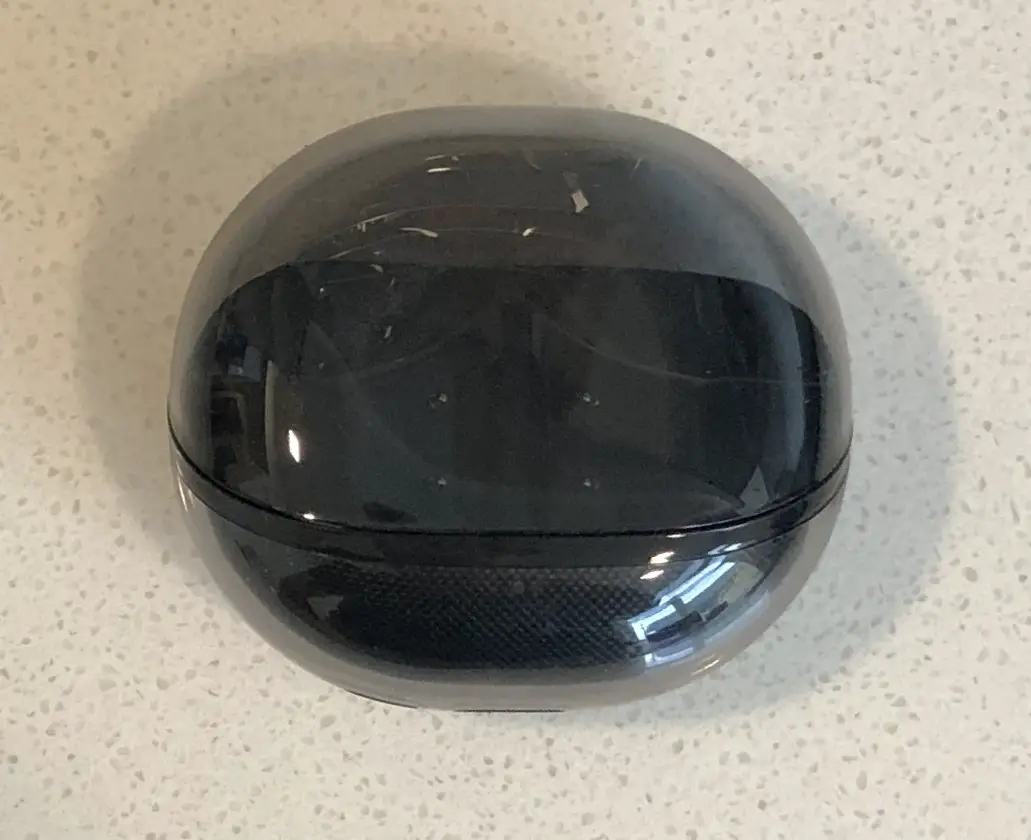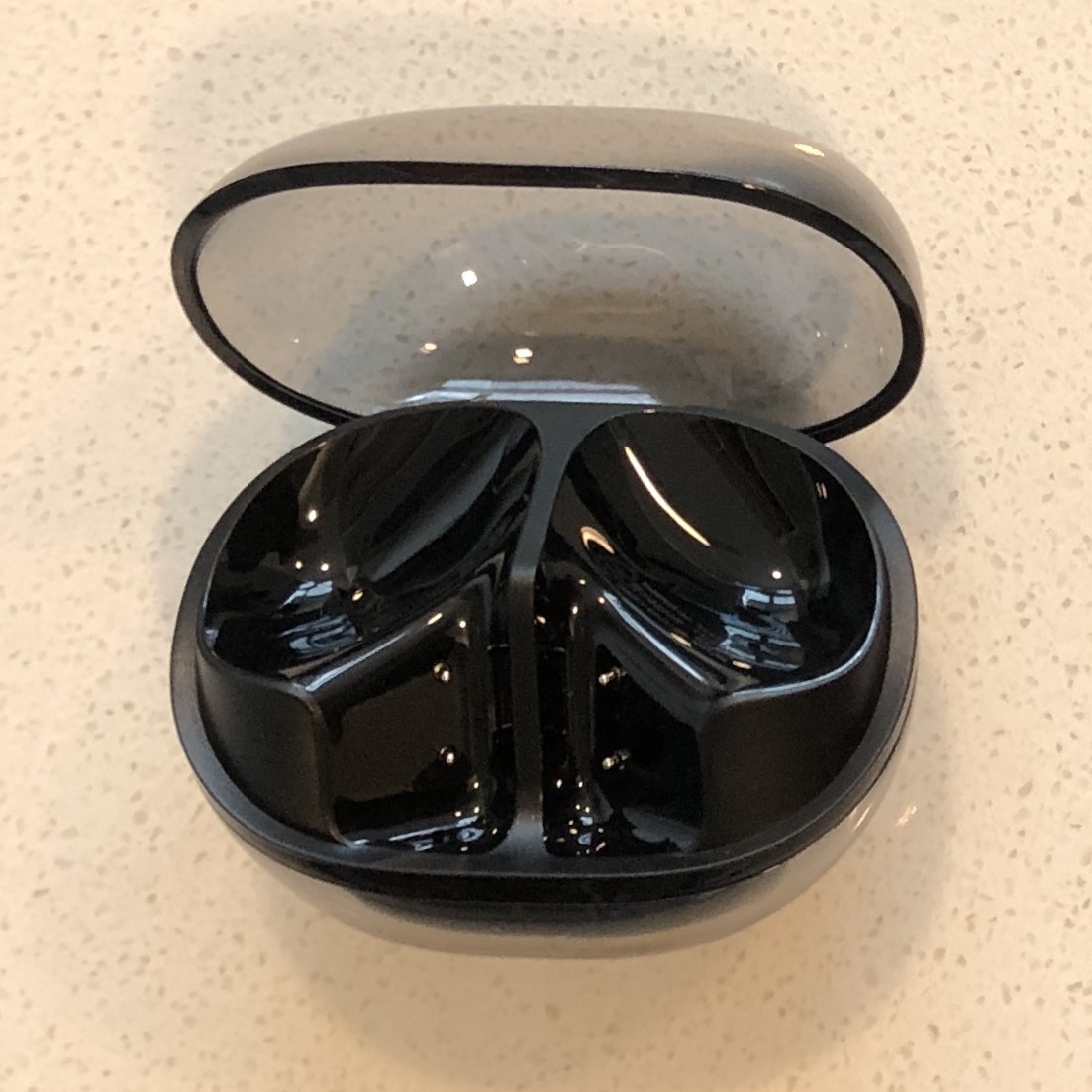 The case itself seems decent enough, but the lid and lid hinge are very flimsy. If I squeezed on the case while closed, the lid joint would protrude out and the lid would slide out of place.
SoundPEATS Clear Test: Does It Sound Good?
Preliminary note: this page explains how I evaluate the sound quality of headphones and earbuds.
The default out-of-the-box tuning and sound was a bit weird and surprising, especially for a budget TWS earbud with larger 12mm dynamic drivers – the mids were emphasized, which almost never happens and the opposite is usually true. The result was a kind of narrow sound with noticeable boxyness, which is the telltale symptom of this kind of imbalance in my experience.
The Clear is compatible with the SoundPEATS app EQ customizer, which is a feature that isn't available for a lot of budget true wireless earbuds. I was curious to see how much better the Clear would sound with EQ adjustments, because my initial thought was that the default tuning has fairly basic issues that are very fixable, so in I went:
I had to tune up the mid-highs and highs quite a bit to get the balance to feel more or less right, and I also took a little off the mids and added a little to the bass, kind of giving it a high skewed Harman shape. This definitely got rid of the narrowness, and almost got rid of the boxyness, but not quite – vocals still had a little of the cuppy sensation, and sounded a little removed. The clarity remained a little compromised, and the sound felt a little busy, but the clarity and the accuracy otherwise felt decent.
The bass extension is good – which is a usual advantage of larger drivers like the Clear earbuds have. The drops I normally test felt powerful and full, with no roll off. The bass tone was a little loose and lost some pitch.
My subjective gut feeling sound quality tier grade is: C+
Final Verdict: Is the SoundPEATS Clear Worth Buying?
The budget TWS price-tier has quickly become very competitive and will certainly continue to become more competitive, and that said, I don't really think the SoundPEATS Clear earbuds do all that much to stand out from the competition. The default tuning has balance issues, and even with EQ tinkering and optimization – assuming you're willing to do that – I was still only able to get it to about average sound quality.
If you really like the clear lid design and comfortable and secure fit is a priority, I think the Clear earbuds are a perfectly solid choice and I do think a fair amount of people will like them just fine. But you can also get the similar Crystal Buds for not much more money and they sound better.
Get the SoundPEATS Clear Buds on Amazon (affiliate link)
Relevant Articles
• Is SoundPEATS a good audio brand?
• The best budget true wireless earbuds (under $30)
Frequently Asked Questions
Is the SoundPEATS clear waterproof?
No it is not – a pair of earbuds needs an ingress protection code of at least IPX7 to be certified as waterproof up to full immersion, and SoundPEATS does not specify if the Clear earbuds have an IP code at all.