Written by Pete Anthony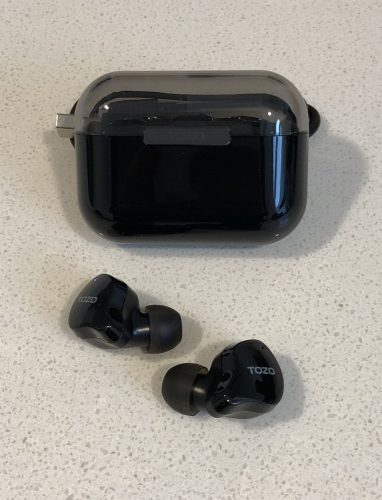 TOZO is a relatively new audio brand that has become quite popular for having released a variety of decent wireless earbuds at minimal prices. The Crystal Buds, released circa August 2022, is one of their newer products, and includes some neat features like the ability to pair with TOZO's EQ app which comes with 16 presets and the ability to fully customize the sound.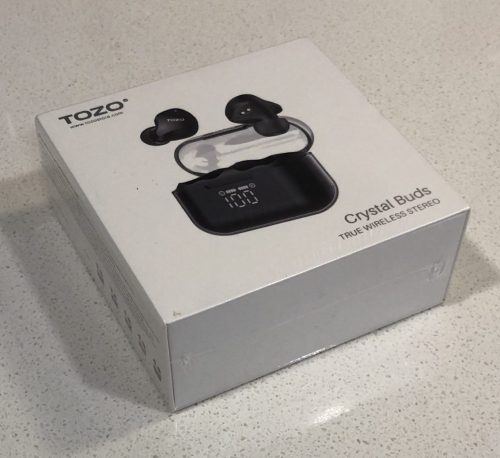 What Accessories Come Included With the TOZO Crystal Buds?
quick guide and user manual booklets
5 additional pairs of different size and style replacement tips
short USB-C charging cable
charging/carrying case
How Good and Comfortable Is the TOZO Crystal Buds Fit?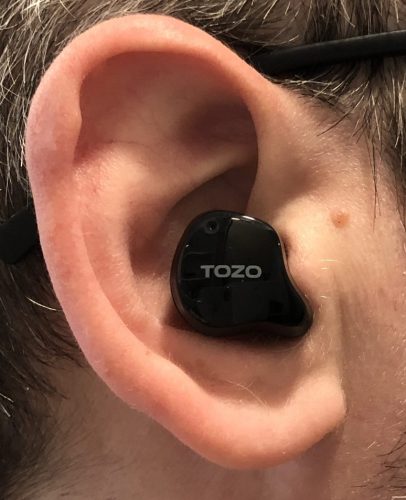 The Crystal Buds fit me great out of the box with the default medium tips. The buds are secure and don't shift when I move my head and jaw around or do touch commands. The seal is a little bit light and shallow for my taste (I prefer deeper and tighter tips that exert some feelable pressure), but it was adequate and similarly didn't compromise at all no matter how I moved my head or jaw around.
One great thing about TOZO is that they (almost) always include a plethora of different sizes and styles of replacement tips, which helps ensure that just about anyone can achieve a similarly good fit. The Crystal Buds come with a total of six pairs of tips, whereas most budget earbuds merely come with three pairs of small/medium/large tips.
I also really like the contouring of the earbud shape – the bottom side sits very well and comfortably flush on my ear while the bud as a whole remains light and compact. The cornered edge from the face is also ideal because it makes taking off, putting in, or adjusting the earbuds easy to do and without accidentally issuing touch commands. While more seamless and round-ish earbuds might look cooler, they also do tend to have those aforementioned issues.
Do the TOZO Crystal Buds Have Good Touch Controls, and Are They Easy to Use?
TOZO has pretty much the same control schematic for all their wireless earbuds and it's generally decent and easy to use. The Crystal Buds have all the basic touch functions that you'd expect wireless earbuds to have in 2023. While some purely tactile wireless earbud controls can be kind of finnicky and unreliable, the flat backs of the Crystal Buds make it very easy to issue touch commands as intended.
One annoying and relatively common problem with wireless earbuds is that sometimes it's not clear if you successfully tracked or the media is just paused. The Crystal Buds solve this by playing a beep to acknowledge a forward or back tracking command. You can also track and automatically resume play from paused, if you accidentally did that.
List of Default TOZO Crystal Buds Touch Control Functions:
pause/play, answer call – 1 tap left or right earbud
reset, track back – 2 taps left earbud
track forward – 2 taps right earbud
volume down – touch and hold left earbud
volume up – touch and hold right earbud
reject/end call – touch and hold left or right earbud
voice assistant – 3 taps either left or right earbud
Additionally, the TOZO app also gives users the option to customize (some of) the touch commands: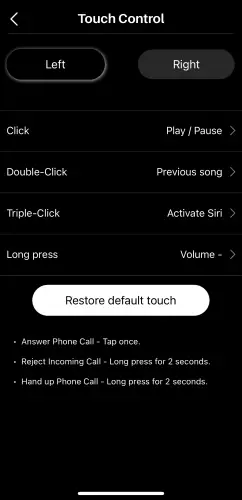 Pairing the Crystal Buds is easy and straightforward – they automatically enter pairing mode, indicated by a flashing red/white light, when you open up the case after the initial charge up. Simply select "TOZO Crystal Buds" from the list and you're good to go.
Durability: Are the TOZO Crystal Buds Waterproof And/Or Dustproof?
The Crystal Buds have an official ingress protection code of IPX8, which means the earbuds are fully waterproof up to 1 meter of immersion for 30 minutes. Some other IPX8 TOZO models have cases that are also IPX8 waterproof, but the Crystal Buds case does not have that certification. The penultimate "X" placeholder digit means the Crystal Buds are not certified to resist dust or debris. There are some similar alternatives that have a double digit IP code and are dust/debris resistant. See the end of this article for links to some such recommendations.
Addendum: The TOZO website actually lists these as IPX7 water resistant, in contrast to the Amazon sales page which lists IPX8 – the only difference between the two is that IPX7 cannot withstand extended full immersion.
Do the TOZO Crystal Buds Have Good Isolation And/Or Active Noise Cancellation?
The Crystal Buds don't have active noise cancellation, but the natural isolation is good, solidly medium, and I'd say these are perfectly fine for handling basic commuter noise.
The translucent lid is actually a great idea that I'd never thought of – it stops someone from accidentally taking the empty case and not realizing they forgot to put the buds back inside it.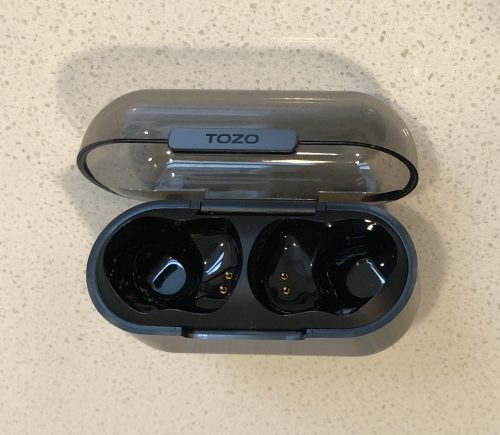 Another neat feature of the Crystal Buds is that the case has LED percentage charge indicators for each earbud and the case itself.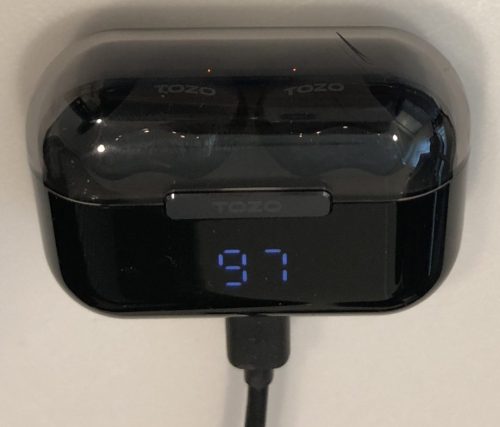 How Good Is the TOZO Crystal Buds Battery Life?
The earbuds themselves have a purported battery life of 9 hours, and the case can purportedly recharge the buds three times before they need be plugged back in, giving a grand total purported battery life of around 40 hours. This is relatively OK battery for the price-point, but not great. If longevity is something you want or need, there are similar alternatives with longer battery life.
Do the TOZO Crystal Buds Have Good Warranty Coverage?
All TOZO earbuds have a 30 day return window and a subsequent one year limited warranty against defects. This is the fairly standard minimum for budget headphones, though some similar competitors have longer warranties.
The Important Question: Do the TOZO Crystal Buds Sound Good?
I did my initial listening test with the "out of the box" settings because that's likely how most people will use them, and most people aren't ever going to bother with fine tuning EQ with an app or otherwise. It also isn't all that obvious from the included literature that an EQ app even exists, and I think some people might miss it.
The Crystal Buds generally sound very good for their price point (around $40 at the time of this writing). I'm mainly looking at two things with my initial sniff test: tone and clarity, and they are both solid – instruments sound decently true to the source, and there is decent separation that allows me to hear individual things pretty clearly.
The out of the box "flat line" setting is actually very bassy and follows a Harman/U-shape sound curve, which is very common for budget earbuds, but the bass of the Crystal Buds is disproportionally tuned up. The bass is a bit loose, boomy, and harsh, and too forward for my taste, and I tend to prefer warmer/bassyer sound for casual use.
That said, the TOZO app has 16 different EQ presets and additionally allows for extensive customization of sound.
In addition to the presets, you can tap the sound curve line on your phone and slide it up and down at each of the vertical increments. You can also save custom EQ settings so you don't have to do this every time you start using the Crystal Buds. I fiddled around with this (which was kind of fun), working off of the bass minus preset and landed on this: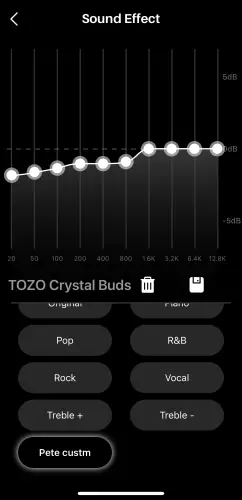 I would say the app definitely allowed me to improve the sound quality of the Crystal Buds, probably objectively and definitely to my liking. Tuning the bass down just a little bit got rid of that harsh and loose boomyness that I initially didn't like, and the sound felt nicely even while still feeling full, which is what I think an optimal Harman/U-curve sound is designed to accomplish on a budget.
Even after tuning the bass down, its extension was good – all the drops I normally test came through fully, didn't have any weird humps, and fairly reflected the response curve that the App purported. The tone was still a little loose and muddy.
Overall I think the Crystal Buds could have best in class sound at their price point if one were to really fine tune the EQ App to their liking, but is the average user going to be inclined to try and do that? Probably not.
Is the TOZO EQ App Good? Does It (Actually) Improve the Crystal Buds Sound Quality?
I've reviewed many TOZO earbuds at this point and the Crystal Buds sales page was the first I'd heard of the TOZO app, and I was quite surprised to learn that it is four years old and compatible with many of TOZO's other earbuds that I've previously reviewed, even the older ones. Point being: TOZO needs to do a better job of advertising it – make it clear in the product literature with pictures and such that the app exists.
The App has pretty abysmal ratings on both the Apple and Google platforms, but the App seemed to work perfectly well for me. The earbuds connected to it just fine, the presets all worked, and manually adjusting the sound curve and subsequently saving my own profiles was easy and straightforward. The ten character name limit is kind of bad but that's whatever.
The only thing I had some trouble with was updating the firmware. My Crystal Buds came with an outdated version, so I tried upgrading it with the App but I had to restart the process after it "failed" twice. It finally reached 100% on the third try and simply said "reset" – this means, as I eventually figured out, that you have to hard reset the earbuds for the update to take effect. So I was able to get the update to work eventually. I don't think a small firmware update is going to realistically effect sound quality – it probably improves the app interface/lag and might slightly extend battery life.
Q: How do you download the TOZO EQ App?
A: There's a QR code on the back of the manual booklet, or you can just get it from the Apple or Google App store.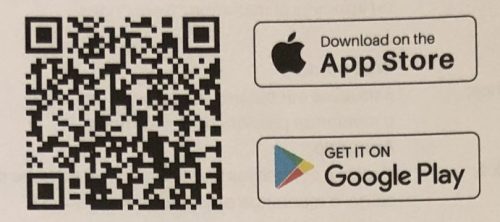 Final Verdict: Are the TOZO Crystal Buds Worth Buying?
Competition has, in just a few recent years, become quite stiff at the 30 to 50 dollar price-point. I'd say in that current market the Crystal Buds are solidly good, but not amazing, nor do they have any specific outstanding features that might make an otherwise lesser quality earbud worth buying for some people.
What I really like about the Crystal Buds is the fit and style, and as a function of that the easiness and reliability of the touch controls. The charge percentage LED indicators and translucent case are also neat, but those are minor features that don't meaningfully tip the scales for me personally, but maybe they do for you. The extensively customizable TOZO EQ App is also a nice feature, but it can also be used with most of the other TOZO earbuds.
I think the Crystal Buds have very solid sound quality for the price, especially with even just a little EQ tinkering through the app. Many people would be perfectly happy with a purchase of them, but I don't think they have anything about them that makes them really stand out in any meaningful way.
Get the TOZO Crystal Buds on Amazon (affiliate link)
Popular Comparisons
For those who are curious how the Crystal Buds fares against popular competitors:
• TOZO Crystal Buds vs TOZO NC9
• TOZO Crystal Buds vs TOZO T6
• TOZO Crystal Buds vs TOZO T10
• TOZO Crystal Buds vs TOZO T12
Relevant Articles
• Is TOZO a good audio brand?
• The best value tier (under $50) true wireless earbuds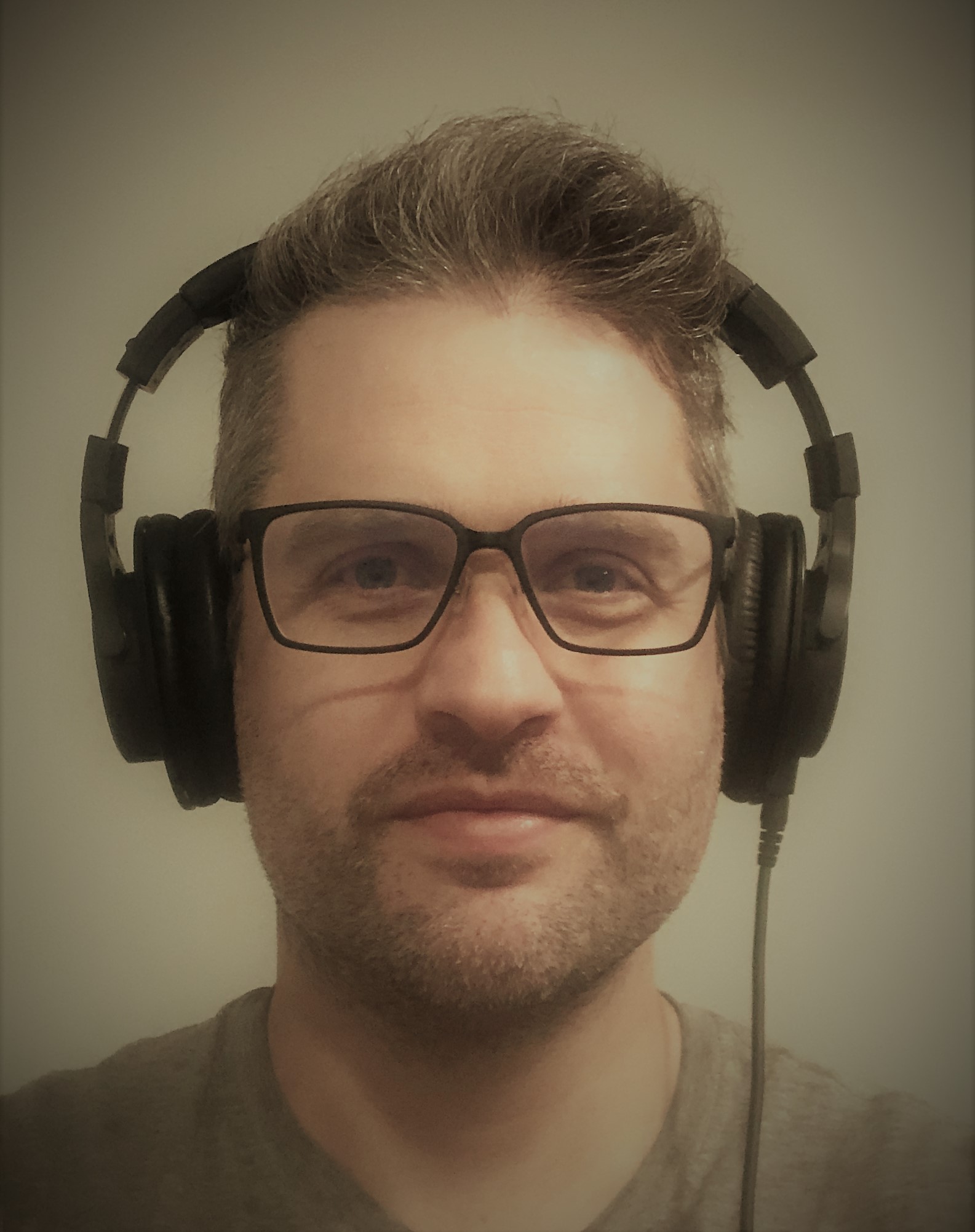 Pete Anthony has had a lifelong affinity for music, and more recently has become an anti audiophile snob who wants great sound to be accessible and enjoyable by anyone. Without needing to break the bank. Read his full author page
here
.