Written by Pete Anthony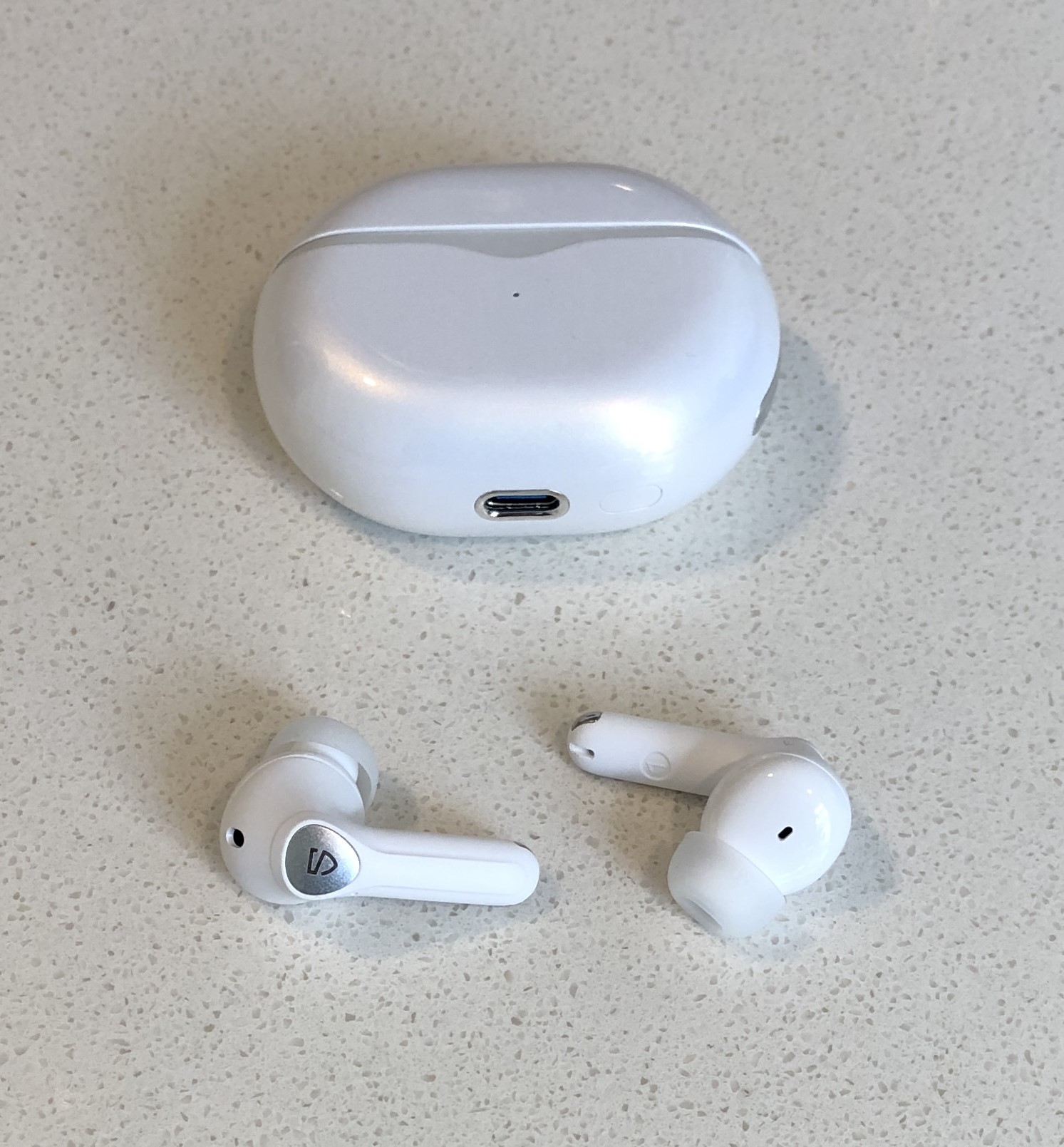 Preliminary note: SoundPEATS was awesome to give us a review unit
The Air4 Pro is a next generation version of the Air 3 that utilizes an in-ear design with tips as opposed to a no tip on-ear design. The new Air4 Pro boasts a variety of improvements and neat features.
SoundPEATS Air4 Pro Specs and Features
Released: Oct, 2023
Price-point ⓘbudget: around $30 or less
value: around $30-$60
performance: around $60-$100
premium: around $100-$200
elite more than $200: performance
Design style: 13mm single dynamic driver
Purported battery life: 6.5h earbuds; 26h total with case recharges (with anc on)
Bluetooth version: 5.3
Weatherproofing: IPX4
EQ app compatibility: yes
Active noise cancellation: yes
Transparency mode: yes
Auto play/pause sensors: yes
Onboard controls: touch based
Multipoint 2+ device support: yes
Wireless charging: no
Warranty: 1 year
The box and packaging is nice and sturdy, but one thing that isn't so obvious is that the accessory compartments that hold the charging cable and extra tips are below the packing piece that holds the case. Something to be aware of.
SoundPEATS Air4 Pro Fit and Comfort
The Air4 Pro has a great fit that's very comfortable and secure – the seal didn't break at all no matter how I moved any part of my head around. The fit is on the light and shallow side, as tends to be the case with the stemmed ovoid casing style, but the fact that it manages this while still being super solid is a great selling point for this product in my opinion.
SoundPEATS Air4 Pro Isolation
The natural isolation of the Air4 Pro isn't particularly great, which is also a common consequence of this style of earbud design and fit. However, the ANC is excellent and with it on the overall noise attenuation is really good.
Relevant reading: what is the difference between isolation and active noise cancellation?
SoundPEATS Air4 Pro Controls
The Air4 Pro has a touch control schematic with 10 function slots, but some of the commands are mapped to multiple slots:

The main issue with the default controls is that there's no backtrack function, and there's no reason there couldn't be one when there are multiple functions that are mirrored on the left and right earbud. This wouldn't be a huge deal if you could customize the controls in the SoundPEATS app, which you can do in most EQ apps, but unfortunately you can't. This is definitely a shortcoming on SoundPEATS' part that sets them behind a lot of the competing apps and products in general.
The controls themselves are easy to execute and reliable – I didn't really have any "misses." There's a beep to acknowledge that a pause or track-forward command has been properly received, and voice prompts to indicate "game mode" being on and off, as well as cycling between normal, ANC, and transparent modes.
How to Pair the SoundPEATS Air4 Pro
Pairing the Air4 Pro is easy and straightforward – the buds automatically enter pairing mode when you open the case lid after the initial charge, then you simply select "SOUNDPEATS Air4 Pro" from the Bluetooth menu and you're good to go.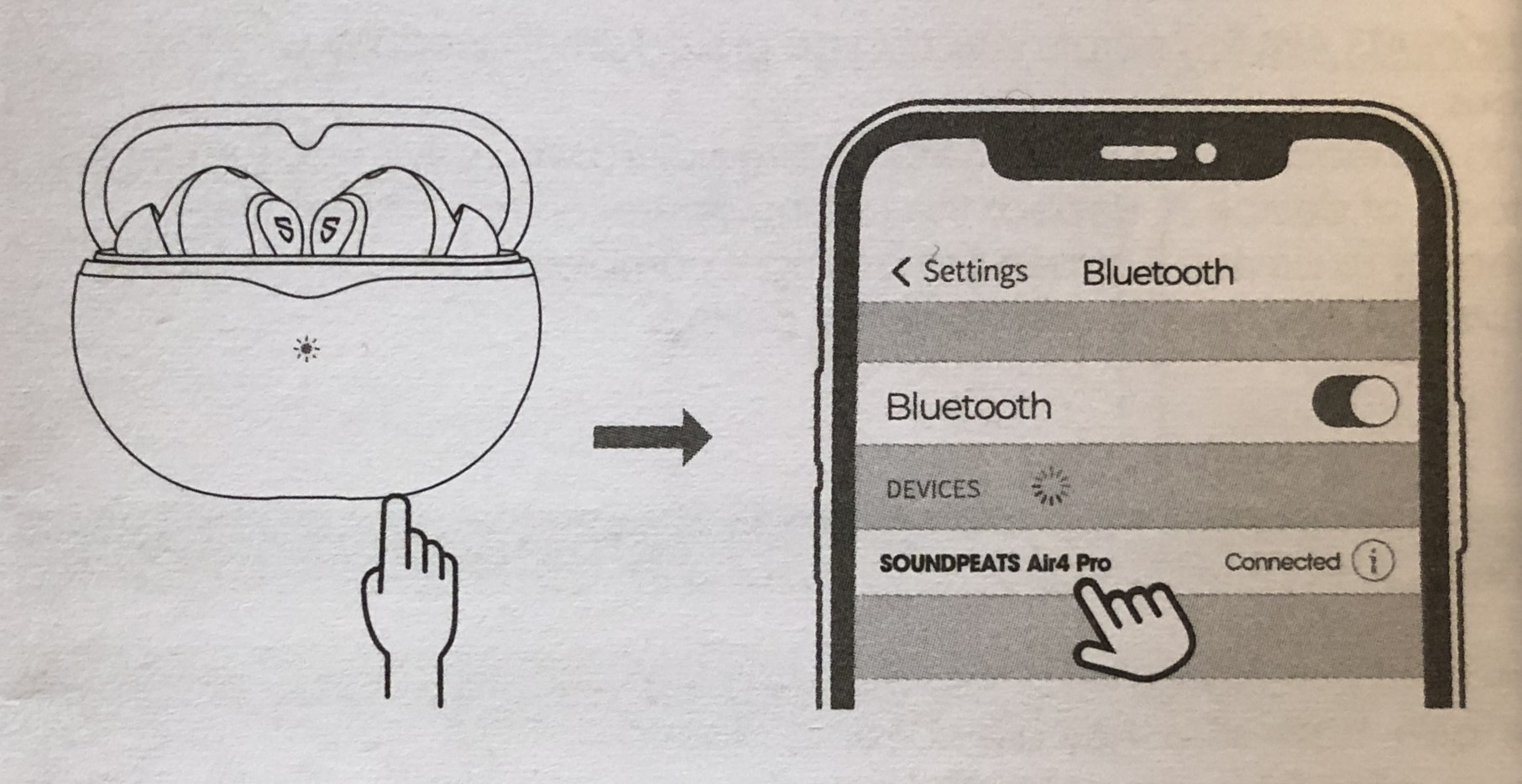 The Air4 Pro also has multipoint and can connect to two devices at once, and doing that was also easy and straightforward. To connect to a second device, turn Bluetooth off on the first device then the buds will automatically reenter pairing mode, then you simply repeat the above steps. One connected to the second device, turn Bluetooth back on on the first device, then reconnect the Air4 Pro from the already paired list.
The multipoint worked seamlessly and flawlessly – if you are playing media on one device, then start playing something on the other device, the first device will automatically pause and the earbuds will automatically switch over to the other device.
SoundPEATS Air4 Pro Charging Case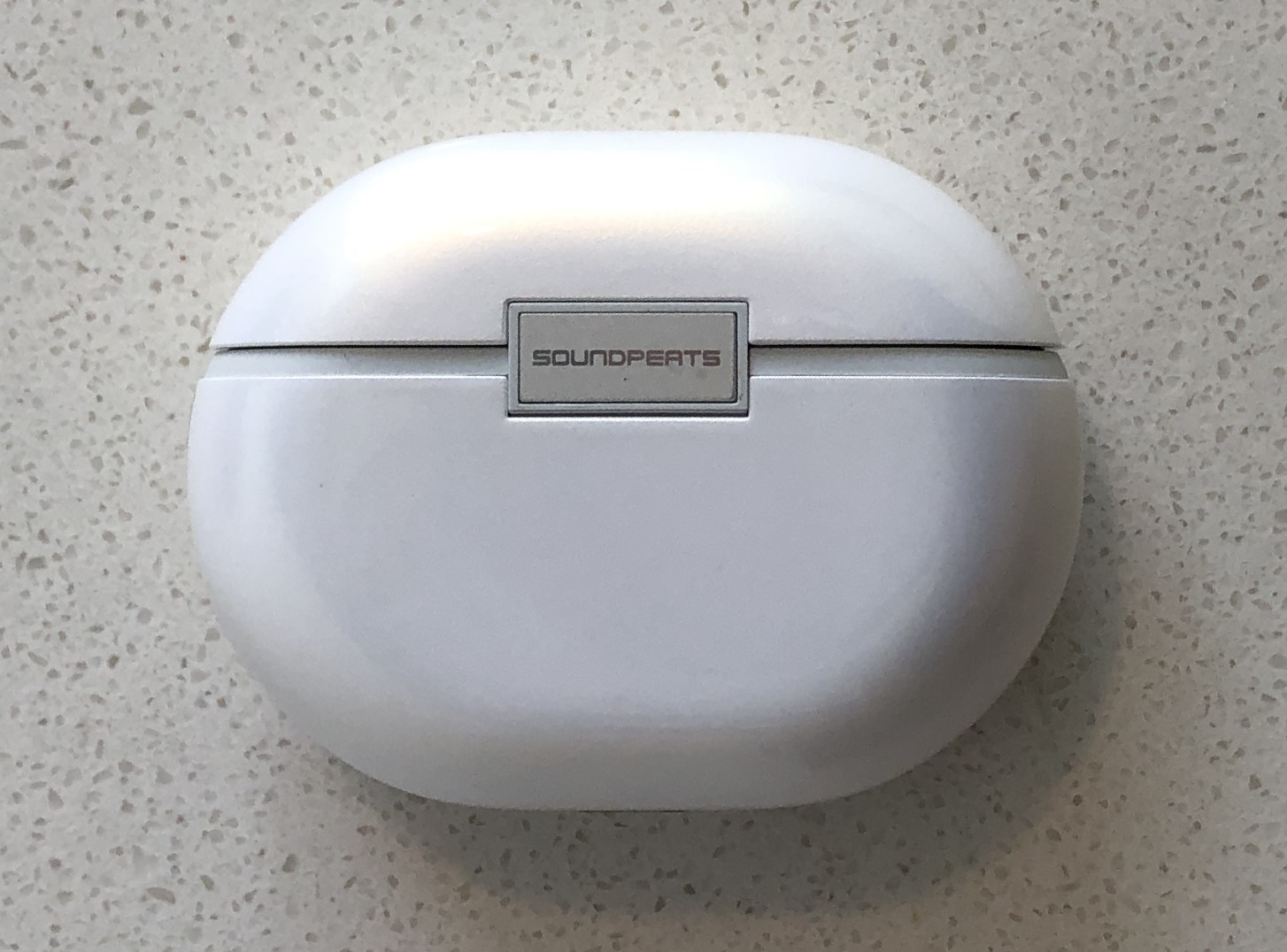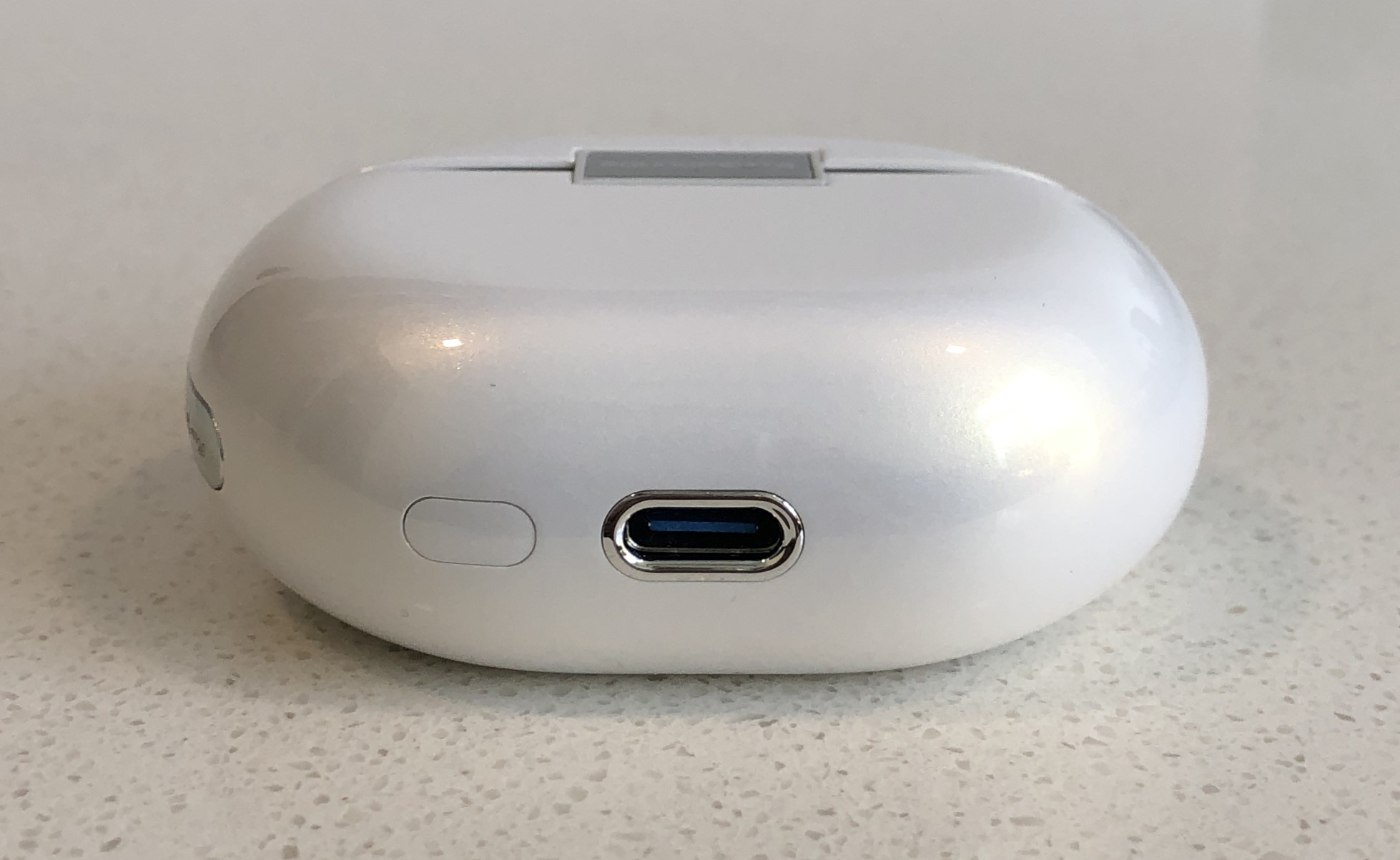 The case is a little bigger than other SoundPEATS cases, but it has a nice shape and finish that makes it pocket and bag friendly. It's relatively firm and sturdy, but it does feel just a bit flimsy and plasticky.
SoundPEATS Air4 Pro Test: Does It Sound Good?
Preliminary note: this page explains how I evaluate the sound quality of headphones and earbuds.
The Air4 Pro has very solid out-of-the-box sound for its price point, but not amazing, and it's not without issues. Most noticeably the balance is off – the mids and highs are recessed and the sound feels a little sucked in as a result. The accuracy is decent but the clarity and detail is a little lacking. Fortunately the Air4 Pro is compatible with the SoundPEATS app EQ customizer, so in I went to see if I could fix some of these issues.
I tinkered around somewhat, but ultimately my adjustments were pretty basic – the main thing was tuning up the mid-highs, then giving the curve more of a Harman style shape.
These relatively minor adjustments noticeably improved the sound, as I expected they would. When I got the balance to feel more or less right, the sucked in narrowness went away and the soundstage felt nicely wide. The clarity and detail of the mid-highs started to come through – consonantal sounds and percussions sounded decent and crisp, and it no longer felt like the singer was standing a few feet away from the mic.
The level of accuracy and detail that SoundPEATS has been able to achieve with a 13mm driver (albeit with EQ adjusting) is impressive. Bigger single dynamic drivers in earbuds tend to become loose, boomy, and busy, especially if the bass is tuned up which it almost always is by default. However, the Air4 Pro really held together despite cranking the mid-highs up to achieve the balance that I felt was right.
The plus side of a larger driver though is superior bass, and the bass extension of the Air4 Pro is great – the drops I normally test really came through fully and consistently, and there wasn't really any roll off or jump back.
My subjective gut feeling sound quality tier grade is: B+
Final Verdict: Is the SoundPEATS Air4 Pro Worth Buying?
I think the Air4 Pro is a very solid product that I think a lot of people will really like – it's a great bassy pair of earbuds that can still offer good balanced overall sound, but you'll probably have to do some tinkering with the EQ app to get it right. It also has excellent fit, comfort, and active noise cancellation. My only mild complaint is no backtrack function.
SoundPEATS gave us a 30% off early bird promo code to share: SPA4P4PR. At its discounted price, for as long as that's available, I really think the Air 4 Pro is a great deal.
Get the Air4 Pro wireless earbuds on Amazon (affiliate link)
Relevant Articles
• Is SoundPEATS a good audio brand?
• Best value tier true wireless earbuds (under $50-60)
Frequently Asked Questions
Is the SoundPEATS Air4 Pro waterproof?
No it is not – the Air4 Pro has an ingress protection code of IPX4, which means it's water resistant up to splashing but it cannot be fully submerged.
Does the SoundPEATS Air4 Pro work with iPhones?
Yes, the Air4 Pro works with any iPhone. I did my review of it with an iPhone and it worked flawlessly