Written by Pete Anthony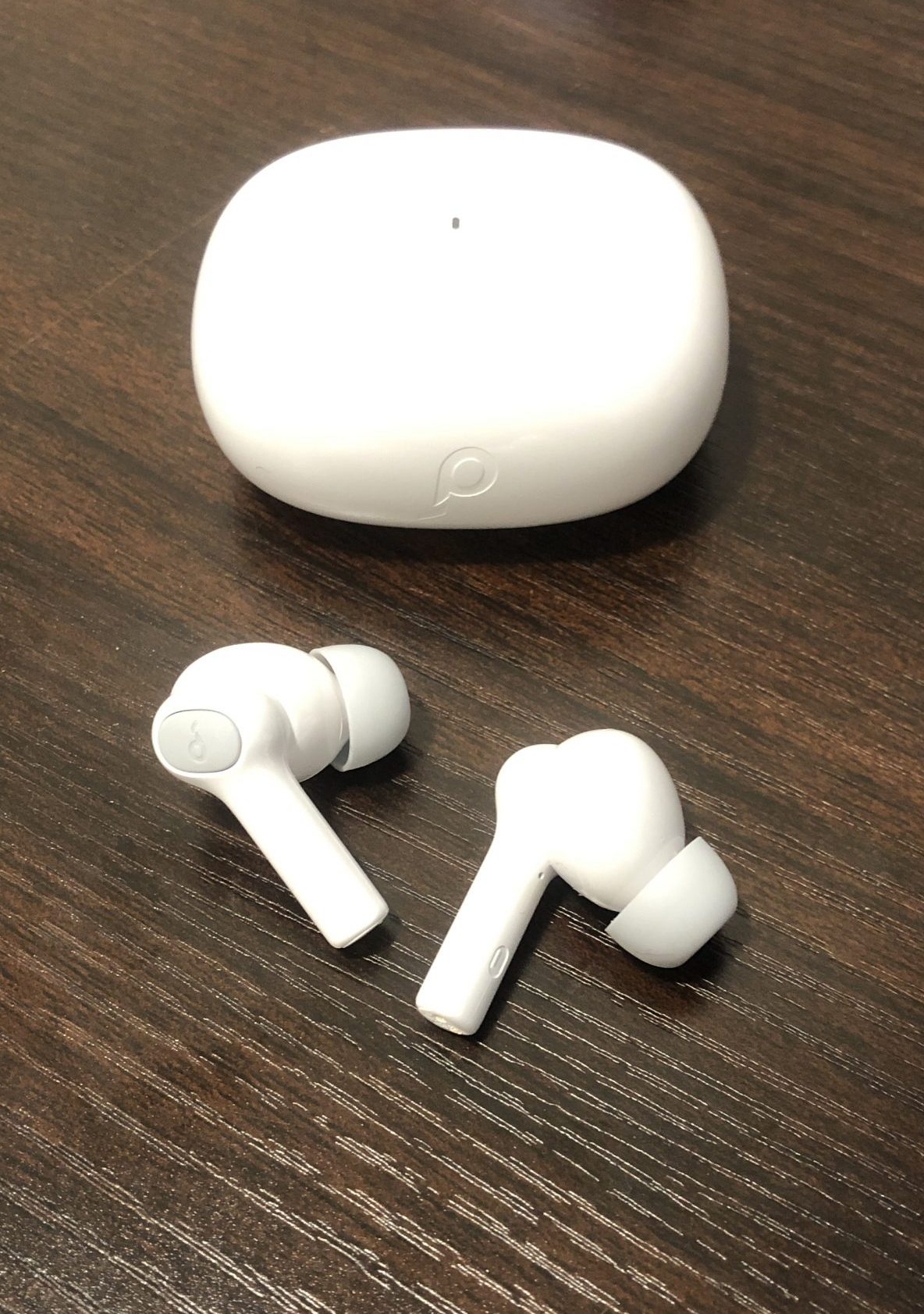 Soundcore is the newer audio focused a sub-brand of Anker Innovations, a Chinese company that produces a wide variety of consumer electronics. I've listened to and reviewed earbuds made under the Anker brand in the past, and they were good in my experience, so when I noticed some brewing hype surrounding the subsequently released Souncore earbuds, I was interested to see what it was all about. Enter the Life P2i true wireless earbuds, which the first Soundcore product that I've reviewed.
Soundcore Life P2i Specs and Features
Released: Aug 2021
Price-point ⓘbudget: around $30 or less
value: around $30-$60
performance: around $60-$100
premium: around $100-$200
elite more than $200: budget
Design style: 10mm single dynamic driver
Purported battery life: 8h earbuds; 28h total with case recharges
Bluetooth version: 5.2
Weatherproofing: IPX5
EQ app compatibility: no
Active noise cancellation: no
Transparency mode: no
Auto play/pause sensors: no
Onboard controls: buttons
Multipoint 2+ device support: no
Wireless charging: no
Warranty: 18 months
Does The Soundcore Life P2i Have Good Packaging?
The packaging is adequate for budget earbuds. the box has a contoured plastic packing piece with a compartment for the charge/carry case, which the earbuds are inside, and for the included accessories. The packing piece also has a partition on the top for the manual and safety pamphlet to make them sort of double as padding, which I actually think is a neat idea. My take on packaging for budget audio gear is that as long as it's sufficient for keeping the goods protected it's fine, and the Life P2i packaging gets a passing check mark there.
What Accessories Come With The Soundcore Life P2i?
quick start manual booklet
safety information packet
two pairs of different sized silicone replacement tips
charging/carring case
USB type C charging cable
How Good and Comfortable is the Soundcore Life P2i Fit?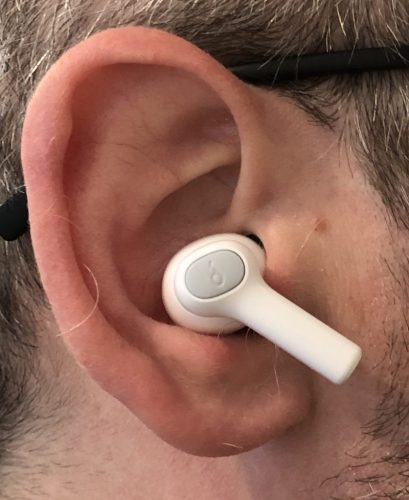 It took a little bit of fiddling, but once I figured out the best way to insert them (press it into your ear with the stem angled back, then rotate it forward to seal it) I was able to get a solid fit and a seal that didn't break no matter how I moved my head and jaw around.
The fit feels a little shallow for my taste, but still secure and decently comfortable. The buds didn't move or give a "hanging down" sensation no matter how I tilted my head or otherwise moved around.
Does The Soundcore Life P2i Have Good Touch Controls, And Is It Easy to Use?
The P2i has all of the basic control functions that you'd expect on a pair of true wireless earbuds, and they're activated with pressable buttons as opposed to purely tactile response. The buttons are responsive and reliable, but, they do require a little bit of force that was enough to make the earbuds move, which might cause them to shift, lose the fit/seal, ect.
Pairing the P2i was easy – all you do is open the case with the buds still inside and they'll automatically enter pairing mode, then you simply select "Soundcore Life P2i" from the menu.
Durability: Is The Soundcore Life P2i Waterproof And/Or Dustproof?
The Life P2i has an official IP code rating of IPX5 – the "5" digit means it's resistant to water splashing or jets with moderate force, but not full immersion; and the penultimate "X" digit means it doesn't have any certification against dust or debris.
IPX5 certification is sufficient for basic active use, like with working out or commuting outdoors.
Does The Soundcore Life P2i Have Good Isolation and/or Active Noise Cancellation?
The Life P2i does not have any anc technology, and I'd say the isolation is OK, but not great – I'd put it somewhere around medium, maybe slightly low-medium. It should be fine for basic commuter use, but might fall short in noisier environments.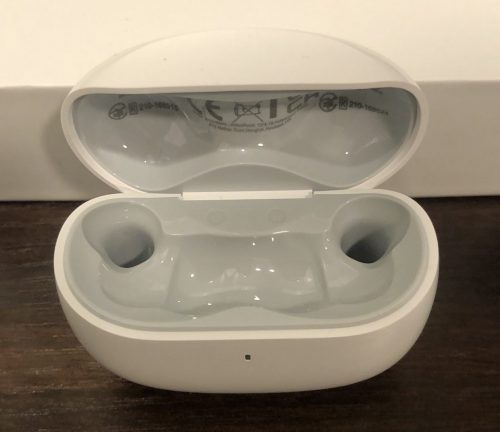 The case is pretty nice but is a little big and bulky.
How Fast Does The Soundcore Life P2i Charge?
The Life P2i manual says the full charge length is two hours which is fairly standard for budget true wireless earbuds. I was able to get an initial full case/earbud charge in less than that.
One great feature the Life P2i does have is rapid partial recharge: a quick 10 minutes in the case will give the buds another hour of juice, which is a nice feature to have when you want to quickly get a little more use out of them for the remainder of your workout, hike, train ride, or whatever.
How Good Is the Soundcore Life P2i Battery Length?
The P2i earbuds hold 8 hours of charge and a fully charged case can give the buds an extra ~2.5 recharges for a total of 28 hours of battery life before you need to plug them in again. This is, comparatively, fairly good for true wireless earbuds, but there are some newer products which advertise more battery life.
Is The Soundcore Life P2i Loud Enough?
Soundcore doesn't publish any sensitivity or max SPL data on this product, but, I will say that the Life P2i easily got loud enough for me with little source volume required.
Does The Soundcore Life P2i Have Good Warranty Coverage?
Soundcore offers a 30 day return window and a subsequent 18 month warranty against defects, which is very good coverage for budget true wireless earbuds, where a year of warranty is the usual standard. Although some companies are starting to offer up to two years of warranty coverage.
The Important Question: Does The Soundcore Life P2i Sound Good?
My general impression is that the Life P2i sounds solidly decent for its price point, but not great or best in class. Keep in mind the P2i came out circa mid 2021, and the budget true wireless earbud market is expanding rapidly and becoming very competitive.
The P2i definitely passes my initial 30 second sniff test, where with budget gear I'm looking for any immediately obvious, possibly deal breaking flaws – it didn't have any and generally has very solid performance. The detail and clarity is decent across the range.
Sound signature/response curve:
The Life P2i has two EQ presets, "bass" and "podcast." I tried listening to music with the "podcast" setting but just wasn't good – sibilant, caved in, thin, and just kind of off. Neutral or slightly mid range emphasis tuning, which I'm assuming is the goal of the "podcast" setting, is very tough to achieve on a budget if honestly not impossible in my opinion. I really would have liked to see a third "balanced" EQ setting that followed the same Harman/U-shape curve but with less bass tuning.
And so, we're basically stuck with the "bass" EQ setting, and I'd say it's fair to call these "basshead" earphones. Bass is usually tuned up at least a little bit with budget headphones to follow the Harman/U-shape curve that generally leads to a decent sound for casual listening, but the Life P2i has especially tuned up bass. The response across the mids and highs is still pretty good and even though.
Bass:
With the Life P2i's "bass" EQ preset, the bass sounded OK overall, but not great. It's a bit overtuned in my opinion, which I'd be OK with that if there was a third more balanced EQ preset tuned for music listening, as opposed the solely alternative "podcast" preset, but there isn't.
The bass is definitely boomy and loose, and bleeds up and distracts from the mids. The extension is also not quite there – the drops I normally test kind of faded away, then the bass noticeably jumped back in when the pitch went up in a jarring way that is definitely indicative of the over tuning (again, in my opinion). The quoted response floor is 20 Hz, which is comparatively average and I'd say the bass sounds pretty on par with that figure.
Compared to monitors:
So how do the Life P2i earbuds compare to a premium product that's many times more expensive?
Well, the overtuned (once again, in my opinion) bass of the P2i becomes very apparent, and it just doesn't have the crisp detail and airy fullness of all the highs and, in particular, the mids that you're going to get with something like the industry leading Samsung Galaxy Buds Pro. The P2i compared to monitor caliber earphones also sounds a little narrow and caved in.
Final Verdict: Is The Soundcore Life P2i Worth Buying?
If you're looking for inexpensive true wireless earbuds that are bass emphasized and otherwise generally decent, then I'd say the Life P2i is a solid choice. The rapid partial recharge is also a nice feature that not all budget wireless earbuds have.
That said, I do think that similarly priced competitors have since come about that, overall, sound and function better. Also, if you want something that's fully dust and/or waterproof, then you'll need to pick something else.
Get the Anker Soundcore P2i life true wireless on Amazon (affiliate link)
Popular Comparisons
For those who are curious how the Life P2i fares against similar and popular competitors:
• Soundcore Life P2i vs JLab GO Air Pop
• Soundcore Life P2i vs Soundcore Life P2
• Soundcore Life P2i vs Soundcore Life P2 Mini
• Soundcore Life P2i vs Soundcore Life P3i
• Soundcore Life P2i vs QCY T13
• Soundcore Life P2i vs TOZO T6
Relevant Articles
• Is Soundcore a Good Audio Brand?
• See our current picks for the overall best budget true wireless earbuds