Written by Pete Anthony 
Last updated on: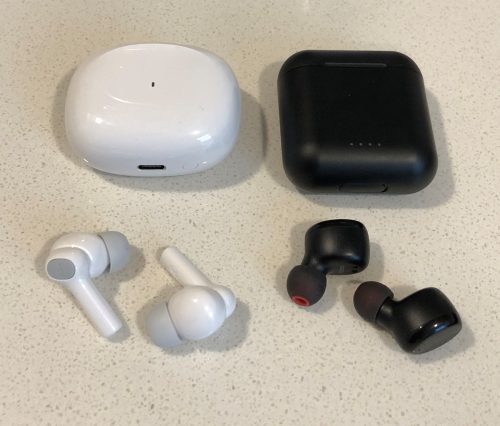 TOZO, despite still being relatively unknown in the mainstream, is a company that has seen massive ecommerce success with selling their earbuds. The budget T6, which was originally released in 2018 and updated in 2022, is one of the best selling and most reviewed earbuds ever on Amazon.
Soundcore is the newly branded audio subsidiary of Anker Electronics, and while they're also a relatively unknown company in the mainstream, Soundcore earbuds have become highly regarded and quite popular in the audio community. the Life P2i is one of their budget earbuds, and it brings a lot of uncommon but still sought after features to the table.
How do the Life P2i and T6 earbuds compare? Is one pair better than the other? I have fully reviewed both of these products and will answer those questions here.
Soundcore Life P2i vs TOZO T6 Side by Side at a Glance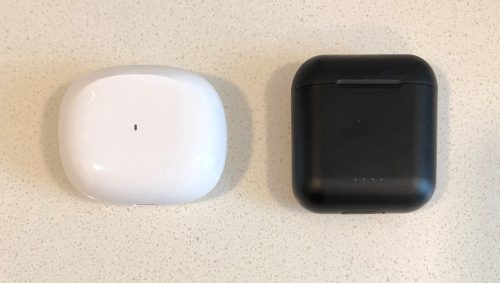 What Are the Main Differences Between the Soundcore Life P2i and TOZO T6?
Design Style – the Life P2i earbuds are stemmed, have smaller uncontoured housing, and have button based onboard controls; whereas the T6 earbuds have a larger housing with edged flat backs and touch based onboard controls.
Isolation – the in ear monitor style design that the T6 has tends to naturally attenuate outside noise better than the Life P2i's smaller stem style design does, and the T6 does have somewhat better isolation than the P2i has.
Weatherproofing – one of the strong selling points of the budget T6 is that both the earbuds and the case have full IPX8 certified waterproofing for up to 30 minutes of immersion. The P2i earbuds (but not the case) only have IPX5 water resistance up to moderate jets.
Battery Life – both the T6 earbuds and case purportedly hold significantly more charge than the Life P2i earbuds and case do.
EQ pre-sets – the default tuning style of both the T6 and Life P2i is pretty bassy, but the Life P2i does have a mid/treble emphasized "podcast" EQ pre-set that you can switch to and from. TOZO does have an EQ App with a lot of pre-sets and further customizability, but the T6 is unfortunately not compatible with it.
Replacement Tips – one of TOZO's strong suits is that they generally include a variety of different size and style replacement tips with their products. The T6 comes with 5 additional sets of replacement tips, while the Life P2i only comes with 2 extra pairs, a small and a large.
Bluetooth – the updated 2022 version of the T6 added the current (as of the time of this writing/update) version of Bluetooth v5.3, while the Life P2i has slightly dated Bluetooth v5.2, which is less battery efficient and shorter range.
Warranty – Soundcore has an 18 month warranty on all its headphones, while TOZO only has a 12 month warranty on all its budget earbuds, which is the fairly common and standard minimum for budget headphones in general.
Does the Soundcore Life P2i or the TOZO T6 Have Better Fit and Comfort?
The T6 has a deeper and firmer fit while the Life P2i has a relatively light and shallow feeling fit, and this is a common difference between non stemmed in ear monitor style earbuds vs smaller stemmed earbuds. I think the T6 does have a better feeling fit, and its greater number of included replacement tips will help most people achieve a similarly decent fit I think.
The Life P2i fit is decent in its own way though. Most stemmed earbuds have seal breakage issues if you move your head around enough, but the Life P2i maintains a very solid seal, and it's ideal for people who maybe want a lighter and shallower feeling fit that's more casual, but that is still nicely secure.
Does the Soundcore Life P2i or the TOZO T6 Sound Better?
Since reviewing it, the TOZO T6 has remained one of the best sounding budget earbuds to me. I think it sounds noticeably better than the Life P2i. The T6 has the same emphasized bass as the life P2i does, but the T6 has better balance, midrange clarity, and a wider and more immersive feeling soundstage. The Life P2i sound is decent and warm, but a little narrow and far away in comparison.
Which Should You Choose Between the Soundcore Life P2i or TOZO T6?
I think the T6 is the better choice overall – it has better fit, sound, and battery life, and the Life P2i doesn't really have any of its own attributes or features that make up for that difference. The T6 earbuds and case being fully waterproof is nice as well.
What the Life P2i does have is a uniquely good design, in that it's a stemmed earbud that maintains a seal despite having a light and casual fit. If that is appealing to you, or maybe having pressable button controls is, those are both perfectly valid reasons to choose the Life P2i instead. Both TOZO and Soundcore are good companies that produce good audio products.
Get the Soundcore Life P2i wireless earbuds on Amazon (affiliate link)
Get the TOZO T6 on Amazon (affiliate link)
Relevant Articles
• Full Soundcore Life P2i review
• Full TOZO T6 review
• Our current picks for the overall best budget true wireless earbuds