Written by Pete Anthony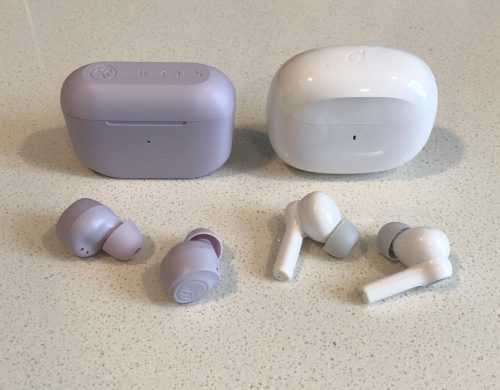 The GO Air Pop is one of the most popular and highly regarded budget true wireless earbuds currently on the market. Soundcore, the audio subsidiary of Anker Electronics, is a lesser known brand in the mainstream, but they've put out a variety of products that have been very well received by the audio community. The Life P2i is also a budget pair of true wireless earbuds, and they have features that are not so common but still highly desired by some customers.
How do the GO Air Pop and Life P2i compare? Is one decidedly better than the other? I have fully reviewed both of these products and will answer those questions here.
JLab GO Air Pop vs Soundcore Life P2i Side by Side at a Glance
What Are the Main Differences Between the JLab GO Air Pop and Soundcore Life P2i?
Overall the GO Air Pop and Life P2i wireless earbuds are pretty similar – they have the same water resistance (IPX4/5 are basically the same), the same ~30 hour battery capacity, the same basic controls, and are roughly the same price.
Here are their notable differences though:
Design Style – the GO Air Pop has a larger housing with touch controls via flat backs, while the Life P2i has a smaller housing with stems and pressable button controls.
Isolation – the GO Air Pop attenuates external noise somewhat better than the Life P2i does.
EQ pre-sets – the GO Air Pop has 3 EQ pre-sets: "podcast," "bass," and "JLab Signature." The Life P2i also has a "bass" and "podcast" pre-set but no third "balanced" option.
Case – JLab earbud cases are unique in that the USB charging cable (and a very short one at that) is built into it, whereas the Life P2i case has a much more common USB-C port for charging. Not having to worry about an extra cable is kind of nice, but, you're also kind of out of luck if a built in cable breaks.
Warranty – the GO Air Pop has a 2 year warranty and the Life P2i has an 18 month warranty. Both are better than the usual one year warranty for budget headphones, but the JLab warranty is somewhat longer.
Does the JLab GO Air Pop or the Soundcore Life P2i Have Better Fit and Comfort?
Both the GO Air Pop and Life P2i have a very solid and secure fit where the seal doesn't break at all. The Go Air Pop fit is a little deeper and firmer while the Life P2i fit is a little shallower and lighter, which is a common difference between non-stemmed and stemmed earbuds.
Stemmed earbuds that have a fully secure fit like the Life P2i has are not all that common, so if that's a priority for you and you and specifically want a stemmed earbud, it's a strong selling point for the Life P2i.
Does the JLab GO Air Pop or the Soundcore Life P2i Sound Better?
The GO Air Pop sounds noticeably better in my opinion. It has better balance and noticeably better clarity and accuracy in the mids and mid-highs. The Life P2i is very bassy and sounds a little muffled in comparison.
Which Should You Choose Between the JLab GO Air Pop or Soundcore Life P2i?
I think the GO Air Pop is the better choice overall – the balanced "JLab Signature" tuning is just better sounding than either of the Life P2i's "bass" or "podcast" modes, and the Life P2i lacks a similar third balanced tuning option or any other distinct features or attributes that make up for its lower sound quality.
I don't think the Life P2i sounds bad by any means, but it is definitely bass focused and not detail/clarity focused. If you think you prefer that, or maybe you really want stemmed earbuds with button controls (of which there aren't many), then those are perfectly valid reasons to go with the Life P2i instead. Both JLab and Anker/Soundcore are good companies that make good products.
Get the JLab GO Air Pop wireless earbuds on Amazon (affiliate link)
Get the Soundcore Life P2i wireless earbuds on Amazon (affiliate link)
Relevant Articles
• Full GO Air Pop review
• Full Life P2i review
• Our current picks for the overall best budget true wireless earbuds