Written by Pete Anthony 
Last updated on: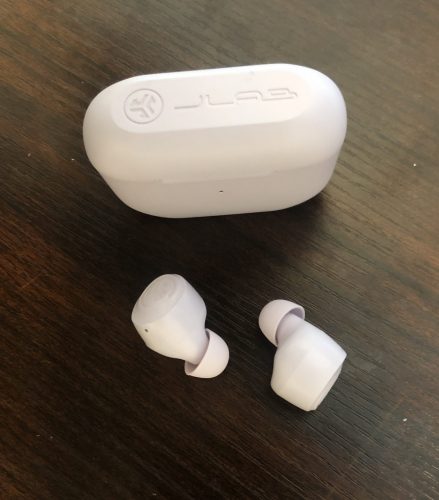 JLab Audio is an American electronics company founded circa 2005. They mainly specialize in headphones, but also make an handful of other personal electronics products. The company has recently made some waves in the audio world with some very favorable reviews, and the Go Air Pop wireless earbuds reviewed herein have apparently been called the best wireless earbuds for the price by some.
Are they actually? Well, the $20-$30 earphone price-point is now extremely competitive, but I was interested in taking these a ride – this is the first JLab product I've reviewed.
Does The JLab GO Air Pop Have Good Packaging?
The Go Air Pop comes with pretty bare minimum packaging – it's basically a plain box with a cutout to hold the case in place, which the buds come inside of. The replacement tips don't have a tie or baggy or anything – they're just sitting in a partitioned compartment of the box itself.
Some audio companies still put noticeable effort into nice packaging with their budget products, whereas others will obviously cut as many corners as they can. I've personally never been too keen on the "unboxing experience" with audio gear, so if less money/effort is spent on packaging and it perhaps means more can be squeezed into the product itself, I'm ok with bare minimum packaging for non-premium gear, as long as it's decent enough to ensure the goods arrive undamaged. I think there should at least be some extra protection for the Go Air Pop's replacement tips – mine arrived in fine condition, but I wouldn't be surprised if some people have gotten them damaged if the box was squished or something in transit.
What Accessories Come With The JLab Go Air Pop?
quick start pamphlet
two extra pairs of different sized silicone replacement tips
charging/carrying case, with a USB hook up built in
How Good and Comfortable is the JLab GO Air Pop Fit?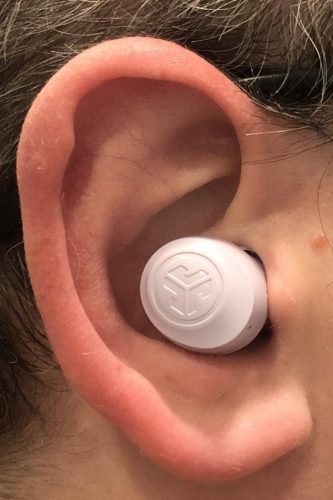 I was able to achieve a solid fit and seal, with the largest tips, that didn't break at all no matter how I moved my head or jaw around. The tips feel a little tight and shallow for me personally, but overall wearing these earbuds is perfectly comfortable.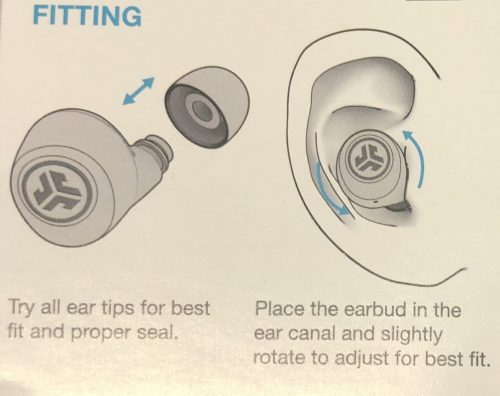 Taking them on and off is nice and easy. One thing I don't like is when it's too easy to accidentally activate any touch controls when taking earbuds on/off or otherwise adjusting them, and I like the flat back with cornered edges to the sides – it makes adjusting the buds easy to do without accidentally pausing or tracking or something like that.
Does The JLab GO Air Pop Have Good Touch Controls That Are Easy to Use?
The Go Air Pop has touch controls for all the basic functions you'd expect. They were very responsive and reliable, which sometimes isn't the case with budget earbuds. The Go Air Pop touch commands were different than what's usual among competitors, in my experience at least, but I don't see why anyone couldn't quickly get used to them.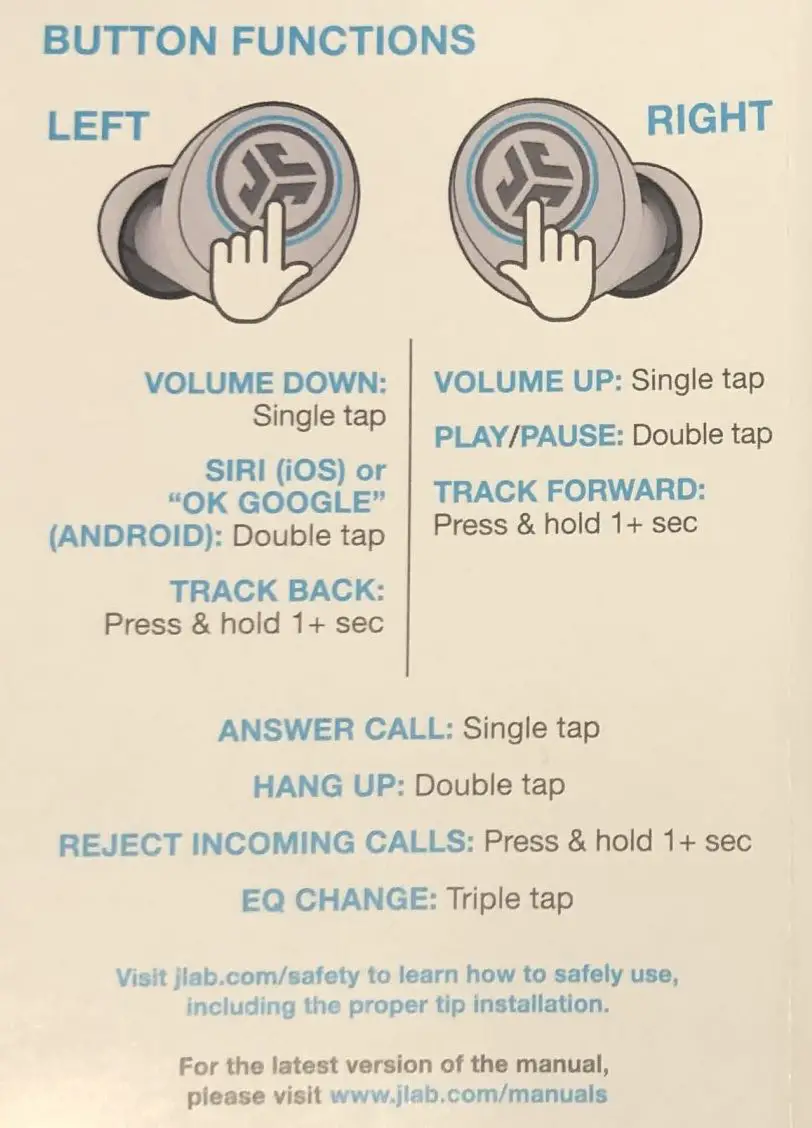 JLab GO Air Pop touch control commands:
volume up – single tap right earbud
volume down – single tap left earbud
pause/play – double tap right earbud
track forward – press and hold right earbud
track backward – press and hold left earbud
answer call – single tap either earbud
end call – double tap either earbud
reject incoming call – press and hold either earbud
EQ change* – triple tap either earbud
*The Go Air Pop comes with three EQ presets: balanced, bass-boost, and JLab-signature
Connecting the Go Air Pop to my device was very easy and straightforward. The buds automatically enter pairing mode, and an earbud will blink blue and white, when you charge them then remove them from the case for the first time. Just pick "JLab GO Air Pop" from the list and you're good to go.
Durability: Is The JLab GO Air Pop Waterproof and/or Dustproof?
The Go Air Pop has an official IP code of IPX4 – the "4" digit means it's resistant to water moisture and splashing, but not jets or full immersion. The penultimate "X" digit means it has no certification against dust or debris. wireless earbuds with double digit IP codes are still not all that common and usually more expensive. IPX4 is sufficient for basic active use like working out or outdoor commuting.
Does The JLab GO Air Pop Have Good Isolation and/or Active Noise Cancellation?
Though they do not have anc technology, the isolation of the Go Air Pop is pretty decent for budget earbuds – I'd put it around medium, which is fine for basic commuter use.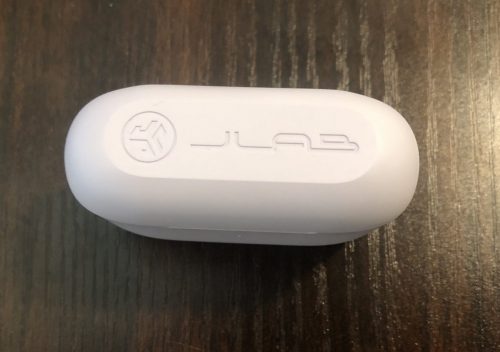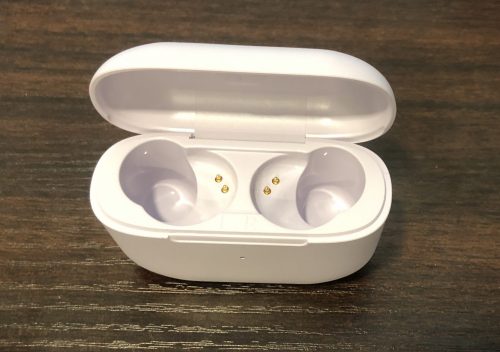 The built-in charging cable is an interesting idea that I've never seen before. I guess it's neat because no extra cable is one less thing you need to worry about, but it is very short which some people might find annoying.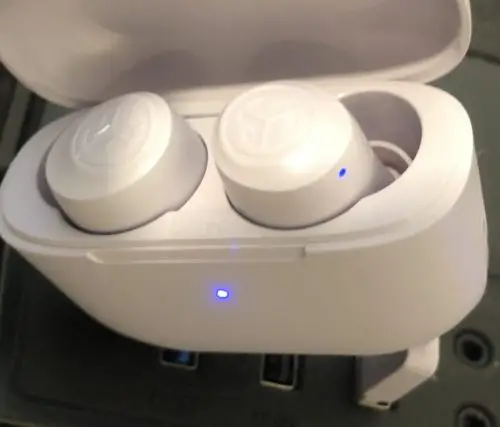 How Fast Does The JLab GO Air Pop Charge?
JLab doesn't have any charge speed specs on either the buds or the case that I could find, but, I was able to get a full charge within 90 minutes or so which is about on par with the competition. There is neither any information about rapid partial recharging, which is a feature that more and more companies are starting to advertize.
How Good Is the JLab Go Air Pop Battery Life?
JLab's specs quote the earbuds as having an 8 plus hour charge length and the case as having 3 plus full recharges for a grand total of 32, or maybe more, hours of battery life without a plug. If true, this would be exceptional battery life for the $20 price-point, where most other products promise 15-20 hours of total battery life.
But are these specs actually realistic? Eh, I'd wager they're rather optimistic, in particular because they use a now somewhat dated 5.1 Bluetooth version, where the subsequent 5.2 and current (at the time of this writing) 5.3 versions primarily reduced power consumption and thus increase battery efficiency.
(Bluetooth version doesn't really impact sound quality by the way)
Does The JLab Go Air Pop Have Good Warranty Coverage?
JLab has a 30 day exchange or return window, and in July 2018 they actually increased their warranty on wireless earbuds from one to two years, and it even retroactively applies to older units that state only one year on the box.
For a budget tier earbud this is honestly the best coverage I've yet to see. One year of limited warranty is the usual, but sometimes companies offer even less than that.
The Important Question: Does the JLab GO Air Pop Sound Good?
My general impression is that yes, the Go Air Pop sounds decent overall, and comparatively very good for the $20 price point.
Is it the best budget true wireless earbud I've ever heard though? Not quite. But, it's close enough to be within that margin of subjectivity – I can see someone making an argument, perhaps based off of particular personal preference, that it is the best or one of the best.
With my initial 30 second sniff test I'm mainly looking for any major, possibly deal breaking flaws, and the Go Air Pop does not have any.
Sound Signature:
The sound signature of the default "JLab signature" EQ setting is an emphasized U shape with the base tuned up to a significant degree. This is a pretty common curve with budget headphones, but the Go Air Pop U shape sounds more pronounced than more neutral competitors that I've tested and reviewed.
I tried the other EQ presets briefly but they were frankly not that good. The "neutral" setting completely sucked out the bass and left everything sounding hollow, sibilant, and weirdly caved in. A good even and neutral curve is tough to achieve and really needs premium design and components and a necessary price tag to match it in my experience. The "bass boost" setting just sounded straight up bad – way overtuned, muddy, and honestly reminiscent of a car driving by with a stock system turned up way too loud and sounding like a resonant rattling mess as it passes you while you're standing on the sidewalk.
So going back to the default "JLab signature," which as I said sounds quite decent and clearly better than the other two:
Bass:
The bass sounds pretty good, but not great. I do prefer a warmer and bassy sound signature for casual listening, but the Go Air Pop is tuned up a little much in my opinion. The bass is a little overpowering, distracting, a bit loose, and kind of leaves the sound slightly muffled with a lack of crispness. The mids and even the highs sound noticeably recessed.
I will say that the bass extension is quite good – the drops I normally test all came through fully in a way that doesn't usually happen with budget headphones. JLab doesn't post any frequency response range data that I could find, but the bass floor is quite good.
Compared to Monitors:
So how does the Go Air Pop compare to premium caliber wireless earbuds?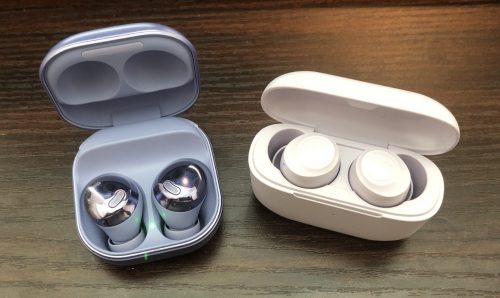 Well, when I A/B them against something like the ~$200 Galaxy Buds Pro, you can just really hear the overemphasized U shape and resultant recessed mids/highs of the Go Air Pop – they do not have the full, vibrant, clarity that something like the Galaxy Buds Pro has, and they sound just a little narrow and and removed.
Power/Volume:
JLab doesn't publish any sensitivity data that I can find, but the Go Air Pop is plenty loud, and I was able to easily get them to my normal listening volume.
Final Verdict: Is The JLab GO Air Pop Worth Buying?
If you're primarily looking for a budget wireless earbud that has long battery life and good warranty coverage, and it sounds decent enough, then the Go Air Pop is definitely a great choice. If you're more concerned with sound fidelity than the average consumer, or you want something that's a little more rugged and perhaps totally water and dust proof, there are better choices out there in my opinion, especially if you're willing to pay a little extra.
But for the $20 price-point, with everything the Go Air Pop offers, it's a great product. I'm definitely interested in reviewing some of JLab's more expensive/premium gear in the future to see how it measures up.
Get the JLab Go Air Pop wireless earbuds on Amazon (affiliate link)
Popular Comparisons
For those who are curious how the GO Air Pop fares against popular competitors:
• JLab GO Air Pop vs JLab GO Air Sport
• JLab GO Air Pop vs QCY T13
• JLab GO Air Pop vs QCY T17
• JLab GO Air Pop vs Skullcandy Dime
• JLab GO Air Pop vs Soundcore Life P2i
• JLab GO Air Pop vs SoundPEATS Free2 Classic
• JLab GO Air Pop vs TOZO T6
• Jlab GO Air Pop vs TOZO T10
Relevant Articles
• Our current picks for the overall best budget true wireless earbuds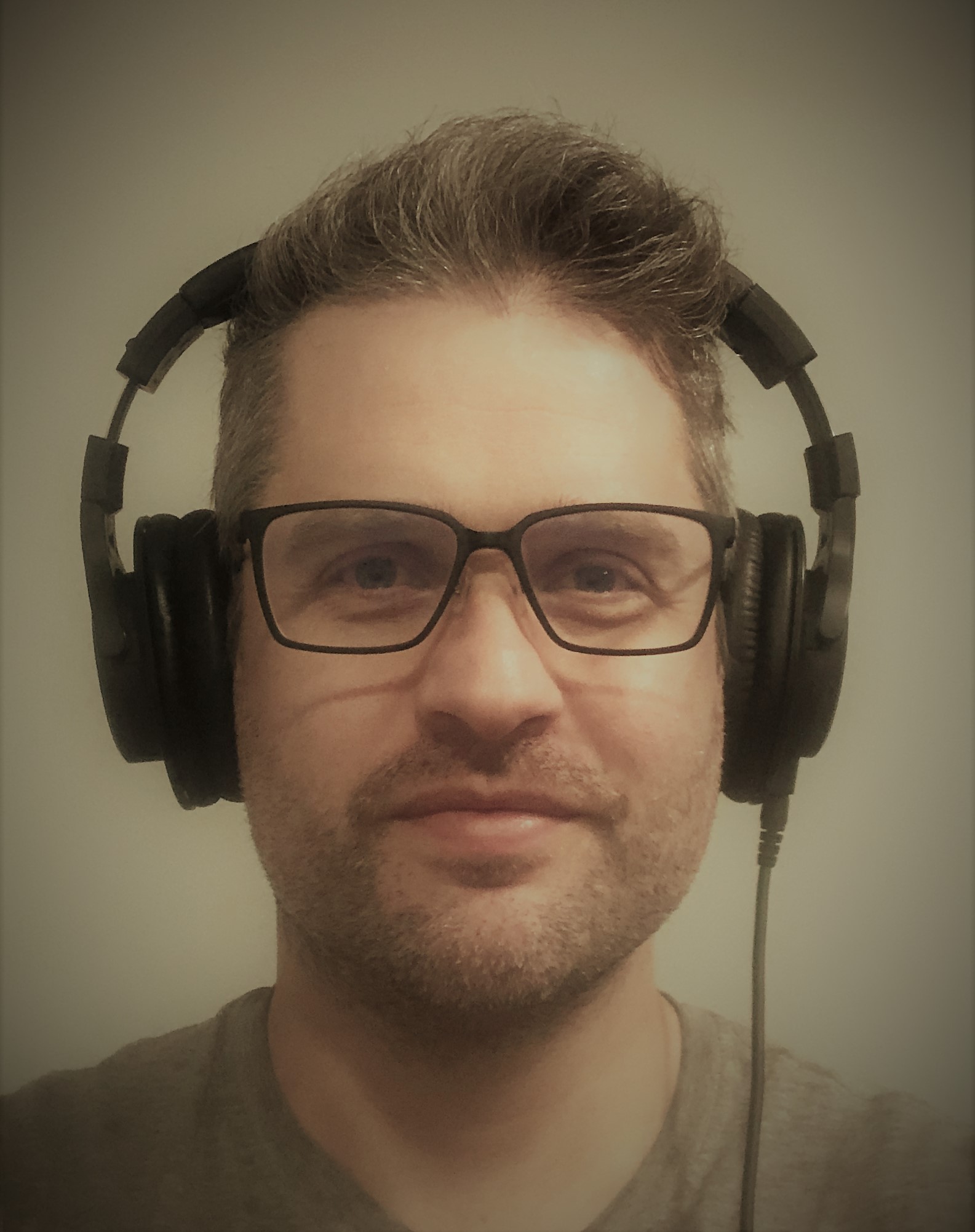 Pete Anthony has had a lifelong affinity for music, and more recently has become an anti audiophile snob who wants great sound to be accessible and enjoyable by anyone. Without needing to break the bank. Read his full author page
here
.