Written by Pete Anthony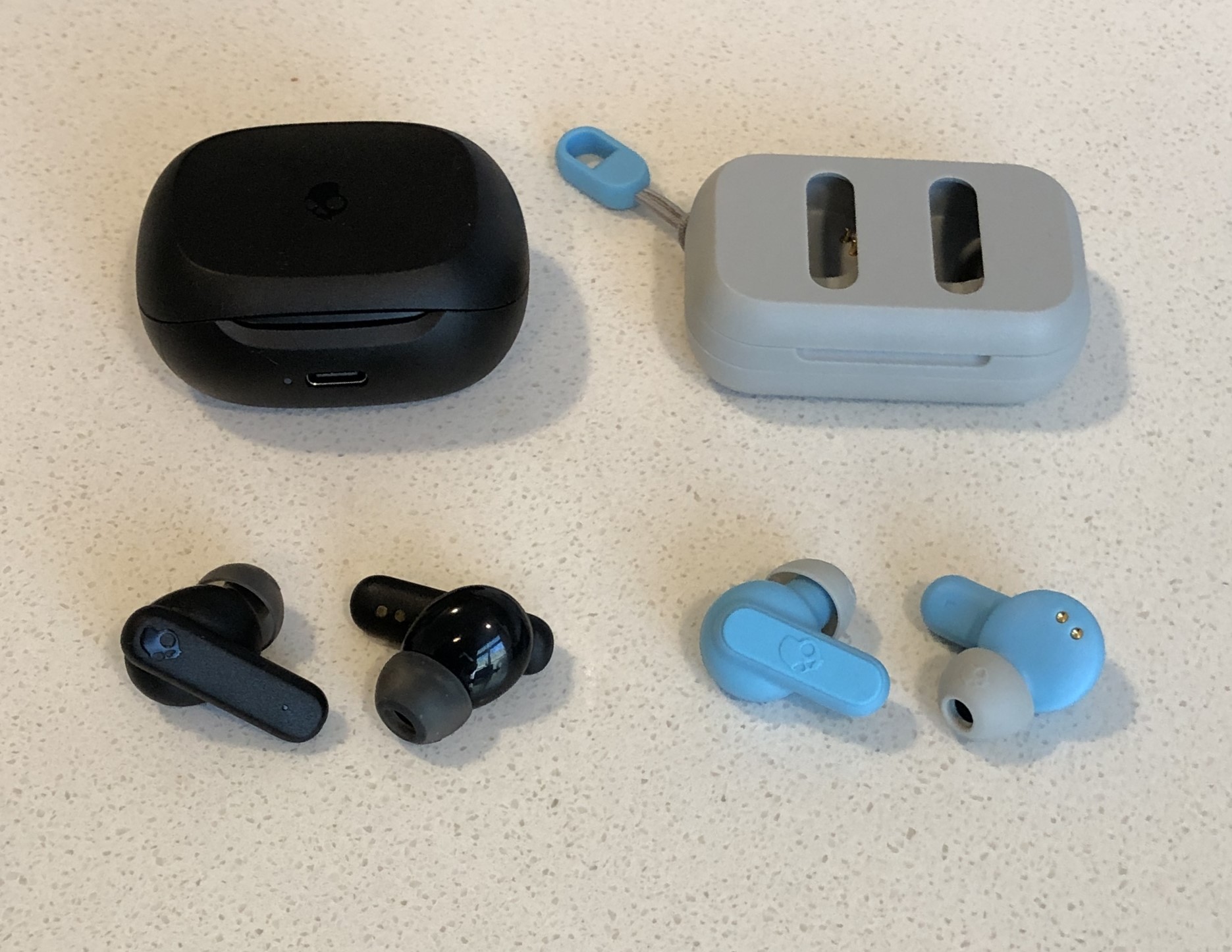 Skullcandy has positioned itself as one of the most recognizable and popular headphone companies in the world, and like many others they've delved into the rapidly growing budget TWS market – both the Dime 2 and Smokin' Buds are budget wireless earbuds that are similarly targeted at the casual user.
But how do they actually compare to each other? Is one decidedly better than the other? I have fully reviewed both products, and I will answer those questions here.
Skullcandy Smokin' Buds vs Dime 2 Side by Side
Skullcandy Smokin' Buds vs Dime 2 Specs and Features
Spec
Smokin'
Dime 2
release date
Jul, 2023
Jan, 2022
price-tier ⓘbudget: around $30 or less
value: around $30-$60
performance: around $60-$100
premium: around $100-$200
elite: more than $200
budget
budget
design style
6mm single dynamic driver
6mm single dynamic driver
earbuds battery life
8h
3.5h
total + case battery life
20h
12h
weatherproofing
IPX4
IPX4
onboard controls
touch based
buttons
active noise cancellation
no
no
transparency mode
no
no
Bluetooth version
5.2
5.2
EQ app compatibility
no
no
Multipoint 2+ device support
no
no
warranty
1 year
1 year
The Smokin' Buds and Dime 2 have the same basic design, but the newer Smokin' Buds have a more slick and modern design over the Dime 2's admittedly toyish and clunky looking design. The Smokin' Buds also utilize touch based controls rather than having pressable buttons in the stems like the Dime 2 has.
Skullcandy Smokin' Buds vs Dime 2 Fit and Comfort
The Smokin' Buds and Dime 2 come with the same tips, but the Smokin' Buds do fit better because they have the more contoured ovoid housing design that's a more modern standard for stemmed wireless earbuds. The Dime series earbuds have the circular shape with shallow nozzles that's a little awkward.
I was able to achieve a proper seal that didn't break with the Smokin' Buds fairly easily, and while I was able to achieve the same with the Dime 2, it was a little more difficult and required a fair bit of fiddling. Also, with the Dime 2's buttons being lower on the stems and requiring a relatively large amount of force to depress, the buds were prone to getting shifted out of place.
Neither the Smokin' Buds nor Dime 2 has any ANC, and neither's natural isolation is particularly great.
Skullcandy Smokin' Buds vs Dime 2 Controls
The Dime 2 has button based controls and has all of the essential functions: tracking, volume, and play/pause. The problem with the buttons, though, is that they take a fair amount of force to press and they're positioned kind of awkwardly on the middle of the stem, so when you press them the buds are prone to shifting and it actually kind of hurts the intertragal notch of my ear (the part where the stems sit).
The Smokin' 2 buds has touch based controls so they don't have those aforementioned issues, but, they have a few issues of their own. The first is that they don't have a tracking function, which I think is going to be a deal breaker for a lot of people. The Smokin' Buds are marketed as something that can work seamlessly with just one earbud in if that's something that appeals to you, but the tradeoff of that is that all the control functions have to be mirrored on each side, which I guess left no room for a tracking function. The touch controls are also a little finnicky and unreliable – getting two, three, or sometimes four touches in a row to properly execute the corresponding commands was a bit of a challenge and I had a few "misses" during my test.
Skullcandy Smokin' Buds vs Dime 2 Charging Case
The cases are about what you'd expect with budget TWS earbuds, but the Smokin' Buds case is a little sturdier with a more stable lid hinge, while the Dime 2 case is just bad, and mainly so because you can probably guess: the holes on the top. I really don't know why Skullcandy decided to do this and keep it apparently – things can obviously get inside the case and damage it when it's empty.
Skullcandy Smokin' Buds vs Dime 2 Sound Quality
Preliminary note: this page explains how I evaluate the sound quality of headphones and earbuds.
The Dime 2 continues to impress me every time I listen to it – like an earbud this cheap and dated looking, from a brand that's historically been dumped on by snobiophiles, shouldn't sound this good. By the way, I don't think this was a fluke, because the previous generation Dime sounded surprisingly good as well in the same way.
And I was hoping that Skullcandy could take that and put it into the Smokin' Buds, but I don't think they have – the Smokin' Buds sound relatively decent, perfectly passable for a budget pair of TWS earbuds, but they don't sound good in a way that belies the product like the Dime 2 does. Compared to the Dime 2, the Smokin' Buds are imbalanced towards the bass, looser and less accurate, and not really so vibrant.
Final Verdict: Are the Skullcandy Smokin' Buds or Dime 2 Earbuds Better?
The Dime 2 earbuds do have better sound quality, and overall very impressive sound quality for their minimal price, but their albeit marginal superiority to the Smokin' Buds sound quality – which is about average for budget earbuds – really can't make up for their usability shortfalls.
The Dime 2 didn't improve the battery life at all upon the previous gen Dime and is terrible by 2023 standards. The Dime 2 fit and control buttons are also clunky and awkward. It is for those reasons mainly that I think most people will prefer the Smokin' Buds' over the Dime 2 if choosing between the two, even if the Smokin' Buds' sound a little worse – I think most people buying cheap TWS earbuds mainly want something that's seamless and easy to use and merely sounds good enough.
Get the Smokin' Buds' wireless earbuds on Amazon (affiliate link)
Get the Dime 2 wireless earbuds on Amazon (affiliate link)
Relevant Articles
• Full Smokin' Buds review
• Full Dime 2 review
• Is Skullcandy a good audio brand?
• The best budget true wireless earbuds (under $30)