Written by Pete Anthony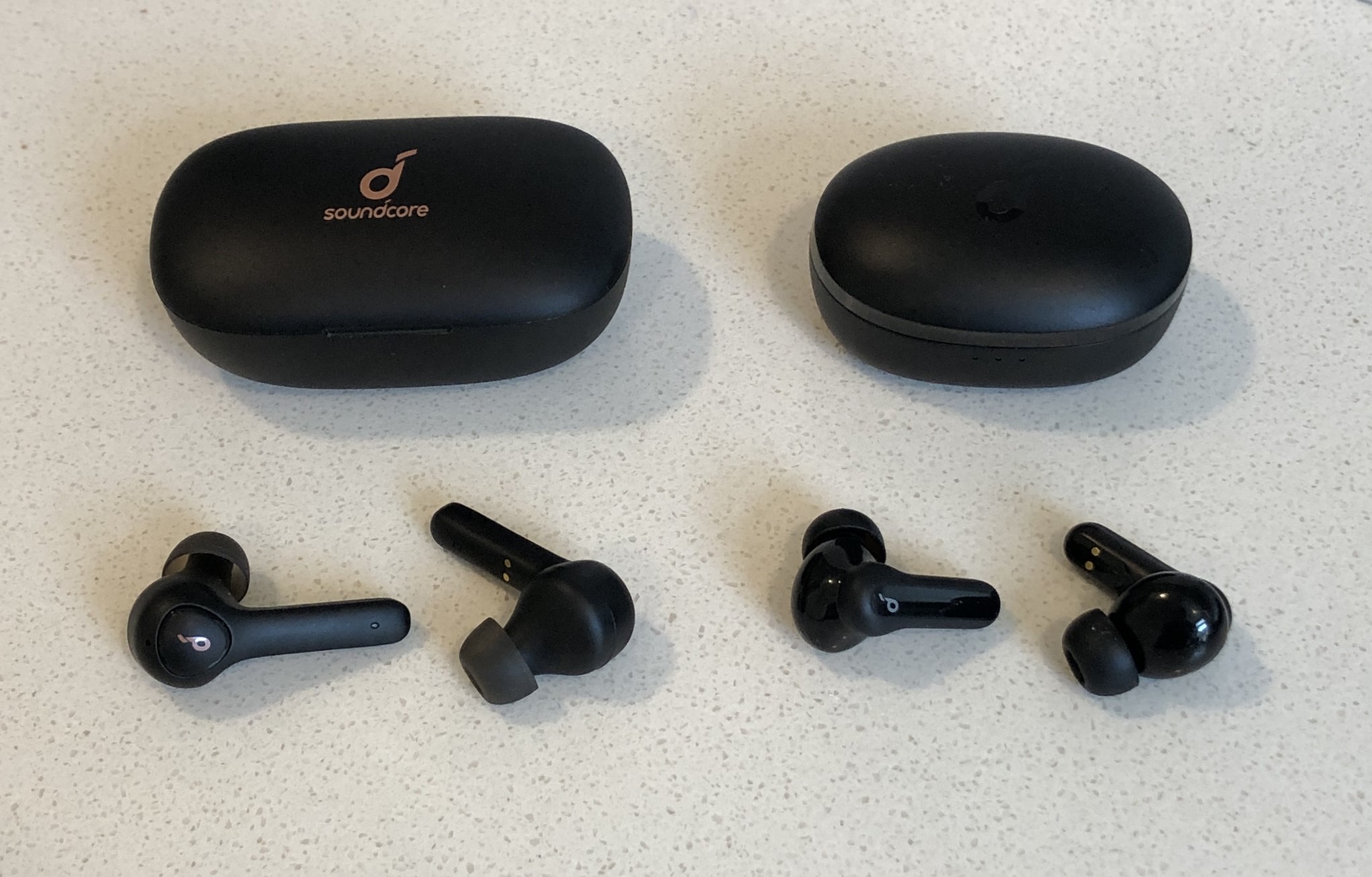 Soundcore has become one of the most popular producers of affordable wireless earbuds in 2023. The Life P2, despite being over four years old now (which is ancient by TWS standards), still remains quite popular. The aptly named Life P2 Mini is a revamped miniature version that contrasts with the rather large and bulky Life P2, and it too has become very popular.
Is the compacted miniature version of the Life P2 actually better though? I have fully reviewed both of these products and will answer that question in this comparison article.
Soundcore Life P2 vs Life P2 Mini Side by Side
Soundcore Life P2 vs Life P2 Mini Specs and Features
Spec
Life P2
Life P2 Mini
release date
June 2019
July, 2021
price-tier ⓘbudget: around $30 or less
value: around $30-$60
performance: around $60-$100
premium: around $100-$200
elite: more than $200
budget (discounted)
budget
design style
6mm single dynamic driver
10mm single dynamic driver
earbuds battery life
7h
9h
total + case battery life
40h
36h
weatherproofing
IPX7
IPX5
onboard controls
button based
touch based
wireless charging
no
no
active noise cancellation
no
no
transparency mode
no
no
Bluetooth version
5.0
5.2
EQ app compatibility
no
no
Multipoint 2+ device support
no
no
warranty
18 months
18 months
The obvious difference between the Life P2 and Life P2 Mini is that the Mini, apt to its name, is significantly smaller and lighter than the Life P2. The Mini also has improved earbud charge battery life, though slightly less total battery life with the case. Also interesting is that the Mini is only water resistant up to splashing while the older Life P2 is fully waterproof and can be completely immersed.
Soundcore Life P2 vs Life P2 Mini Fit and Comfort
Both the Life P2 and Life P2 Mini have a great fit that's solid and comfortable, and I didn't have any seal breaking issues with either no matter how I moved any part of my head around. Despite the Life P2 being as large as it is, it still manages to sit solidly and comfortably. The Life P2 fit is a little firmer and deeper than that of the P2 Mini, which is on the shallow side. Both pairs of earbuds come with five different sets of replacement tips so I feel like just about everyone will be able to achieve a similarly great fit.
Soundcore Life P2 vs Life P2 Mini Isolation
Though the life P2 doesn't have ANC, its natural isolation is actually fairly decent. The Life P2 Mini also doesn't have ANC, but it's natural isolation is noticeably worse and, overall, not that great.
Soundcore Life P2 vs Life P2 Mini Controls
The Life P2 has button based controls which, as usual, are easy to use and reliable. The buttons take a little bit of force to depress, but their feel and travel is overall really good. The Life P2 Mini switched to touch based controls which are noticeably worse – you really have to give them the exactly right touch in the exact right spot for the command to properly register, and I had a fair amount of misses with the multiple tap commands. One shortfall of both these earbuds is that neither has onboard volume control.
Soundcore Life P2 vs Life P2 Mini Charging Case
Both the Life P2 and Life P2 Mini cases are decently sturdy and have non-flimsy lid hinges that snap nicely into the open and closed position. The only real difference here is that the Life P2 case is significantly larger and heavier.
Soundcore Life P2 vs Life P2 Mini Sound Quality
Preliminary note: this page explains how I evaluate the sound quality of headphones and earbuds.
Here's where the comparison gets interesting – new gen earbuds are usually, and you would think, improved upon their older counterparts, especially something like the Life P2 which dates way back to 2019.
However, the opposite seems to be the case here. The Life P2 actually has really solid sound quality that holds up well in 2023, and I'd say they are still competitive, especially considering their subsequent MSRP discounts. The Life P2 Mini, on the other hand, just sounds bad quite frankly. The balance is off – which has been an issue with the default tuning of Soundcore's more recent products – and the sound as a result is kind of loose and muffled. The Life P2 Mini also has noticeable issues in the low mids – weird cut outs, stutters, and other phantom like noises.
Final Verdict: Is the Soundcore Life P2 or Life P2 Mini Better?
As much as I would like to recommend the newer Mini's as an improvement, I can't because they are not. The Life P2 sounds much better, and the Life P2 Mini has weird issues that are significant enough to be deal breakers in my opinion. The new touch controls of the Life P2 Mini are also bad and unreliable while the older Life P2 keeps it simple with reliable buttons. Also the Life P2 is fully waterproof while the Life P2 Mini is not.
Get the Life P2 wireless earbuds on Amazon (affiliate link)
Get the Life P2 Mini wireless earbuds on Amazon (affiliate link)
Relevant Articles
• Full Life P2 review
• Full Life P2 Mini review
• Is Soundcore a good audio brand?
• The overall best budget true wireless earbuds (under $30)