Written by Pete Anthony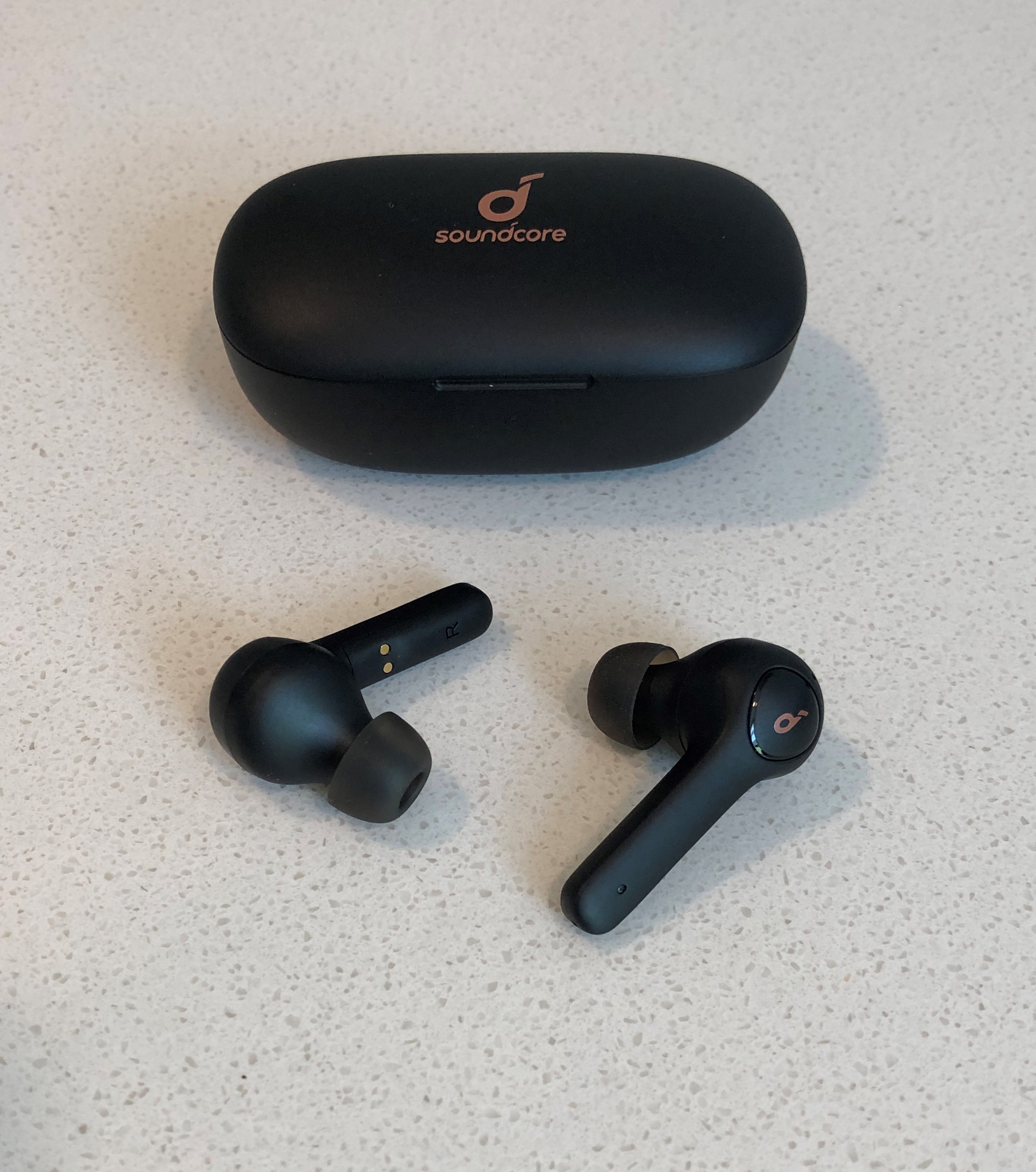 The Life P2 is a larger and more rugged stemmed earbud that's one of the few products that has both button based controls and waterproofing. It's a bit old an dated now (by TWS earbud standards) but is still a very popular pair of wireless earbuds that's now amassed over 115k customer reviews on Amazon.
Soundcore Life P2 Specs and Features
Released: June, 2019
Price-point: budget-tier (around $30 or less)
Purported battery life: 7h earbuds; 40h total with case recharges
Bluetooth version 5.0
Weatherproofing: IPX7 certified (fully waterproof up to 1 meter for 30 min)
EQ app compatibility: no
Noise cancellation/transparency modes: no
Warranty: 18 months
The older packaging is actually a little nicer than that of the newer budget Soundcore earbuds – the packing piece has partitions for each of the accessories, including little notches to keep the replacement tips in place and from getting damaged in transit. You also get 4 additional pairs of replacement tips in variable sizes and styles.
Soundcore Life P2 Charging Case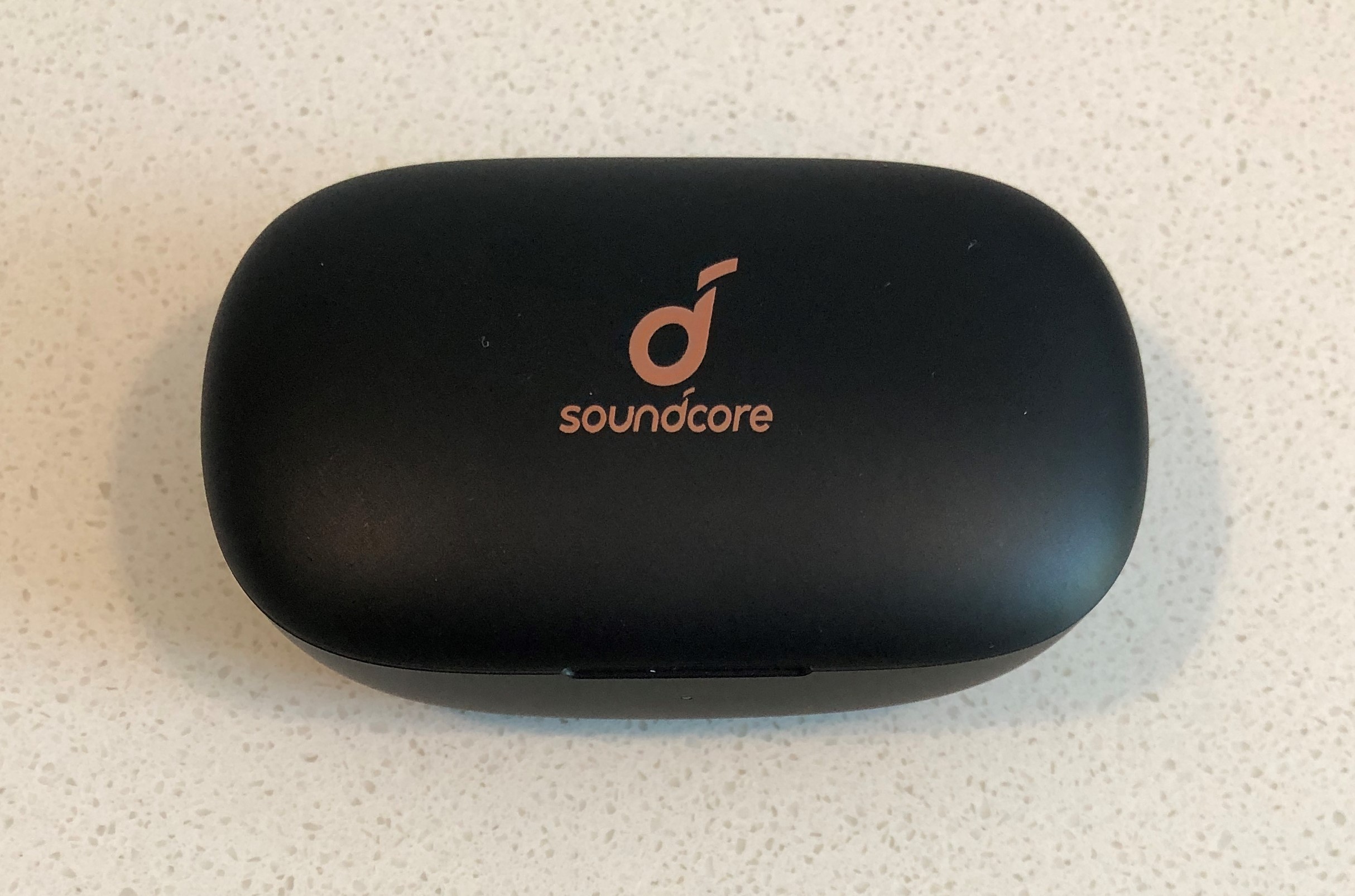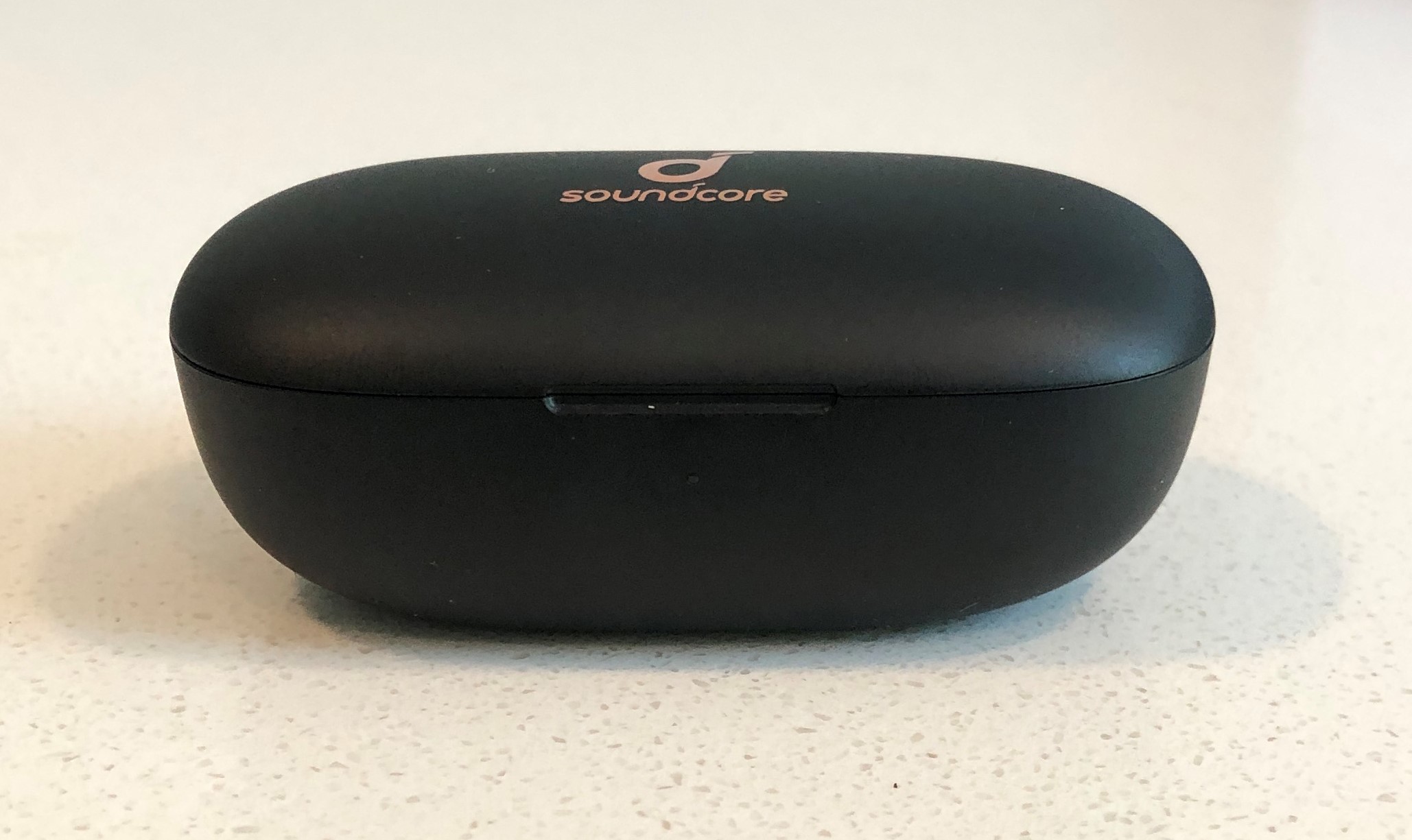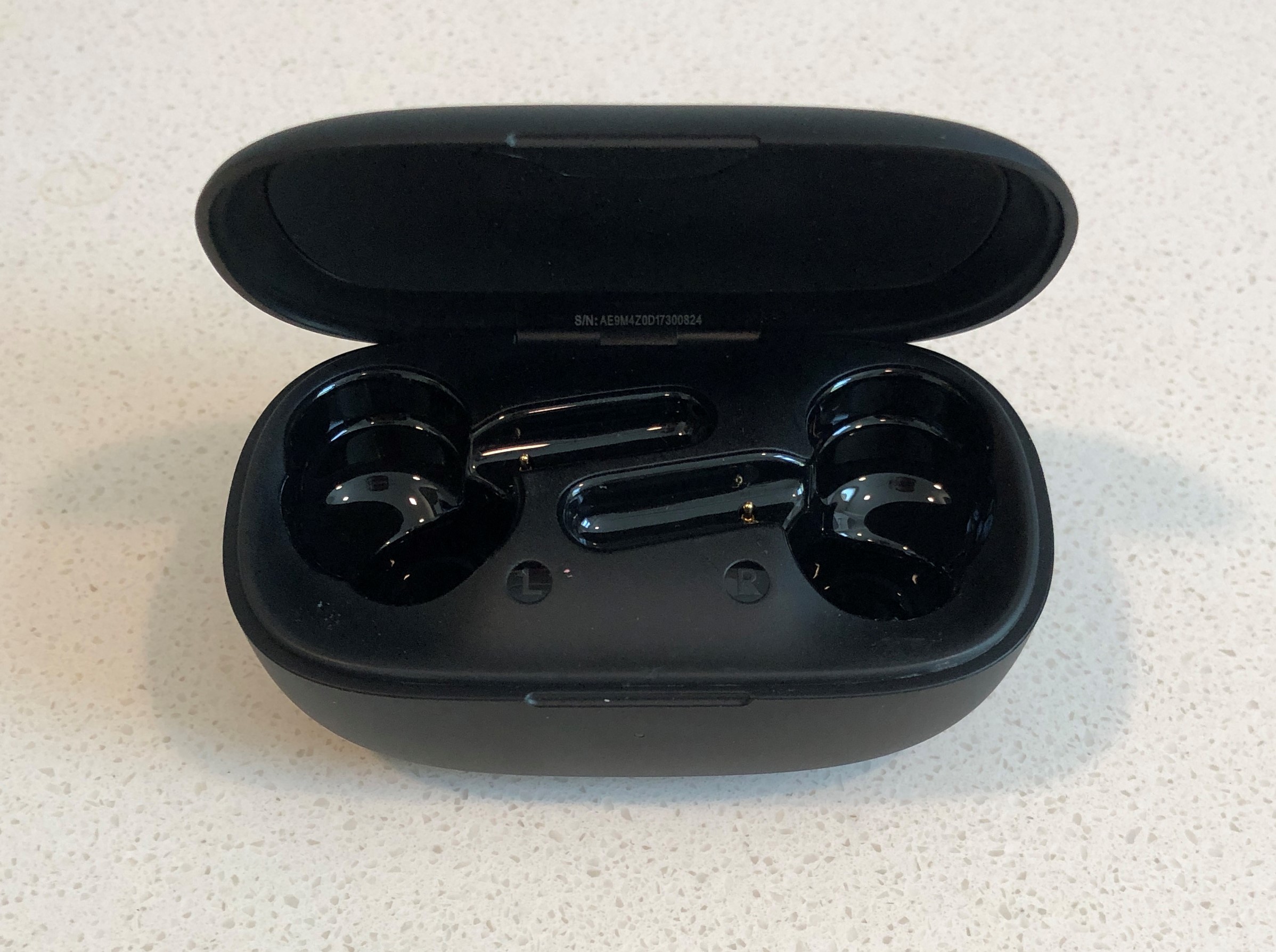 The case is a bit on the large size, like the earbuds themselves are, but is still reasonably compact and pocket friendly. The lid feels a bit thin and flimsy, and has some inward give to some applied force. The lid also has a little notch or something that sort of "clicks" it fully open and holds it into place at the fully open position. I think the case is fine enough for the budget price-point.
Fit and Comfort
When I unboxed the Life P2 the first thing I thought was "wow these earbuds are large," and I was a little worried that the fit would feel clunky as a result.
However, I was able to achieve a great fit with the default medium tips that was comfortable and secure – I had zero issues with seal breakage no matter how I moved my face, head, or jaw around, and the earbuds also totally stayed in place.
Stem earbuds tend to be a little too outward and shallow feeling for me personally, but the Life P2 tips set nicely into my outer ear canal and created an ideal amount of pressure.
Putting them in and getting a seal is easy, just insert them with the stems pointing down, then push and twist them a little up and forward and the tips will lock.
Isolation
The Life P2 doesn't have any active noise cancellation, but the natural isolation is actually very good for stem style earbuds, which tend to have poor natural isolation. I'd put it somewhere a little above medium, and I'd say the Life P2 is more than sufficient for low to moderate external noise from basic commuter use.
Soundcore Life P2 Controls
Soundcore is one of the few TWS manufacturers that still has earbuds with button based controls. The Life P2 buttons are nice and big and have a good feel and travel, and they very reliably register the control command you're trying to do. The buttons do require a little bit of force to depress, enough that the earbuds kind of push in a bit, but, not to a degree that is uncomfortable or messes up the fit.
My only complaint is the control schematic. It's just bad. A lot of Soundcore earbuds have bad or silly default control schematics, but with the newer ones that are compatible with the app, you can at least change and customize the controls to your liking. Unfortunately the Life P2, presumably due to it being a bit older, is not compatible with the Soundcore app.
The main issue with the Life P2 control schematic is that there's no onboard volume control, which is annoying, and there's really no reason there couldn't be – pause/play is mapped to both the left and right earbud, which is redundant and pointless, and there's no touch and hold command (which is fairly standard on TWS earbuds in 2023) that could easily be mapped to volume down and up.
Pairing the Life P2 was easy and straightforward – just take the buds out of the case after the initial charge, then they'll automatically enter pairing mode, then choose "Soundcore Life P2" from the Bluetooth selection menu and you're good to go.
A note before the next section: this page describes how I evaluate the sound quality of headphones and earbuds.
Soundcore Life P2 Test – Does it Sound Good?
I was definitely interested to see how an older but still highly popular Soundcore earbud compared to some of their newer products that I've already reviewed, as well as how it generally measured up to the current competition.
I will say that the Life P2 sounds very good for the current budget price-point. It used to be more expensive, but has apparently been significantly discounted from the original MSRP. This generally happens with earbuds as they become dated, but, thing is, the fundamentals of good earbud design really haven't changed much at all in the last few years, and that's why getting dated or older gen audio products is often the best way to get the most bang for your buck. Some people might be worried that the slightly older Bluetooth v5.0 might negatively impact sound quality, but it most likely won't.
I've said multiple times that the tuning on some of the newer Soundcore earbuds is not very good: overly bassy and imbalanced, with recessed mids and highs that lose enough detail to almost sound muffled.
In contrast, the apparently older tuning is totally different: a relatively bright V shape with noticeable emphasis on the mid-highs. The Life P2 has advertised "BassUp" technology (some sort of proprietary tuning or something), but I don't feel like the Life P2 is really bass emphasized at all. I would say they are actually very evenly balanced, and the V style tuning gives them a wide feeling soundstage. The overall sound is just a little thin and hissy, but still nicely airy and crisp.
Speaking of crispness, the clarity and detail is the strong point of the Life P2 sound – there is good separation and you can really hear each sound and instrument. The mid-high percussive sounds are particularly good: cymbal and snare taps, vocal consonants, etc. It's crisp, as I said, but without being too thin, sibilant, or harsh.
The bass extension and tone is OK, but not amazing. The quoted response floor of the Life P2 is 20 Hz, which is pretty dead average for budget headphones, and I'd say the sound fairly reflects that. The drops I normally test had a little roll off and jumped back in a bit.
Final Verdict – Is the Soundcore Life P2 Worth Buying
Despite being a bit dated now, the Life P2 is an excellent sounding and well fitting pair of wireless earbuds for the price, especially now since they've been significantly discounted from their original MSRP. These are also a great option if you want something that's waterproof and has button based onboard controls.
My only real criticism of the Life P2 is that it doesn't have onboard volume control functions when there's no reason it couldn't, but other than that these are a really great product. Soundcore should revert back to this style of default tuning because the Life P2 sounds much better out of the box than some of the newer Soundcore earbuds frankly do.
Get the Soundcore Life P2 on Amazon (affiliate link)
Popular Comparisons
For those who are curious how the Life P2 fares against similar and popular competitors:
• Soundcore Life P2 vs Soundcore Life P2i
• Soundcore Life P2 vs Soundcore Life P3
Relevant Articles
• Is Soundcore a good audio brand?
• The best budget tier (under $30) true wireless earbuds
• The best value tier (under $50) true wireless earbuds