Written by Pete Anthony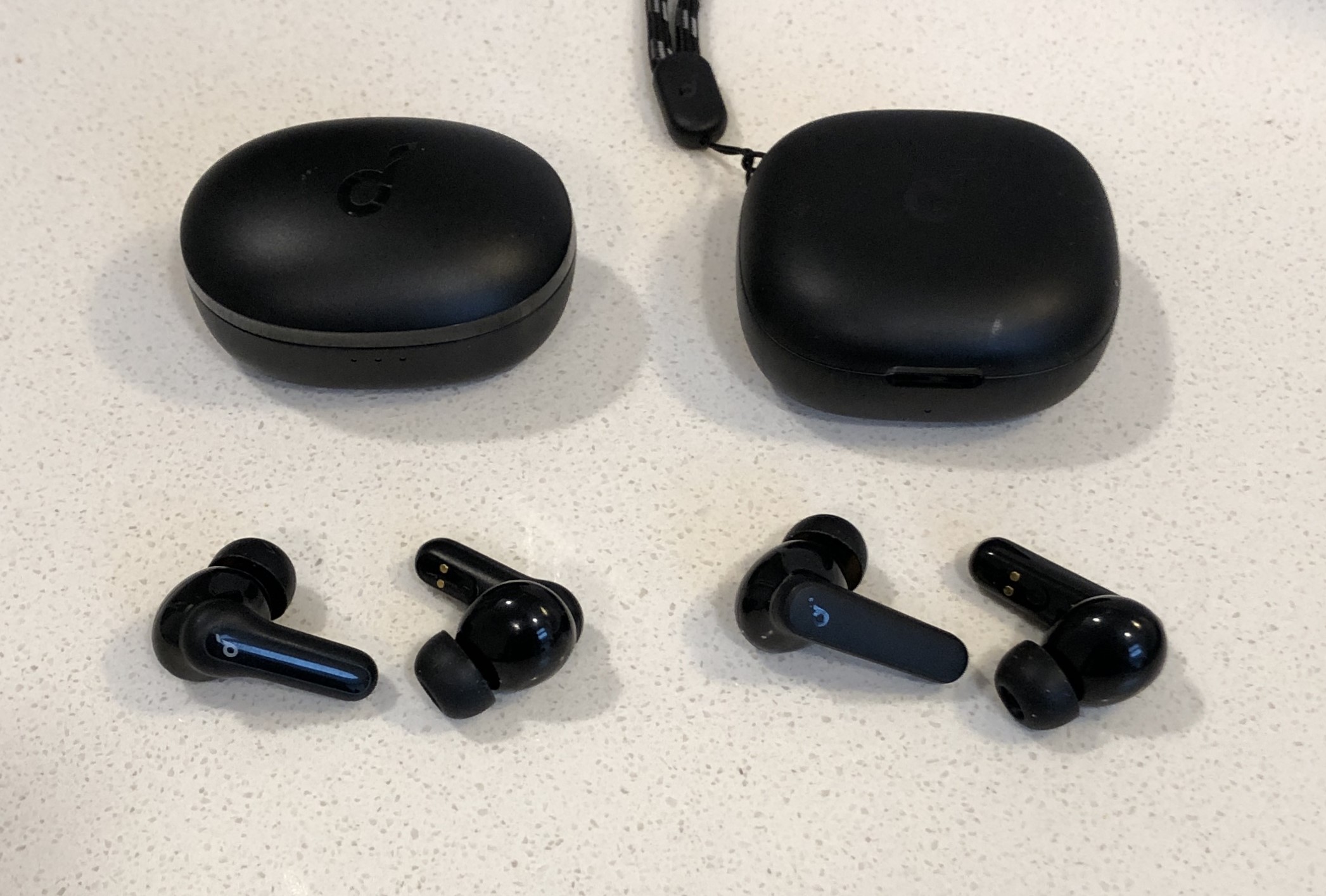 Soundcore has become one of the most popular brands for budget wireless earbuds, and the Life P2 Mini and P20i (also called the R50i in certain regions) are two such inexpensive stemmed earbuds that both emphasize power with portability.
They look fairly similar, but is one decidedly better than the other? I have fully reviewed both of these products and will answer that question here.
Soundcore Life P2 Mini vs P20i Side by Side
Soundcore Life P2 Mini vs P20i Specs and Features
Spec
Life P2 Mini
P20i
release date
Jul 2021
May 2023
price-tier ⓘbudget: around $30 or less
value: around $30-$60
performance: around $60-$100
premium: around $100-$200
elite: more than $200
budget
budget
design style
10mm single dynamic driver
10mm single dynamic driver
earbuds battery life
9h
10h
total + case battery life
36h
40h
weatherproofing
IPX5
IPX5
onboard controls
touch based
touch based
wireless charging
no
no
active noise cancellation
no
no
transparency mode
no
no
Bluetooth version
5.2
5.3
EQ app compatibility
no
yes (pre-sets only)
Multipoint 2+ device support
no
no
warranty
18 months
18 months
The Life P2 Mini and P20i are indeed mostly similar. The Life P2 Mini earbud is a little smaller and lighter, but not actually by all that much. The only significant difference between the two is that the P20i is compatible with the Soundcore app while the Life P2 Mini is not, which gives the the P20i somewhat more customizeability.
Soundcore Life P2 Mini vs P20i Fit and Comfort
Both the Life P2 Mini and P20i fit comfortably and securely, and neither had any seal breaking issues no matter how I moved any part of my head around. The P20i does feel slightly shallower and a little more out and down. The tips that come with the Life P2 Mini and P20i look and feel pretty much the same. The Life P2 Mini does come with five pairs of tips while the P20i only comes with three, and for that reason it might be more likely that any given person will have fit issues with the P20i.
Soundcore Life P2 Mini vs P20i Isolation
Neither the Life P2 Mini nor P20i has particularly great natural isolation, but the Life P2 Mini might be a touch better here due to its slightly firmer fit.
Soundcore Life P2 Mini vs P20i Controls
The P20i definitely has better controls and usability than the Life P2 Mini does. The P20i touch controls are easier to execute and more reliable, and they also play distinct tones to acknowledge different touches so you know the intended command went through. The P20i controls can also be customized in the Soundcore App, and while neither it nor the P2 Life Mini has onboard volume control by default, that can be swapped in with the P20i.
Soundcore Life P2 Mini vs P20i Charging Case
The P20i case is a little bulkier and flimsier than the Life P2 Mini case, and also feels a little plasticky in comparison. The P20i case does come with the hook and lanyard though, which the Life P2 Mini case does not have.
Soundcore Life P2 Mini vs P20i Sound Quality
Preliminary note: this page explains how I evaluate the sound quality of headphones and earbuds.
The P20i earbuds sound significantly better than the Life P2 Mini earbuds do. The default tuning of both is not particularly great, which has been an issue I've generally noticed with more recent Soundcore earbuds, but the P20i can choose between 22 different EQ pre-sets with the Soundcore app while the Life P2 Mini only has 3 EQ modes built into it. The P20i with the best sounding pre-set (in my opinion at least) sounds pretty decent for a budget TWS earbud in 2023, while the Life P2 Mini sounds noticeably subpar and has specific issues on top of that.
Final Verdict: Is the Soundcore Life P2 Mini or P20i Better?
The P20i is the clearly better choice in my opinion, as one would generally expect with the newer of two products. While the Life P2 Mini sells itself as being a maximally lightweight and compact pair of earbuds, it's not actually that much smaller and lighter than the P20i. The P20i also has noticeably better sound quality and usability.
Get the Life P2 Mini wireless earbuds on Amazon (affiliate link)
Get the P20i wireless earbuds on Amazon (affiliate link)
Relevant Articles
• Full Life P2 Mini review
• Full P20i/R50i review
• Is Soundcore a good audio brand?
• The best budget true wireless earbuds (under $30)