Written by Pete Anthony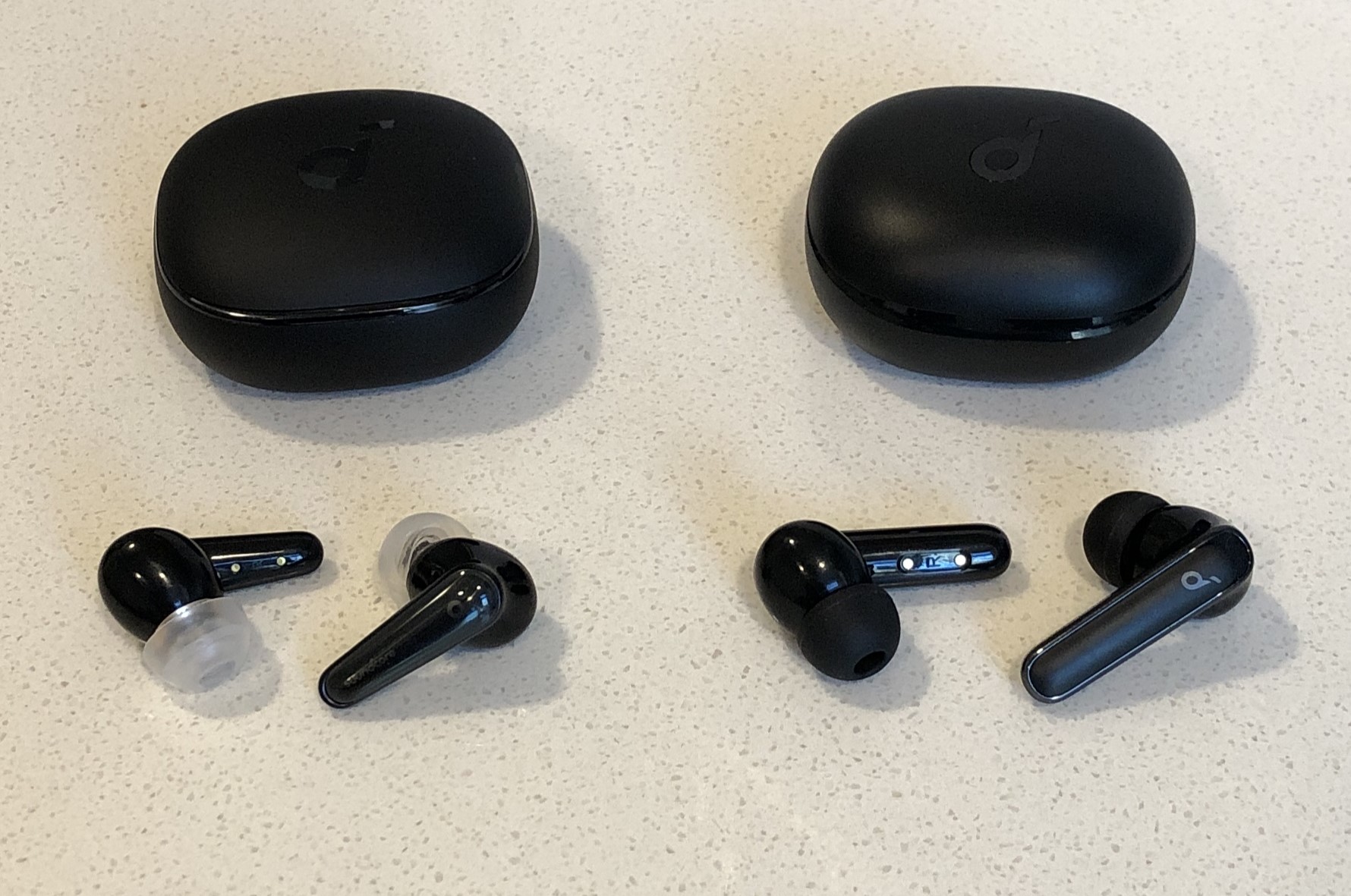 Soundcore has become a very popular TWS earbud company, and the Liberty 4 and Life P3 are two of their higher end products. They are both new iterations of the previously popular Liberty 3 and Life P2 respectively, the latter of which I reviewed very favorably and is in fact still quite popular despite being a 2019 release.
The Liberty 4 was one of the most anticipated releases in the audio community at the time, and the Life P3, which by that time had been out for a little over a year, was well on its way to surpassing it's predecessor. It's not surprising thusly that a lot of people have asked how the Liberty 4 and Life P3 directly measure up to each other. Is one decidedly better than the other? I have fully reviewed both products and will answer that in a full comparison here.
Soundcore Liberty 4 vs Life P3 Specs and Features
Spec
Liberty 4
Life P3
release date
Nov, 2022
Apr, 2021
price-tier ⓘbudget: around $30 or less
value: around $30-$60
performance: around $60-$100
premium: around $100-$200
elite: more than $200
premium
performance
design style
dual coaxial drivers
single 11mm dynamic driver
earbuds battery life
9h
10h
total + case battery life
28h
50h
weatherproofing
IPX4
IPX5
onboard controls
touch based
touch based
wireless charging
yes
yes
active noise cancellation
yes
yes
transparency mode
yes
yes
Bluetooth version
not specified
5.2
EQ app compatibility
yes
yes
Multipoint 2+ device support
yes
no
warranty
18 months
18 months
The major notable difference between the Liberty 4 and the Life P3 are the driver schematics – dual drivers have more capacity to deliver high quality sound across the entire range than a single driver of any diameter does.
The quoted Life P3 battery life obviously looks a lot better, but, those figures are in optimal conditions without ANC or transparency on, and in reality most peoples' usage will see less than that.
The Liberty 4 has a few extra features as well including HearID, which automatically calibrates the EQ; and spatial audio, which ostensibly replicates surround sound as you would hear it with a multichannel home theater system. I didn't find any of these features compelling though – I wound up ultimately customizing the Liberty 4 EQ curve off the hearID results in the same way that I would with any other EQ app, and spatial audio doesn't really do anything to enhance musical fidelity and in this case just sounded weird.
Soundcore Liberty 4 vs Life P3 Side by Side
Soundcore Liberty 4 vs Life P3 Fit and Comfort
Both the Liberty 4 and Life P3 have a comfortable fit that's 100% secure – I didn't have any issues with either seal breaking no matter how I moved any part of my head around. That said, I think the Liberty 4 fit at least feels a little more comfortable. The custom tips that come with the Liberty 4 have great texture and malleability, whereas the Life P3 tips are just kind of generic silicone tips.
The Life P3 stems are obviously bigger than those of the Liberty 4 are, and the Life P3 earbuds are just kind of large in general, and it causes them to feel a little more weighty and kind of out and down compared to the Liberty 4.
Soundcore Liberty 4 vs Life P3 Isolation
The Liberty 4 has somewhat better natural isolation than the Life P3 does, mostly because the Liberty 4 has a better fit and tip in my opinion. Without ANC on, the Liberty 4 still has decent natural isolation while the Life P3's natural isolation is not particularly great.
With ANC on, however, the Life P3 manages to close the gap on the Liberty 4 by a lot and is pretty close. My criticism of the Life P3 here is that you have to choose between three different ANC modes, "transport," "indoor," and "outdoor," that ostensibly optimize for those respective environments. Why not just have strong overall ANC for any situation? The Liberty 4 does have the adaptive ANC that automatically adjusts to the environment, but you can also turn that off and manually set it to "strong."
Soundcore Liberty 4 vs Life P3 Controls
The Liberty 4 and Life P3 both have a 6 function control schematic that's customizable in the Soundcore App. The Liberty 4 is unique and kind of cool in that you squeeze the sides to register a touch, and though there aren't technically buttons it kind of feels like there are, and the audible "click" tone that sounds with each press sounds like a button. The Life P3 has touch points on the backs of the stems, which is more common and standard. The Life P3 does not play any kind of sound that acknowledges that a touch was registered.
Both the Liberty 4 and Life P3 controls are easy and reliable enough to use, and I think it just comes down to personal preference here.
Soundcore Liberty 4 vs Life P3 Charging Case
The Liberty 4 and Life P3 charging cases look and feel similar, but the Liberty 4 case is a little more compact and thin. The Liberty 4 case also feels more firm and sturdy than the Life P3 case does – the former feels nicely rigid while the latter gives in to some squeezing force on the top and bottom. And then we have the lids – the Liberty 4 has the unique and cool top that slides off and on, while the Life P3 top is just a regular old lid that pops open and shut.
The Liberty 4 case definitely looks and feels better than the Life P3 case does, which is somewhat basic and underwhelming for the price-point that it's at.
Soundcore Liberty 4 vs Life P3 Sound Quality
Preliminary note: this page explains how I evaluate the sound quality of headphones and earbuds.
I fully expected the Liberty 4 to sound better than the Life P3, because a good dual driver schematic should wipe the floor with a single 11mm dynamic driver, especially so in the mids and highs. But I honestly didn't find that to be the case, and believe it or not I actually do think the Life P3 sounds better, even after I optimized both with the EQ app when I did my individual reviews.
The Liberty 4 has accuracy issues – namely that the tone is a little thin, airy, and sibilant, and things like percussions didn't sound quite right as a result. And while the Life P3 has it's own shortcomings, it didn't have any noticeable specific flaws like the Liberty 4 did when I compared the two.
Final Verdict: Is the Soundcore Liberty 4 or Life P3 Better?
The Liberty 4 has great fit, features, and isolation, but its sound quality is honestly disappointing for its price and being marketed as a premium pair of earbuds. Maybe it could sound better with a lot of EQ tinkering, but I did that in my review, and even despite that I still felt that the Life P3 sounded better and didn't have accuracy issues that EQ can't really fix. The Life P3 is a little bulkier, and the fit and tips don't feel quite as nice, but all things considered I still think it's the better overall choice when you factor in the price difference between the two.
Get the Liberty 4 wireless earbuds on Amazon (affiliate link)
Get the Life P3 wireless earbuds on Amazon (affiliate link)
Relevant Articles
• Full Liberty 4 review
• Full Life P3 review
• Is Soundcore a good audio brand?