Written by Pete Anthony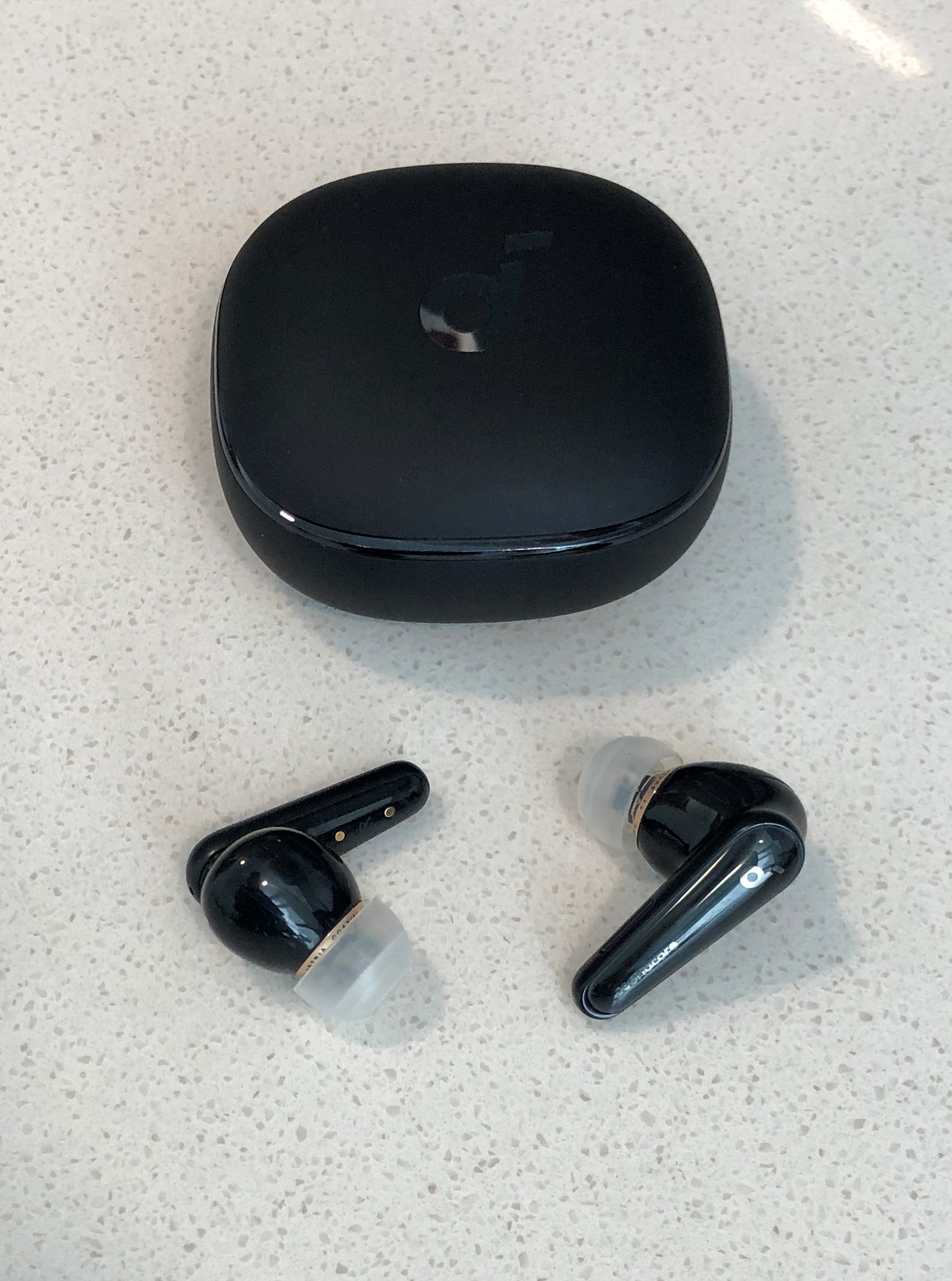 Soundcore is now mostly known for their wide variety of budget earbuds and headphones, but the Liberty 4 is their currently newest and most expensive pair of TWS earbuds, and Soundcore's shot at competing in the HiFi category, which is becoming more and more popular and in demand.
The Liberty 4 features a wide array of customization options and features, including the "wellness" section of the app that can track things like your heart rate and calorie expenditure via exercise.
So, how does the Liberty 4 fare in it's increasingly competitive cohort? Lets dive in.
Soundcore Liberty 4 Specs and Features
Released: Nov, 2022
Price-point ⓘbudget: around $30 or less
value: around $30-$60
performance: around $60-$100
premium: around $100-$200
elite more than $200: Performance
Design Style: Stemmed ovoid, dual coaxial dynamic drivers
Purported battery life: 9h earbuds; 28h total with case recharges
Weatherproofing: IPX4
EQ app compatibility: Yes
Noise cancellation/transparency modes: Yes
Onboard controls: Button based
Warranty: 18 months
Multi-Device support: Yes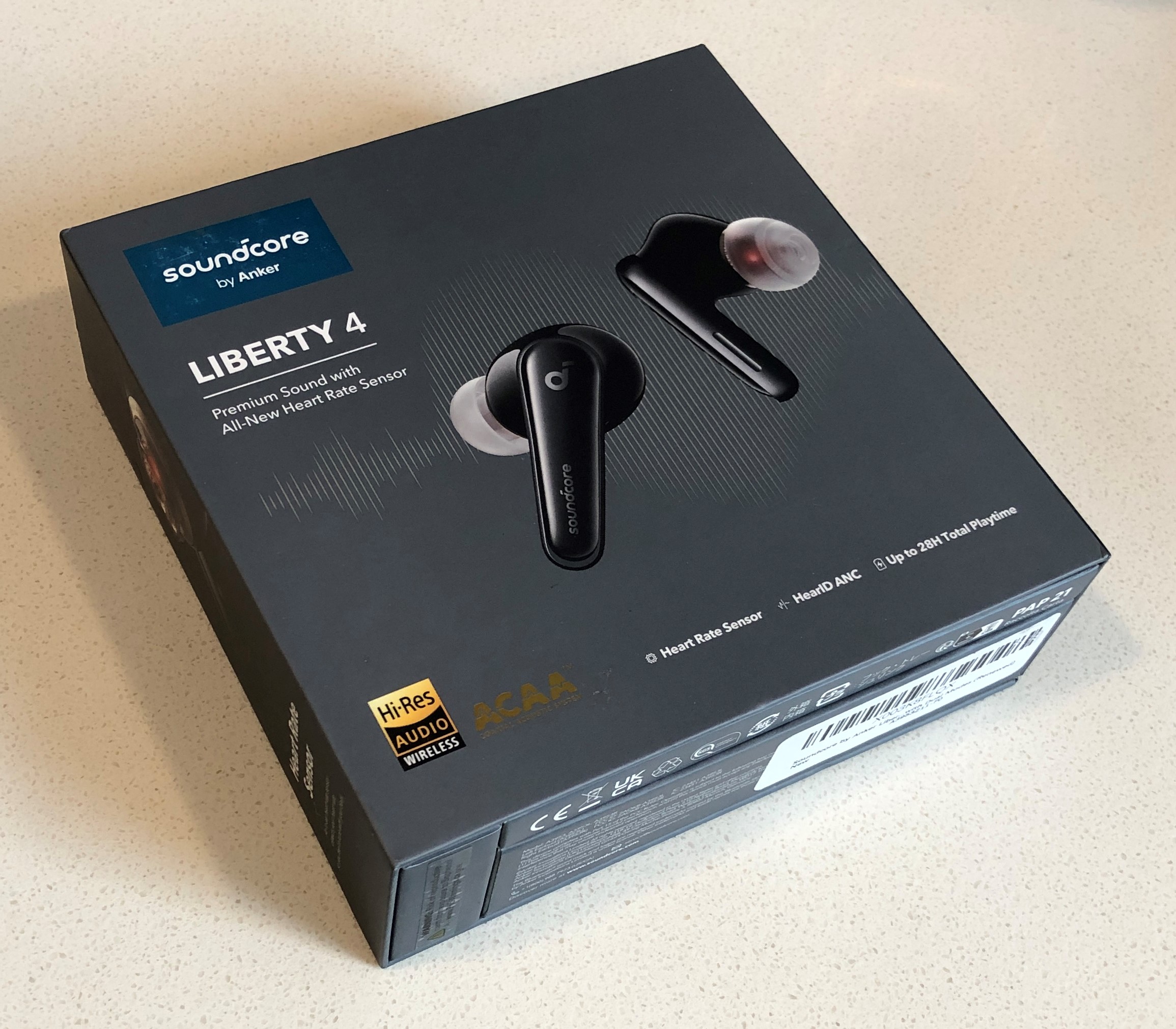 The box is really nice, and so too is the unboxing. I'm not really an unboxing experience kind of guy but even I enjoyed this. Everything opens and folds out nicely, and all the accessories are secure in their individual partitions.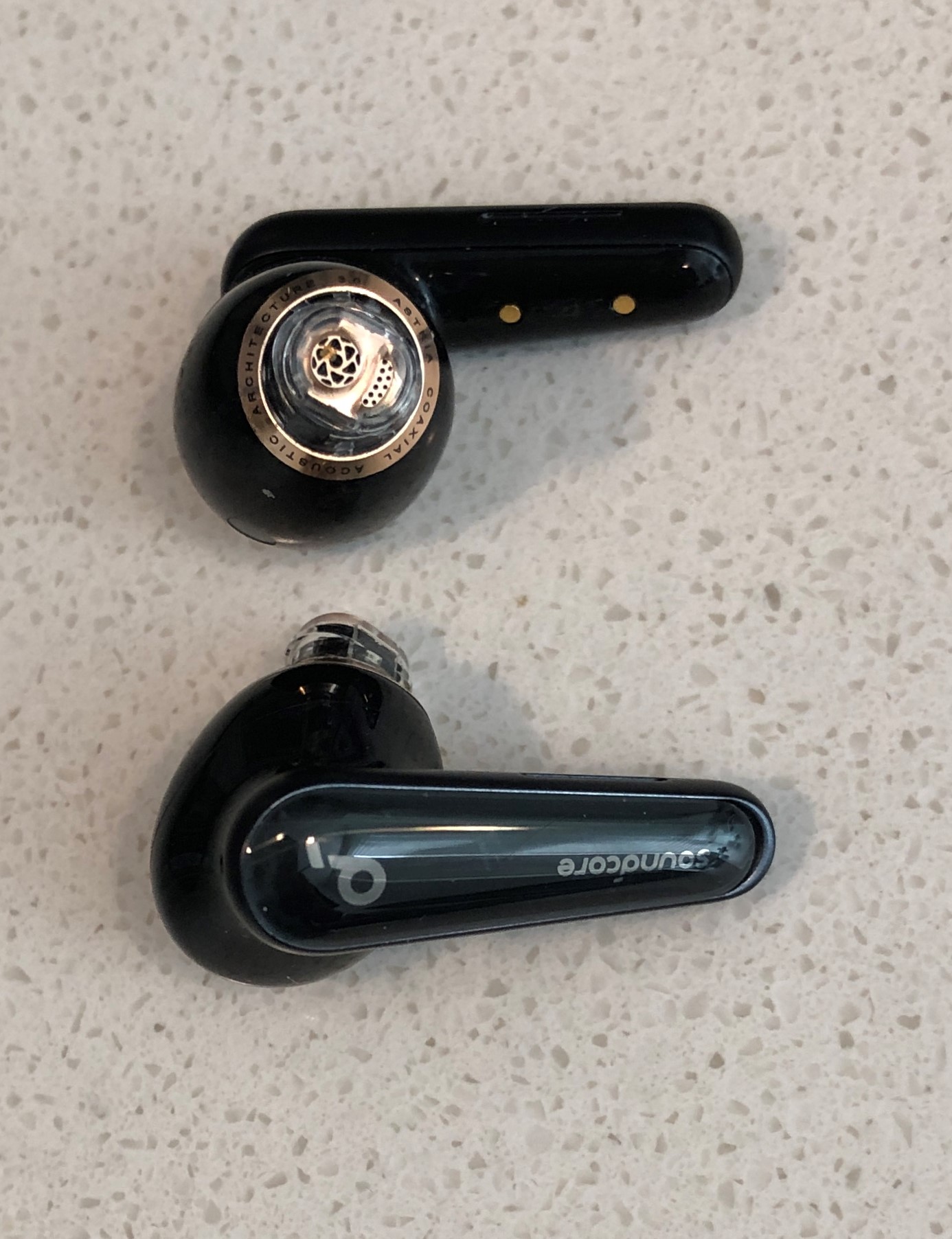 Soundcore Liberty 4 Case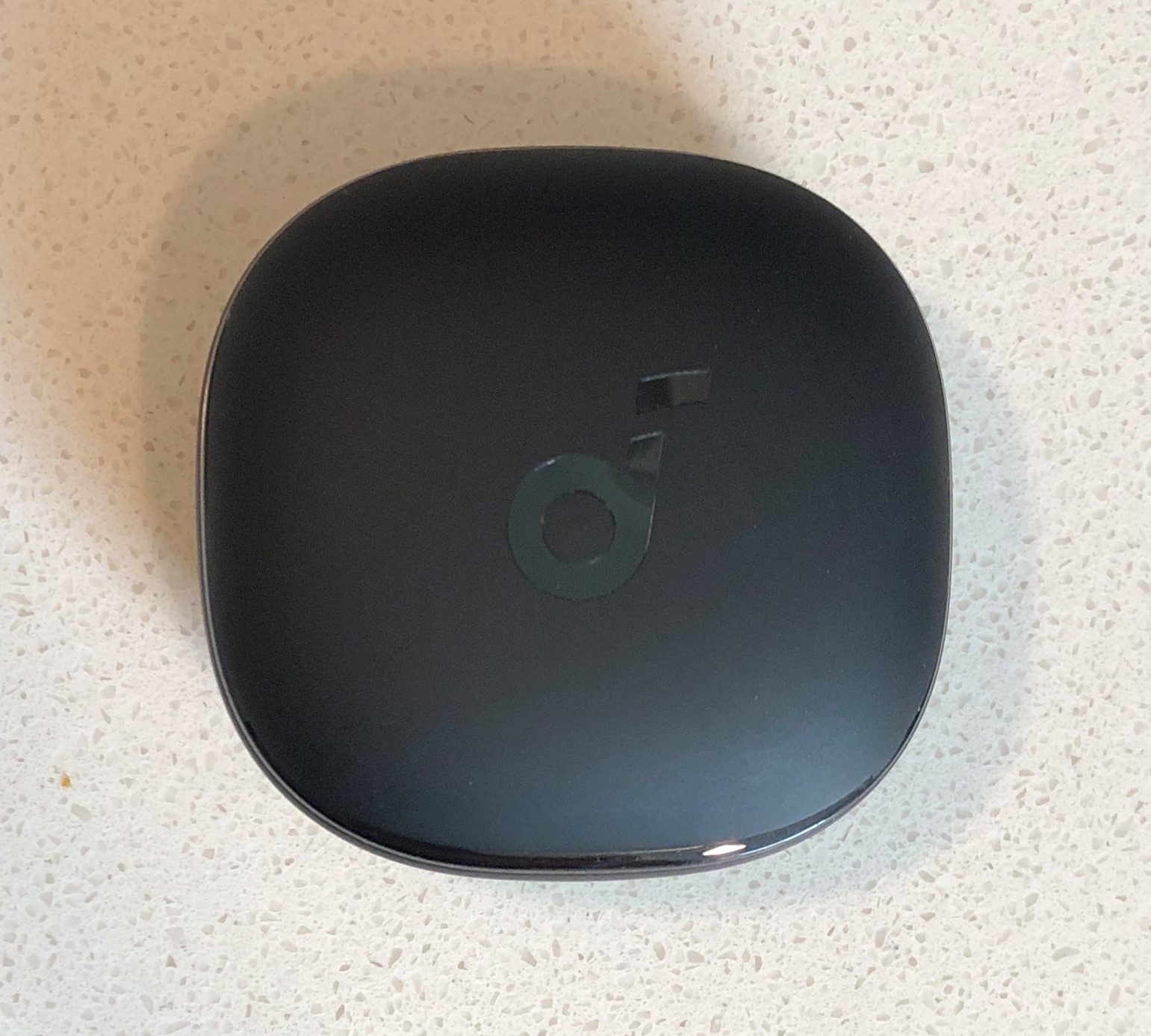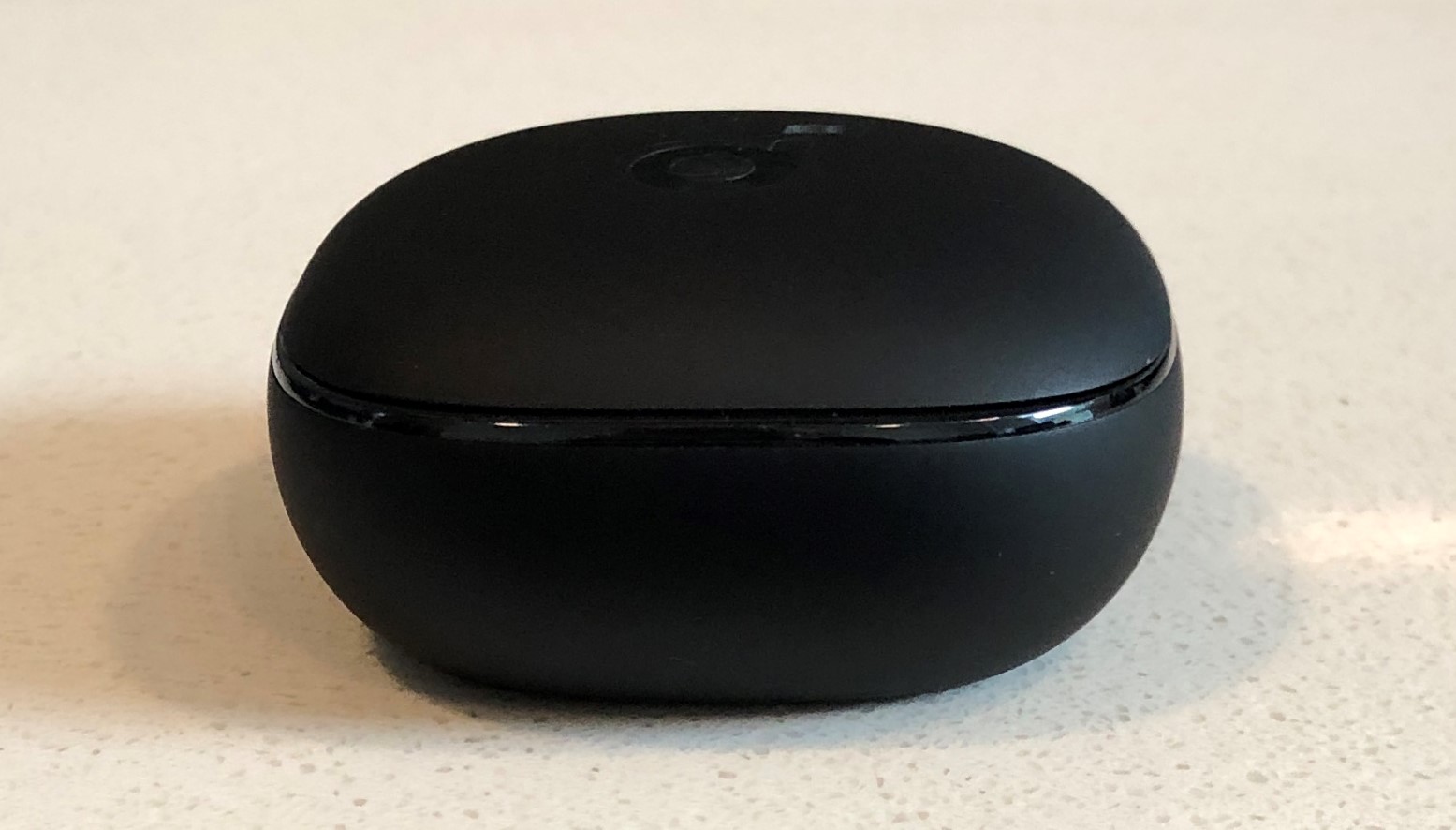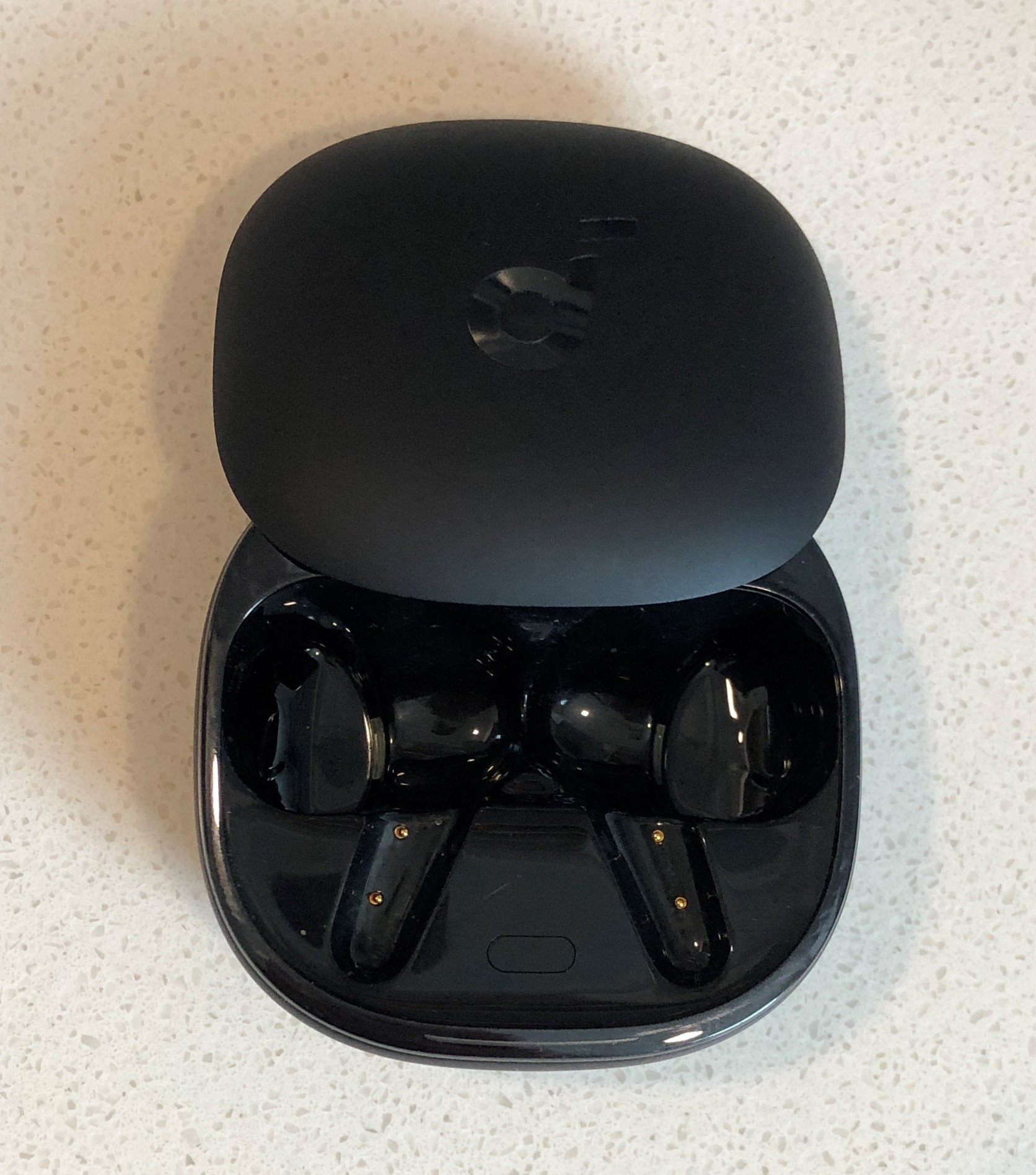 The charging case is also pretty nice, and the lid is a unique design I've never seen – rather than a regular old boring hinge, you push up with your thumb and the lid slides out. It also snaps into the fully open and closed position. The case also has a nicely compact and pocket friendly shape.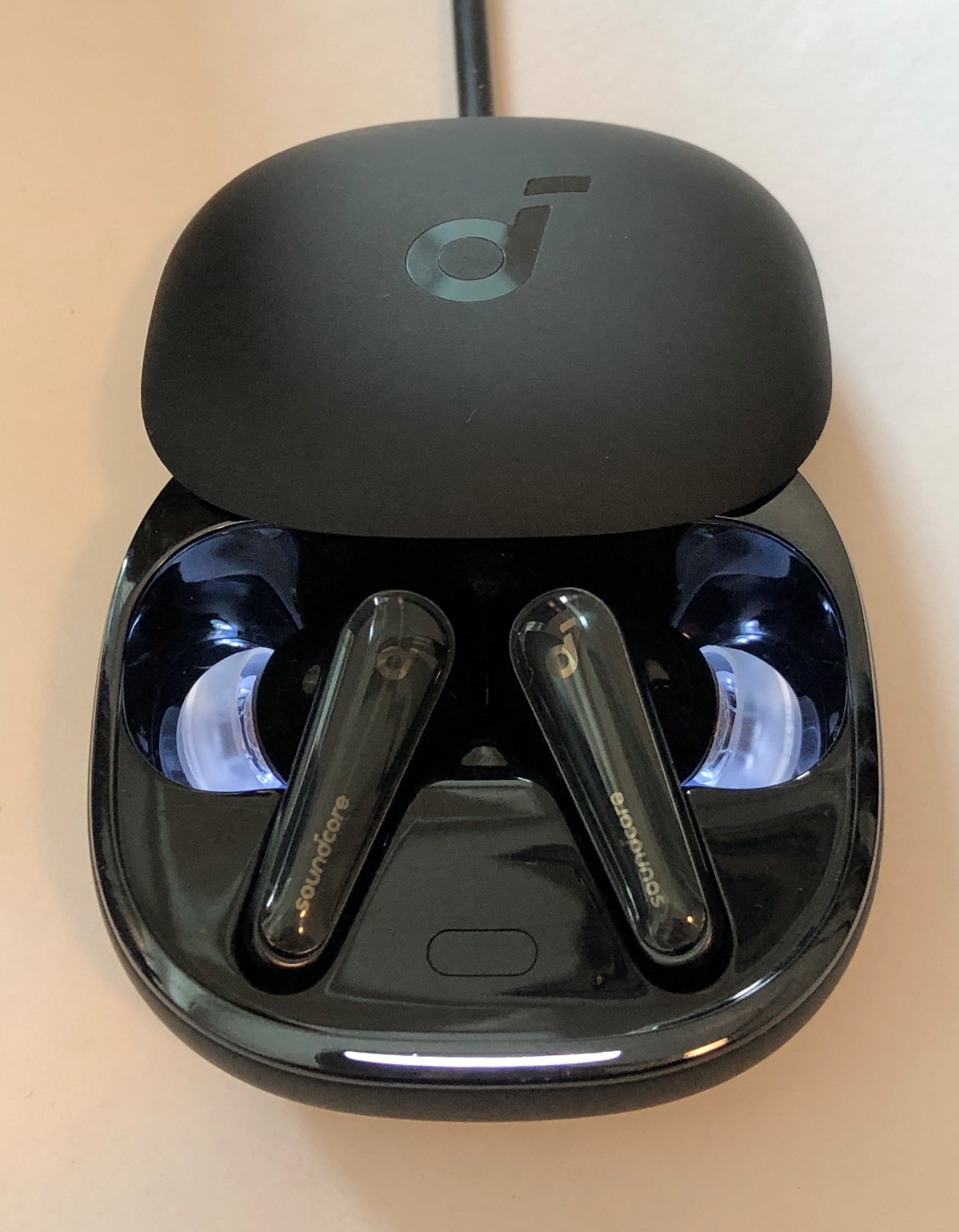 Fit and Comfort
The "CloudComfort" custom tips that come with the Liberty 4 are nice – they have that more gummy texture that fits and seals better in my experience. And, I was indeed able to get a comfortable and secure fit. The seal didn't break at all no matter how I moved my head, face, or jaw around.
I tend to prefer a deeper and firmer feeling fit, but I actually opted for the large tips with the Liberty 4, which sat more fully flush against the concha. If you prefer a lighter and shallower feeling fit but still want security, I think the Liberty 4 could work great for that.
The Liberty 4 also has a fit test in the Soundcore app that you can use to be sure you have a proper seal: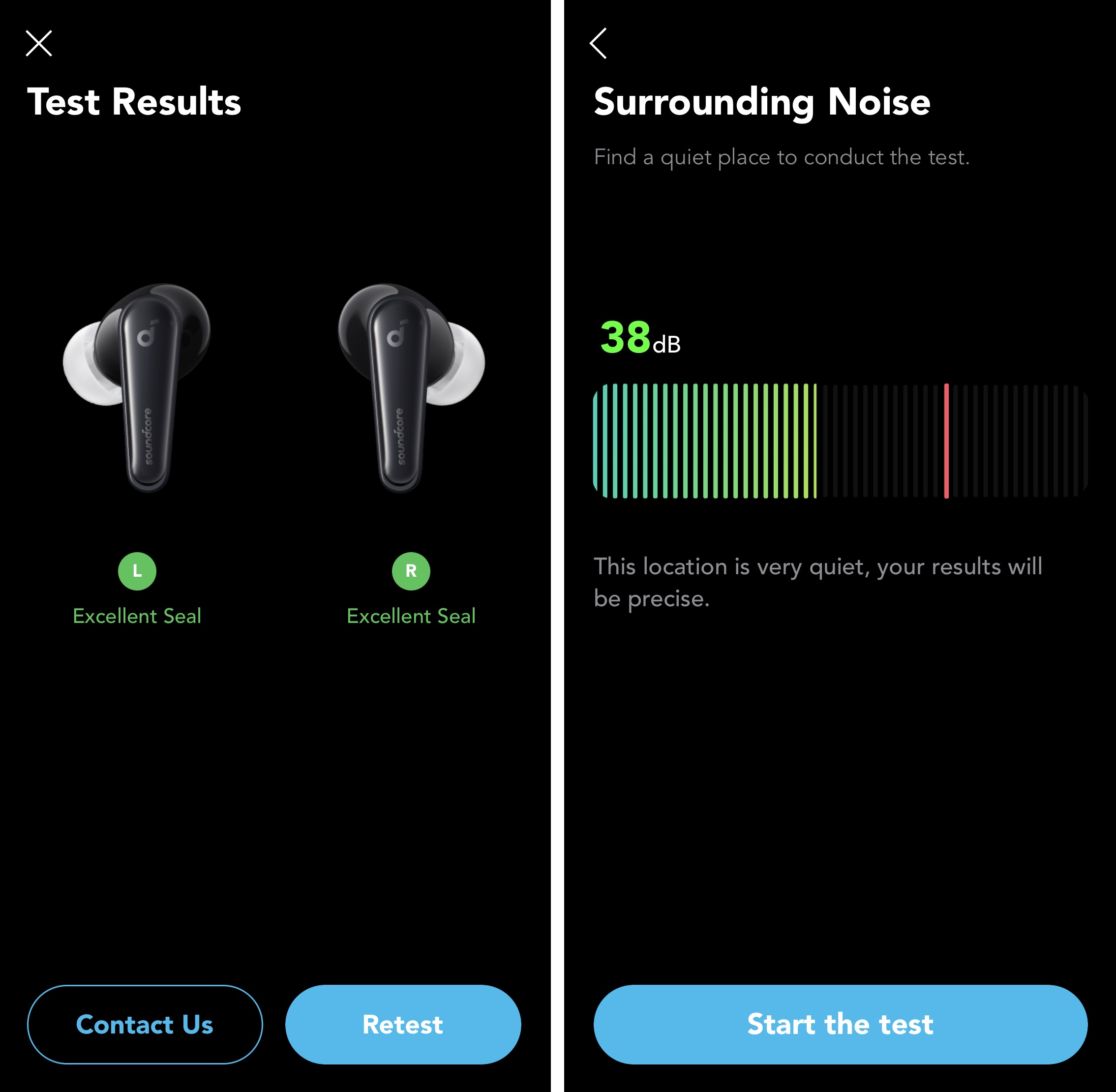 Inserting the buds properly is easy – just put them in with the stems facing down, then push and twist them forward a little and you'll feel the tips lock in.
Soundcore Liberty 4 Isolation
The Liberty 4 has decent natural isolation on its own, and with the ANC, which is also good, the overall noise attenuation is excellent for the performance tier price-point. Do note that there are two ANC modes to choose from in the app: adaptive, which adjusts to the environment, and manual, which can be set to weak, medium or strong.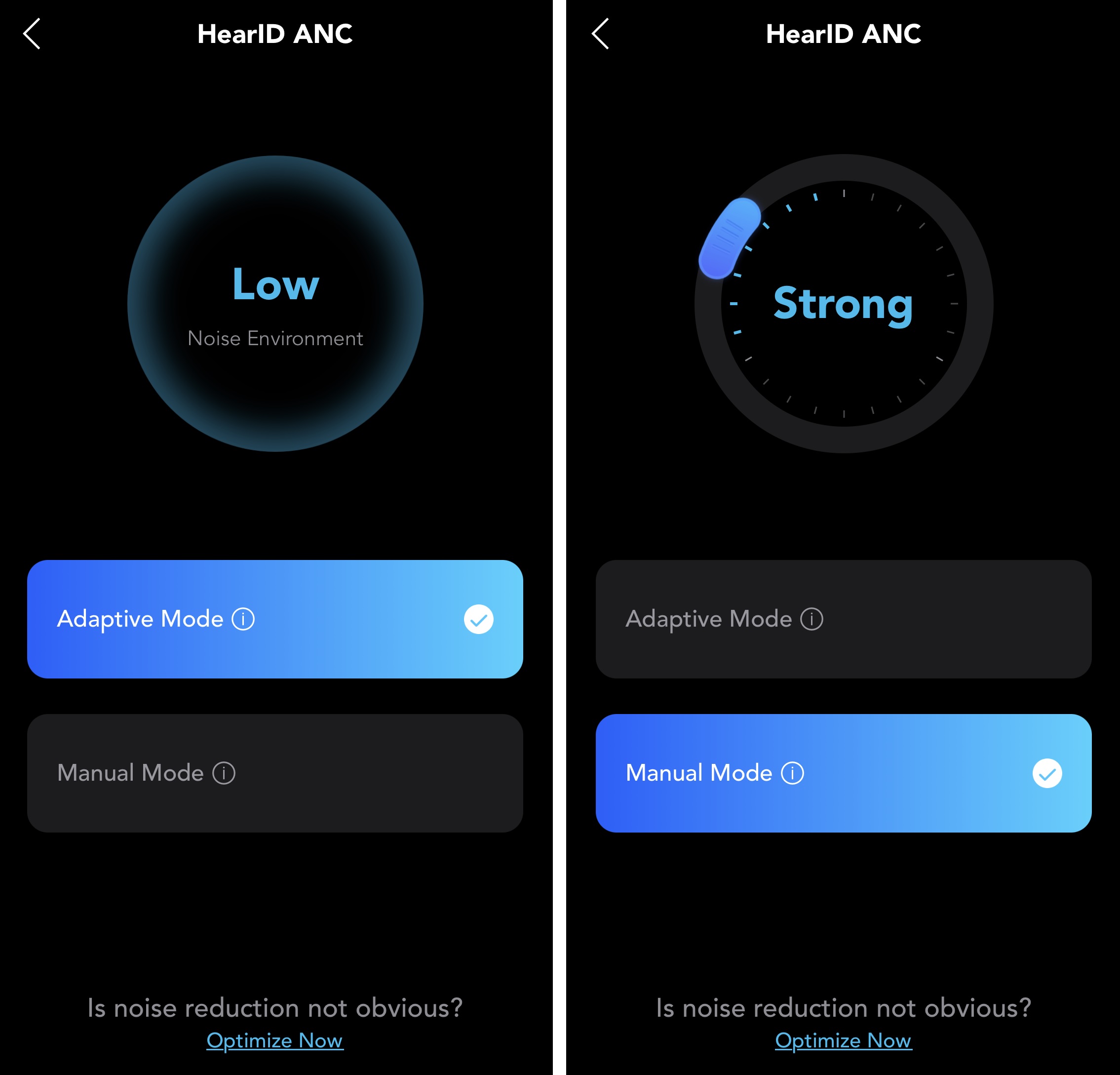 The Liberty 4 comes set to adaptive mode by default, but I chose to use it on strong manual mode because I don't see why you wouldn't use maximum ANC. I suppose adaptive mode could save some battery life.
The overall noise attenuation with ANC isn't quite as good as some of the premium price-tier competitors, but it's impressively close.
Soundcore Liberty 4 Controls
The Liberty 4 has touch controls on the sides of the stems that you squeeze to execute the functions. It's an interesting idea that helps keep the buds in place since you don't have to press in on the backs. There are single, double, and triple tap commands on the left and right earbuds, and with the app you can customize each to adjust volume, track, play/pause, or cycle through listening modes (transparency, normal, ANC).
Each "squeeze" has an audible click sound so you know it went through, and I found the touch controls to be reliable and easy to use. My only criticism is that there's no press and hold command, which could add two extra onboard functions, and it's a strange exclusion because you can do that on a lot of other Soundcore earbuds.
Soundcore Liberty 4 Pairing
Pairing the Liberty 4 was easy and straightforward – they automatically enter pairing mode, after the initial charge, when you open the lid of the charging case. Simply select "soundcore liberty 4" from the menu and you're good to go.
To manually enter pairing mode, just put the buds back in the case and hold the center button. The Liberty 4 is also able to pair to two devices at the same time – I was able to use them with both my desktop and mobile devices and it would switch between them automatically depending on which had media playing.
A note before the next section: this page describes how I evaluate the sound quality of headphones and earbuds.
Soundcore Liberty 4 Test: Does it Sound Good?
To start this section, I'll talk about the distinguishing aspect about the Liberty 4, which is the sheer amount of customization options it has in the Soundcore app. There are around 20 EQ pre-sets you can choose from. Or, you can do a custom EQ profile. Or, you could do the HearID test for the app to recommend an EQ curve – you go through a hearing test, then a/b six different choices with music playing, and it creates a custom EQ curve for you:
You can also customize the "initial" curve exactly as you would a custom EQ curve from scratch, or you can even integrate one of the pre-sets to the HearID curve to create a kind of EQ cocktail to your liking.
There's also a spatial audio pre-set, but that's mainly designed for surround sound with movies and just makes music sound weird, so that's all I'll say about that in the context of this section.
All this customization is pretty cool, but, is it actually useful? I actually do think the HearID curve is a good baseline to start customizing off of, but, at the end of it all it's not really that much different than just doing a custom EQ curve from the get go, and that's what I ultimately ended up doing.
If you want to get the most out of the Liberty 4, then I strongly recommend using the Soundcore app, even if only to choose a pre-set you like and make sure the firmware is up to date. I think my Liberty 4 was set to some random HearID pre-set by default, I'm not really sure, but in any case, default Soundcore tuning is not that good with their more recent products, and this is something I've discussed many times now in my other Soundcore product reviews.
OK, so, after tinkering with the custom EQ, and getting things to where I felt was right – or as right as they could be – now I can finally answer the initial question: how does the Liberty 4 sound?
It sound good for its price, but not great, or best in class. In order to get the balance that I felt was optimal, the tone was a little thin and airy, and there was some unavoidable sibilance in the mid-highs. The clarity and separation wasn't quite there like it is with the best-in-class TWS earbuds (which go for around $200 for comparison), and the sound felt a little cluttered and busy as a result.
The bass extension and tone feels good – likely the advantage of the dual drivers. There's no published frequency response data that I could find, but even after I tuned the bass down to get what I felt like was proper balance, the drops I normally test still got down fully. There was a little roll off but it was barely noticeable.
Final Verdict: Is the Soundcore Liberty 4 Worth Buying?
Feature wise the Liberty 4 has a lot going for it at its price-point: massive customization, amazing comfort and fit, great noise attenuation, and overall great usability. Sound quality wise, its good, but not quite up there with the best. The performance to premium price-tier is also an awkward area because if you're already spending, say $130, why not just spend $30-$40 more to get top-tier sound quality? I think a lot of people who buy the Liberty 4 will be happy with what they get, but I also think some people would rather have spent just a little more to get the best fidelity available with TWS earbuds.
Get the Liberty 4 wireless earbuds on Amazon (affiliate link)
Popular Comparisons
For those who are curious how the Liberty 4 fares against similar and popular competitors:
• Soundcore Liberty 4 vs Soundcore Space A40
Relevant Articles
• Is Soundcore a good audio brand?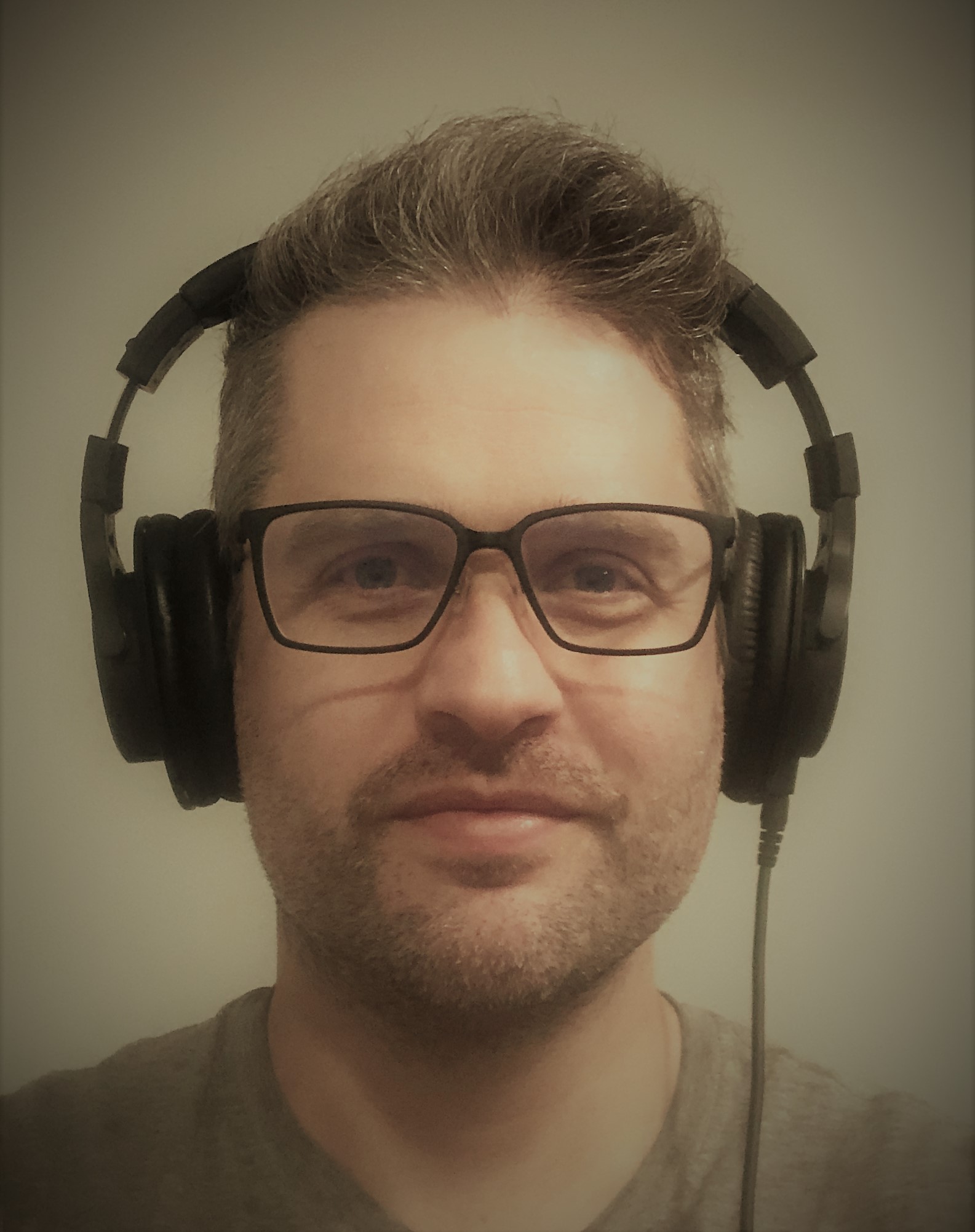 Pete Anthony has had a lifelong affinity for music, and more recently has become an anti audiophile snob who wants great sound to be accessible and enjoyable by anyone. Without needing to break the bank. Read his full author page
here
.