Written by Pete Anthony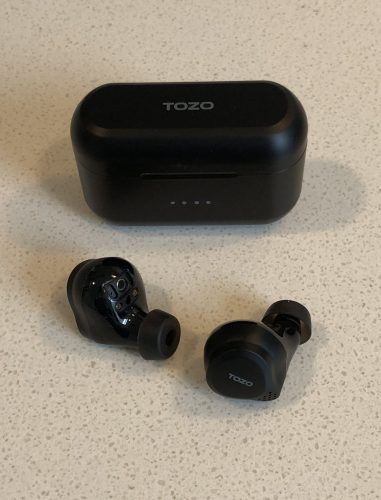 TOZO is a relatively new audio company that has come into prominence in recent years for having released a variety of decent earbuds at minimal prices, including those that have active noise cancellation technology. The NC7 is one such pair of earbuds – it originally debuted in 2020 and was updated in 2022 with the latest version of Bluetooth (v5.3 at the time of this writing/update).
The NC7 has particularly nice packaging for a pair of budget earbuds – contoured packing foam to keep the individual buds and the case protected, a nice notched container that protects and organizes the many included replacement tips, and another separate container for the charging cable. This is honestly some of the nicest budget earbud packaging that I've ever seen.
What Accessories Come Included With the TOZO NC7?
user manual and quick start booklets
5 additional pairs of different size and style replacement tips
charging/carrying case
~1ft USB-C charging cable
How Good and Comfortable Is the TOZO NC7 Fit?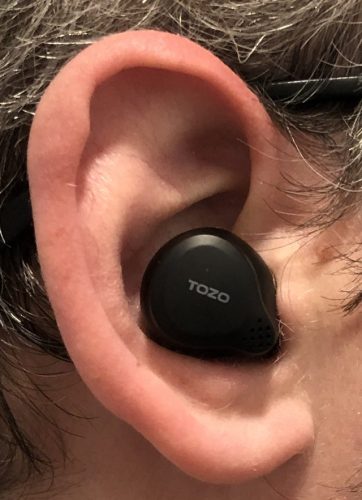 The NC7 fit me great out of the box – a nice firm and comfortable seal that didn't break at all no matter how I moved my head and/or jaw around. With the additional five pairs of included replacement tips I think just about everyone will be able to achieve the same.
Does the TOZO NC7 Have Good Touch Controls, and Is It Easy to Use?
All TOZO wireless earbuds have the same control schematic, which has all of the functions you'd expect a pair of wireless headphones to have in 2023. Executing the touch based commands was easy and reliable with the NC7. One neat feature the NC7 earbuds have are sensors (the small silver circles) that automatically pause the track if you take out either earbud. The one small thing I don't like is that the "chirp" noise that acknowledges the tracking command is rather grating and annoying.
Durability: Is the TOZO NC7 Waterproof And/Or Dustproof?
The NC7 has an official ingress protection code of IPX6 – the final "6" digit means it's water resistant up to powerful jets, but not full immersion; and the penultimate "X" digit means there's no certified protection against dust or debris. There are wireless earbuds that do have a double digit IP code and are protected against dust and debris, but they're less common and are generally a bit more expensive. IPX6 is sufficient protection for working out or other such standard active use.
Does the TOZO NC7 Have Good Isolation And/Or Active Noise Cancellation?
The NC7 is one of the few wireless earbuds that I've reviewed or seen that has three separate modes of "anc on," "anc off," and "transparent" – I think this might be an update upon the original 2020 version which can only cycle between anc and transparency modes. Being able to turn anc off is actually a great feature because it will significantly extend battery life, and you might as well if you don't really need anc at the time.
The isolation by itself is quite decent, and with the anc on the noise attenuation is excellent for budget earbuds.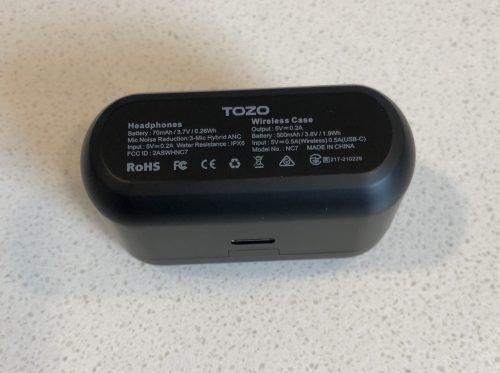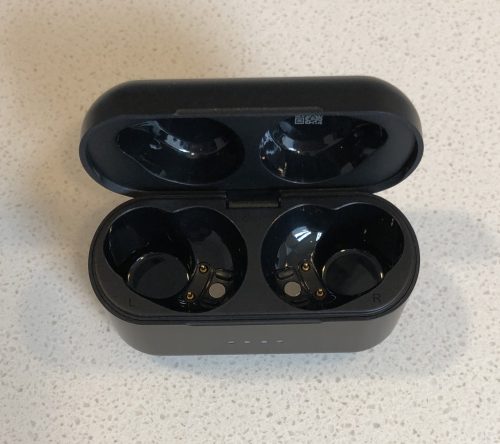 The case manages to stay very compact, not much bigger than a nice lighter, despite the NC7 earbuds being a bit big and bulky. I wish there was a protective flap cover for the charge port, but this is an omission that I'm starting to see more and more and I honestly don't know why.
How Good Is the TOZO NC7 Battery Life?
The 2022 version updated the Bluetooth from v5.0 to v5.3, which improves upon signal range and battery efficiency. What results now is a pair of budget wireless earbuds that have some of the best purported battery life available – 16 hours for a single charge on the buds themselves, and the case gives 2 full recharges for a grand total of 48 hours before they need to be plugged back in. Keep in mind: I expect this is in ideal conditions with the anc turned off – if you're using these with anc or transparency mode on the battery life will likely go down a significant amount.
Does the TOZO NC7 Have Good Warranty Coverage?
All TOZO earbuds have a 30 day return window and a subsequent 1 year limited warranty against defects. This is the fairly standard minimum for budget earbuds.
The Important Question: Does the NC7 Sound Good?
The NC7 sounds very good for its now discounted ~$40 price point. The tuning is a bit pronounced at the low and high peaks, but, the overall tone, detail, and clarity is very solid. These held up to monitoring headphones quite well, but were comparatively a little thin and sucked in, and the detail and separation was a bit lacking.
The NC7 has a Harman/U-shape sound curve, which is fairly standard for budget headphones, but unlike most of TOZO's earbuds which are bassy and kind of warm, the NC7 highs are quite emphasized which results in a bright overall sound. There's also a fairly pronounced hump in the bass. I think the goal here was a sound profile that's optimized for noisy environments, which one could presume the NC7 earbuds are specifically designed for.
The bass extension feels decent, but this is in part I think to the bass being as tuned up as it is, so there's still a bit of fall off in the drops I normally test, and they definitely jumped out as they came back up. The quoted response floor of the NC7 is 20 Hz, which is fairly average for budget earbuds, and I think the sound fairly reflects that. The bass quality itself is pretty good, but not great – a little loose and muddy.
Final Verdict: Is the NC7 Worth Buying?
If you're looking for a relatively inexpensive pair of true wireless earbuds that's really designed to perform well in noisy environments, then I think the NC7 is a really great product. The noise attenuation is excellent for the price, and the sound profile is seemingly optimized for not being compromised against any external noise. In a quiet room for at-home use, though, some might find the sound to be a bit boomy, bright, or harsh. The long purported battery life is also a nice factor.
Popular Comparisons
For those who are curious how the NC7 fares against popular competitors:
• TOZO NC7 vs TOZO NC2
• TOZO NC7 vs TOZO NC9
Relevant Articles
• Is TOZO a good audio brand?
• Our current picks for the overall best budget true wireless earbuds