Written by Pete Anthony 
Last updated on: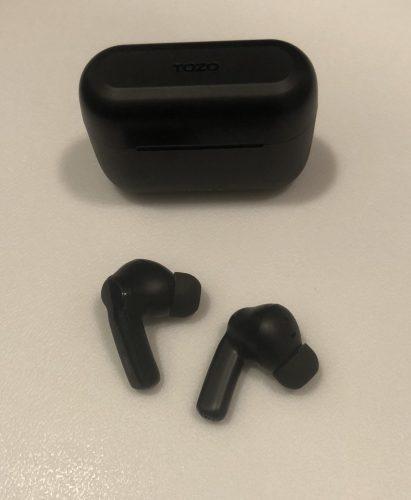 TOZO, despite being a relatively unrecognized ChiFi brand, has quickly exploded into the wireless earbud market, topping Amazon best sellers lists and the like. And for good reason in my opinion – I've reviewed each of their currently popular budget wireless earbuds and they are comparatively very good. The NC2 is their currently cheapest option that has active noise cancellation technology, and I was definitely curious to see how it measured up in this increasingly competitive market.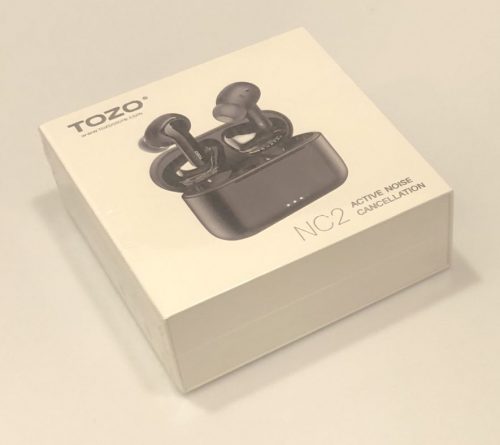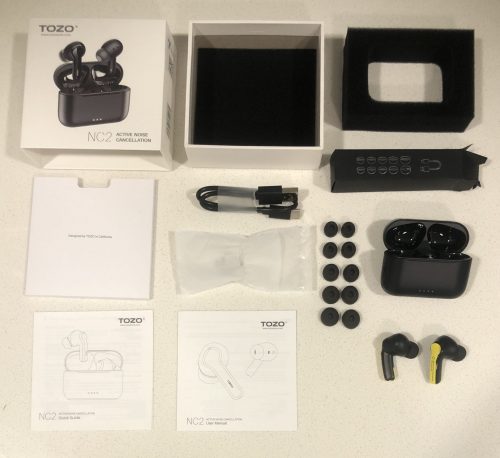 Does The TOZO NC2 Have Good Packaging?
TOZO does a particularly great job with nice looking packaging that's also protective, and the NC2 is no exception. The case, which contains the earbuds, is embedded in a contoured piece of packing foam, and there's some more packing foam underneath. The remainder of the box is partitioned to a fitted inner box that contains the included accessories, and the sleeve containing the instructional booklets sits on top and kind of functions as extra padding.
What Accessories Come With The TOZO NC2?
quick start guide
manual booklet
five additional sets of different sized silicone replacement tips
short USB type C charging cable
charging/carrying case
Having five extra pairs of replacement tips to choose from is a nice inclusion at the budget price-point, where many earbuds will only have two.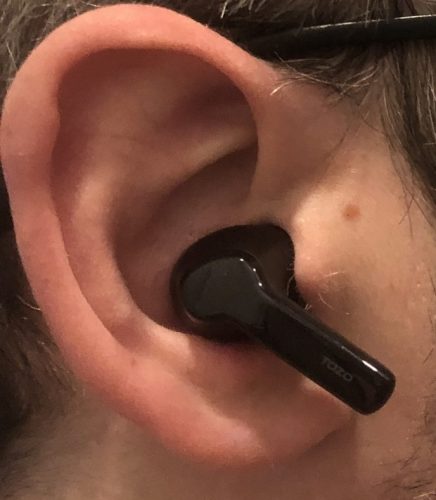 How Good and Comfortable is the TOZO NC2 Fit?
The NC2 fit me well and comfortably. I was able to achieve a proper seal that didn't break at all no matter how I moved my head and/or jaw around. The buds also felt nice and secure, and not like they were hanging or prone to slipping. I will say the fit is a little shallow for my taste, but I personally like a somewhat deep tip with a firm seal that exerts some feelable pressure.
How to Insert and Wear the TOZO NC2?
I got a seemingly optimal fit by pushing the buds in slightly with the stem angled down, then rotating it a little counter clockwise to kind of lock them in. There's also plenty of side to grab to move/rotate them without accidentally activating any touch controls.
The buds are very easy to quickly take off and put back on, and have a neat relevant feature: sensors on both earbuds that will automatically pause the track when you take either of them off, then automatically resume it when you put it back on.
Does the TOZO NC2 Have Good Touch Controls, and Is It Easy to Use?
The NC2 has touch controls for all the functions you'd expect to have with true wireless earbuds in 2023.
List of TOZO NC2 Touch Control Functions:
switch between active noise cancelling and transparency mode: 1 tap left earbud
reset/track back: 2 taps left earbud
volume down/up: press and hold left/right earbud
pause/play: 1 tap right earbud
track forward: 2 taps right earbud
accept incoming call: 1 tap either earbud
reject incoming call: press and hold either earbud
end current call: press and hold either earbud
The functions are responsive and easy to use – the flat backs and good amount of surface area on the sides of the earbuds makes it easy to execute commands and also not accidentally trigger a function if you need to adjust either earbud, which is sometimes an issue with more finnicky earbuds.
The power off function does not work if there's any media playing. I had to completely close out all such apps for the function to work, and you have to put a powered off bud back in the case and take it out again to turn it back on, which is a little cumbersome.
The manual I got says that a left earbud tap will also pause/play, but this is incorrect. TOZO must have updated the firmware or something since the NC2 was originally released, because I have seen older reviews say that you have to put the buds back in the case and take them out to switch from ANC back to transparent mode. I however was able to easily switch back and forth between ANC and transparent mode with a single tap to the left earbud. I have noticed that, sometimes, the manuals included with headphones are slightly incorrect and/or out of date. Maybe it's cost prohibitive to redesign and republish them, and there's a small asterisk somewhere that says "information herein might become outdated with firmware updates" or something, I don't know.
Pairing the NC2 was easy and straightforward – when you open the charge box or take the buds out for the first time, they will automatically enter pairing mode and you simply select "TOZO-NC2" from the menu and you're good to go.
Durability: Is The TOZO NC2 Waterproof and/or Dustproof?
The NC2 has an official ingress protection code of IPX6. The final "6" digit means it is water resistant up to strong jets, but not full immersion; and the penultimate "X" digit means it doesn't have any certification against dust protection. IPX6 is sufficient for working out and other basic active use.
Wireless earbuds with double digit IP codes that are protected against water and dust/debris are still not all that common, but they do exist if you think you need more rugged protection. See the links at the end for some such alternative recommendations.
Does The TOZO NC2 Have Good Isolation and/or Active Noise Cancellation?
You actually can't just turn off the anc on the NC2 – only switch between it and transparent mode. So, these are more a hybrid style that combines both isolation and anc. All in all, for the now discounted price-point of less than $50, the noise blocking is quite good, solidly high I'd say and noticeably better than basic isolation you'll get from most budget earbuds.
TOZO claims the NC2 can reduce outside noise by "more than 35 dB," which might be a bit of a stretch but not egregiously so. For reference, earphones like the Etymotic ER3SE, a company that is industry leading and world class in hearing protection, can reduce noise by up to 42 dB purely from isolation (but a proper fit of Etymotic earphones does feel like a deep vice grip).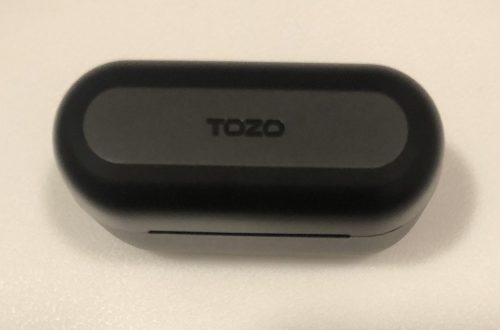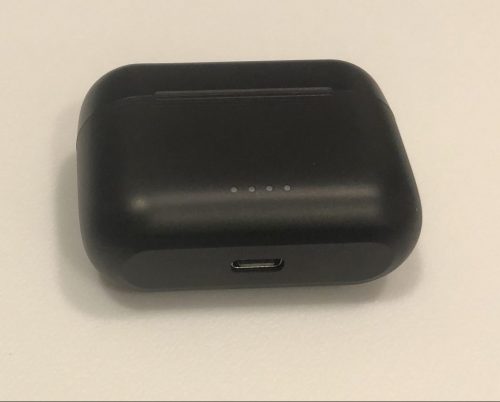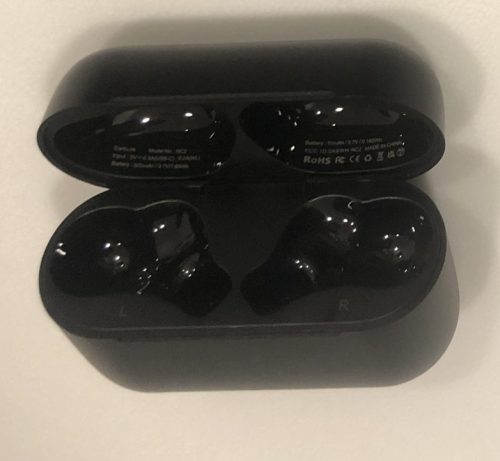 I like that the case manages to remain relatively compact despite the fact that the actual NC2 earbuds are a bit on the big and bulky side. The rounded edges are also a nice feature that make taking this in and out of a pocket a little easier. I wish there was a protective snap on cover for the charge port.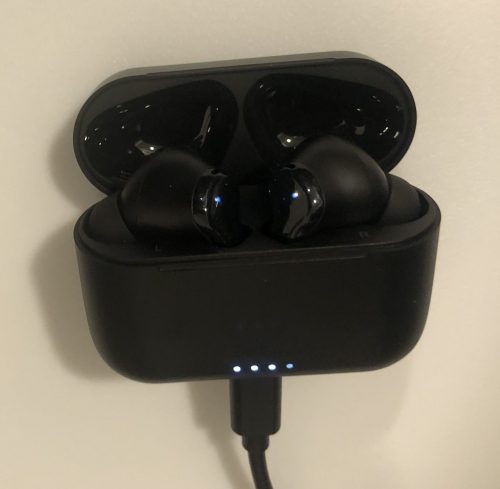 How Fast Does The TOZO NC2 Charge?
The NC2 can achieve a full earbud and case charge in 90 minutes or less, which is better than the ~2hr average. There's no advertised rapid partial recharge.
How Good Is the TOZO NC2 Battery Life?
The NC2 earbuds can (in reasonably optimal conditions) hold up to 10 hours of charge, and the case can give an extra 30 hours of recharge for a grand total of 42 hours of battery before needing to plug in again. At their now discounted price under $50 this is very good battery life.
Is The TOZO N2C Loud Enough?
TOZO doesn't have any sensitivity or max SPL data that I could find, but, I was able to achieve my ideal listening volume with about an average amount of source volume, which gives me plenty of room to spare, so I think the NC2 will get plenty loud enough for anyone, especially with their, for the price, better than average outside noise blocking.
Does The TOZO NC2 Have Good Warranty Coverage?
All TOZO earbuds have a 30 day return window and a one year limited warranty, which is the pretty standard minimum for budget earbuds. Some companies do offer up to two years of warranty even on their budget gear.
The Important Question: Does the TOZO NC2 Sound Good?
The NC2 sounds OK for it's original MSRP of around $80, and fairly decent for it's now significantly discounted price of around $35 dollars, but still not best in class.
The sound signature follows a Harman/U-shape curve, which is fairly standard for budget headphones aimed at casual users, but the bass is particularly tuned up and definitely emphasized. There is no way to adjust the EQ, either with presets or an app or something, so we're stuck with how they sound out of the box.
The bass sounds OK but not great. It's forward and feelable, but definitely a bit muddy and loose, and it very much bleeds into the rest of the range and almost sounds like it's in front of the mids and even the peak highs. I prefer a warmer and bassy sound for casual listening, but this is still a bit much for me.
The quoted response floor of the NC2 is 15 Hz on their website (although the manual says 20Hz interestingly), which is above average for non-expensive earbuds (20-20k Hz is a pretty standard range), and I'd say the sound fairly reflects that quoted spec. The drops I normally test came through fully, without losing much tone or pitch at all, and they didn't suddenly jump in volume when they came back up, which is what usually happens with budget earbuds.
The mids and highs are noticeably recessed and, perhaps as a perceived function of the emphasized bass, somewhat thin and sibilant, and everything sounds kind of stacked on each other rather than a nice wide feeling soundstage with good individual clarity and separation. I will say that EDM and similar hip hop sounds noticeably better on the NC2 than other more "traditional" types of music.
So, how does the NC2 compare with industry leading wireless earbuds that are many times more expensive?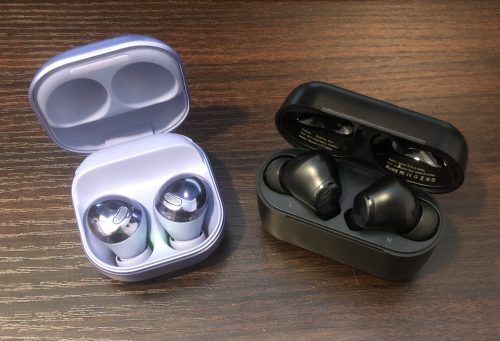 Well, the recessed and sucked out mids and highs just become very apparent with the NC2, and the overall sound is just kind of thin, flat, and muddied with bass compared with the vibrant fullness of something like the Galaxy Buds Pro.
Final Verdict: Is the TOZO NC2 Worth Buying?
TOZO is, in my opinion, a solid company that has made really decent and competitive budget wireless earbuds. But at its original price point of $80 I would definitely pass on the NC2 because there are options that sound much better, especially if you're willing to stretch your budget a little bit more into the $100+ threshold.
However, the NC2 has since been significantly discounted and is now available for less half that price, making it one of the cheapest true wireless earbuds with active noise cancellation and passthrough technology currently on the market. So, I would say, if you're looking for an inexpensive wireless earbud that has anc and ambient listening modes, great isolation/outside noise blocking for a minimal price, and also perhaps something that is definitely bassy, then I'd say the NC2 would be a perfectly solid choice for it's current price. Something worth noting: it is a bit dated 2020 model at this point, and I wouldn't be surprised if a new generation version will be coming out sooner than later.
Get the TOZO NC2 noise cancelling wireless earbuds on Amazon (affiliate link)
Popular Comparisons
For those who are curious how the NC2 fares against popular competitors:
• TOZO NC2 vs TOZO NC7
• TOZO NC2 vs TOZO NC9
Relevant Articles
• Is TOZO a good audio brand?
• Our current picks for the overall best budget true wireless earbuds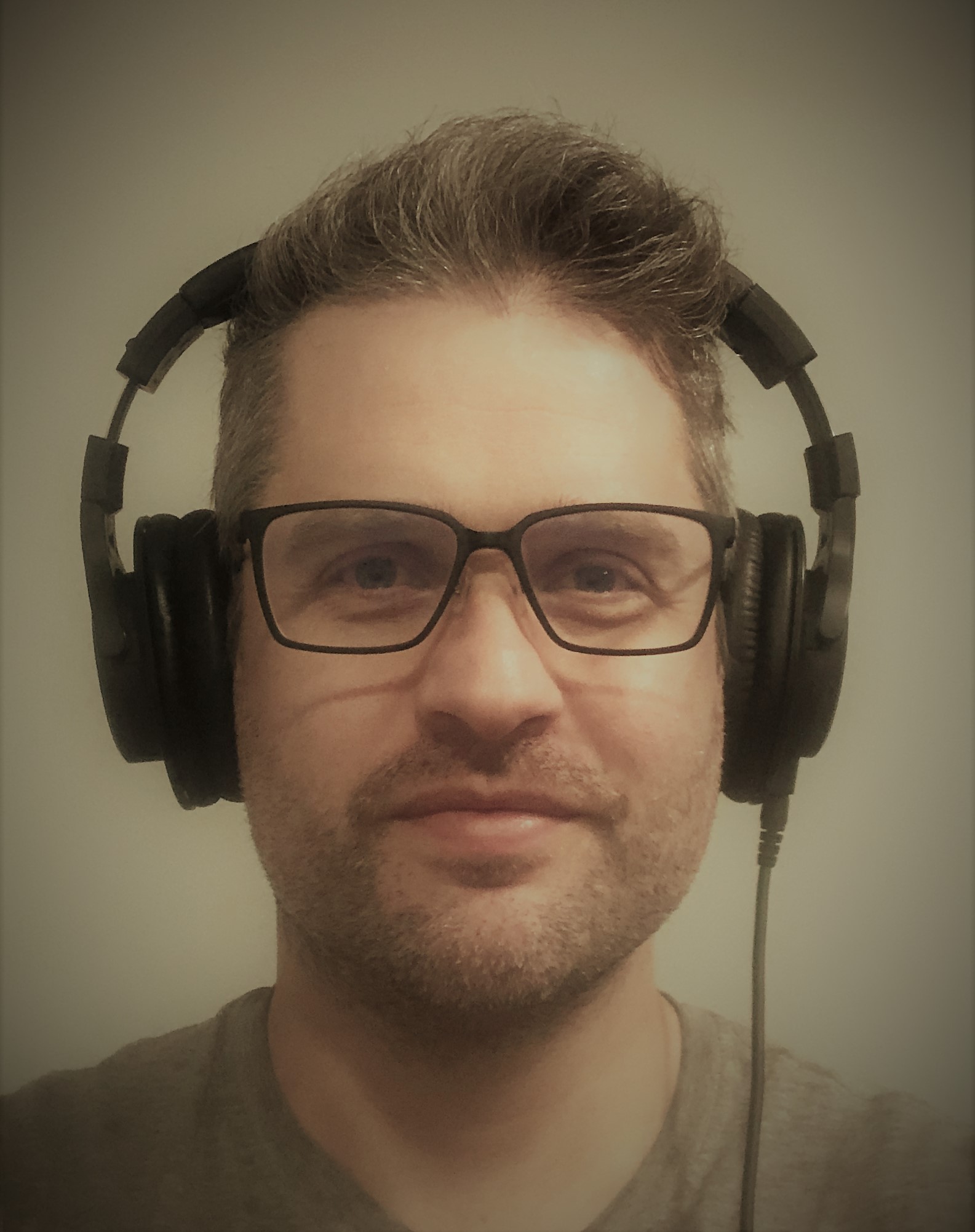 Pete Anthony has had a lifelong affinity for music, and more recently has become an anti audiophile snob who wants great sound to be accessible and enjoyable by anyone. Without needing to break the bank. Read his full author page
here
.