Written by Pete Anthony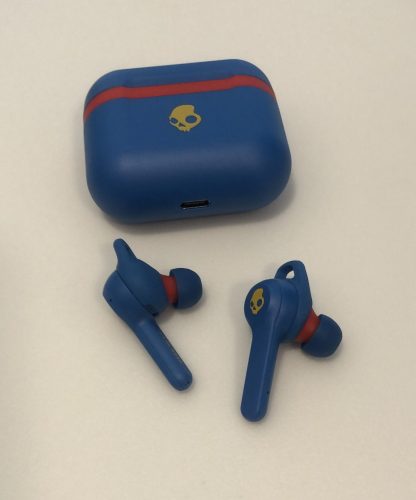 Skullcandy was one of the original pioneers of convenient and all-weather durable wireless audio gear, but the market – especially in the budget tier – has exploded in just the last few years, with a lot of very tough competition coming in. Enter the Indy Evo true wireless earbuds – how do they fare in what I'd argue is or soon will be the most competitive niche in the entire audio market?
The packaging is decent enough for value tier wireless earbuds – I always like it when the buds come in contoured packing foam like this.
I do think, at the Indy Evo's price point, there should be more than two extra pairs of included replacement tips, possibly in a different style. Also some different style loop/wing tips would have been nice.
How Good and Comfortable is the Skullcandy Indy Evo Fit?
The Indy Evo fit is OK and decently comfortable… but for me was a bit finnicky. The default "medium" tips felt a little small for me, so I tried the large ones, and for some reason I couldn't get a seal at all and the sound was essentially nonfunctional. So, back to the medium tips, and I found that once I figured out the best angle to insert the stems at, then to rotate them to, I got a proper seal. The buds and seal stayed secure if I moved my head around, but the seal did break just a little bit if I smiled wide – not a huge deal, but still worth noting.
You do have the option to remove the secondary loop/wing tips if you want – they aren't necessary, and might just get in the way of achieving a proper/comfortable fit when inserting them. I'm not really a fan of the "kettlebell" style secondary tips anyhow, as they don't seem to accomplish anything that's actually useful, that I can see at least.
Skullcandy Indy Evo Controls – Is It Easy to Use?
Skullcandy still often uses pressable buttons on its various headphones, but, the Indy Evo has purely tactile controls – you just tap the skull icon on the outside of the bud. The Indy Evo has touch commands for all the basic functions you'd expect true wireless earbuds to have in 2023.
The touch controls are fairly straightforward and pretty reliable, but, I did find you have to be pretty careful to emphatically touch the correct specific part of the earbud (pretty much right on the skull logo) for the touch to register. My only complaint is that the power off command for each earbud overlaps with the tracking functions, so if you want to power off either earbud you can't avoid tracking forward or backward. Pausing doesn't work around this issue either – if you try to power off while the song will paused, the song will unpause, then track back/forward, then finally power off.
Skullcandy Indy Evo Pairing
Pairing the Indy Evo was easy and straightforward – it automatically enters pairing mode when you first take the buds out of the charging case, then you just select "Indy Evo" from the list and you're good to go.
Is The Skullcandy Indy Evo Durable and Does It Have Good Weatherproofing?
The Indy Evo has an official ingress protection code of IP55, which means it's certified against both dust and water up to a moderate jet, but not full immersion. While most popular true wireless earbuds have at least some water resistance, a double digit IP code certification is still somewhat rare for headphones, so something like the Indy Evo could be a great solution if you're particularly worried about dust or debris.
Skullcandy Indy Evo Charging Case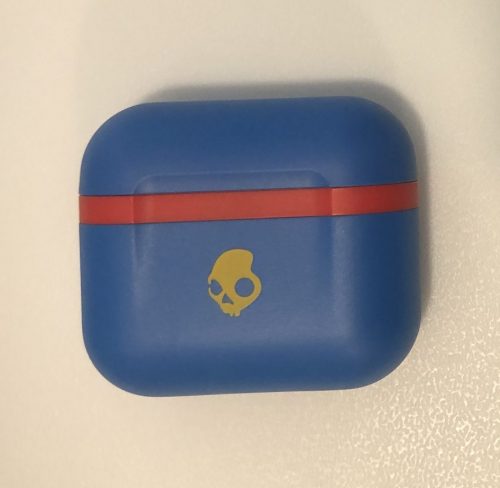 The case, like the earbuds, is definitely on the big and bulky side. I also wish it had a protective rubber flap to cover the charge port so it wasn't always exposed – really no reason not to have that.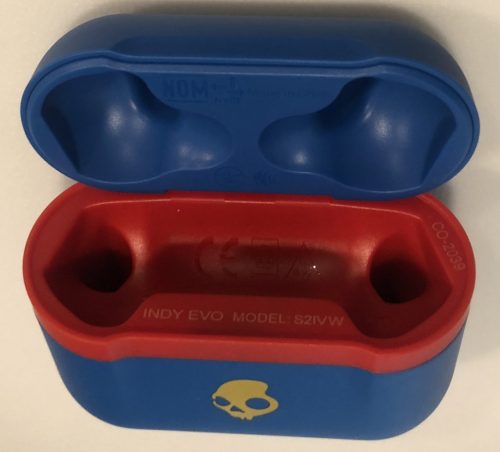 How Fast Does The Skullcandy Indy Evo Charge?
I could not find any published data from Skullcandy on charge speed, but, I got an initial full charge on the case and buds in less than an hour, which is comparatively very good. I'd expect this to go down on subsequent recharges, but the average charge speed for budget true wireless earbuds is around two hours, so anything better is decent.
The Indy Evo also has rapid partial recharge, which is a nice feature that not all budget true wireless earbuds have. Skullcandy claims you can get up to two hours of juice in the buds with just ten minutes in the case, which is probably optimistic, but even a decent fraction of that is still good.
How Good Is the Skullcandy Indy Evo Battery Life?
Skullcandy claims the Indy Evo earbuds can hold up to six hours of charge, and the case can give up to four full recharges, for a grand total of 30 hours. While not terrible, for the price this is definitely below average.
Is The Skullcandy Indy Evo Loud Enough?
Skullcandy claims the Indy Evo has a (max?) sound pressure level range of 99-105dB, which is comparatively OK. The Indy Evo needed a little more source volume than usual to get to my ideal listening volume, but I had plenty of room to spare still, so I think volume wise these are fine.
Does The Skullcandy Indy Evo Have Good Warranty Coverage?
Skullcandy earbuds used to have an industry leading (at the time) two year warranty, but the company reduced it circa mid 2021 to one year, which is the industry norm for non-expensive earbuds. However, we're seeing some companies starting to offer 18 months to two years of warranty coverage even on their cheapest true wireless earbuds.
Skullcandy Indy Evo Test – Does it Sound Good?
The Indy Evo sounds, overall, solid and good for its price, but not amazing or best in class.
The main purpose of my initial 30 second sniff test, especially with budget gear, is to see if there are any glaring, possibly deal breaking problems, and the Indy Evo doesn't have any. It's very solid as I said.
The Indy Evo has three EQ pre-sets: "podcast," which is no good for music, then "movie" or "music," but I honestly could tell little if any difference between the latter two – the bass in "movie" mode might be a little tuned up – so I just stuck with the default "music" preset.
The Indy Evo sound signature is more or less a Harman/U shape curve, which is fairly standard for budget earbuds, but trends closer to flat/neutral, and both the mids and highs sound a little recessed. The sound is a bit soft and warm and lacks some detail and separation.
The bass quality is decent, but again not stellar. The quoted response floor is 20 Hz, which is pretty average for any earbud, and the sound more or less reflects that figure in my opinion. The drops I normally test fell off a bit. The bass was a little loose, with some tone and pitch loss.
So how does the Indy Evo compare with industry leading earbuds that are many times more expensive?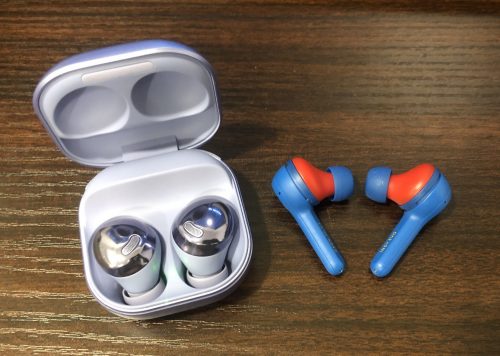 Well, the recessed mids and highs become pretty apparent, as does the lack of detail – the Indy Evo just doesn't have the crisp detail and separation that something like the $200 Samsung Galaxy Buds Pro has, and in comparison to that the Indy Evo sounds a little sucked in and cluttered.
Final Verdict: Is The Skullcandy Indy Evo Worth Buying?
If you're looking for a relatively inexpensive and decent enough sounding pair of wireless earbuds that's particularly weatherproof, then I'd say the Indy Evo is a solid choice – it's double digit IP55 certification is really the selling point: it's resistant to both water and dust, and this level of durability is still not all that common among true wireless earbuds.
But it was originally released in mid 2020, which makes it pretty old in the high turnover world of budget earbuds, and now there are competitors that, for the same price or less, are just better in pretty much every meaningful way: slimmer and lighter, better fit, better battery life, and better sound. That's not to say the Indy Evo is bad in any of these ways, it's certainly not, but it might be just a little left behind at this point.
I will say though that I think Skullcandy has improved on their products' sound in the last few years, and I'll be interested to see what they come out with in the future to stay relevant in this very competitive niche.
Get the Skullcandy Indy Evo true wireless earbuds on Amazon (affiliate link)
Popular Comparisons
For those who are curious how the Indy Evo fares against popular competitors:
• Skullcandy Indy Evo vs Skullcandy Sesh Evo
Relevant Articles
• Is Skullcandy a good brand?
• Our current picks for the overall best budget true wireless earbuds