Written by Pete Anthony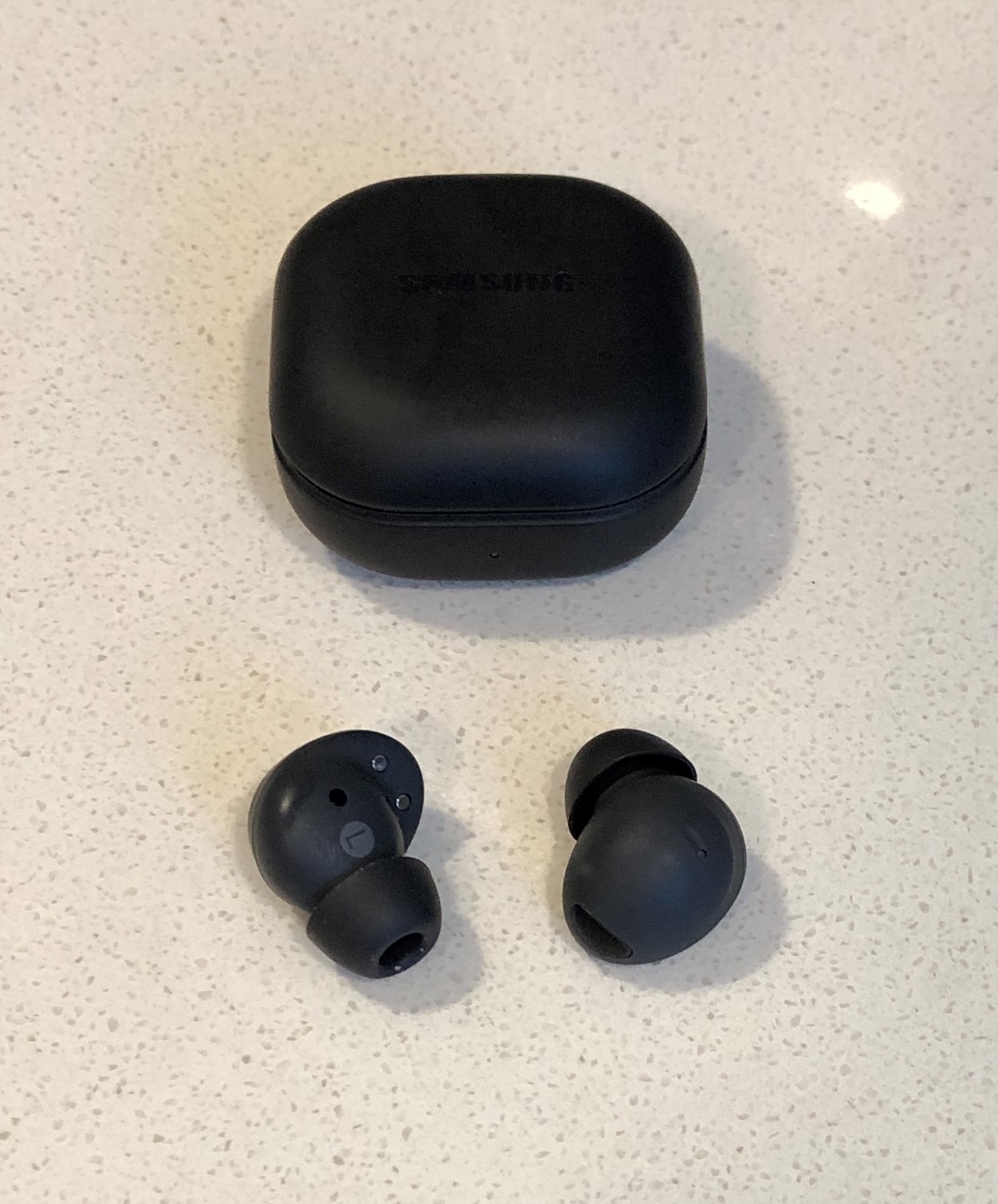 The original Galaxy Buds Pro came out in the beginning of 2021, and was considered by many to be the best sounding true wireless earbuds available. And I was inclined to agree – in my review of them, and in countless subsequent listenings of them in comparison to other TWS products, the Galaxy Buds Pro just seemed to be on a noticeably better level than any of the competition.
And it's not surprising why this seems to be the case. Samsung acquired Harman International in 2016, a company that has set the de facto gold standard of headphone tuning with their eponymous Harman Curve target, and suffice to say that Samsung is currently the proprietor of the best tech and research in the industry.
Almost two years later, Samsung released the next generation of the product: the aptly named Galaxy Buds2 Pro. These new wireless earbuds feature an updated slick looking design, 24 bit audio compatibility, improved noise cancellation, 360 degree spatial audio, and voice detection, among other things. As cool as all that may sound, though, the mainly important question is: has Samsung managed to further improve upon the sound quality of its predecessor? I was certainly interested to see if they could.
Samsung Galaxy Buds2 Pro Specs and Features at a Glance
Released: August 2022
Price-point ⓘbudget: around $30 or less
value: around $30-$60
performance: around $60-$100
premium: around $100-$200
elite more than $200: premium
Design style: dual dynamic driver – 10mm woofer, 5.3mm tweeter
Purported battery life: 5h earbuds; 18h total with case recharges (with ANC on)
Bluetooth version: 5.3
Weatherproofing: IPX7
EQ app compatibility: yes (but only on Samsung and other Android devices)
Noise cancellation/transparency modes: yes
Onboard controls: yes
Warranty: 1 year
Multi-Device support: yes
The Galaxy Buds2 Pro have the same minimalist style packaging as their predecessor, and is still not much of an unboxing experience if you care about that sort of thing, but it did seem a little nicer and more aesthetic.
Samsung Galaxy Buds2 Pro Charging Case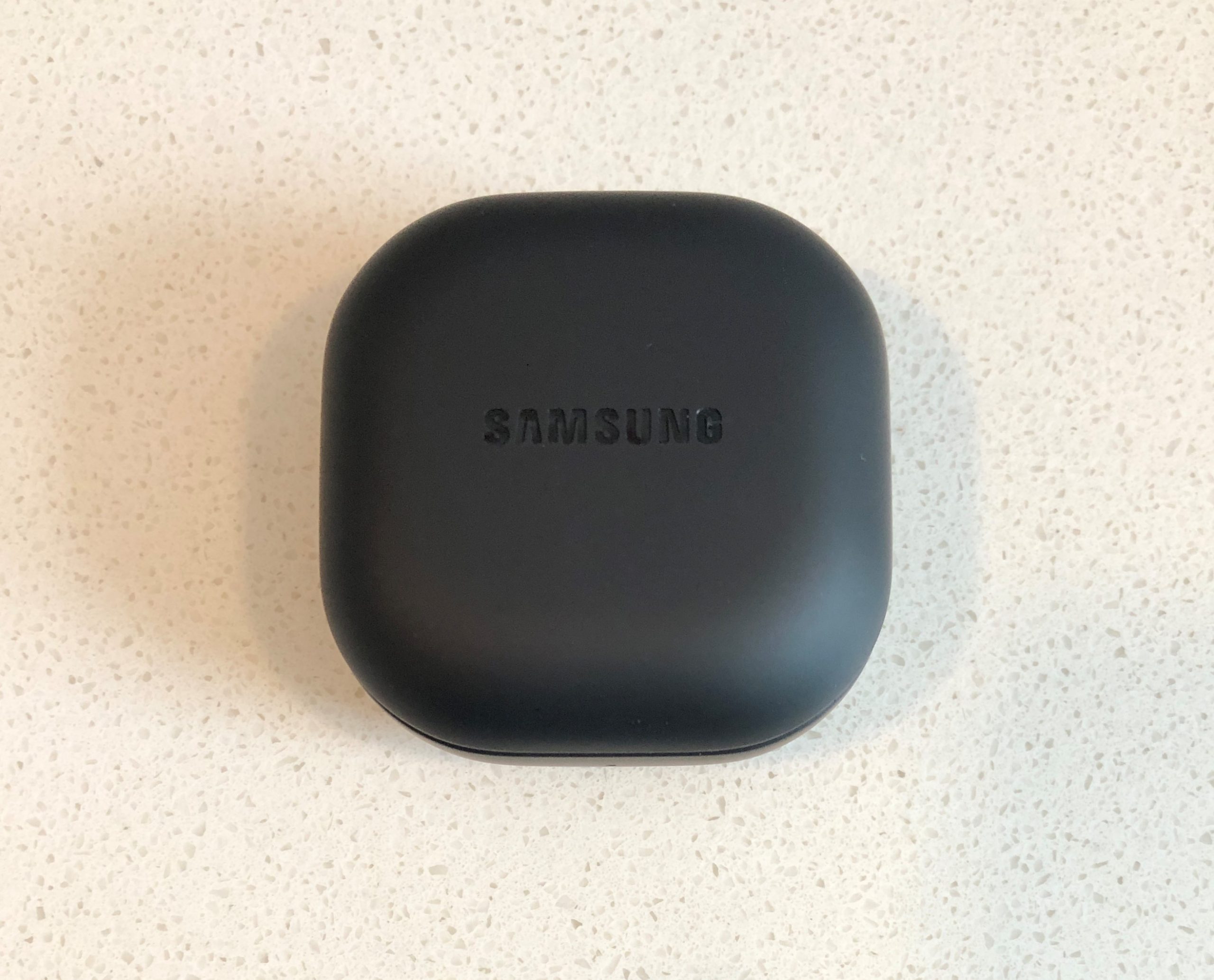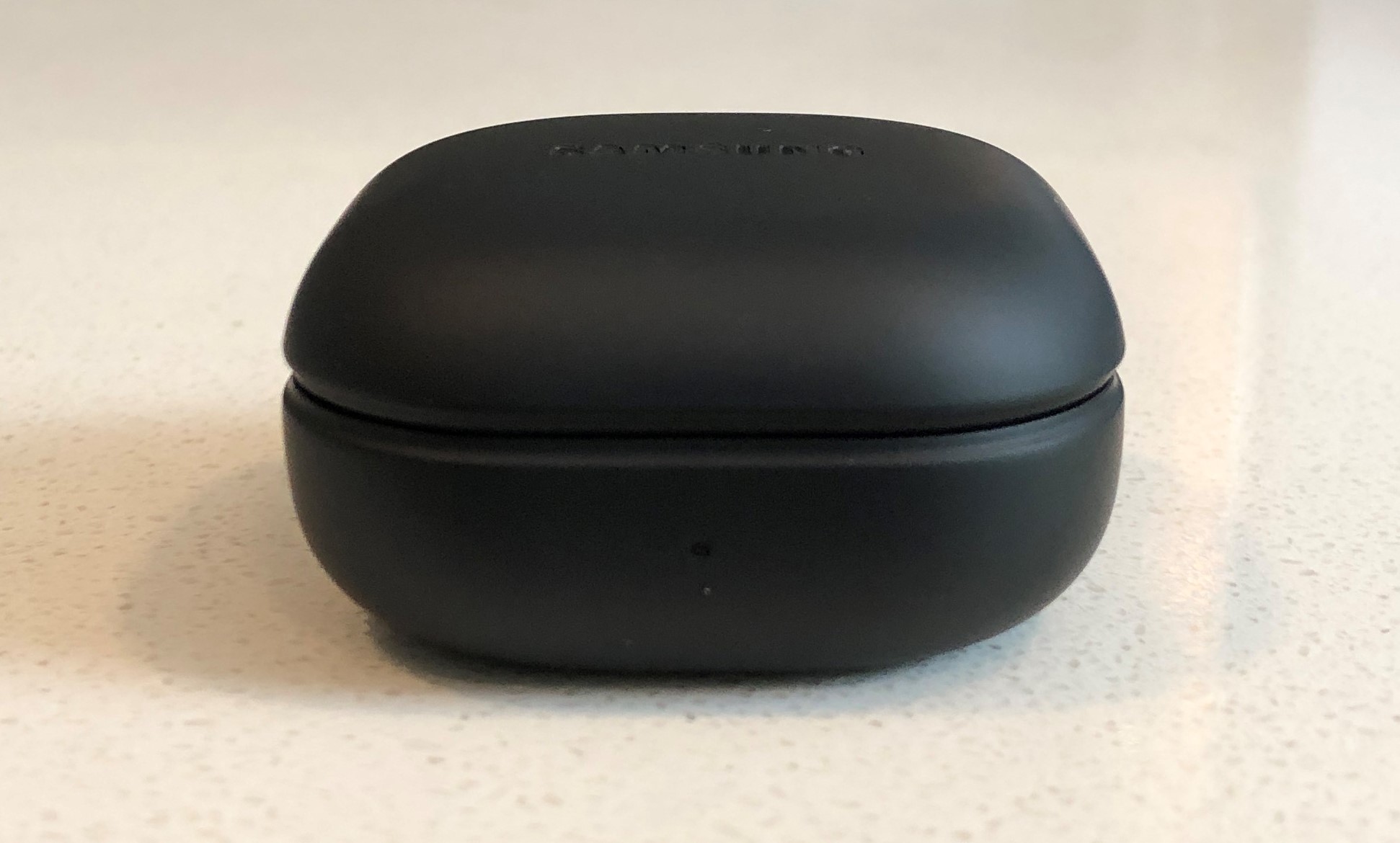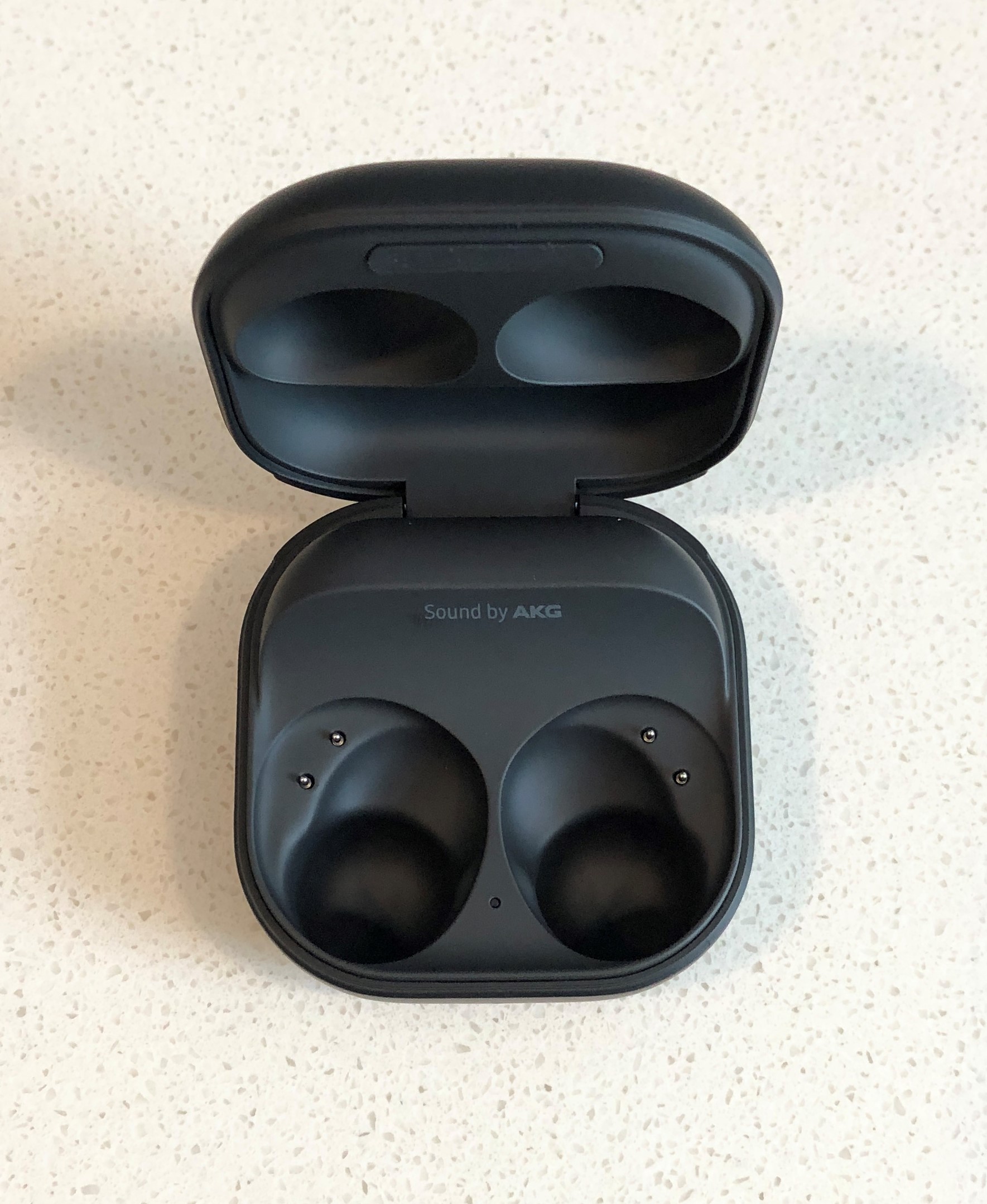 The case is basically the same as the older case, but it does feel a little more robust and sturdy, and overall is a very nice case. The sides are nice and thick, the lid hinge feels very sturdy, and it has that same compact and ergonomic shape.
Samsung Galaxy Buds2 Pro Fit and Comfort
One of my main issues with the original Galaxy Buds Pro is that I couldn't get a totally secure seal with any of the tips – if I smiled wide enough or otherwise moved my jaw enough, the seal would break and the ANC would effectively be compromised. If there was one non sound related aspect that I hoped the new Buds2 Pro would fix, it would be that. And? It seems as though they did.
The Buds2 Pro fronts have a slightly different shape, the nozzles are slightly longer, and the tips have been changed from an oval to a more standard circular design. And all of these changes seem to be an improvement, because the Galaxy Buds2 pro fit is now totally solid and comfortable – it doesn't feel too shallow, and the seal maintains no matter how I move my head or jaw around.
I will mention here that I used the large pair of tips, which is curiously much bigger then the default medium or small tips. I feel like there could be a fourth "medium-large" size to fill the gap between the medium and large tips, and I also feel like people with larger ears might run into fit issues. Something to be aware of.
Samsung Galaxy Buds2 Pro Isolation
The overall noise attenuation with the improved ANC is excellent, and is honestly the best that I've ever experienced. A lot of ANC will be less performant at certain frequencies, particularly the higher ones, but the Galaxy Buds2 Pro seemed to just mute the outside world with the ANC on.
Samsung Galaxy Buds2 Pro Usability
Now is a good time to discuss a major shortfall of the Galaxy Buds2 Pro: the compatible Wearable app is only useable on Android devices, and a lot of the keynote features, including Hi-Res and 360 degree spatial audio, require a Samsung device.
I do not currently use or even have a Samsung device, so my review was limited by a lack thereof, and I will say the default onboard control schematic is very limited – basically you can only play/pause and switch between ANC/transparency. There is supposedly a double and triple tap onboard command for next and previous tracking functions respectively, but they straight up don't work, and others have complained about this issue as well.
A note before the next section: this page describes how I evaluate the sound quality of headphones and earbuds.
The Important Question: Does The Galaxy Buds2 Pro Sound Good?
The bottom line is that the Galaxy Buds2 Pro earbuds do indeed sound fantastic, and also seem to further improve on their predecessor. The tone is excellent, and at a level that's just above any other TWS earbuds I've listened too. The balance feels right where it should be. There's clear separation and incredible detail, yet everything still sounds nicely soft. The Galaxy Buds Pro, as good as it is, has a little boxyness in the mids, but the Buds2 Pro seems to have eliminated this.
It's kind of hard to explain – usually if you want nice crispy detail, you have to sacrifice warmth and accept a little thinness and sibilance, but the Galaxy Buds2 Pro seems to get around this somehow in a way that no other wireless earbud that I've ever listened to seems to be able to.
I don't have much else to say here honestly. Usually this section becomes longer as I become more critical, but the Galaxy Buds2 Pro are just good, and at this point I'd say the best fidelity you can get currently with TWS earbuds. Keep in mind I did my listening on non Android devices and didn't have access to Samsung's Hi-Res 24 bit codec or the EQ adjustability either. But, if the EQ is good as is – and I feel that it is – then an EQ app theoretically becomes moot. Taking advantage of 24 bit Hi-Res audio also requires that you have a service that offers it, and I'm very skeptical that the average person could tell the difference without a true audiophile rig that might cost several thousands of dollars. But that's a discussion for a different post.
My subjective gut feeling sound quality tier grade is: A
Final Verdict: Is The Samsung Galaxy Buds2 Pro Worth Getting?
The Galaxy Buds2 Pro improved upon the fit issues of the original Buds Pro, and further yet improved upon their already industry leading sound quality, and I can say with fair confidence that the Galaxy Buds2 Pro has the best sound quality currently available for TWS earbuds, and I'll say I was somewhat expecting to come to this conclusion. The ANC and noise attenuation is also amazing.
But then there's the usability issues – you pretty much can't do anything with the Buds2 Pro without an Android or Samsung device. If you want a comprehensive onboard control schematic and access to things like spatial audio and EQ adjustability, and you don't have a Samsung device, you might want to go with something else that's more universally compatible.
Get the Galaxy Buds2 Pro wireless earbuds on Amazon (affiliate link)
Popular Comparisons
For those who are curious how the Galaxy Buds2 Pro fares against popular competitors:
• Samsung Galaxy Buds2 Pro vs Google Pixel Buds Pro
• Samsung Galaxy Buds2 Pro vs legacy Samsung Galaxy Buds Pro
Miscellaneous FAQ
Are the Galaxy Buds2 Pro earbuds waterproof?
Yes, they have an official IPX7 certification, which means they can be fully submerged in water up to 1 meter for 30 minutes without getting damaged.
Is the Galaxy Buds2 Pro charging case waterproof also?
No, Samsung does not specify that the IPX7 certification as well. Companies that make wireless earbuds will usually specify if an IP code also applies to the charging case, and there are alternative TWS products that have both waterproof earbuds and charging cases.
Are the Galaxy Buds2 Pro the best Samsung earbuds?
Yes, I would say they are in terms of sound quality and usability.
Are the Galaxy Buds2 Pro better than Airpods Pro?
This is a tough one – I'd say that The Galaxy Buds2 Pro sound quality comes out ahead. But, if you're using an iPhone, the Galaxy Buds2 Pro functionality is limited and the AirPods Pro are probably better overall.
Are the Galaxy Buds2 Pro compatible with iPhones?
Yes, but you can't use some of the advertised features because the Samsung app is not compatible with iOS.
Are the Galaxy buds2 Pro good for running and working out?
They might be decent for working out because of their waterproofing, great ANC, and sound quality, but, I wouldn't say they are the ideal pair of earbuds for exercising because they don't have the most secure fit and their touch control schematic is very limited if you don't have a Samsung source device. Most people will probably be more at ease working out with a less expensive pair of wireless earbuds as well.