Written by Pete Anthony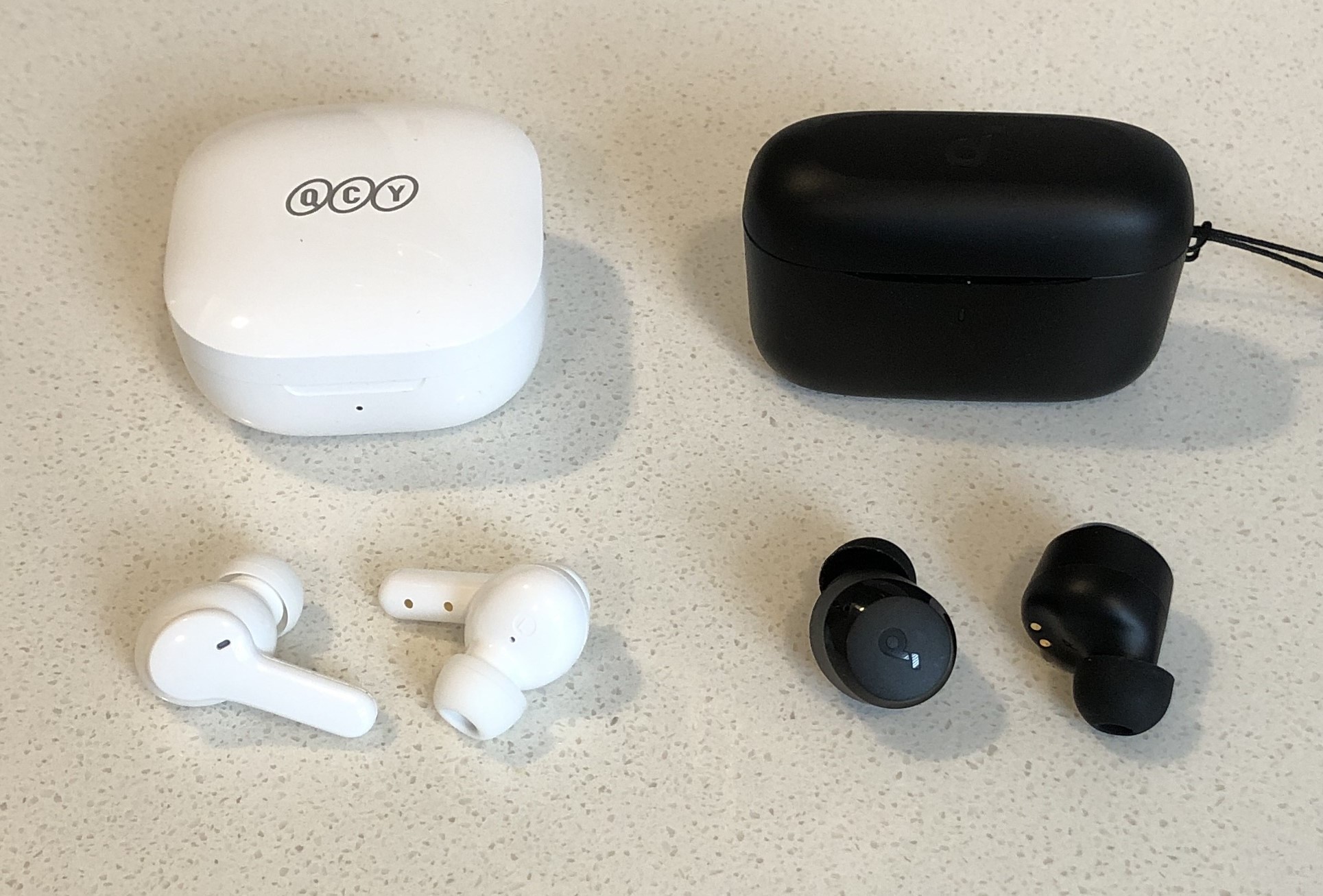 QCY and Soundcore are both relatively new and niche audio companies that produce wireless headphones and earbuds almost exclusively, which is a direction that many audio companies are starting to go since the TWS market has become massive and continues to grow quickly.
QCY's T13 has become a very popular pair of wireless earbuds, and is pretty much their flagship product at this point. Soundcore's A20i came out more recently, but it too is quickly becoming popular and I wouldn't be surprised if it caught up to the T13 sooner than later.
So how do the T13 and A20i actually compare to each other? is the newer A20i a better upgrade over the longer standing T13? I have fully reviewed both products and will answer those questions here.
QCY T13 vs Soundcore A20i Side by Side
QCY T13 vs Soundcore A20i Specs and Features
Spec
T13
A20i
release date
Jun, 2021
Apr, 2023
price-tier ⓘbudget: around $30 or less
value: around $30-$60
performance: around $60-$100
premium: around $100-$200
elite: more than $200
budget
budget
design style
7.2mm dynamic driver
6mm dynamic driver
earbuds battery life
8h
9h
total + case battery life
40h
28h
weatherproofing
IPX5
IPX5
onboard controls
touch based
touch based
wireless charging
no
no
active noise cancellation
no
no
transparency mode
no
no
Bluetooth version
5.1
5.3
EQ app compatibility
yes
yes (pre-sets only)
Multipoint 2+ device support
no
no
warranty
12 months
18 months
Besides their obviously different stemmed vs non-stemmed design, the T13 and A20i are mostly similar. What's interesting is that despite the T13 being older, it still has superior battery life and can have its EQ fully customized with the QCY app, while the A20i is only limited to a number of EQ pre-sets to choose from with the Soundcore app.
QCY T13 vs Soundcore A20i Fit and Comfort
Both the T13 and A20i fit are OK, but not perfect, and they have the same main issue: if I smile with my jaw wide enough the seal breaks and the bass gets sucked out. This issue feels a little more drastic with the T13, but, I do think the T13 is more comfortable to wear, mainly because the tips that come with the A20i have a kind of thin and rough texture that just isn't comfortable on the skin.
QCY T13 vs Soundcore A20i Isolation
The T13 sits a little lighter and shallower and thus doesn't have particularly great natural isolation. The A20i fit is a little firmer and deeper which I think gives it marginally better natural isolation.
QCY T13 vs Soundcore A20i Controls
Both the T13 and A20i touch controls were easy to use and reliable, and I didn't really have any "misses" with either. One advantage of the A20i is that it plays distinct tones to acknowledge which touch command was received while the T13 does not. Both the T13 and A20i don't have a touch command for volume control by default, but you can add it and assign the rest of the basic playback functions as you please with both on their respective apps.
QCY T13 vs Soundcore A20i Charging Case
The T13 case is bigger and on the bulky side generally, and it has the cornered edge on the lid that's less bag and pocket friendly. the A20i also has the lanyard and hook while the T13 case does not, if that's something you care about. The T13 case and lid hinge is a little more firm and sturdy than those of the A20i. The A20i is a little thin and plasticky in comparison to the T13 case and in general for that matter.
QCY T13 vs Soundcore A20i Sound Quality
Preliminary note: this page explains how I evaluate the sound quality of headphones and earbuds.
The QCY T13 has noticeably better default sound and tuning than the A20i does, and the A20i's default tuning has significant flaws in my opinion, which is something that has been an issue in general with Soundcore's more recent releases. Furthermore, the T13 can have the EQ fully customized, while the A20i only has access to various pre-sets and can't really be tinkered with.
The best A20i EQ preset (in my opinion at least) was able to close the gap between it and the T13, but the T13 still comes out ahead since it too can be improved with some EQ adjusting, and as I've now said multiple times, the T13 overall sounds very impressive for a budget tier TWS earbud. The T13 does a nice job with the softer and warmer style while still preserving good detail, separation, and soundstaging. The A20i in comparison sounds a little cluttered and less natural.
Final Verdict: Is the QCY T13 or Soundcore A20i Better?
I'm a fidelity guy first and foremost, as I often say, and for that reason the T13 is the clear choice between it and the A20i, mainly because you can customize T13's EQ while you can't fully customize the A20i's EQ, and EQ customization can make a big difference in sound quality. The T13 does have the more noticeable seal breaking and suck-out issues, but I can live with that, especially because its fit and tips are more comfortable than those of the A20i.
Get the QCY T13 wireless earbuds on Amazon (affiliate link)
Get the Soundcore A20i on Amazon (affiliate link)
Relevant Articles
• Full QCY T13 review
• Full Soundcore A20i review
• The overall best budget true wireless earbuds (under $30)