Last Updated On: 11-4-19
Bottom Line: a few particular criticisms, but overall solid sound for a competitive price. Also looks great. Now a legacy to the next generation 3020i speakers.
Q Acoustics, a British audio company founded circa 2006, started making noise in the audio world after releasing the 3000 series in 2015. The 3020s are the larger of two bookshelf speakers in the lineup, and still remain quite popular.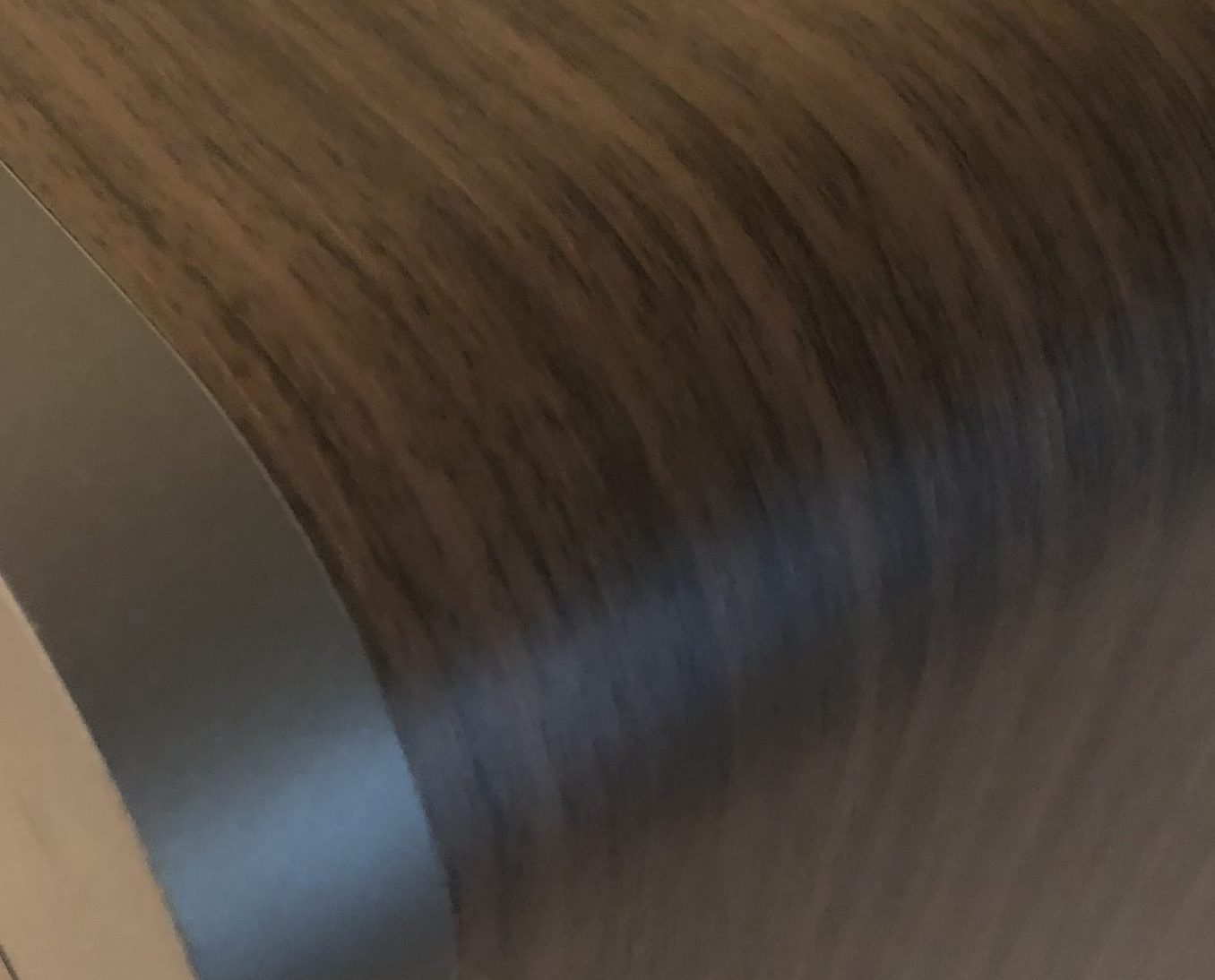 Feels very nice and sturdy. A lot of faux wood speakers look straight up terrible, but the walnut color these come in looks very nice and pairs well with the dark grey front panel.
The included covers magnetically attach and are easy to remove and place.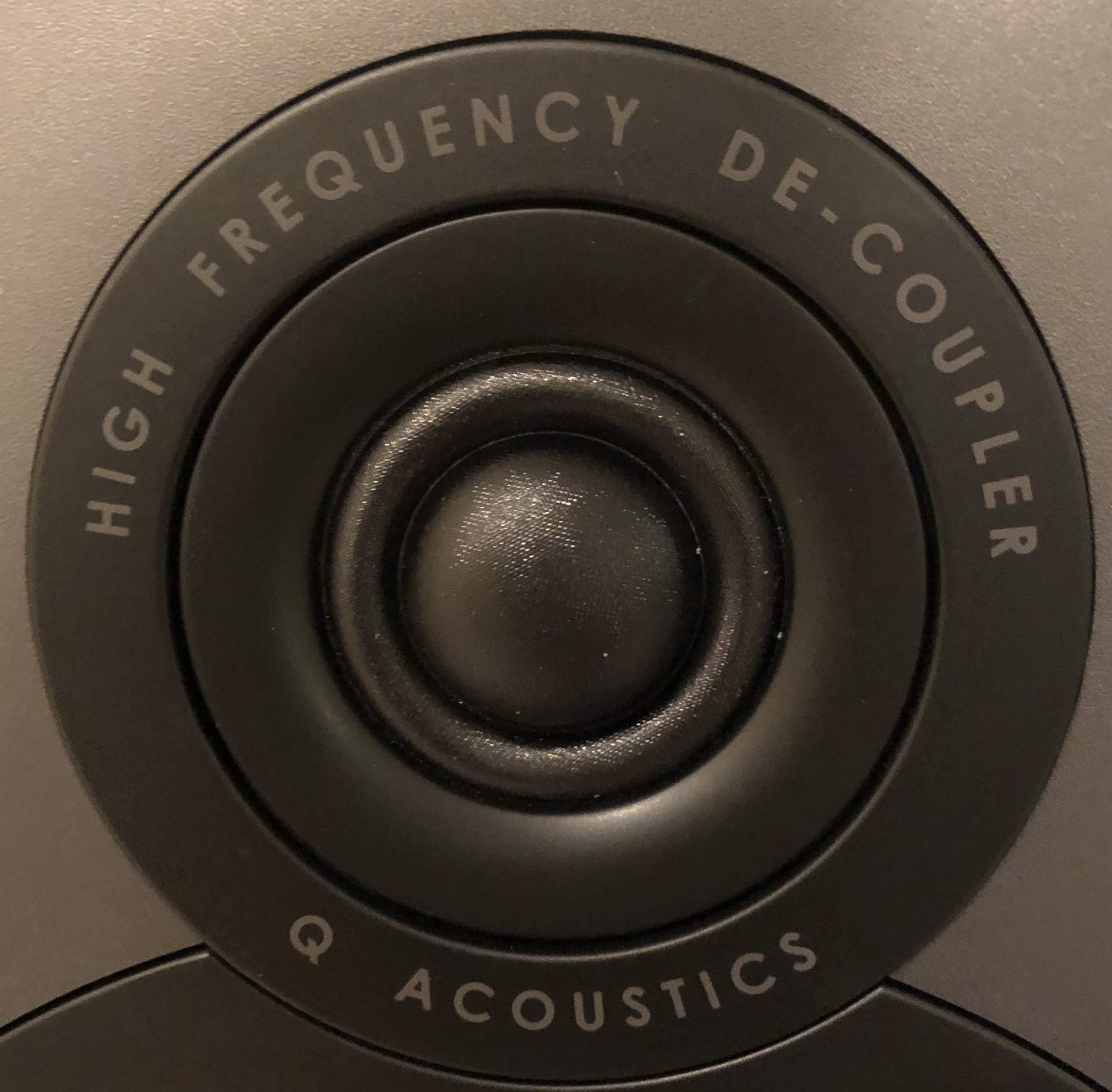 The tweeter itself is a standard looking ~1 inch dome cloth blend, but the overall design here is unique and interesting. The tweeter has a large surround with the same cloth blend, which is embedded in what looks to be two separate baffle pieces. The inner piece is a small waveguide, and the outer "high frequency de-coupler" is designed, we think, to minimize any resonance from the cabinet. Whether such a piece could actually make a perceptible difference is questionable.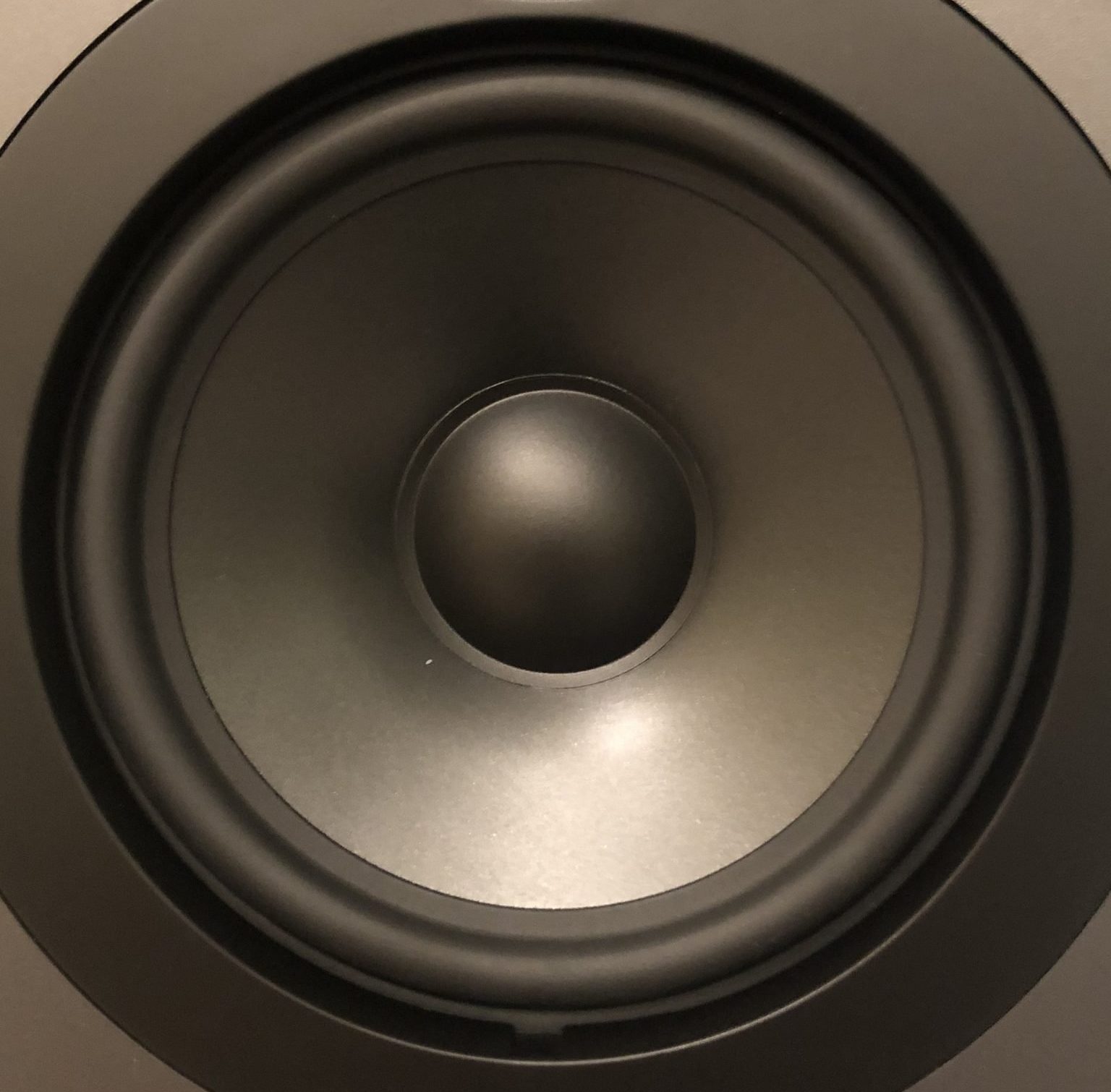 Pretty standard looking ~5 inch paper cone with a dome dust cap and a rubber surround.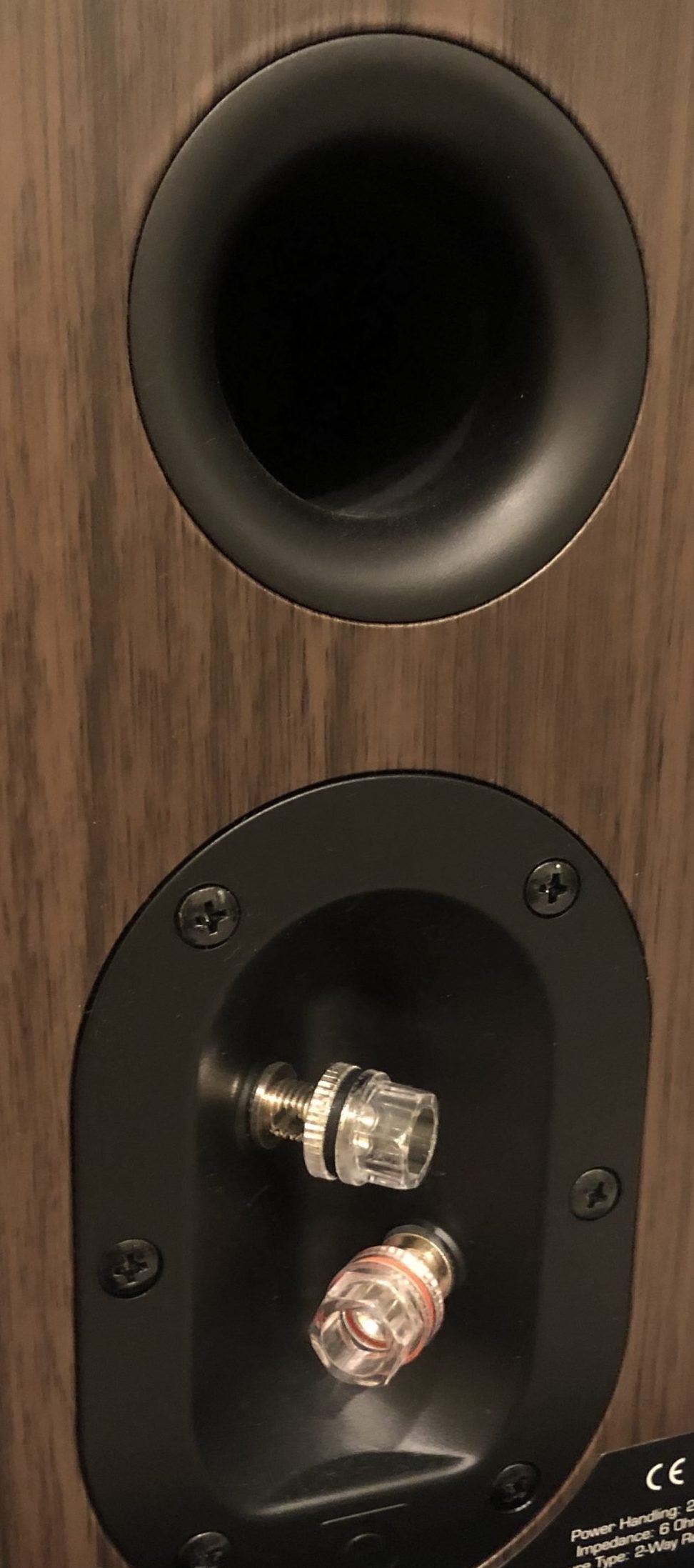 Two 5-way binding posts, angled inward we think to help with spacing and cable management, didn't seem to make set up any more difficult. Do keep in mind that these are passive speakers and will need to be connected to a receiver or amp with speaker wire.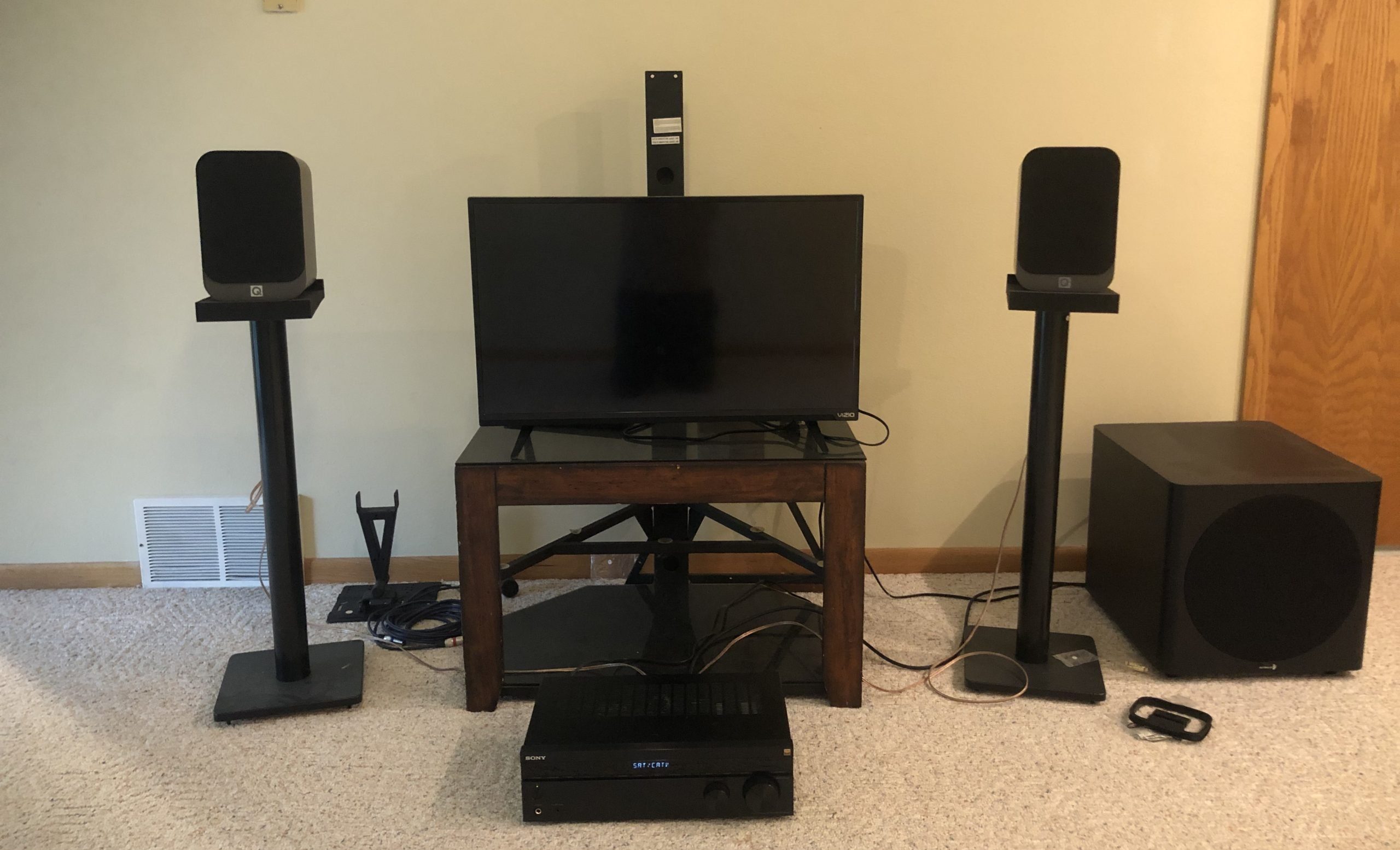 We've put at least 50 hours into these speakers, both on carpet and hardwood floor. Above is the set up we used for in depth a/b testing. Connected to a Pioneer-SX-10AE receiver (reviewed here) which also has a Dayton SUB 1200 (reviewed here) connected to it. Fairly representative of a basic entry-level sytsem.
Sound And Performance
General impression:
Overall decent for the price-point, no major flaws that were immediately apparent.
Sound signature/response curve:
The 3020s are definitely bright and sometimes a bit harsh, with a thin and sharp kind of feeling. Slight boxyness from time to time if you're listening closely enough. Clarity and separation seems rock solid, no sluggishness at all.
The one exception, we'd argue, is that there's some apparent suckout somewhere in the high mids. Vocals and lead guitars and such seem to get lost, and the natural temptation is to turn the volume up to compensate, but all that seems to do is run into excessive harshness in the mid ranges.
Sound staging:
Generally decent, there's a solid middle perception with at least 8 feet of spacing between the speakers. However the aforementioned suckout makes the high-mids sound weirdly stacked behind the low-mids.
Bass:
The quoted response range within 3 dB is 68-22k Hz, but the bass definitely drops off before that floor. Setting a subwoofer crossover around 110 Hz seemed optimal. So, if used alone the 3020s will have lower recession and lack bass. We always recommend using a subwoofer with bookshelf speakers, but, some speakers can sound "complete" as standalones, but definitely not the 3020s.
Power/Volume:
They do have a lower 6 ohm impedance, but there were no issues whatsoever with filling a large room with two 100 W channels, plenty of volume to work with.
Compared to Monitors

We a/b tested against JBL 305P MkIIs (reviewed here), which we and many others consider to be the gold standard of neutral sound for entry-level bookshelf speakers. The 3020s had comparable clarity, but, the high-mid suckout was definitely apparent when we played segments while switching back and forth. As was the brightness, but some people might find it preferable.
One reason the 305s are so amazing is the excellent bass reproduction with mere 5.25 inch woofers, which, despite our tinkering, still sounded a little better than the 3020s crossed over with a subwoofer. Results may vary though.
Our Overall Take, As Compared To The Competition
We've seen the 3020s creep below $200, which is a solidly competitive price for what they offer. They'll probably continue to get discounted because Q Acoustics has since released the newer generation 3020i speakers, which have a larger and re-designed cabinet. But could that yield sound improvement worth a ~50% price increase? We'd say unlikely.
All 3000 series speakers have a five year warranty, which is about as good as it gets for entry-level bookshelf speakers.
The 200-300$ price-point has a lot of competition now, significantly more than there was in 2015 when the 3000 series was originally released. The 3020s have gotten their fair share of gushing praise, but, we'd say there's still a decent chance you'll be able to spend that money on something that sounds better, objectively or otherwise, so it's definitely worth looking around.
Get the Q-3020 speakers on Amazon (affiliate link)
Need a receiver? Our current picks for the overall best budget receivers