JBL's older LSR 3 Series studio monitors are widely considered to be some of the best value-tier bookshelf speakers ever made, and the MkII speakers are a 2nd gen version released circa early 2018. The revamped lineup consists of three different models that vary in size and power but otherwise have the same design. We acquired a pair of the smaller 305s, which is the most popular model of the three.
Important Specs Overview
| Model | 305P MkII | 306P MkII | 308P MkII |
| --- | --- | --- | --- |
| Speaker Type | powered, 2-way, back ported | (<-- same) | (<-- same) |
| Continuous SPL | 94 dB | 92 dB | 102 dB |
| Peak SPL | 108 dB | 110 dB | 112 dB |
| Sensitivity (db/W/m) | 92 | 92 | 92 |
| Response Range (+/-10 dB | 43 - 24k Hz | 39 - 24k Hz | 37 - 24k Hz |
| Woofer Size | 5 in | 6 in | 8 in |
| Unit Dimensions (w x d x h) | 7.5 x 10 x 12 in | 9 x 11 x 16 in | 10 x 12 x 17 in |
| Unit Weight | 10.5 lbs | 13.5 lbs | 18 lbs |
| Warranty | 3 years (electronics); 5 years (parts) | (<-- same) | (<-- same) |
Review And Discussion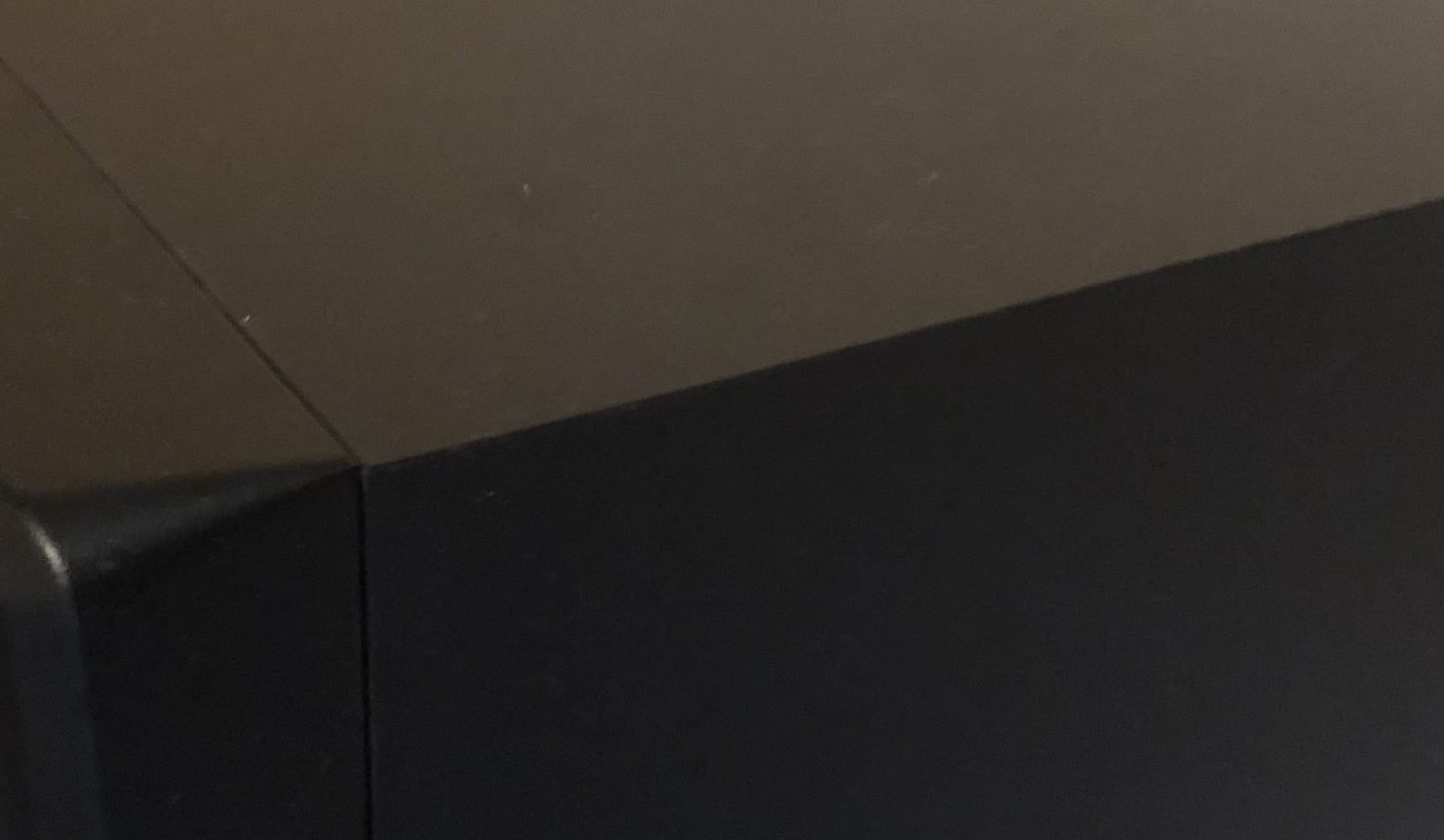 Pretty standard looking MDF. The baffle is a separate piece with contoured corners, which houses yet another separate piece of ABS plastic with the distinct waveguide tweeter horn. Overall look is pretty standard JBL style – decent, but kind of plain and dated, not as slick as some more aesthetically focused competitors like ELAC or Polk.
The tweeter is a ~1 inch woven soft dome with a small rubber surround, fairly standard.
The woofer is a plastic polymer with a soft dust cap and a rubber surround, again pretty standard. The woofer is also depressed into the same plastic panel that that has the tweeter horn which is kind of neat.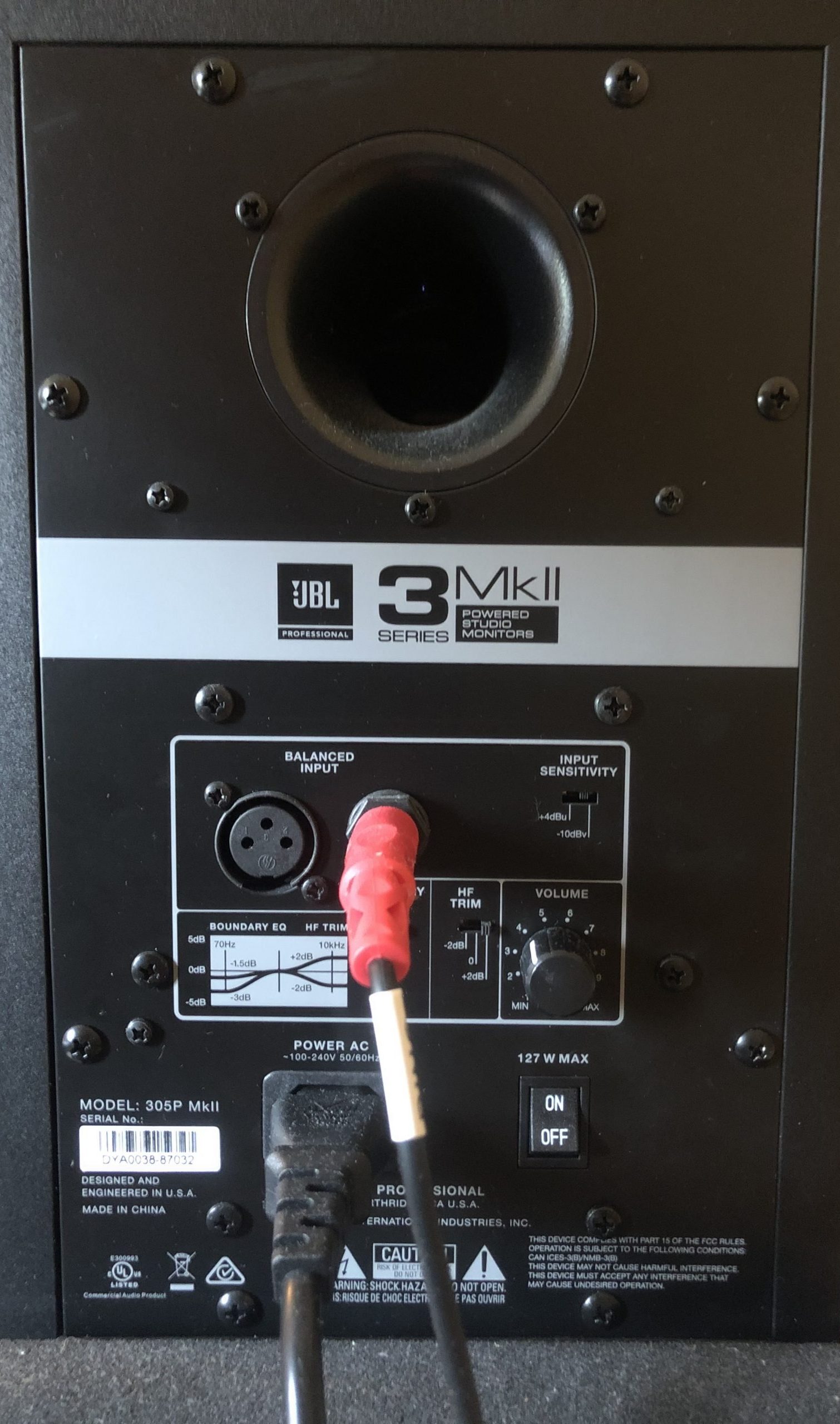 Has a balanced xlr and 6.35mm jack, either of which can be used to connect to a source or a separate piece of equipment. Also has a few tone/eq adjusters for some customization. The power socket takes a standard 18 AWG AC power cable. Ancillary cables are not included and need to be purchased separately. Keep in mind that this speaker is independently functioning, so a pair will require two power cables and a Y cable at a minimum. Make sure any Y cable you get can separate wide enough to reach both speakers. This power cable and this Y cable will do the job for any standard 3.5mm jack. Also worth mentioning: we strongly recommend using a surge protector for any powered speaker.
The advantage of powered speakers is that you can just plug them in and play, no amp/receiver or speaker wire required. The concession, though, is that you usually sacrifice some performance compared to a similarly priced passive speaker. JBL has apparently bucked that commonality though – each speaker has two amps to individually drive the tweeter and woofer, giving it power handling and response curve specs that are on par with similarly priced passive speakers. In other words, these speakers can solidly cover a full range of sound and get quite loud, easily enough so to cover a full room as a standalone set.
The response range is quite decent for a 2-way bookshelf speaker, particularly the larger 308 with the 8 inch woofer. A 10 dB differential will mean there's some drop off once you creep below 40 Hz, but still that's pretty darn good for a single mid-range woofer, and these can absolutely sound complete without a subwoofer. If you do decide to directly add a subwoofer, keep in mind there's no built in crossover to separate the lows from the mids, so the woofers will still try to create the same lows the subwoofer would and there will be some overlap which could cause some muddiness. We tried adding a sub this way and it sounded fine with a little crossover tweaking on the sub itself, but truth be told the bass extension of even the smallest 305 is seriously impressive and most people won't feel the need for a subwoofer. You could run the source through an initial crossover (decent preamps can do this), but that's an extra expense.
The one concession these speakers inevitably must make with housing two amplifiers each is that they're really big and heavy. While the 305 remains reasonably compact and light, the largest 308 comes in at a whopping 17 inches and 18 lbs – definitely the heaviest powered bookshelf speaker we've reviewed thus far. No, it's not like you'll need a dolly to move them like you might with some of the bigger towers out there, but they're big and heavy enough to potentially be an impedance nonetheless. One other potential issue with the amps is that there is sometimes an audible hiss, but we were able to eliminate it just by turning up all devices to full volume while keeping the actual speaker volume as low as possible, and this is something that's generally considered good practice anyway.
The warranty on JBL powered speakers is 3 years for electronics, and 5 years for parts, which is excellent and definitely top of the line coverage for powered speakers, where 1-2 years of warranty is more the norm.
Updated Listening Notes
We've now put well over 100 hours into these speakers, and the consensus remains that these sound truly fantastic for the price. The reproduction is neutral with great clarity and separation, which is exactly what you want if you're using these for their primarily intended purpose of professional monitoring. We still can't get over just how good the bass extension is for a single five inch woofer. They can be a bit harsh and boomy at close desktop range and will frankly be way overkill on volume/power, so we recommend giving a pair at least 4-5 feet of separation from each other and you if possible. Right at that spot between near and midfield listening is where these speakers really shine.
Our Overall Take, As Compared To The Competition
For everything that you get, the sheer value of these speakers is seemingly preposterous, especially so now because we've seen them start to get significantly discounted even just two years after their release. It's not surprising these are one of only two budget speakers that are officially endorsed by the /r/audiophile subreddit. If you don't mind something that's rather bulky and heavy, we'd say that for the price this is the best powered speaker you can currently get. There are other smaller and cheaper powered speakers that might feel more appropriate, or some that have more connection terminals and features that are commonly of interest, but we think the majority of people will love the MkII speakers.
Get the JBL MkII speakers on Amazon (affiliate link)