Written by Pete Anthony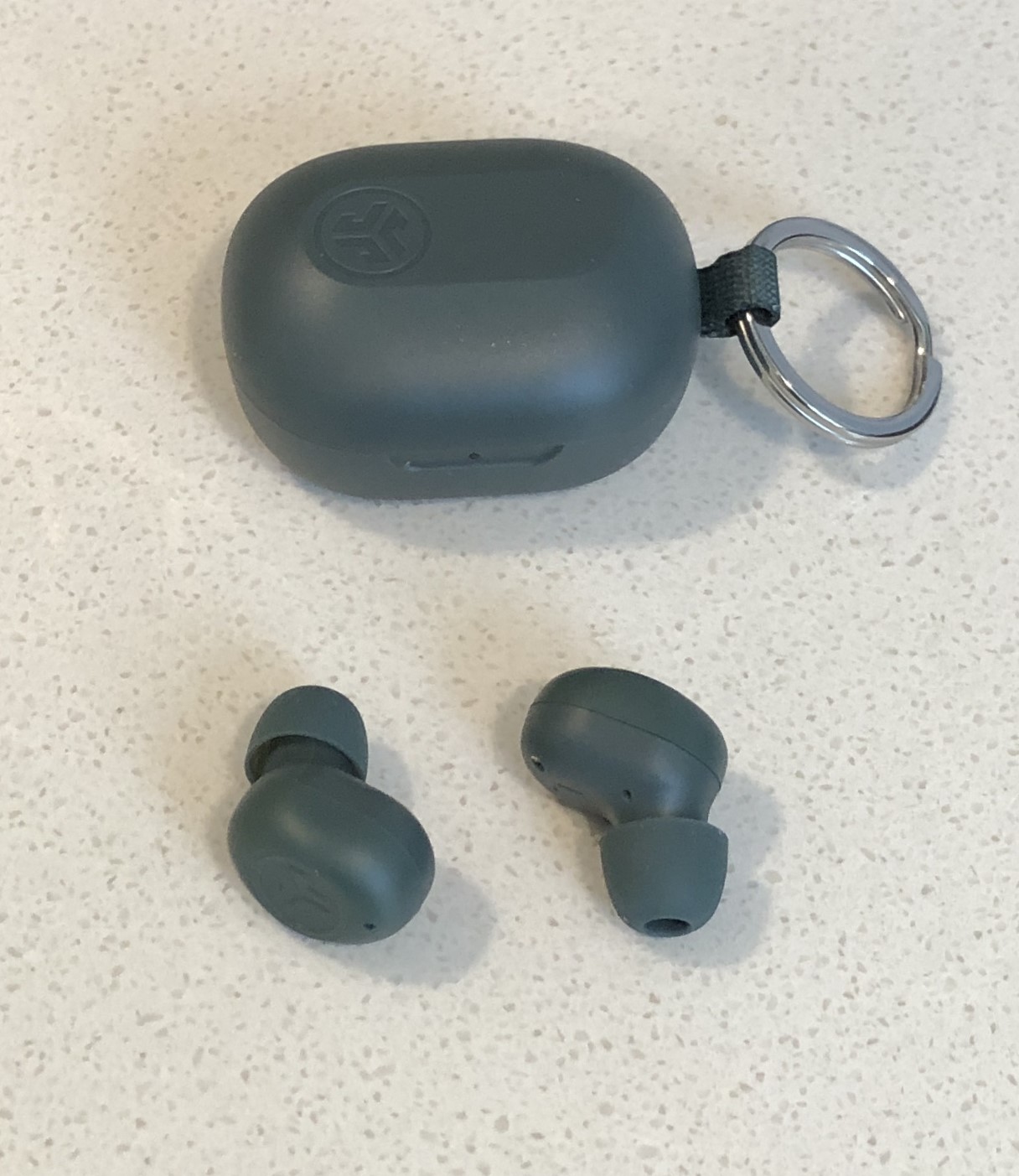 JLab has made a name for itself in the last few years for producing a variety of decent wireless earbuds that are really aimed at the practical user and practical situations, one of which is the need for something that's very small and portable.
Enter the new JBuds Mini – they're JLab's smallest earbuds ever, and the company further claims that they are "the smallest true wireless earbud of any major headphone brand." How small and convenient are they actually though? And does their performance belie their minimal size? Lets dive in.
JLab JBuds Mini Specs and Features
Released: July, 2023
Price-point ⓘbudget: around $30 or less
value: around $30-$60
performance: around $60-$100
premium: around $100-$200
elite more than $200: value
Design style: single 6mm dynamic driver
Purported battery life: 5.5h earbuds; 20h total with case recharges
Bluetooth version: 5.3
Weatherproofing: IP55
EQ app compatibility: yes
Active noise cancellation: no
Transparency mode: yes
Auto play/pause sensors: no
Onboard controls: touch based
Multipoint 2+ device support: yes
Warranty: 2 years
JLab JBuds Mini Fit and Comfort
I was able to get a decently comfortable fit and eventually found a position where the seal was secure and didn't break if I moved any part of my head around. I was not able to get a proper seal with the default medium tips and had to switch to the large tips. The fit is definitely on the light and shallow side.
The included tips don't actually vary much in size – I think people with larger ears will have fit issues with the JBuds Mini, but on the other hand, I think people with smaller ears might find exactly what they're looking for with it.
The casing has the non-contoured plain oval shape, and as a result of that and it being so small I couldn't really find a natural spot for it to sit on my ear. If I positioned them relatively "normally," with the backs facing more or less straight out, the buds were a little shallow and the angle felt a bit off, and while I was able to get a seal it broke fairly easily if I smiled or otherwise moved my head or face around.
With a little more tinkering, though, I eventually found that if I rotated the tips kind of up and inward, I achieved a fit that felt "right," and the seal was also able to properly hold. However, the result is that the buds were positioned quite awkwardly: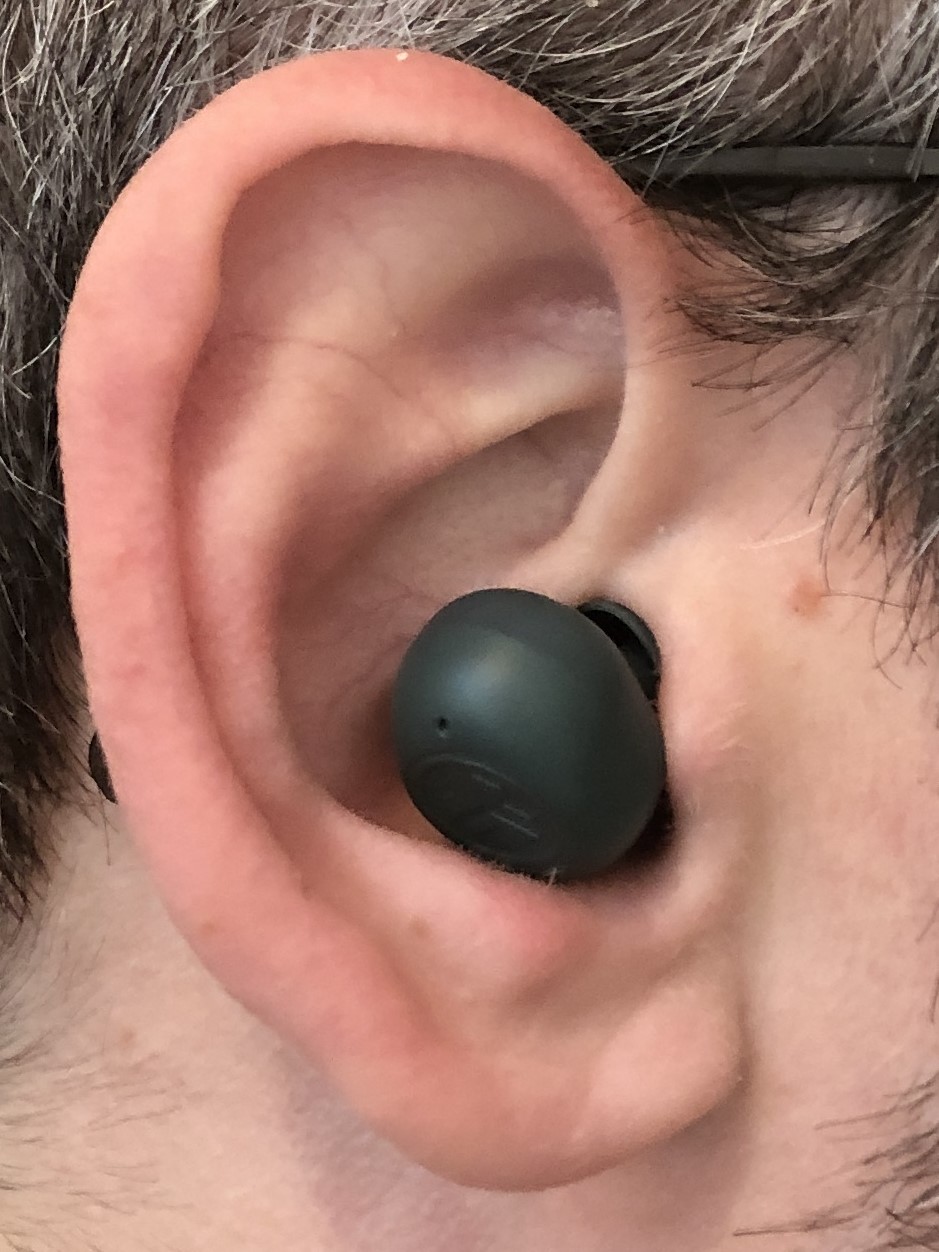 The problem that arose here, as you can likely infer, is that utilizing the touch controls also become awkward when the backs were facing at such a weird angle. I was still able to figure out how to do it, and was able to successfully execute the various touch commands, but it took a fair bit of finicking and it wasn't so easy and seamless – I really had to get my finger at the right angle, and it was easy to accidentally shift the bud since the front inside part was not braced directly against my ear.
It's worth reiterating here that earbud fit will always be somewhat of a crapshoot because no two person's ears are ever the same, and your mileage may vary, but I think its safe to conclude that the JBuds Mini is very much intended for people with smaller ears that might have trouble with the majority of "regular" sized earbuds.
JLab JBuds Mini Isolation
The JBuds Mini do have a transparency mode but no active noise cancellation, and the natural isolation is not particularly great – I'd put it around low-medium. I think this is an unavoidable consequence of this type of product – a lot of natural isolation comes down to the buds themselves being big enough to physically block more noise.
Relevant reading: what is the difference between isolation and active noise cancellation?
JLab JBuds Mini Controls
The JLab Mini has a touch control schematic with eight function slots and has all of the basic functions that people will want: volume, tracking, play/pause, and toggle transparency on/off. Moreover, you can individually customize each function slot to any command that you want with the JLab app – it's simple, easy, and how every TWS earbud should be.
Despite the buds and the backs being small, per the type of product that this is obviously, I found the touch controls easy to use and reliable, and I didn't really have any "misses." The "switch EQ" and "noise control" functions have distinct beeps to indicate the command was registered, but none of the other functions do, and that would really be my only small complaint.
JLab JBuds Mini Bluetooth Pairing and Multipoint
Initially pairing the JBuds Mini and pairing it to a second device via multipoint was easy and straightforward. When you take the buds out of the case after the initial charge they will automatically enter pairing mode, then you simply select "JLab Jbuds Mini" from the Bluetooth menu and you're good to go.
To pair the JBuds Mini to a second device, all you have to do is turn off Bluetooth on your initial device and the buds will automatically reenter pairing mode, then you do the same thing to pair it to the second device.
I did have to reconnect the buds (from "paired" to "connected") on my initial device, but once I did that the multipoint worked flawlessly. If I was playing something on the first device, and I started playing something on the second device, the first device would automatically pause and the audio would automatically switch to the second device.
JLab JBuds Mini Charging Case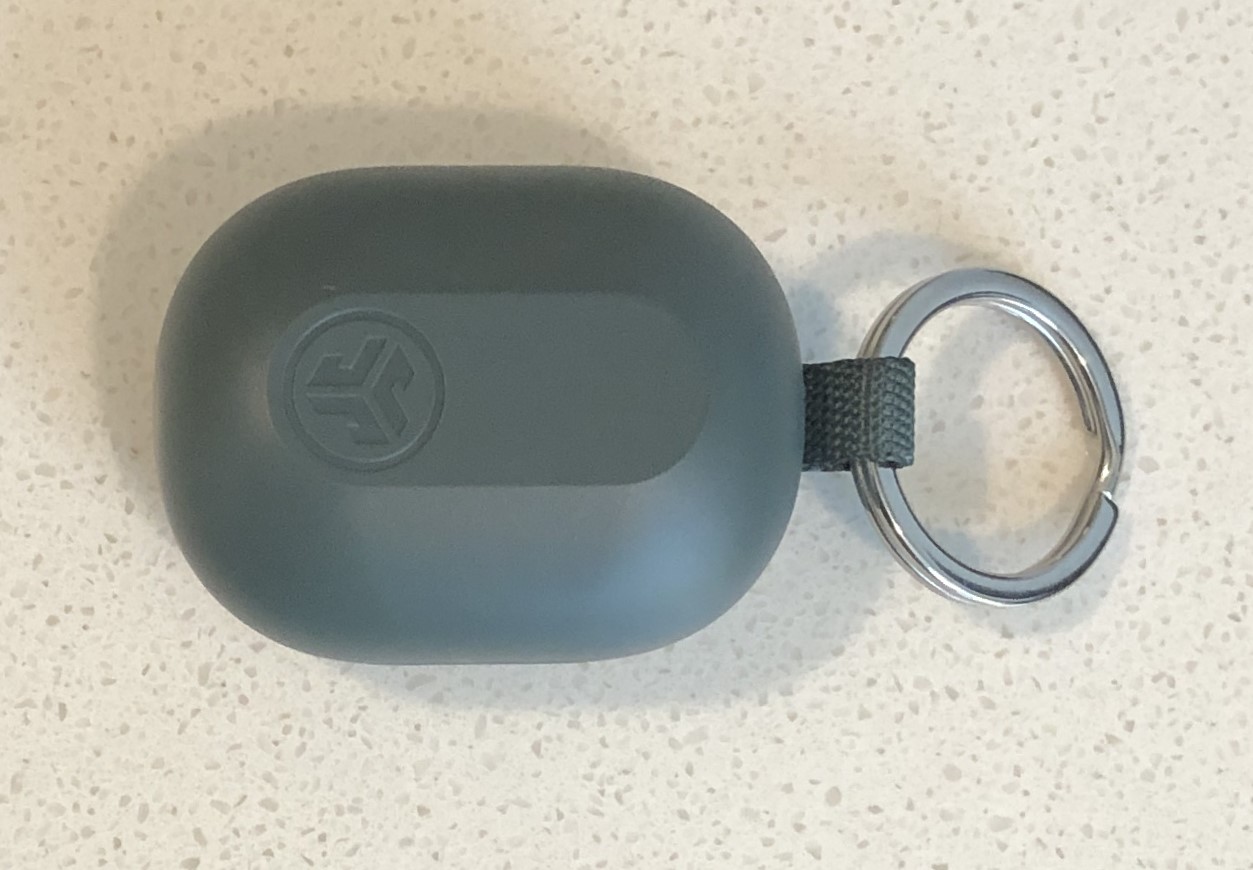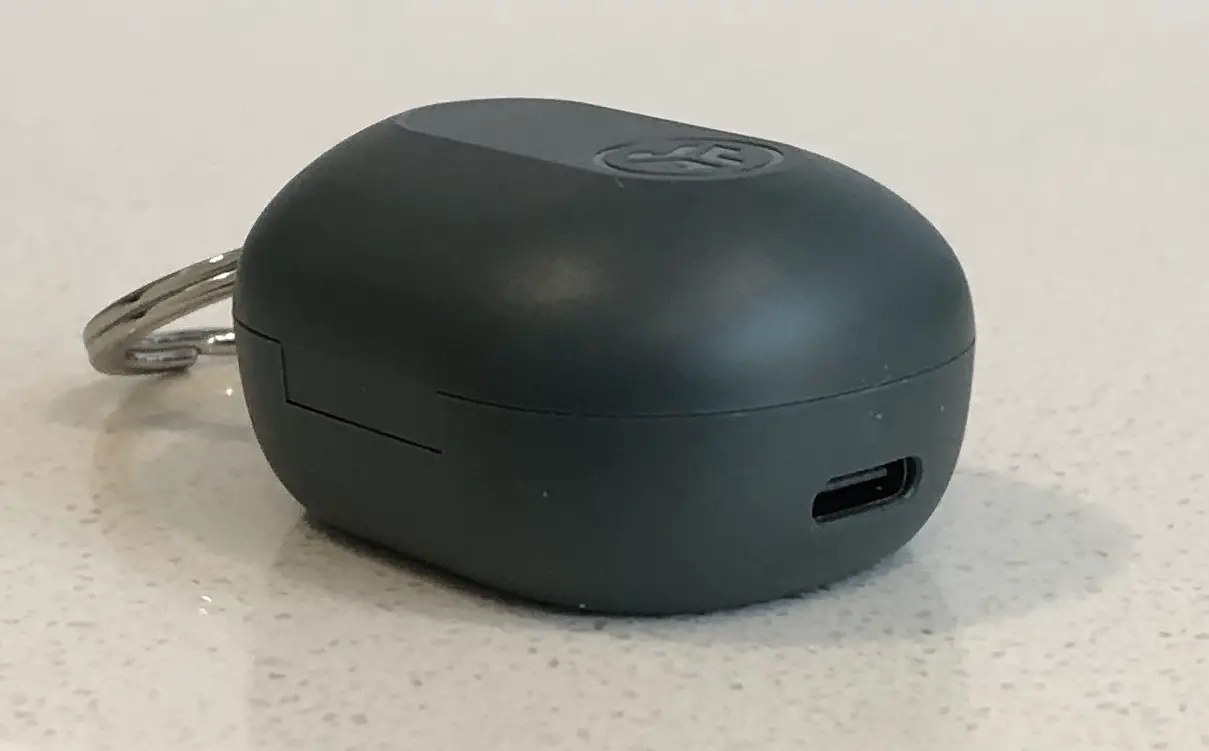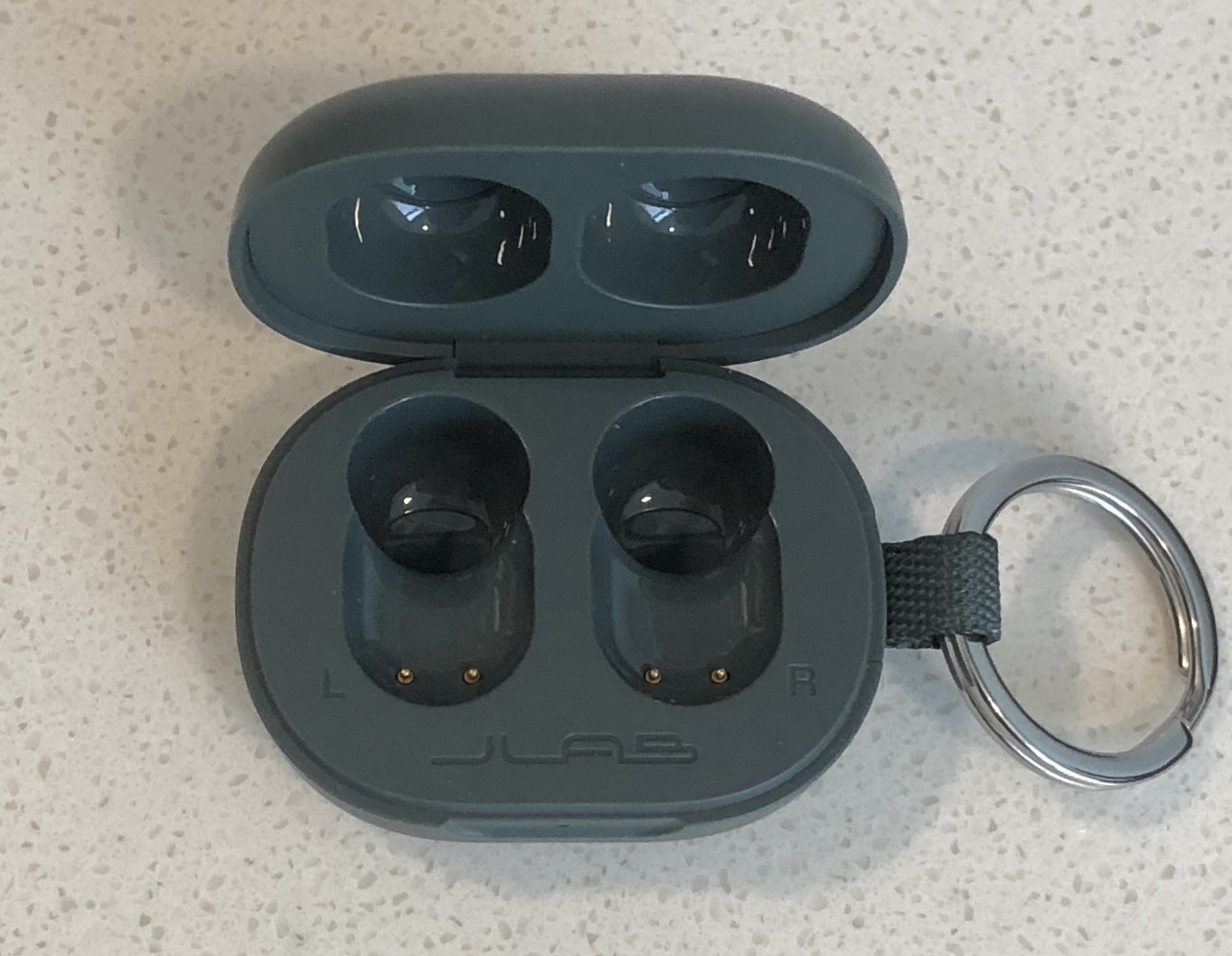 The case is indeed very small. It's the smallest TWS case I've seen, and by a fairly significant margin. The hook and key ring is also a neat inclusion, and I actually do think these could work as part of a key chain. While most JLab TWS earbud cases have built in charging cables, the JBuds Mini forgoes this and has a much more common and standard USB-C port.
The case is pretty basic but is surprisingly firm and sturdy – it didn't give really at all to squeezing force. The lid hinge is a little flimsy but still reasonably sturdy.
JLab has done a great job here I think, considering the type of product that the JBuds Mini is.
JLab JBuds Mini Test: Does It Sound Good?
Preliminary note: this page explains how I evaluate the sound quality of headphones and earbuds.
The JBuds Mini has decent sound quality out of the box, with the default "JLab Signature" tuning. It's a little bassy and the mids are a little sucked out, but all in all the accuracy and detail is good and the sound feels natural. The "balanced" pre-set in comparison sounds a little boxy and hollow, with mids that are too tuned up compared to the rest, and I think the default tuning sounds the best.
The JBuds Mini is compatible with the JLab app (which is apparently a new app from the one I have previously used), and you can customize the EQ, but therein lies a very peculiar issue. The only way to create a custom EQ profile is to start from the "custom" tab which makes everything flat by default. This is fine, except when I activated the "custom" EQ tab something bizarre happened: the accuracy and tone went down the drain, and it was like I was listening to a different and lesser quality recording of the song – everything became muffled and collapsed in, and no amount of "customization" could rectify the issue much less improve upon the default JLab Signature pre-set.
The other issue which compounds on that is that you cannot customize off of the pre-sets at all. This is too bad, because all I wanted to do was make a few small adjustments to the default tuning which I think could have improved the sound quality by like half a letter grade.
The bass extension is relatively average for budget earbuds, and about what I expected with a 6mm driver. The drops I normally test rolled off and jumped back a bit, even with the tuned up bassy default settings.
My subjective gut feeling sound quality tier grade is: B-
Final Verdict: Is the JLab JBuds Mini Worth Buying?
If you're indeed looking for small-as-possible pair of TWS earbuds, or something that will work well with small ears, I think the JBuds Mini does a great job at being that which it intends to, and I think it sounds plenty good enough for most users.
If you don't actually care so much about the "mini" aspect, I think there are better choices at this price-point. I also think people with bigger or maybe even average sized ears will have fit issues with the JBuds Mini.
Get the JBuds Mini wireless earbuds on Amazon (affiliate link)
Relevant Articles
• Is JLab a good audio brand?
• The best true wireless earbuds under $50
Frequently Asked Questions
Are the JBuds Mini really the smallest true wireless earbuds?
They are the smallest TWS earbuds and case that I've yet to see or review so far, and by a fairly significant margin.
Are the JBuds Mini waterproof?
No, they are IP55 certified, which means they are dust and splash resistant, but can't be fully submerged.