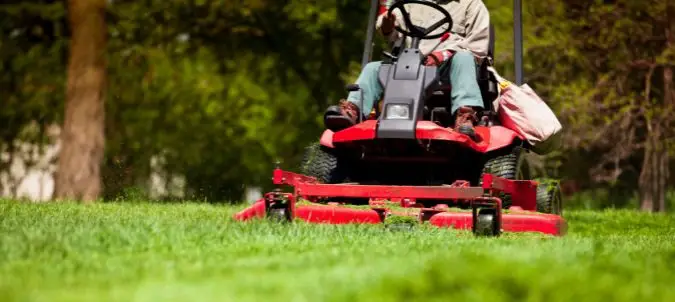 Wearing hearing protection while using a powered lawn mower is essential. Hearing damage can begin to occur at volume levels that are significantly lower than a lot of people expect, and powered lawn mowers and other landscaping equipment significantly exceed those levels.
Regular earplugs and safety muffs do work perfectly fine for hearing protection, but, mowing can get pretty boring. Fortunately there are now a variety of headphones and earbuds that are also designed to provide hearing protection so you can listen to music while doing outdoor work and do so safely.
How Much Hearing Protection Do You Actually Need For Mowing?
According to the CDC, the average gas powered lawn mower creates around 85-95 dB of noise, which is loud enough to cause hearing damage after 1-2 hours of exposure. Furthermore the EPA and World Health Organization (WHO) determined that 70 dB or lower is the threshold where continuous noise is quiet enough to not cause hearing damage for most people. So, hearing protection that provides at least 20 dB of noise reduction is most likely enough to keep your ears safe.
Still, it doesn't hurt to have more – even if a lawn mower is quieted enough to a safe volume level, it might still be loud enough to be annoying, and there's also a chance a person might unwittingly turn the volume up on their headphones to unsafe levels to fully drown the external noise out which defeats the purpose.
Do Noise Cancelling Headphones Protect Hearing While Mowing?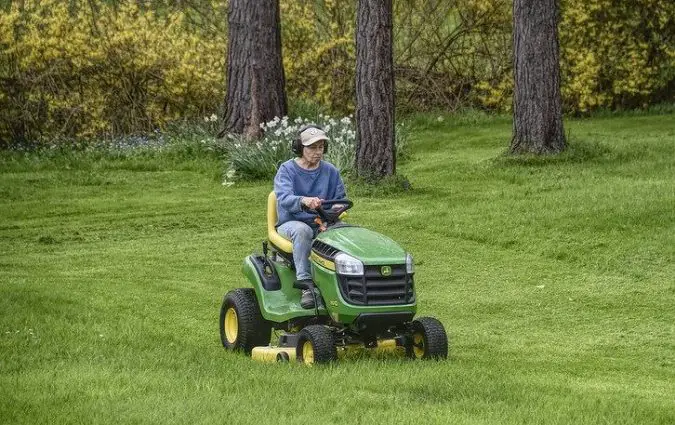 Yes, both passive isolation and active noise cancellation offer hearing protection, they just work in different ways. In fact, ANC does a particularly effective job of attenuating low frequency noise like, you guessed it, the hum of a lawn mower engine.
What to Look For in Headphones and Earbuds Specifically For Hearing Protection
There are obviously a lot of different headphones and earbuds to choose from, and many of them are great, but for different reasons and different things. A comfortable and easy to use pair of headphones might be great for casual use, but not so great in a professional studio for example. If you're looking for something that's good outdoor use or manual labor in general, and hearing protection is a priority, here's what you should look for:
Very Secure Fit
A big part of a headphone or earbud's ability to attenuate external noise is the physical barrier it creates between your eardrum and the environment with a secure and fairly tight fit. Chances are you'll want to get something that feels considerably firmer and tighter than you're probably used to with regular casual use headphones or earbuds. This might be a little uncomfortable, but temporary discomfort is a worthwhile trade off for preventing hearing damage.
With over ear headphones you'll want a stiffer headband that has a tighter clamp force, and pads that fit fully around the ear rather than being on ear. With earbuds you'll want tips that sit deeper and exert a fair amount of pressure on your ear canal, and tips that are double or triple flanged.
Weather Resistance
Mowing obviously happens outdoors, where you'll be exposed to the elements, so it's good to have a pair of headphones or earbuds that's graded for outdoor use. Look for something that ideally has a double digit IP Code, which means it's resistant to both water and dust/debris.
Noise Attenuation/Reduction Rating
Any pair of isolating headphones or earbuds should have a specified level of noise reduction, often abbreviated NRR, in decibels (dB), so you can be sure you get well below the threshold of hearing safety.
If You Go With Earbuds – Something Wireless and Smaller
The reason here being that smaller true wireless earbuds give you the option to wear a pair of noise reducing earmuffs on top of them, which is a great idea for really ensuring you get maximum hearing protection.
Our Picks for the Best Hearing Protection for Mowing and Outdoor Work
The Best Headphones for Mowing- Sony WH-1000XM4
The WH-1000XM4 has been one of the most popular and best performing ANC headphones for years – Sony's noise cancelling tech is among the best and these headphones specifically have a nicely firm and secure fit. These are actually the older version of the current WH-1000MX5, but they're less expensive and the ANC is actually just as good.
Get the WH-1000MX4 noise cancelling headphones on Amazon (affiliate link)
The Best Earbuds for Mowing – Soundcore Space A40
The Space A40 true wireless earbuds are very lightweight, IPX4 certified weather resistant, securely fitting, and have some of the best ANC available. You can easily fit an additional pair of ear muffs over them to ensure maximum hearing protection.
Get the Space A40 wireless earbuds on Amazon (affiliate link)
Best Budget Earbuds For Mowing – Elgin Ruckus
Elgin specializes in workplace earphones that are OSHA compliant, and even though the Ruckus earphones are very inexpensive, you can still be confident they will sufficiently offer hearing protection because they have an EPA issued NRR rating of 25 dB. They also have a double digit IP65 weather resistance code, which means they are both dust and water resistant.
The Best Earplugs for Lawn Mowing – Etymotic Research ER20
Etymotic research is a company that, for decades, has been an industry leader in hearing protection equipment as well as professional grade audiology equipment development, and their products offer some of the best noise reduction available.
Get the ER20 earplugs on Amazon (affiliate link)
Frequently Asked Questions
Is a lawn mower loud enough to cause hearing damage?
Yes, the average volume of gas powered mowers in particular significantly exceed the 70 dB threshold of where hearing damage can begin to occur in most people with continuous exposure. A Lawn mower is potentially loud enough to cause hearing damage in less than an hour of exposure.
Should you wear headphones when cutting grass?
You should wear some kind of hearing protection when using any powered landscaping equipment, but it doesn't necessarily have to be headphones. Good earbuds or earplugs can offer sufficient hearing protection.
Can you mow the lawn with AirPods?
You cannot safely mow with regular AirPods because they don't have ANC or tips that offer sufficient passive isolation. However, you can safely mow with AirPods Pro (2nd Generation) because they do have ANC and isolation tips and offer at least 20 dB of noise reduction. Wearing a pair of safety muffs over them, which you can do, is still a good idea to be totally safe.
How do you listen to music while mowing the lawn (safely)?
There are a variety of wired and wireless headphones that can play music and offer sufficient hearing protection from the noise of a mower. That said, you want to avoid simply turning the volume of headphones up too much in an attempt to drown out the noise of a mower – that doesn't actually do anything to protect hearing and might actually worsen hearing damage.
—
image credits: Jo Zimmy Photos