Written By Pete Anthony 
Last Updated On: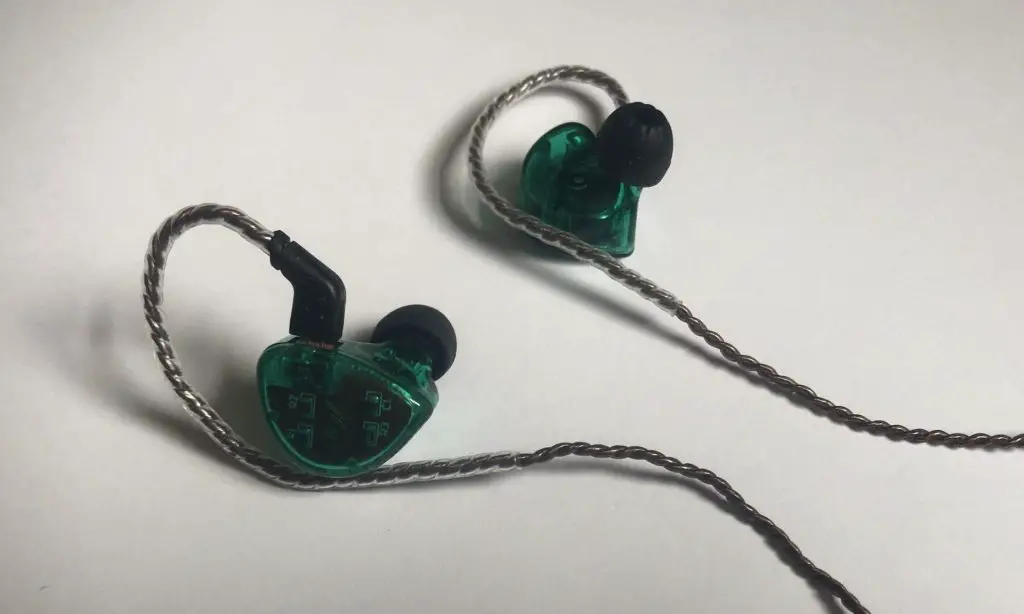 Pretty basic but sufficient packaging, the same that comes with all the budget KZ earbuds. The buds come inside a fitted plastic packing piece which I somehow managed to lose this time around, but if you look any of my other KZ reviews you can see it and get the idea.
Included with the headphones:
two different sized sets of silicone replacement tips
manual pamphlet
warranty card
The buds are inverted and worn with the wire going behind the ear to keep them in place. They are a bit bulky and kind of a pain to put them on, but once they are I had a comfortable fit. No issues maintaining a seal or feeling like they're weighing out or down. The earpads are not malleable, but I have read you can heat them up and reshape them if you really want to.
The ES4 comes both without and with a mic and control button for only a dollar more. The button has all of the basic expected functions: play/pause, skip, on/off call, etc.

All the budget KZ earbuds have this same braided cable. Everything is nice and sturdy, but a bit prone to getting tangled up. Some might find it uncomfortable against the skin with the over-ear fit. I've never experienced noticeable microphonics with this cable. The 2-pin connectors allow for the cable to get replaced, and Yinyoo does make higher end cables if you want one, though at this price it would honestly make sense to just pay for higher end earbuds. One thing to keep in mind is that the angled plug might not be able to fit through certain phone cases and such.
Sound And Performance
General impression:
These sound good for the ~$20 price-point, like pretty much all the other budget KZ earbuds do. Noticeably decent clarity and separation.
Any significant issues:
None that I could detect.
Sound signature/response curve:
Definitely bass emphasized and treble recessed. I feel like I can tell the difference between the bigger dynamic driver pushing the bass from the armature driver pushing the mids/highs, and it feels kind of disjointed. The company itself describes this earbud's response curve as V shaped, but to me it just feels skewed toward the left (lower frequencies).
Sound staging:
None really, everything is just kind of centered. Staging that's distinctly decent doesn't really exist in headphones until the price breaks three figures though.
Bass:
Strong and thumpy, but feels a little sluggish and muddy. Definitely felt some onset fatigue. Various edm I listened to with these could sound really good, other stuff that calls for more balance seemed to suffer from the bass.
Compared to monitors:
The bass definitely overpowers the mids, particularly non-vocals, and the muddiness seems to take away from the clarity. I've read some reviews reporting sibilance and boxyness but I don't think either was noticeable.
Power/Volume:
The ES4s have a high sensitivity rating and get plenty loud very easily.
Isolation:
Pretty decent, somewhere above medium, should be fine for basic commuter use.
Warranty:
1 year, which is fairly standard for budget earbuds
Overall Take, As Compared To The Competition
Yinyoo now makes a bunch of different budget earbuds, almost too many of them that look exactly the same. In any case, I've listened to and reviewed the majority of them and they are all generally good, and the ES4 is no exception – the performance and sound is very solid for the ~$20 price-point. The particular left-skewed sound signature with emphasized bass and recessed mids suites these well for edm type music if you really like to feel the bass. Otherwise a more neutral earbud might be preferable.