Written by Pete Anthony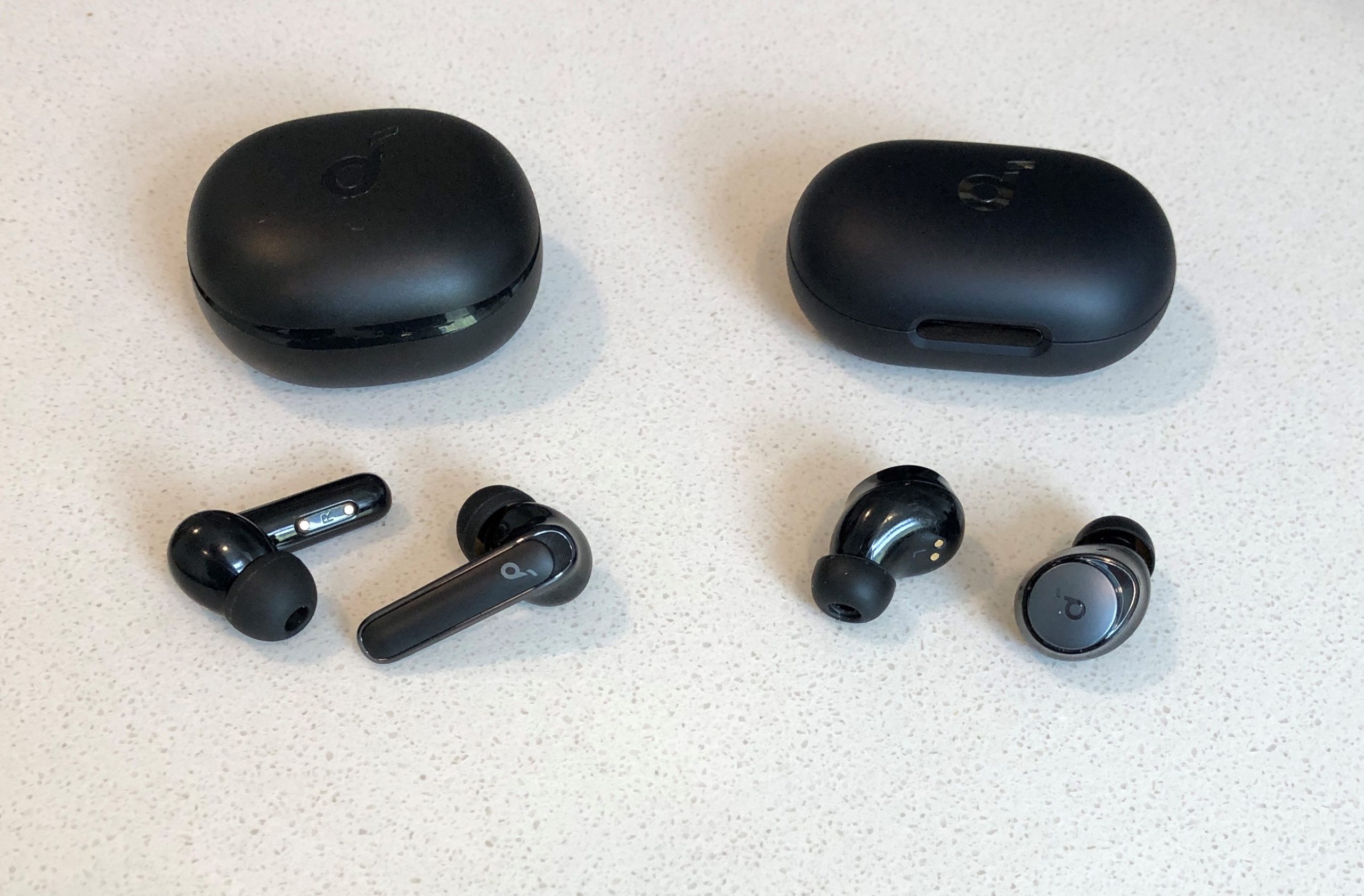 Soundcore is the newer audio subsidiary of Anker Electronics, and while the company is still not all that well known in the mainstream, they've quickly built a solid reputation in the audio community for producing a wide variety of wireless earbuds with good performance, unique designs, and a lot of features at very affordable prices.
Enter the Life P3 and Space A40 – the Life P3 is a traditional stemmed ovoid earbud that has become very popular, and the newer Space A40 is a smaller non-stemmed earbud that, while it's not yet as popular as the life P3, is quickly gaining groundswell in the audio community for what it brings to the table.
So how do they actually measure up to one another? Is one decidedly better than the other? I have fully reviewed both of them and will answer those questions here.
Soundcore Life P3 vs Space A40 Side by Side at a Glance
Soundcore Life P3 vs Space A40 Specs and Features Comparison
Spec
Life P3
Space A40
release date
Apr 2021
Aug 2022
price-tier ⓘbudget: around $30 or less
value: around $30-$60
performance: around $60-$100
premium: around $100-$200
elite: more than $200
performance
performance
earbuds battery life
10h
10h
total + case battery life
50h
50h
weatherproofing
IPX5
IPX4
onboard controls
touch based
touch based
warranty
18 months
18 months
active noise cancellation
yes
yes
transparency mode
yes
yes
Bluetooth version
5.2
5.2
EQ app compatibility
yes
yes
Multipoint 2+ device support
no
yes
Does the Soundcore Life P3 or Space A40 Have Better External Noise Blocking?
The Space A40 has slightly better natural isolation than the Life P3 does with active noise cancellation off. This is usually the case with contoured non-stemmed earbuds vs ovoid stemmed earbuds. That said, they both have great overall external noise blocking with added ANC when it's turned on, but the Space A40 isolation is still a little better, and overall very good for something with such a small and light design.
The other thing I don't like about the Life P3 ANC is that it has three modes that are ostensibly designed to be optimal in different kinds of environments. I would rather have strong all around ANC. The Space A40 does have an "adaptive" mode that ostensibly does the same thing as the P3 does, but just automatically. However, the Space A40 can also switch ANC to manual mode where you can just turn it up to strong.
Winner: Space A40
Does the Soundcore Life P3 or Space A40 Have Better Onboard Controls?
The Life P3 and Space A40 have the same control schematic – there are six function slots that can be customized to whatever you want with the Soundcore app: pause/play, tracking, volume, etc. The touch controls on both pairs of earbuds were reliable and easy enough to use.
Winner: Draw
Does the Soundcore Life P3 or Space A40 Have a Better Case?
The Life P3 case is a little bigger, but it definitely feels more sturdy than the Space A40 case, which is a little thin and flimsy feeling for its price-point. Also, the Bluetooth reset button on the Space A40 case is prone to getting stuck, and I've had to pop it back out multiple times.
Winner: Life P3
Does the Life P3 or Space A40 Have Better Fit and Comfort?
I was able to get a secure fit with both the Life P3 and A40 where there was no seal breaking issues. They both also come with a plethora of replacement tip sets, so I'm fairly confident most people will be able to achieve the same with either.
I do think the Space A40 fit feels a little better though, and overall is excellent. The Life P3 buds are a bit bulky and sit somewhat shallow, whereas the Space A40 sits nice and firmly and barely feels like its there, which is kind of its selling point as a minimalist earbud.
Winner: Space A40
A note before the next section: this page describes how I evaluate the sound quality of headphones and earbuds.
Does the Soundcore Life P3 or Space A40 Sound Better?
The Life P3 has good sound potential for its price-point, but I do think the Space A40 sounds better, and in general sounds really great for its price-point. The P3 is a little loose, thin, and sibilant compared to the Space A40 and doesn't quite have the accuracy that it has. The Space A40 is a little warmer and softer in to the P3, but still has great detail, clarity, and accuracy.
Something to keep in mind here: the default "Soundcore Signature" tuning that has been coming with a lot of Soundcore's more recent earbuds is not good and has issues, and I strongly recommend using the EQ app to optimize both of these earbuds, and especially so the Space A40, which required significant adjustments to get the balance to sound right to me. You can read the full breakdown of my adjustments in both of my individual reviews, linked below.
Winner: Space A40
Which Should You Choose Between the Soundcore Life P3 or Space A40?
The Space A40 is a little more expensive than the Life P3, and the Life P3 is a decent product in its own right, but the amount of improvement the Space A40 brings makes it more than worth the increased price, and is the best choice in my opinion – it has superior isolation, sound quality, and fit that is super light and comfortable, and the Life P3 doesn't really bring anything else to the table to make up for that.
Get the Life P3 wireless earbuds on Amazon (affiliate link)
Get the Space A40 wireless earbuds on Amazon (affiliate link)
Relevant Articles
• Full Life P3 review
• Full Space A40 review
• Is Soundcore a good audio brand?