Written By Pete Anthony
  Last Updated On: 5-1-19  
Skullcandy's Method is a relatively inexpensive so called "sport" earbud that's intended for active/exercise related use – in addition to being lightweight it's also sweat/perspiration resistant, though it doesn't appear to have an official water resistance grade via the standard IP Code as some other speakers and headphones do.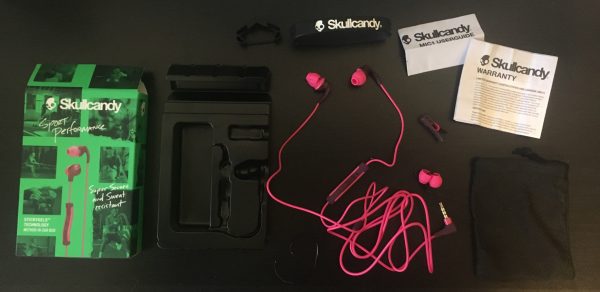 Packaging is basic but decent enough – the box opens to a contoured plastic packing piece with the buds, jack, and in-line mic embedded in, and the wire bundled into a side compartment. The wire coming off the mic was awkwardly folded back on itself, but it didn't seem deformed once I took it out. Accessories sit below the packing piece.
Included with the headphones:
soft mesh carrying case
shirt clip
one pair of different sized replacement tips
manual and warranty pamphlets
a swaggy rubber bracelet, kind of random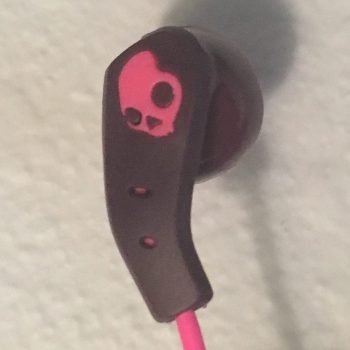 The buds are very light and ergonomic and the tips are actually a unique design that's distinguished from boilerplate silicone tips. They fit very nicely out of the box and feel secure, and the seal didn't break when I moved my head and jaw around, which is particularly important with earbuds used while exercising or being otherwise active.

The mic is on the left wire and is pretty basic, with a single on/off call button. Additional tracking/volume buttons would have been nice here since they're particularly useful while exercising.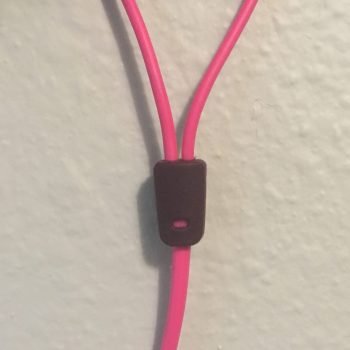 The wire is pretty basic and flimsy, and seemed prone to microphonics which is going to particularly be an issue with active use, but that could be mitigated with the shirt clip. The jack and support are nice and study, and these firmly plugged into my device with no problems.
All in all, the Method earbuds are pretty basic, but do fit very nicely.
Spec/Performance Discussion, Listening Impressions, Other Related Observations
General impression: the Method actually sounds quite good for the minimal price they can now be acquired for. No significant flaws that cheaper headphones tend to have. The overall sound is nice and full and soft, which makes for good easy extended listening, but the seeming trade off there is that the mids/trebles lack a little detail.
Sound signature: these have a round signature, with slightly emphasized bass and recessed trebles.
Bass: the quoted response range is 20 – 20k Hz, which is comparatively average for budget earbuds, and the bass seems to reflect that. Various drops I tested fell off a bit, and it seems like the bass emphasis was trying to hide the lack of extension, but it just made the overall bass sound kind of muddy and toneless. There's a little bleeding up as well. Decently OK overall, not spectacular.
Power/Volume: the Method has a 94 sensitivity which is actually quite low – I had to turn up the volume on my device like 25% more than where it normally is with earbuds, but they were able to get loud enough. The impedance is 17 ohms which means pretty much any device should power these no problem – I doubt Skullcandy is thinking any users would ever use amplification on a pair of sport buds.
Isolation: decent, I'd put it around medium, should be fine for most active/commuter use as long as it's not excessively noisy.
Warranty: the Method has a two year warranty which is comparatively good for budget earbuds, where one year seems to be the common average.
Overall Take, As Compared To The Competition
The Skullcandy Method is a lightweight and very comfortable and well fitting pair of earbuds that's ideal for use with exercise or other activity. The sound quality is also quite good for the price-point, which we've seen come down from the original MSRP (the pink ones here are the cheapest at the time of this writing/update). The wire is a little flimsy and prone to microphonics, and the in-line mic doesn't have tracking/volume buttons like many other sport earbuds do.
Get the Skullcandy Method on Amazon