Written by Pete Anthony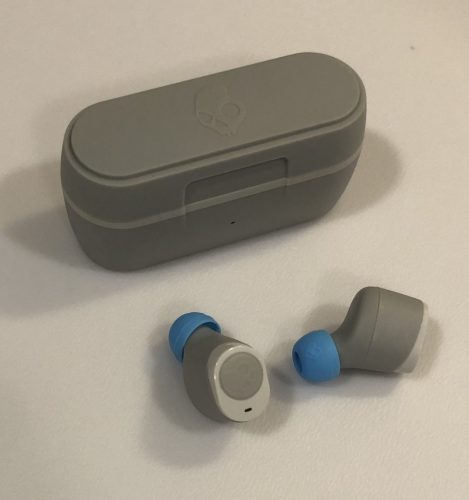 The aptly named Jib True 2 is the next generation version of the popular Jib True, adding significantly more battery life, an upgrade from Bluetooth 5.0 to 5.2, and Tile compatibility, a technology which helps users find lost earbuds among other things.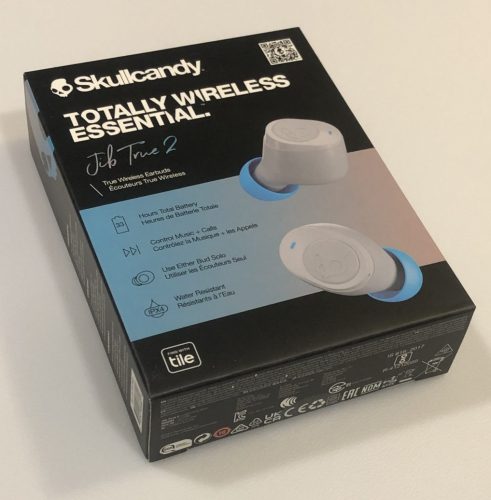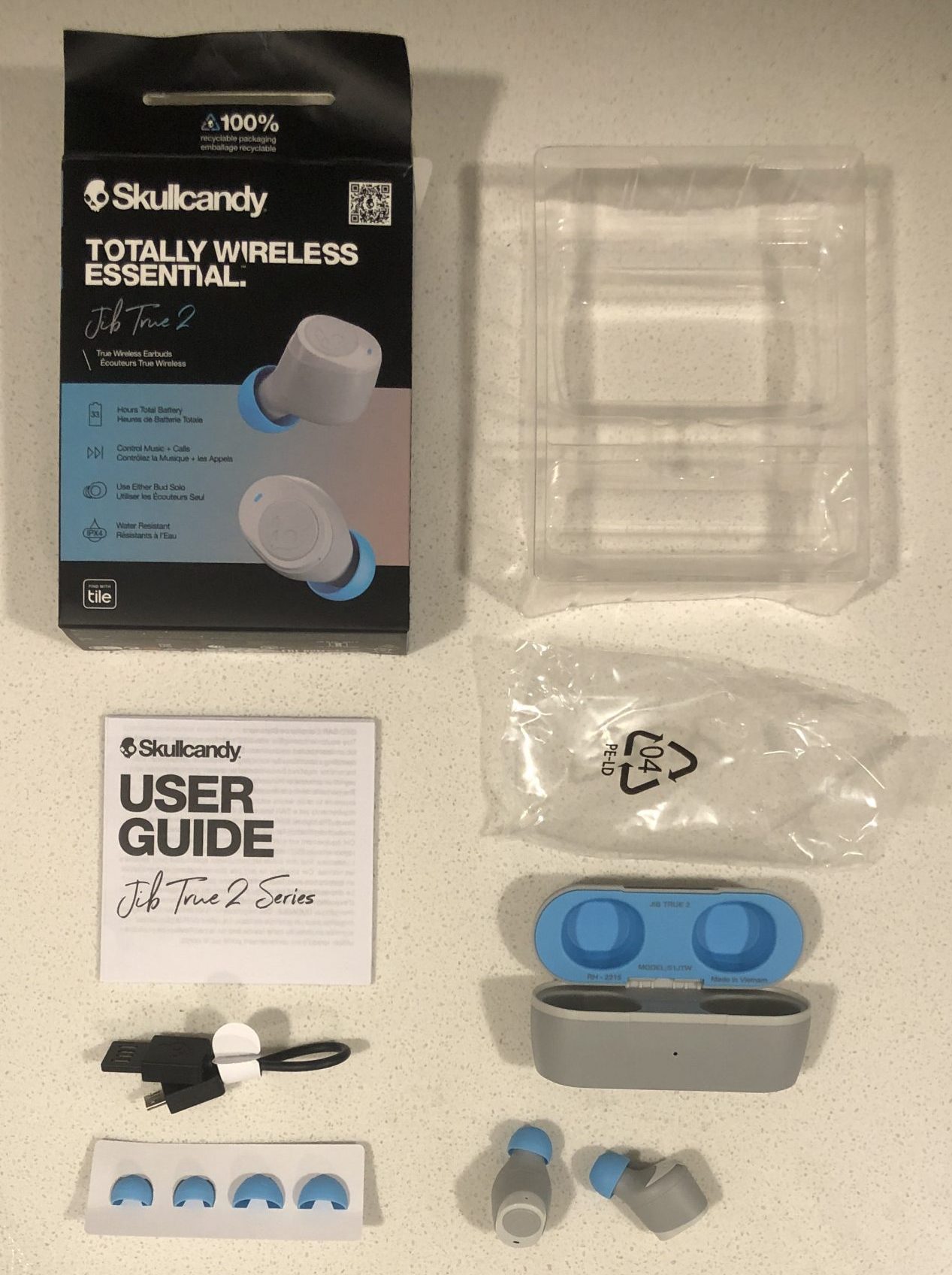 The packaging is pretty bare minimum, even for the budget price-point – a single contoured piece of flimsy packing plastic to keep the case and accessories in place. But the buds come shipped inside the case, and as long as things are decent enough to keep the goods protected in transit it's fine for me. When it comes to budget audio gear, I'd rather companies cut the corners they can with packaging if that means they can put as much money into the actual product as possible
Included Accessories With The Skullcandy Jib True 2:
user guide pamphlet
two pairs of different sized silicone replacement tips
charging/carrying case
USB mini-A charging cable/connector
How Good and Comfortable is the Skullcandy Jib True 2 Fit?
The Jib True 2 fits me great. I really like the tips to exert a little bit of noticeable pressure and go sufficiently deep, and a lot of budget earbuds don't do either, but the Jib True 2 does and feels nice to wear. I was able to achieve a secure fit and proper seal that didn't compromise at all no matter how I moved my head or jaw around.
Taking them on and off is really easy too because of the flat backs and edged corner to the sides, which makes grabbing them very easy. A lot of "slicker" shaped wireless earbuds are hard to take in/out or otherwise adjust without accidentally executing a touch command of some kind.
How to Insert and Wear the Skullcandy Jib True 2
Putting the Jib True 2 on and achieving a solid/comfortable fit and solid seal is very easy – just push the bud in gently with the Skullcandy logo upside down, then grab the sides and rotate it in and back until the bud is flush with the concha of the ear: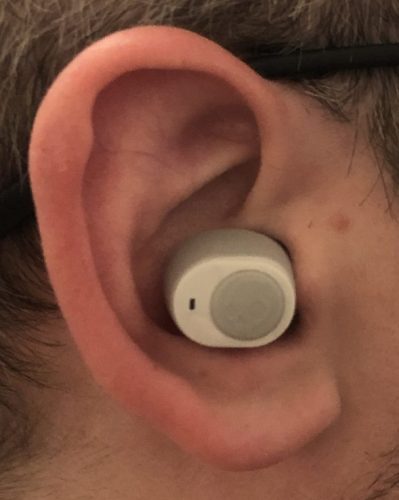 Does The Skullcandy Jib True 2 Have Good Touch Controls, And Is It Easy to Use?
The Jib True 2 has touch controls for all the basic functions you'd expect true wireless earbuds to have in 2023. These earbuds actually have pressable buttons as opposed to purely tactile response. Some people like pressable buttons because they tend to be a little more reliable than purely touch response commands, which can sometimes be finnicky. But, the buttons on the Jib True 2 require a lot of pressure to push. Like, it feels like I can't avoid uncomfortably jamming the tip further in my ear before I finally get a "click" from the button, and it's quite annoying to have to endure that every time I want to execute a "touch" command.
One other issue with Skullcandy's control scheme that's present on this and many of their other earbuds – and I don't know why they do this – is that the power on/off and tracking functions overlap, so if you want to power the left/right earbud off you can't avoid tracking back/forward. Pausing doesn't prevent it either – the buds will just unpause, track, then finally power off.
Pairing The Jib True 2 is easy and straightforward. Just take the buds out of the case, then close it, then the buds will enter pairing mode and you simply select "JIB TRUE 2" on the menu.
Durability: Is the Skullcandy Jib True 2 Waterproof and/or Dustproof?
The Jib True 2 has an official ingress protection code of IPX4. The final "4" digit means it's resistant to ambient moisture and lightly splashing water, but not full immersion. The penultimate "X" digit means there's no official certification against dust or debris. IPX4 is fairly standard basic protection for true wireless earbuds now, and is fine for basic active use like working out or outdoor commuting.
Skullcandy is one of the few companies (so far) that's making true wireless earbuds with double digit IP codes for those who want or need more rugged protection, but the Jib True 2 is not one of them.
Does The Skullcandy Jib True 2 Have Good Isolation and/or Active Noise Cancellation?
The Jib True 2 does not have active noise cancellation, but the isolation is pretty good, solidly above medium towards high I'd say, and should be fine for basic ambient noise from commuter use and such.
Skullcandy Jib True 2 Charging and Carrying Case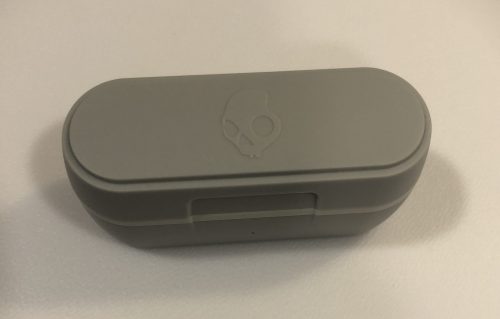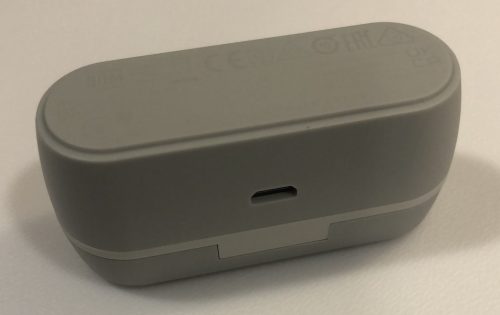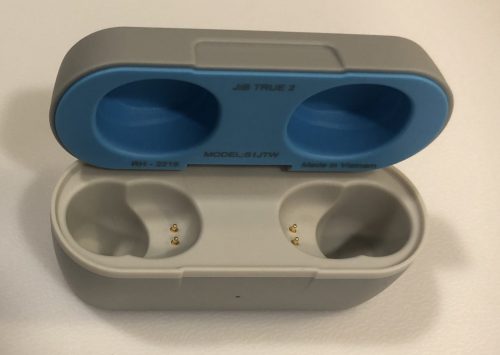 The case is definitely on the big and bulky side, and there's no protective flap/cover for the charge port. Other Skullcandy charging cases have the same omission and I honestly don't know why.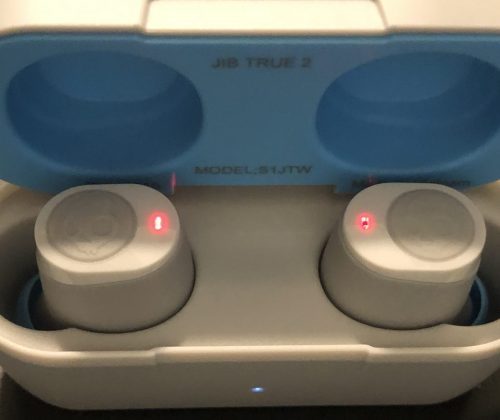 How Good Is the Skullcandy Jib True 2 Battery Life?
The main upgrade of the newer generation Jib True 2 over the original is the Bluetooth version is updated to 5.2 from 5.0, where Bluetooth's main focus on the decimal upgrades with v5 has been improved signal range and battery efficiency. The quoted charge length of the earbuds is up to 9 hours, and the case can give up to 2.5 recharges for a grand total of 33 hours of battery life before needing to plug them back in. While 33 hours of total battery life is comparatively OK, 9 hours of total charge on the buds themselves is quite good for wireless true budget earbuds in 2023.
Is The Skullcandy Jib True 2 Loud Enough?
The quoted (max?) sound pressure level of the Jib True 2 is 95 dB with a +/- 3dB differential. This is a bit below average, and I did need a little more than usual source volume to get these to my ideal listening volume, but, I still had plenty of room to spare and I'd say the Jib True 2 is plenty loud.
Does The Skullcandy Jib True 2 Have Good Warranty Coverage?
Skullcandy used to offer a two year warranty on its earbuds until mid 2021, but then lowered the coverage to one year, which is the fairly common standard for budget headphones. Some companies are starting to offer longer warranties though.
The Important Question: Does the Skullcandy Jib True 2 Sound Good?
The Jib True 2 sounds OK for a pair of budget true wireless earbuds, but not great or best in class. I don't know if Skullcandy innovated the design in any meaningful way from the original Jib True that came out a couple years prior.
Though The Jib True 2 does not have any glaring flaws, the tuning is a little weird – the bass and low mids are definitely elevated and the mids and highs are recessed, kind of resulting in a noticeable lack of detail that I'd call fuzzy sound.
The bass is definitely a little loose and muddy and bleeds up into the rest of it all, causing kind of a sucked in sensation. The quoted response floor is 20 Hz, which is pretty average for budget earphones, and I'd say the sound of the bass reasonably reflects that. The drops I normally test fell off a little teeny bit, but were pretty consistent. At least the low bass wasn't blatantly overtuned, which is sometimes a glaring problem with budget headphones that are trying to compensate for a cheap build and design.
Skullcandy Jib True vs Jib True 2 – What's The Actual Difference Between the Older and Newer Version?
Besides the newer Bluetooth version, Tile compatibility, and longer battery life, the Jib True 2 earbuds and case have the same design as the now legacy Jib True. That said, it's definitely possible and even likely that Skullcandy adjusted and improved the tuning and sound quality thusly of the newer model. And considering that the Jib True 2 remains at basically the same price, it's definitely a worthwhile upgrade choice over the older model.
Final Verdict: Is the Skullcandy Jib True 2 Worth Buying?
The Jib True 2 fits really well and comfortably, is easy to put on and take off, and sounds reasonably decent for the ~$30 price-point. But, with perpetually increasing competition in this market, there are now alternative products, including from Skullcandy itself, that just sound noticeably better.
There's a deal breaker with the Jib True 2 for me as well: the buttons take so much pressure to push to activate the touch controls, to a degree that it really feels like I can't avoid uncomfortably jamming the tips further into my ears and possibly messing up the fit.
See the Skullcandy Jib True 2 true wireless earbuds on Amazon (affiliate link)
Popular Comparisons
For those who are curious how the Jib True 2 fares against popular competitors:
• Skullcandy Jib True 2 vs JLab GO Air Pop
• Skullcandy Jib True 2 vs Skullcandy Sesh Evo
• Skullcandy Jib True 2 vs Skullcandy Dime 2
Relevant Articles
• Is Skullcandy a good brand?
• Our current picks for the overall best budget true wireless earbuds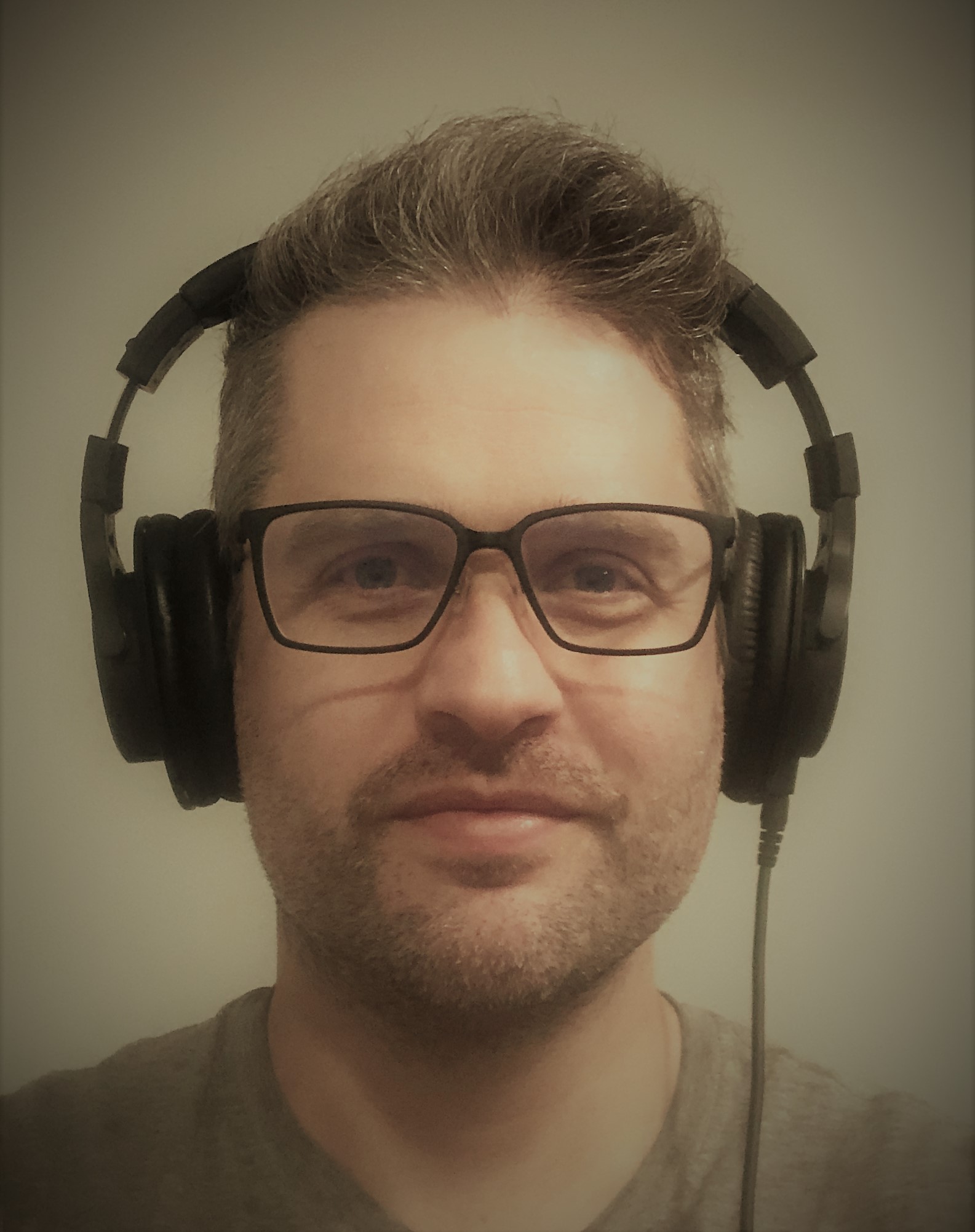 Pete Anthony has had a lifelong affinity for music, and more recently has become an anti audiophile snob who wants great sound to be accessible and enjoyable by anyone. Without needing to break the bank. Read his full author page
here
.