Written By Pete Anthony
Last Updated On: Jul 12, 2019
The Chops Flex are actual earbuds (as opposed to sealing in-ear headphones that are often also called earbuds nowadays) that simply rest in the outer ear canal. They're so called sport headphones designed for active use – they have flexible ear pads to help keep the buds in place and are IPX4 water resistant, meaning they can withstand anything short of a pressurized stream or full immersion.
Packaging is pretty bare minimum – simply a plastic sleeve that pops open in the back with another small packing piece that keeps the headphones in place. The manual and warranty pamphlets are kind of crammed into the remaining space and no other accessories are included.
The ear pad is flexible but not malleable, so I wasn't able to get a good fit/position with the buds themselves. I'm also not crazy about the exposed wire along the inside – why not use a few pennies more of plastic to just seal it off?
There's a small mic along the left wire. The logo depresses inward and you can hear/feel a click of a button underneath that serves as a basic call/play/pause button.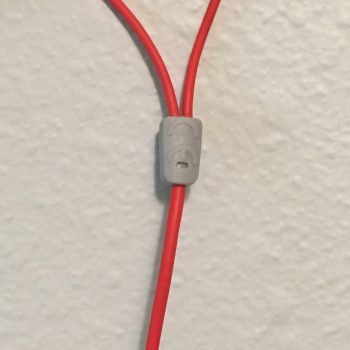 The wire is pretty basic with smooth insulation and didn't seem to cause any noticeable issues with microphonics or other things, and the jack is also nice and sturdy and plugged into my device without problems.
Spec/Performance Discussion, Listening Impressions, Other Related Observations
The Chops Flex frankly does not sound good, mainly because I couldn't get the buds to fit properly. Non sealing earbuds really need to be in exactly the correct position to function properly and these couldn't do that. I've also read other reviews saying the same thing. The result is a flawed sound as if you're holding the headphones a half inch away from your ears, kind of like a radio station with a bad signal coming in poorly.
Overall Take, As Compared To The Competition
If you're specifically looking for a traditional earbud that's designed for sport/active use and you just need the sound quality to be passable, say for listening to podcasts, at least the Chops Flex exists as an option. They also have a two year warranty which is really good for budget-tier sport headphones. That said, if you're hoping for any modicum of sound quality for listening to music, I'd give these a hard pass – competition is stiff in the budget earbud market now and there are just so many other similarly priced alternatives that are far superior.