Written by Pete Anthony 
Last updated on: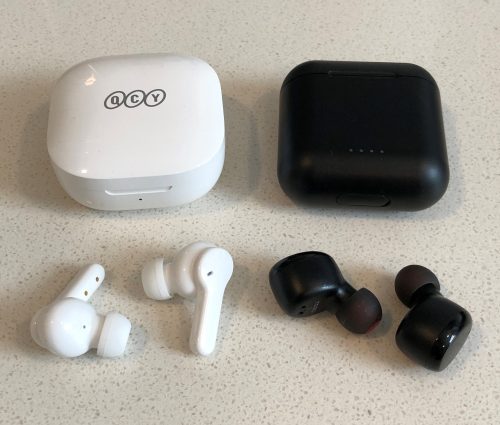 TOZO is a company that has seen massive success in the budget earbud market, and the T6, which originally came out in 2018 and was updated in 2022, has been one of the most popular true wireless earbuds for a few years now.
QCY is a lesser known company, but their parent company Hele Electronics has collaborated with a lot of big names on the manufacturing side, and some QCY earbuds like the T13 have garnered high praise in the audio community and some resultant popularity of their own.
How do the T13 and T6 compare? Is one better than the other? I have fully reviewed them both and intend to answer those questions in this article.
QCY T13 vs TOZO T6 Side by Side at a Glance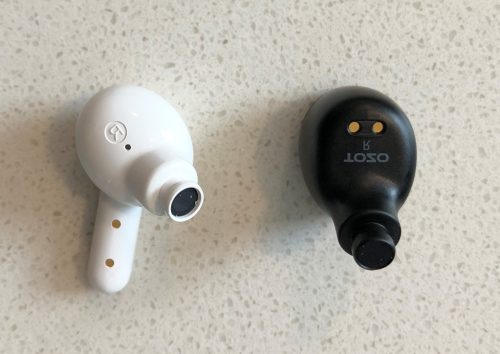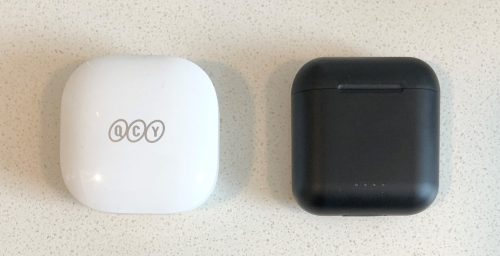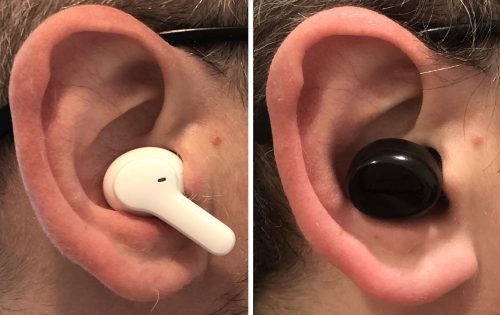 What Are the Main Differences Between the QCY T13 and TOZO T6?
Design Style – the T13 earbud has a smaller housing with stems, while the T6 has a larger housing with a big flat back.
Isolation – while neither the T6 or T13 have any active noise cancellation, the T6 does offer very decent natural isolation. The T13 design and fit style is not well suited for noise attenuation and its natural isolation is not that great.
Weatherproofing – one of the strong selling points of the T6 is that both the earbuds and the charging case are fully waterproof (IPX8). The T13 earbuds are merely water resistant up to moderate jets (IPX5), and the case does not also have that same IPX5 Code.
Battery Life – the T6 earbuds and case have somewhat longer battery life than the T13 earbuds and case have. The T6 was upgraded in 2022 with the latest Bluetooth v5.3, which improves both battery efficiency and signal length, while the T13 still comes in its original 2021 design with Bluetooth v5.1.
Touch Controls – both the T6 and T13 have reliable and easy to use touch controls, but one thing the T13 and other QCY earbuds lack is onboard volume control.
Case – the T6 case, in addition to being waterproof, is more compact and pocket friendly than the T13 case which is fairly bulky. The T6 case also uses a USB-mini connection and has a protective cover for the charge port, as opposed to the much more common uncovered USB-C charge port that the T13 case has.
Does the QCY T13 or the TOZO T6 Have Better Fit and Comfort?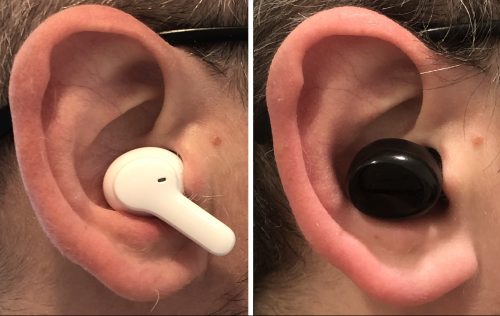 The T13 design style has a light, shallow, and generally "easy" feeling fit, whereas the T6 has a more deep and firm style of fit. The T13 does have a little bit of seal breakage if you move your face around in certain ways, but for the most part does a very decent job at making this style of fit secure. The T6 on the other hand keeps a firm seal that doesn't break at all.
I personally prefer a firmer and deeper fit that favors security over something that's easy to put on and take off, so I'm inclined to say the T6 has the better fit, but, I do think the T13 is a great option fit wise for people who prefer the stemmed design style with a more shallow fit, or who are maybe squeamish with things going into their ear canal.
Does the QCY T13 or the TOZO T6 Sound Better?
Overall I think the T13 sounds slightly better than the T6. QCY does a really good job with their tuning, and the T13 has a nicely warm and somewhat bass emphasized sound that's great for easy/casual extended listening. The T6 sounds very solid for its minimal price, but it has a much more common Harman/U-shape style with pretty forward and boomy bass that's characteristic of the kind of TOZO style sound that I've discerned after having listened to many of their products.
Which Should You Choose Between the QCY T13 or TOZO T6?
I think the T13 and T6 are tailored for different things and could be objectively better or worse depending on the situation. The T6 is a rugged utility earbud that's particularly great for more intense outdoor use. Its specific sound style, better natural isolation, and deeper and firmer fit is better suited for that. The waterproof buds and case is also a nice feature there. And it's cheap enough that you won't dread losing or breaking it. The T6 is a great product and there's a reason it has remained so popular for years.
The T13 is a really great casual use earbud for around the house and such where outside noise isn't so much of a factor. The light and shallow fit and the warm but very well blended sound signature makes this ideal for extended listening, where you can enjoy your music but also perhaps intermittently enjoy a podcast or tv show.
Get the QCY T13 wireless earbuds on Amazon (affiliate link)
Get the TOZO T6 wireless earbuds on Amazon (affiliate link)
Relevant Articles
• Full QCY T13 review
• Full TOZO T6 review
• Our current picks for the overall best budget true wireless earbuds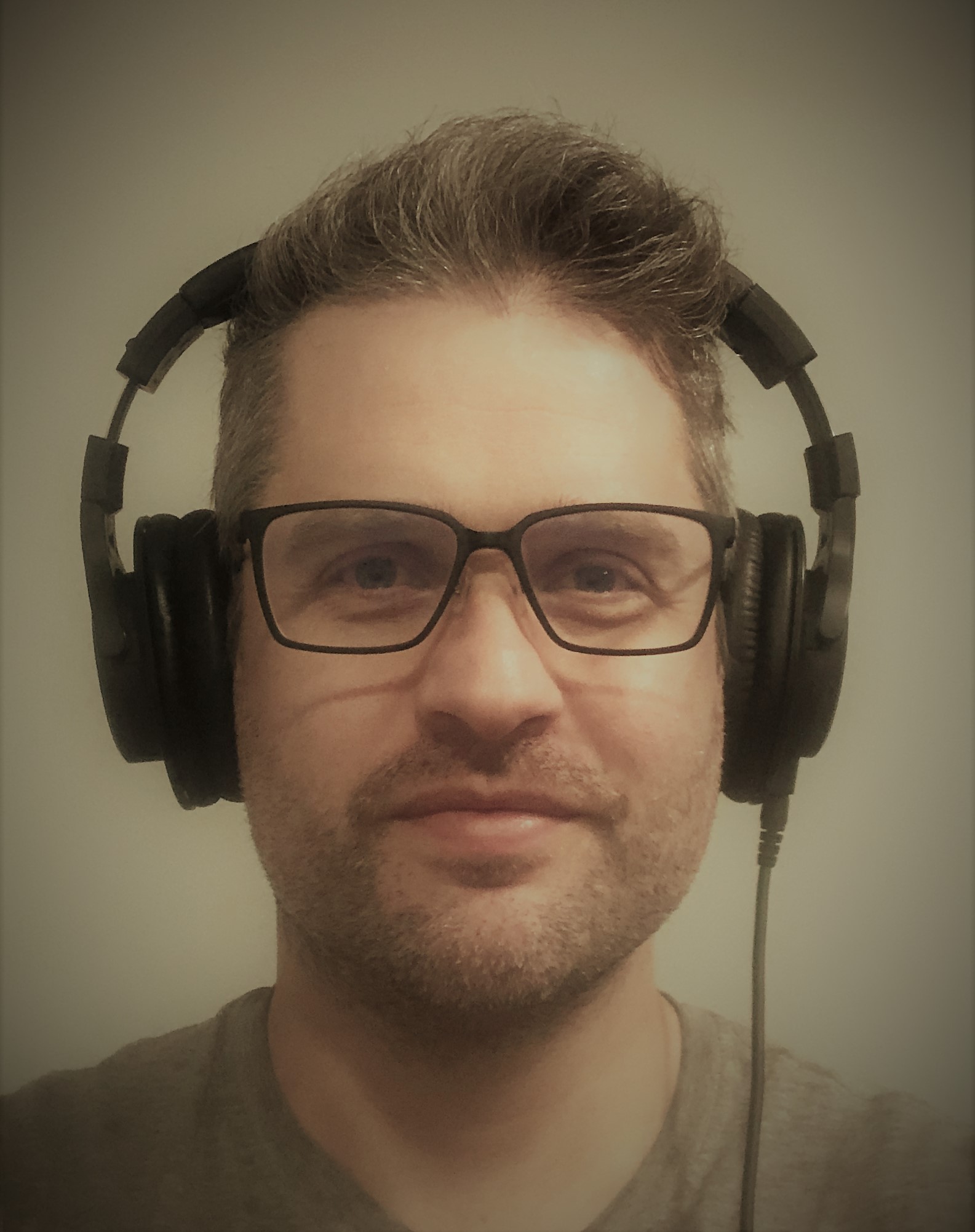 Pete Anthony has had a lifelong affinity for music, and more recently has become an anti audiophile snob who wants great sound to be accessible and enjoyable by anyone. Without needing to break the bank. Read his full author page
here
.