Written by Pete Anthony 
Last updated on: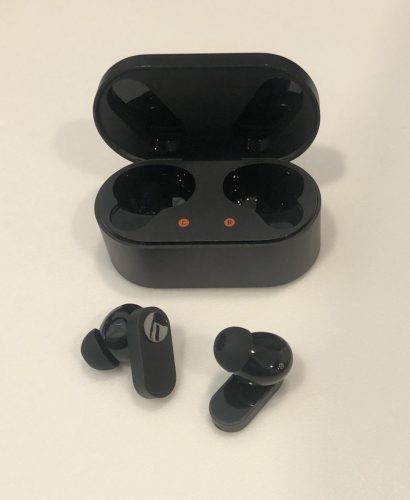 OnePlus is a relatively new Chinese electronics company that primarily makes smart phones and related accessories, but has recently released a handful of headphone products, including the Nord Buds reviewed herein.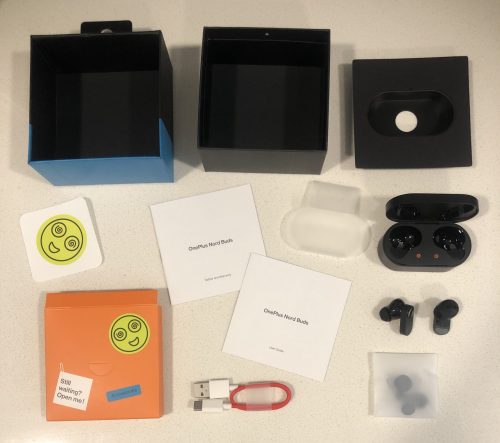 The Nord Buds have somewhat minimal but pretty nice packaging for the price point – the box is nice and sturdy and the case, which contains the buds, is held in place with a contoured packing piece. All the contact points between the buds and case have protective plastic that peels off. The accessories are in a separate fitted box below.
Accessories included with the Nord Buds:
charging/carrying case
two pairs of different sized replacement tips
user guide and safety/warranty booklets
short USB type C charging cable
an inexplicable and weird smiley sticker to really seal the deal
I would have liked to see more replacement tip options, possibly in different styles, come with earbuds at the ~$50 price-point.
How Good and Comfortable Is the OnePlus Nord Buds Fit?
The Nord Buds have an awkward design that I could not get to fit all that well or comfortably. I feel like they're designed to function like actual earbuds that sit on the concha of the ear rather than in-ear headphones (which are usually now just called earbuds as well). I am personally not a fan of traditional *actual* on-ear earbuds – I think they are generally inferior to in-ear headphones – but I do realize some people might prefer them. Actual earbuds are a lot easier to put on and take off, and some people might prefer their "lighter and shallower feeling" whereas I personally prefer a pretty firm and deep seal with noticeable pressure.
All that said, the uncontoured bud shape, the relatively short/shallow nozzles and tips, and the unnecessarily wide stems made it seemingly impossible for me to get a proper feeling seal. But… with the largest tips, I was still able to achieve a sound that felt "right," and it maintained its consistency no matter how I moved my head or jaw around.
Related: a guide to good earbud fit
If you change out the tips, make sure the little notches on the nozzle line up properly with the corresponding grooves inside the included tips. One downside of nonstandard circular nozzles like the Nord Buds have is that it will be hard if not impossible to make any separate replacement tips work with the Nord Buds if none of the three included pairs fits you properly.
Do the OnePlus Nord Buds Have Good Touch Controls, and Are They Easy to Use?
The Nord Buds have an exceedingly simple control scheme that's easy to use and reliable. In fact there are only three touch commands: one tap for pause/play, two taps for track forward, and three taps for track backward. Which begets a commonly asked question:
Is there a way to control volume with the Nord Buds?
Answer: No!
Ugh. I'm sorry but, by 2023, it's just not acceptable for a pair of true wireless earbuds to not be able to adjust volume remotely with onboard controls. In fact this is I think the first pair I've ever reviewed that can't do that. One thing I do particularly like though is that you can track back right away from the middle of a song when usually you have to reset a song then hit the same command again to track back.
Pairing the Nord Buds was easy enough – you just open the charged case with the earbuds still inside and they'll enter pairing mode, then you simply select "OnePlus Nord Buds" from the menu and you're good to go.
Durability: Are the OnePlus Nord Buds Waterproof and/or Dustproof?
The Nord Buds have an official ingress protection code of IP55 – the final "5" digit means they're water resistant up to moderate jets, but not full immersion; and the penultimate "5" digit means they're protected against dust. A double digit IP code that certifies protection against water and dust is actually still not all that common among non-expensive true wireless earbuds, and makes the Nord Buds an ideal choice for those who think they'll need protection against dust and other similar debris and don't want to spend a ton of money.
Do The OnePlus Nord Buds Have Good Isolation and/or Active Noise Cancellation?
The Nord Buds do not have any active noise cancellation technology, and one reason that traditional earbuds are inferior to in-ear headphones (which said again are now usually just called earbuds as well) is that, without a firm and/or tight seal, earbuds can't really provide decent isolation.
Indeed, the isolation of the Nord Buds is not that great – I'd put it somewhere in the low-medium range. They might be sufficient for some moderate outside noise, but for louder commuter use in-ear headphones are generally going to offer much better isolation.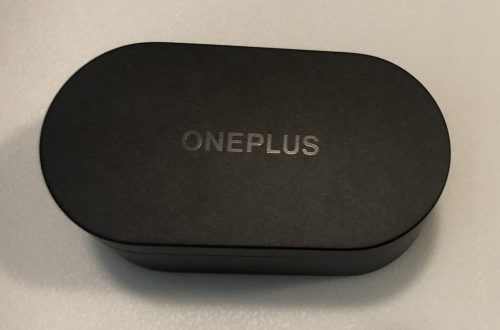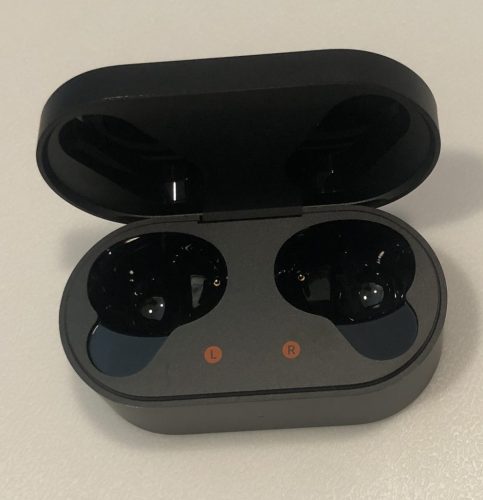 The case is nice enough but a little bulky, especially with the edged corners on the top and bottom. I also wish there was a protective cover for the charge port.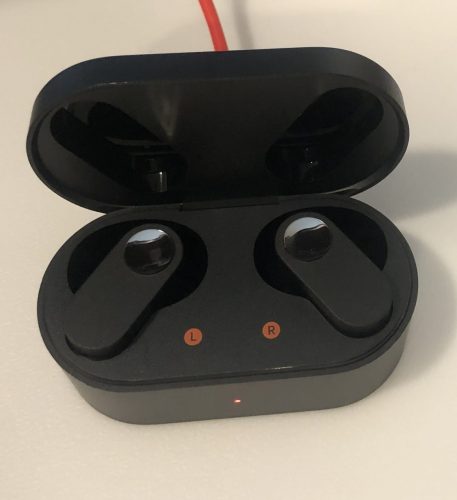 Do The OnePlus Nord Buds Have Good Charge Speed?
I couldn't find any information on how long it takes to get a full earbud and case charge, but, it took mine about an hour out of the box. I imagine it would take longer from empty or close to it, but, anything better than two hours is above average.
The one distinctly great feature that the Nord Buds have is so called "flash" rapid partial recharge, whereby you can get a full 5 hours of extra juice in the buds with just ten minutes in the case. Rapid partial recharge is a nifty feature that I'm starting to see more and more but is still somewhat uncommon with budget wireless earbuds, and a full five hours of charge, or even if it's reasonably close to that, is the best rapid recharge specs I've ever seen in budget true wireless earbuds.
How Good is The OnePlus Nord Buds Battery Life?
A full charge on the buds gives up to 7 hours of use, and a fully charged case can give up to 23 hours of additional charge for a grand total of 30 hours of use before having to plug back in. This comparatively OK battery life for true wireless earbuds at the ~$50 price-point, but not stellar – plenty of cheaper budget earbuds give that much or more.
Are The OnePlus Nord Buds Loud Enough?
The Nord Buds have a quoted sensitivity rating of 102 dB @ 1kHz with a +/-3 dB variance. This is pretty high for a pair of budget earbuds and I was able to easily achieve my ideal listening volume with relatively little source volume, so yes, these have great volume capacity and get plenty loud enough.
Do The OnePlus Nord Buds Have Good Warranty Coverage?
According to the warranty pamphlet, coverage length varies on a country by country basis, but the US warranty for all of OnePlus's electronics is one year, which is the fairly standard minimum for budget headphones. Some competitors are now offering 18 months to two years of warranty on similarly priced true wireless earbuds.
The Important Question: Do The OnePlus Nord Buds Sound Good?
The Nord Buds sound very good for the price, and I will say impressively good for being actual on-ear earbuds rather than in-ear headphones (which said yet again are now often just called earbuds as well).
The sound signature fits a Harman/U-shape curve, which is fairly common/standard for budget earbuds, but the bass is more tuned up than average, and so too are the mids a little more recessed that average. The Nord Buds still, though, maintain decent detail, clarity, and separation.
The bass quality is also good. Despite being tuned up quite a bit, it doesn't bleed in or noticeably drown out the mids, nor does it sound loose or muddy, it just sounds a little forward. The quoted response floor is 20 Hz, which is pretty average for budget earbuds, and maybe slightly less than average for the ~$50 price-point. The sound of the bass accurately reflects that spec in my opinion – the drops I normally test fell off a bit, probably a little more than average since the tuned up "hump" of the bass on the response curve is on the high side.
So, how do the Nord Buds compare to industry leading wireless earbuds that cost many times more expensive?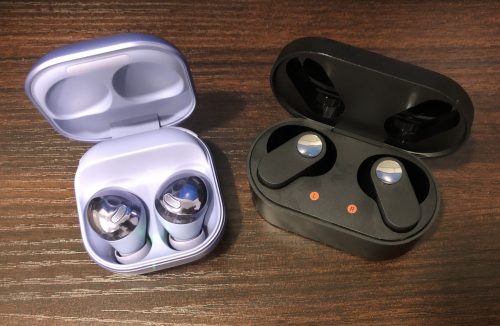 Well, the Nord Buds don't quite have the crisp individual clarity and separation and nice airy fullness that something like the Galaxy Buds Pro has, and the pretty tuned up bass of the Nord Buds becomes all the more obvious and makes them sound kind of narrow and sucked in. But, I will say, I was solidly impressed with how the Nord Buds sounded in comparison – nicely consistent and even, with good clarity and detail that I dare say is *juuuust* a touch shy of the Galaxy Buds Pro.
Final Verdict: Are the OnePlus Nord Buds Worth Buying?
If you're looking for a very decent sounding but still relatively inexpensive pair of earbuds that have a more traditional "shallow and easy" fit of an actual earbud as opposed to an in-ear headphone that is firmly inserted into the ear canal, then I'd say the Nord Buds are an excellent choice. The double digit IP55 code for both water and dust protection and the rapid partial recharging are also attractive features as well.
The only major downside of the Nord Buds in my opinion is that you can't control the source volume with the limited touch control scheme, and why they didn't include that is simply beyond me.
Get the OnePlus Nord Buds on Amazon (affiliate link)
See our current picks for the overall best budget true wireless earbuds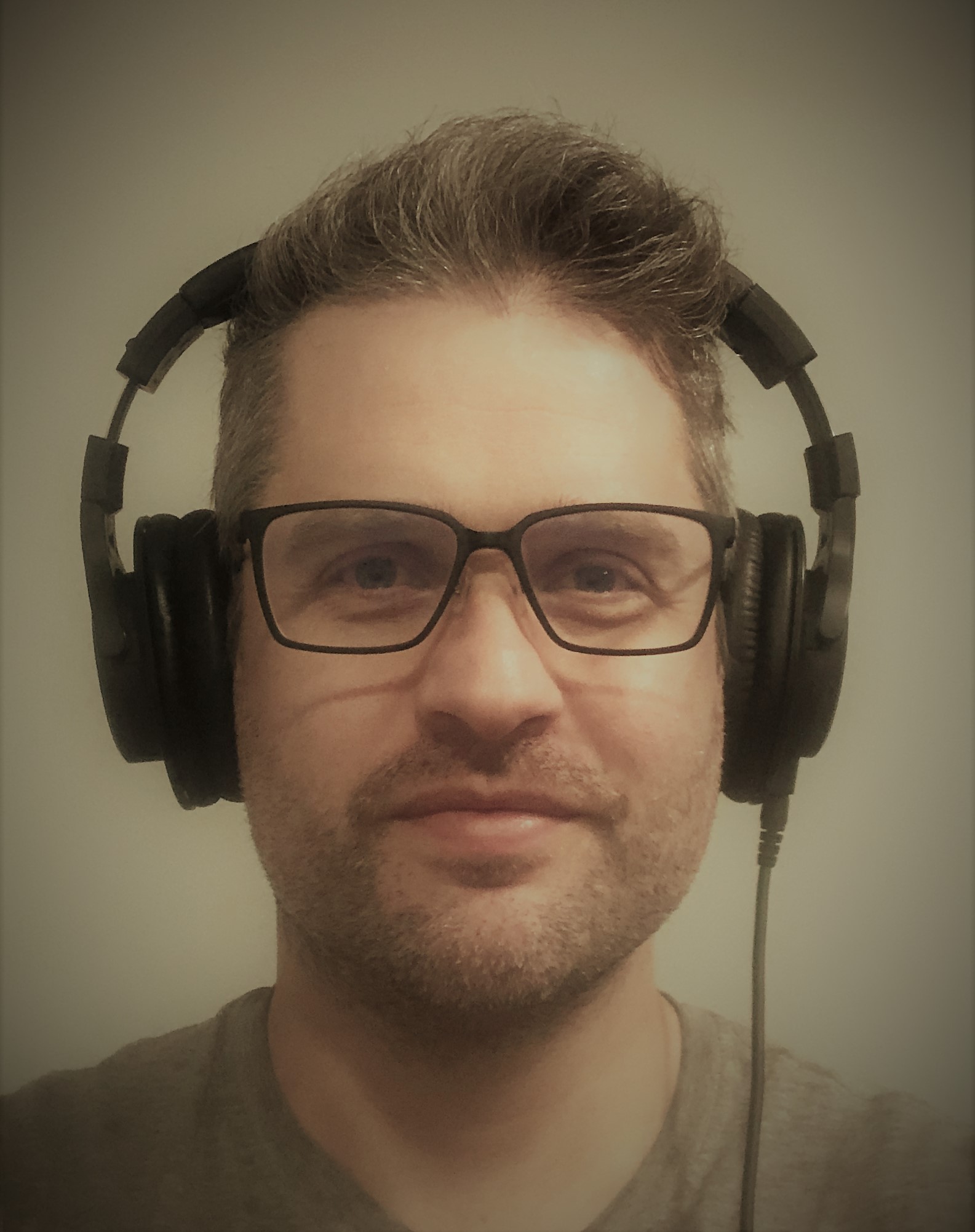 Pete Anthony has had a lifelong affinity for music, and more recently has become an anti audiophile snob who wants great sound to be accessible and enjoyable by anyone. Without needing to break the bank. Read his full author page
here
.